Being a California girl through and through, wearing T-shirts is second nature for me and I probably own more than I really need. I've recently noticed that wearing bold-colored tees is the trend this fall, so I picked one up for myself – a bright purple logo T-shirt from Studio Wear by Moussy, their newest casual street wear line for women. In this post, I'll introduce 3 ways I styled this particular T-shirt for fall. Read on for more!
Tシャツとデニムが定番ユニフォームのカリフォルニア生まれ&育ちの私は、きっと必要以上のTシャツの数を持っていると思います。最近、東京ではボールドカラーのTシャツがトレンドらしいので、私も一枚ピックアップしました。Moussyが今年出した新しいストリート&アスレチックウェアのライン、Studio Wearの紫色のロゴTが以外と着回しやすく、色んな場面で着ています。今回は、そんなTシャツのコーディネート3通りを紹介します!
Wear it preppy style
Plaid is trendy every fall season, and it's the easiest way to rock preppy style. And it doesn't necessarily have to be a school-girl skirt either – a pair of plaid trousers also work really well to achieve a back-to-school look without looking like an over-achiever. The brown of the trousers compliments the bright purple T-shirt, and I paired this setup with patent burgundy boots for extra flavor. Oh, and can't forget the nerdy glasses! This pair I own from zeroUV is on repeat – saying they're my favorite pair would be an understatement.
チェック柄は毎年この季節になると一押しトレンドになるので、プレッピースタイルも思いのまま。女子高生が履くようなスカートじゃなくても、こうしたチェック柄のボトムズでもスクールユニフォームっぽく着こなせます。チェック柄の落ち着いた茶色が、派手なパープルといい感じのコントラストになり、そこでボルドー色のパテントブーツをひとつまみのスパイスとしてコーディネートに入れてみました。そして、小物の眼鏡!優等生ぶりを演出したい人にはぴったりのオーバーサイズ眼鏡は、zeroUVのです。私の中ではリピート小物ナンバー1!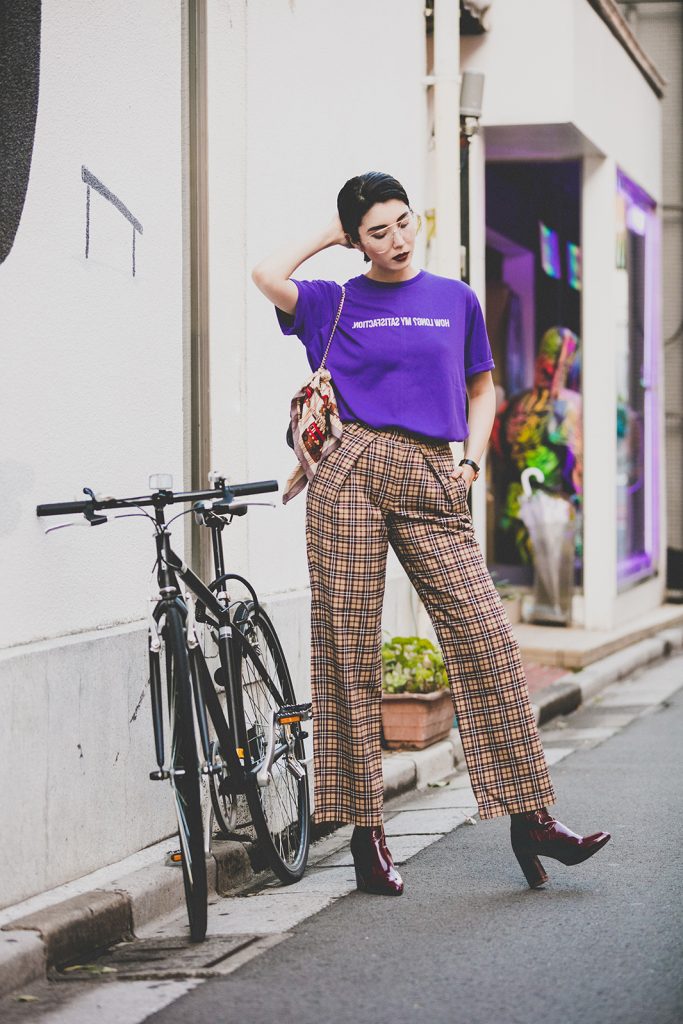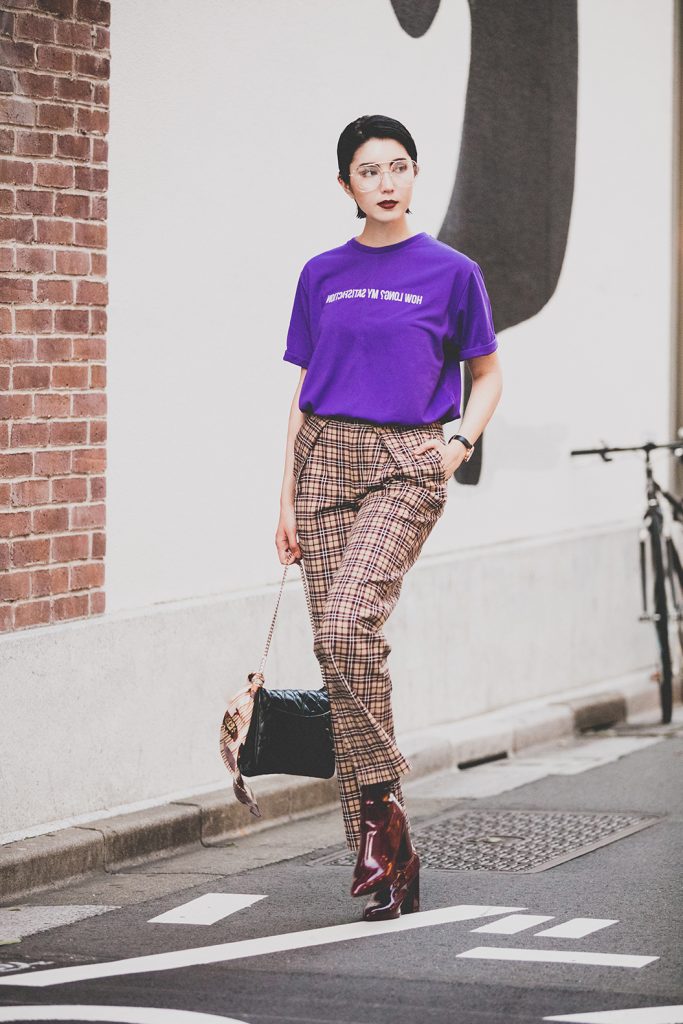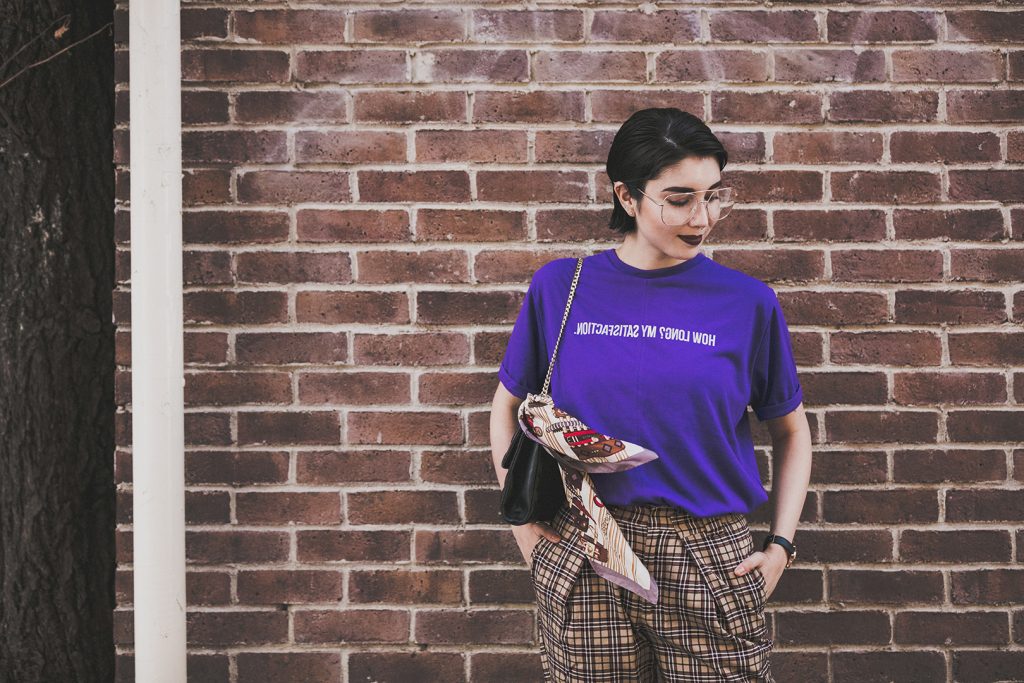 Wearing: Studio Wear by Moussy T-shirt, Moussy pants, Metrocity bag (similar here), zeroUV glasses, Public Desire boots (similar here)
Wear it girly street style
And I don't necessarily mean super girly. By just pairing a denim pencil skirt with a fluffy jacket, a simple T-shirt immediately has a different impression, a more polished look you might say. By wearing this trendy boa jacket lightly over the shoulders with a Chanel-like handbag, you can pull off an effortlessly chic street style look. Ankle boots could work with this outfit, but I decided to keep things comfortable and casual with a classic pair of Old Skool Vans with cute socks. These glittery Fakui socks come with the fishnets, drawing attention to your footwear. It's the small details that matter!
ガーリースタイルと言っても、そこまでではないです。シンプルなデニムタイトスカートとフワモコジャケットに合わせて、カジュアルなTシャツももっと上品な印象になります。今季トレンドのボアジャケットを軽く羽織って、シャネルっぽいハンドバッグを持ったら、さりげなくシックなスタイリングに仕上がります。アンクルブーツを履いても良かったのですが、カジュアルさをキープしたかったのであえてクラシックなスニーカーに可愛い靴下を選びました。Fakui のキラキラソックスは編みソックスとペアなので、フットウェアにも注目されること間違い無し!こういう小さなディテールも大事ですよ!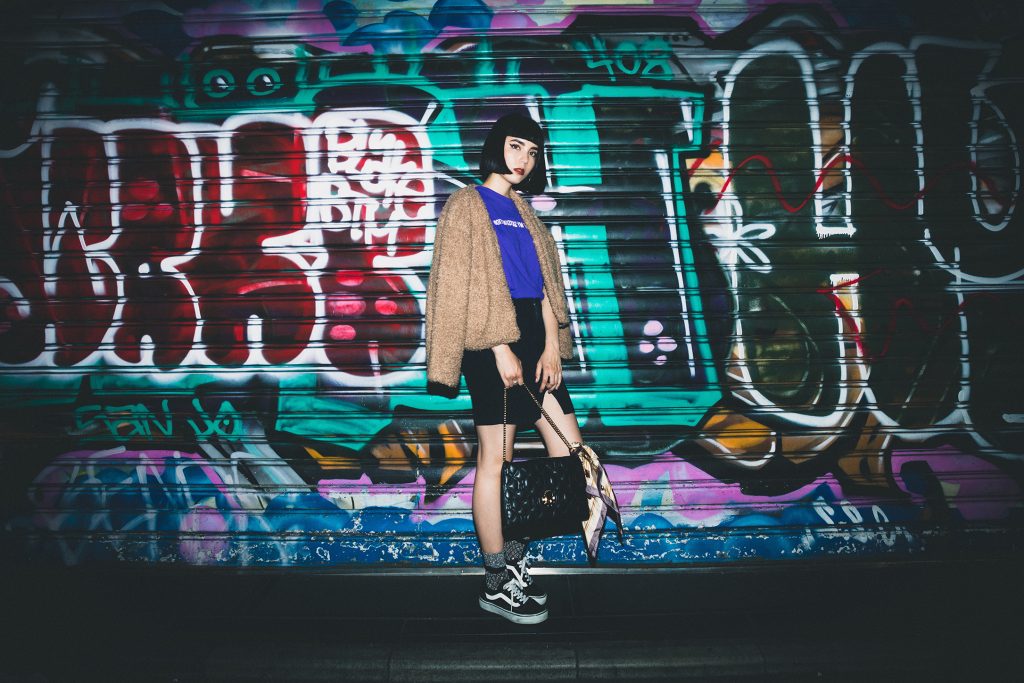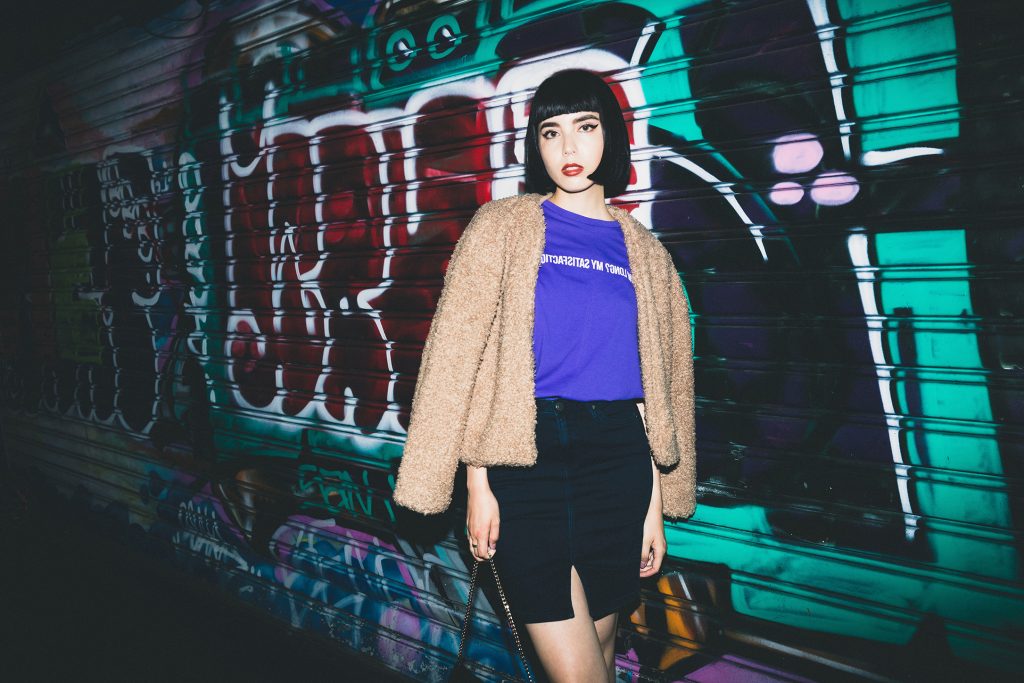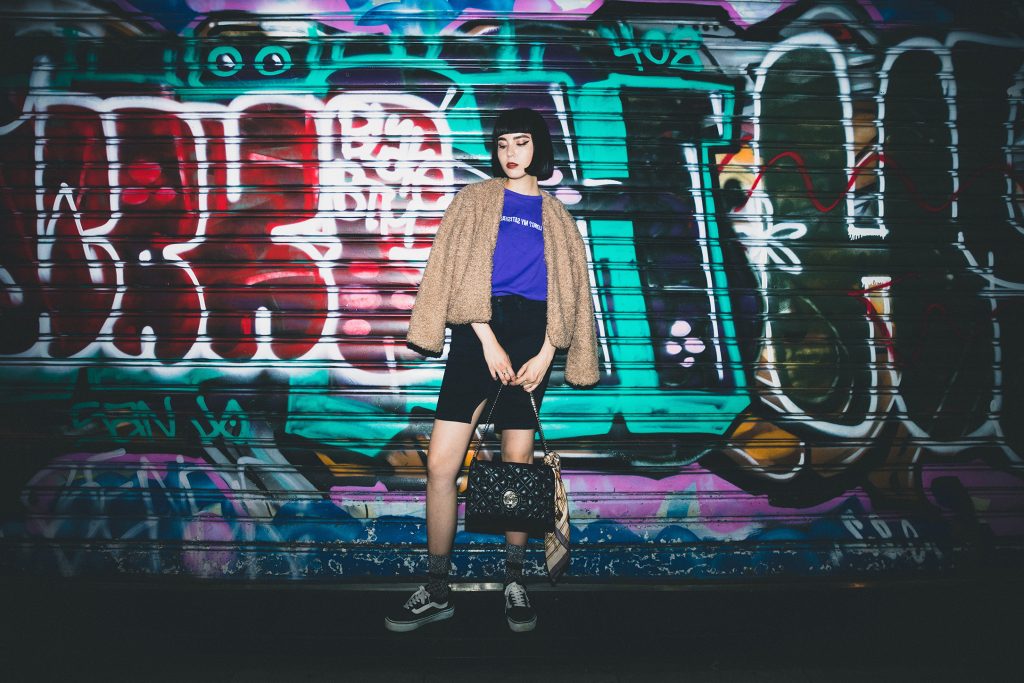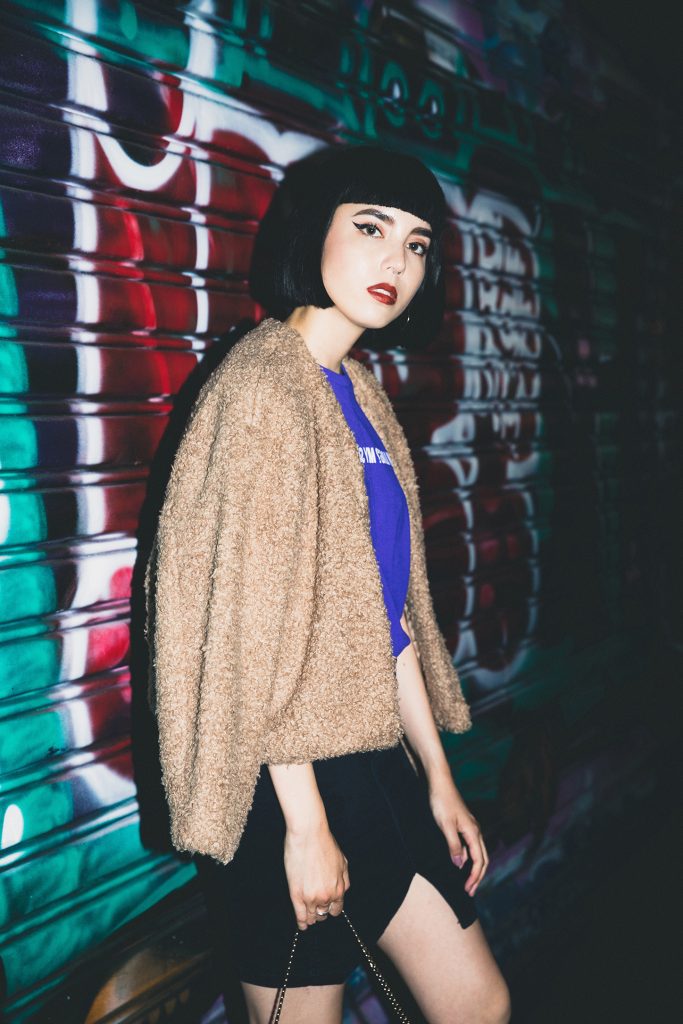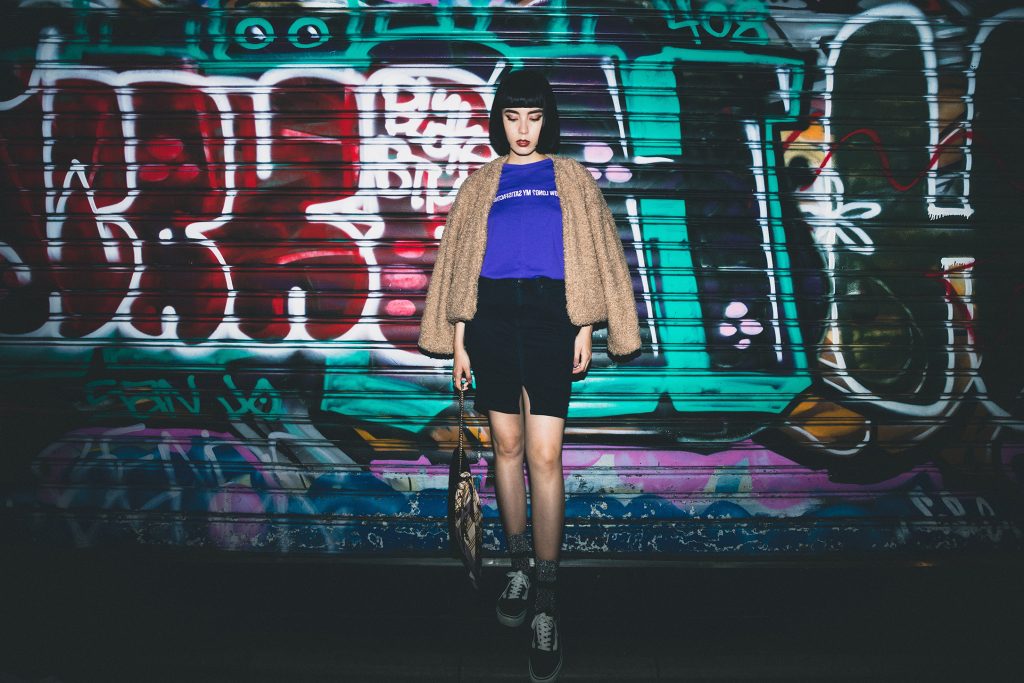 Wearing: Studio Wear by Moussy T-shirt, Calvin Klein skirt (similar here), G.U. jacket, Metrocity bag (similar here), Fakui socks, Vans shoes
Wear it sporty style
"Sporty" will be a never-ending style trend that both men and women alike can enjoy. And in an age where androgynous fashion is accepted, I've learned to dress myself in mens-like fashion that fits my look. Instead of wearing plain black track pants with the T-shirt, I thought a deep green with the sides unbuttoned would make the outfit more interesting and also not make it look too much like I just rolled out of bed (laughs). The subtle violet stripe in the pants matches the purple of the T-shirt, while the double white stripe and the white bag go together as well. By paying attention to the balance in color, you can achieve an athletic tomboy look that still looks put together.
スポーティー系は女性も男性も飽きることなく楽しめるスタイルだと思います。そして、今の時代は両性具有のファッションが流行っているので、私も自分に合うメンズライクなファッションにも挑戦しています。トップスがパープルだから無地系のボトムズを履くのではなく、Tシャツに合わせて色物のトラックパンツをチョイスしました。サイドのボタンを外して、きっちりしすぎず、でもついさっき起きたばかりの感じを出しすぎないように。。笑。トラックパンツにうっすら入っているバイオレットがTシャツの紫とマッチし、更にパンツの白のダブルストライプが白いバッグとマッチしているので、色のバランスを考えてコーディネートしました。アスレチックでメンズライクなスタイルも気軽に楽しめます。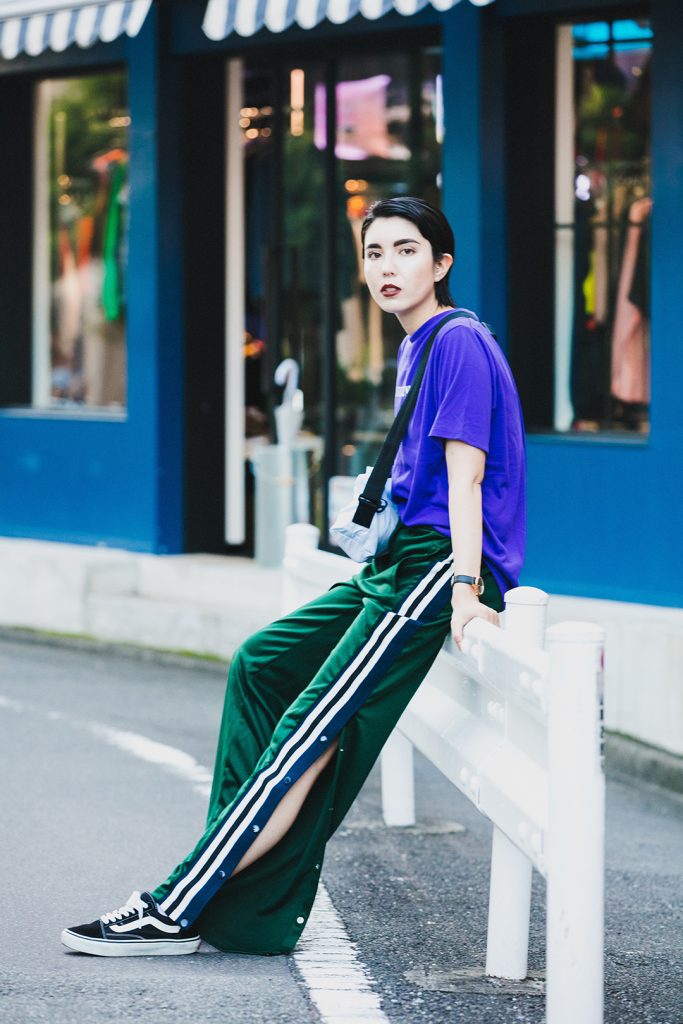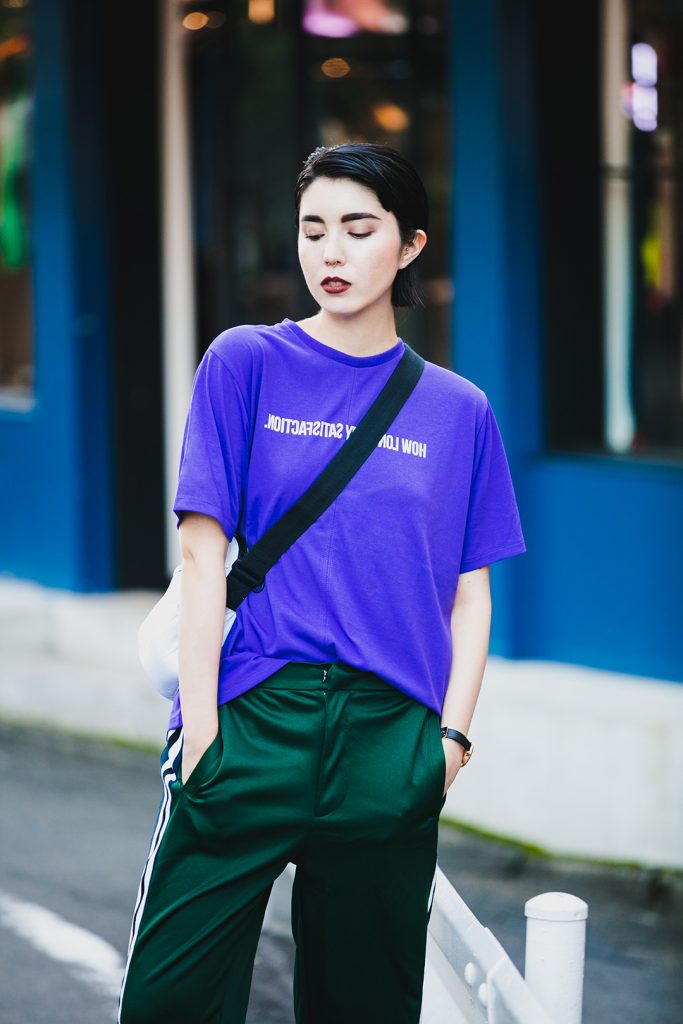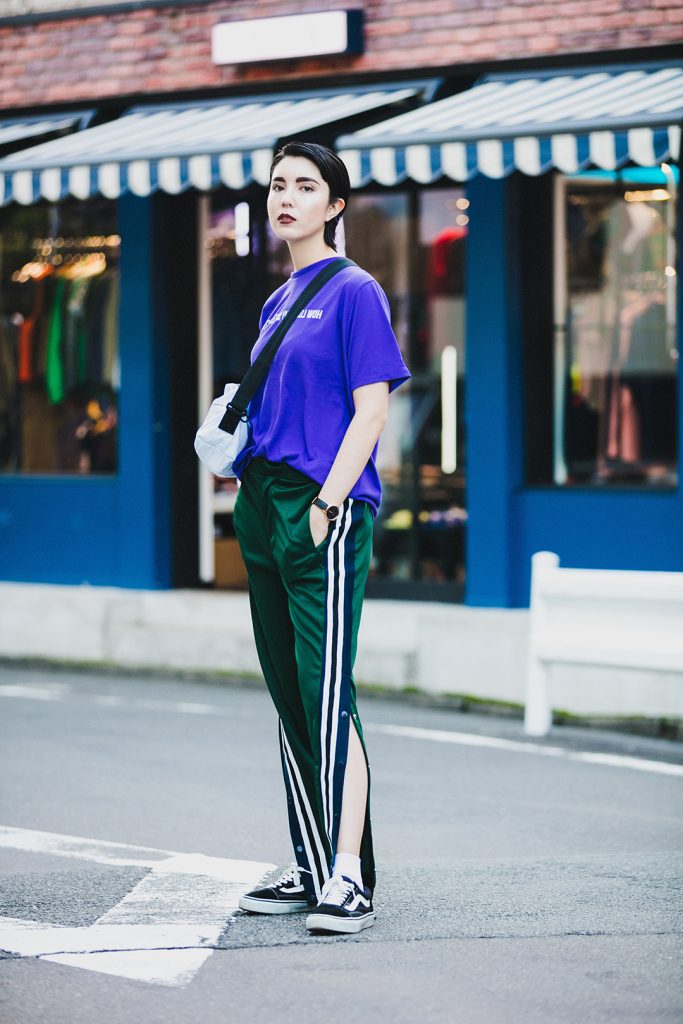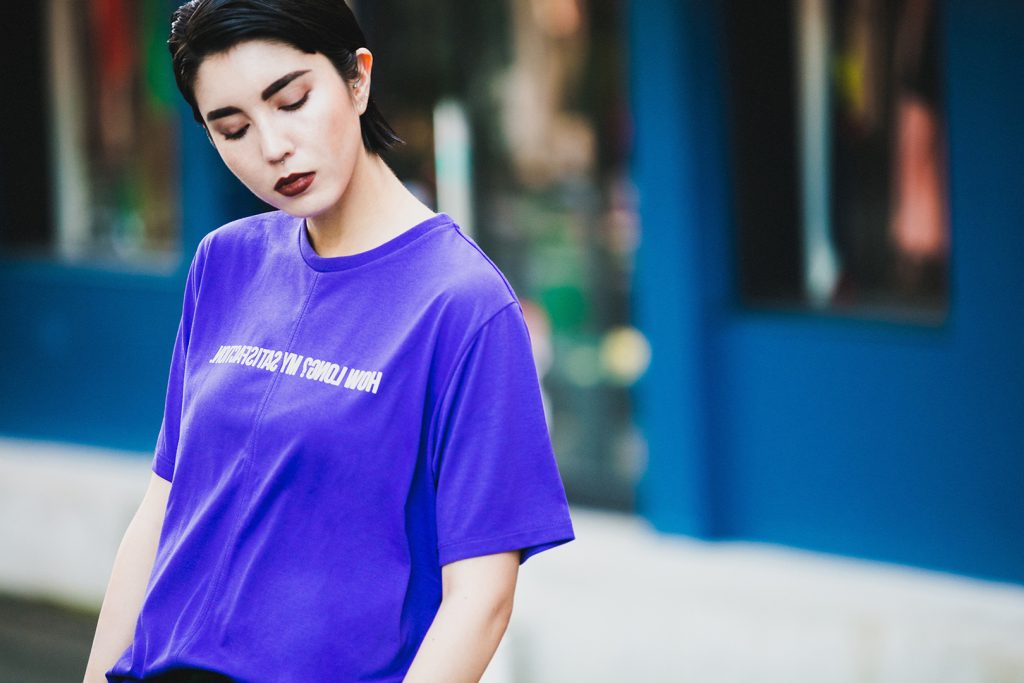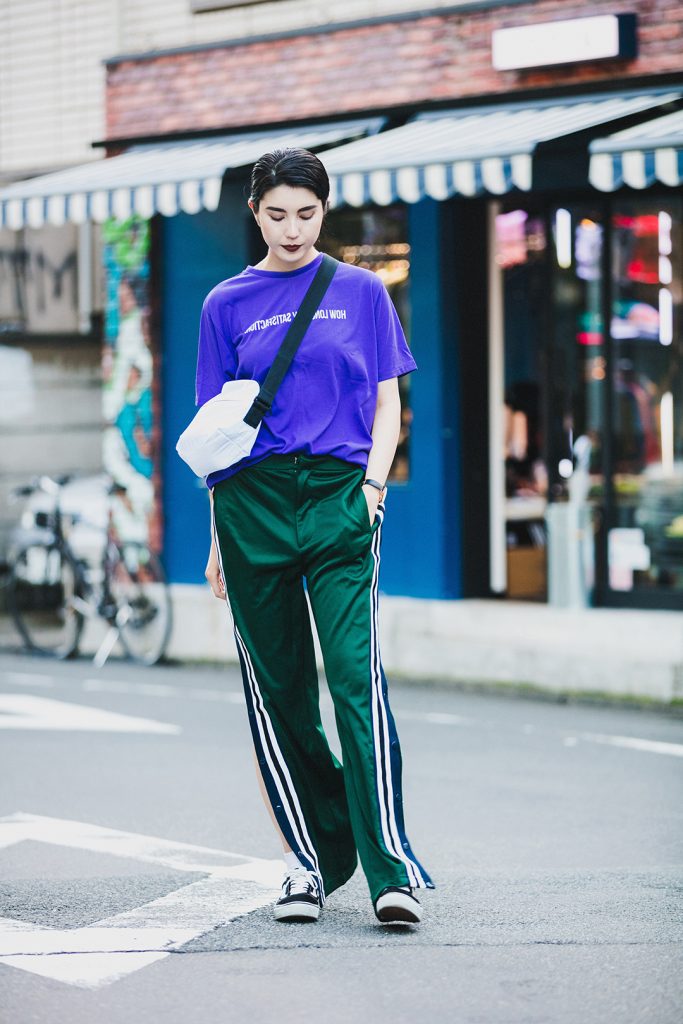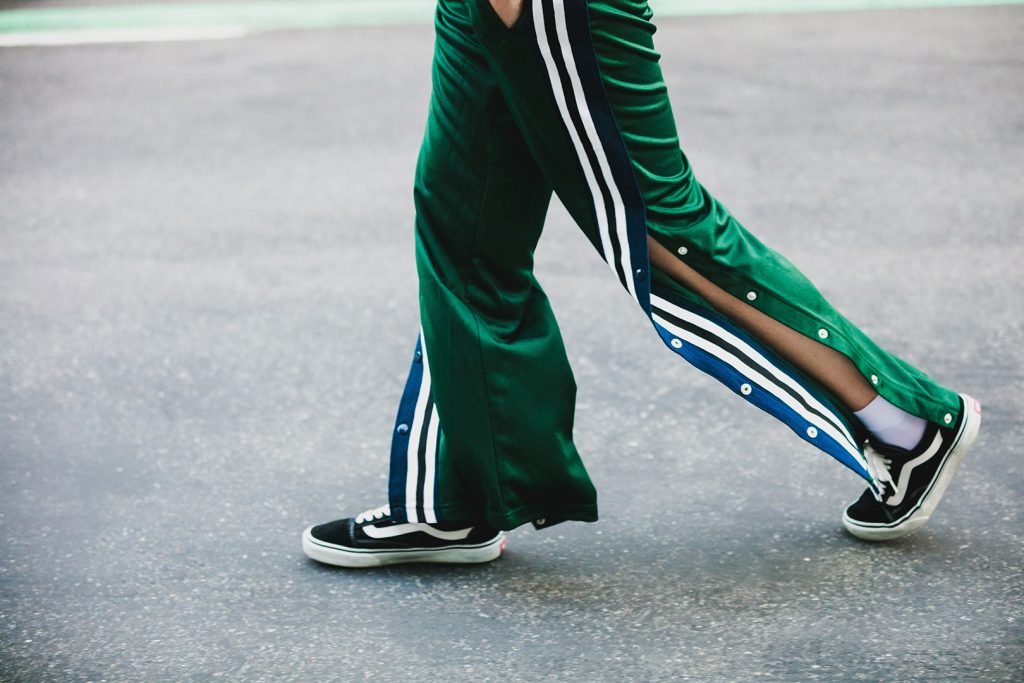 Wearing: Studio Wear by Moussy T-shirt, Studio Wear by Moussy pants, Moussy x Adidas bag (similar here), Vans shoes
How would you wear a bright T-shirt for the fall season? Let me know in the comments!
All photos by Fu Sheng Wang