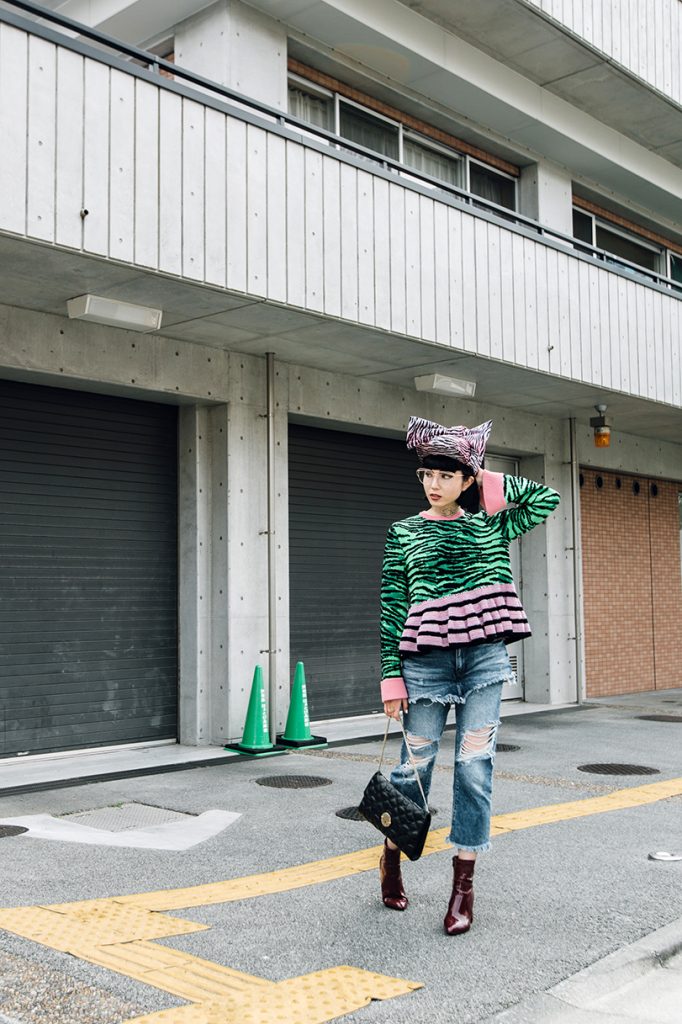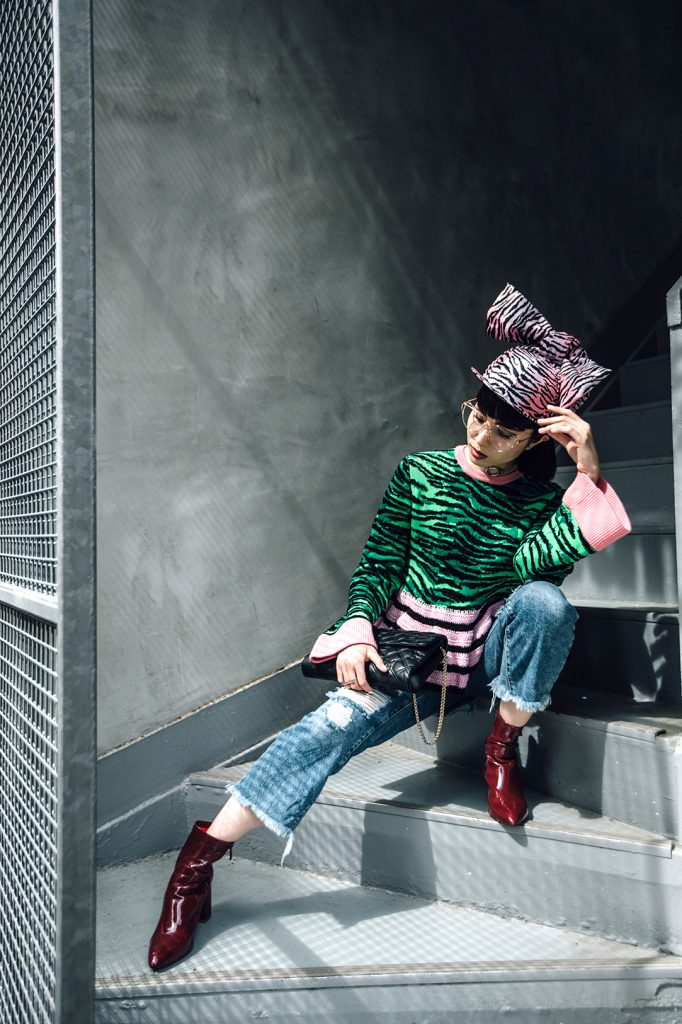 Standing out from the crowd – this is actually tougher than it sounds. Some people are naturally gifted with extroverted personalities. I have and still meet people who are bold in their actions and speech, and from an introverted girl's POV, it's something I've always looked up to. But I don't let my shyness keep me from trying statement fashion pieces. If I like something and I think I can pull it off, I'll wear it.
群を抜くこと。口で言うのは簡単だけど、行動で表すのは難しいことだと思う。私と違って、外向的な性格を生まれ持っている人は沢山いて、自分とはほど遠い行動や言葉が大胆な人には、今でも憧れを抱いています。でも、そんなシャイな私も大胆なファッションに挑戦したいという気持ちは大きいです。好きなものを見つけて似合いそうだったら、着る。常にそういう考えです。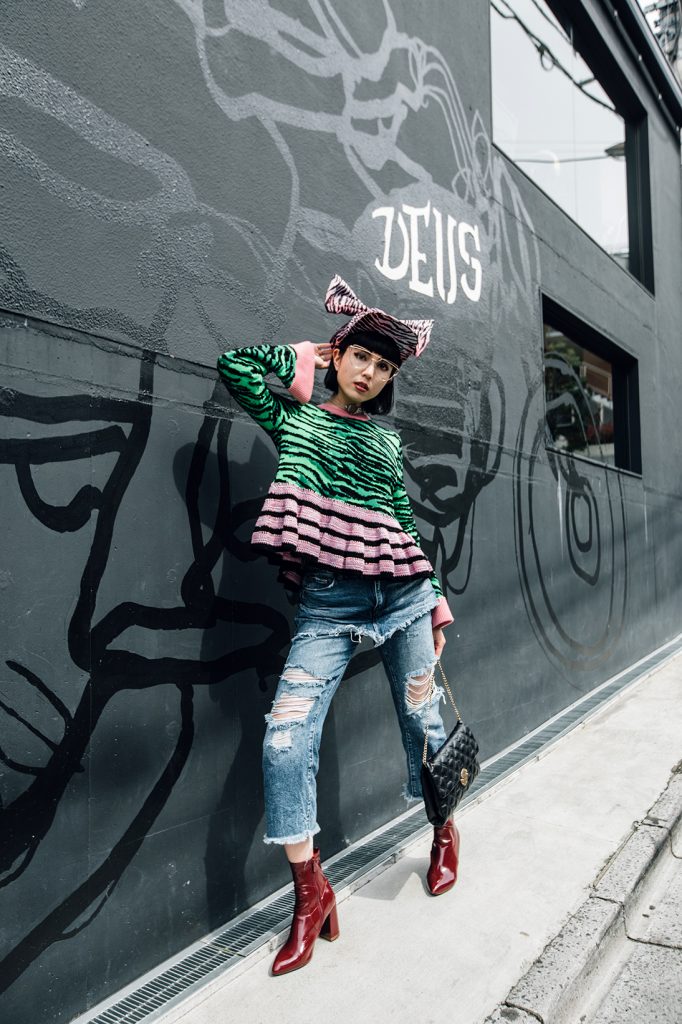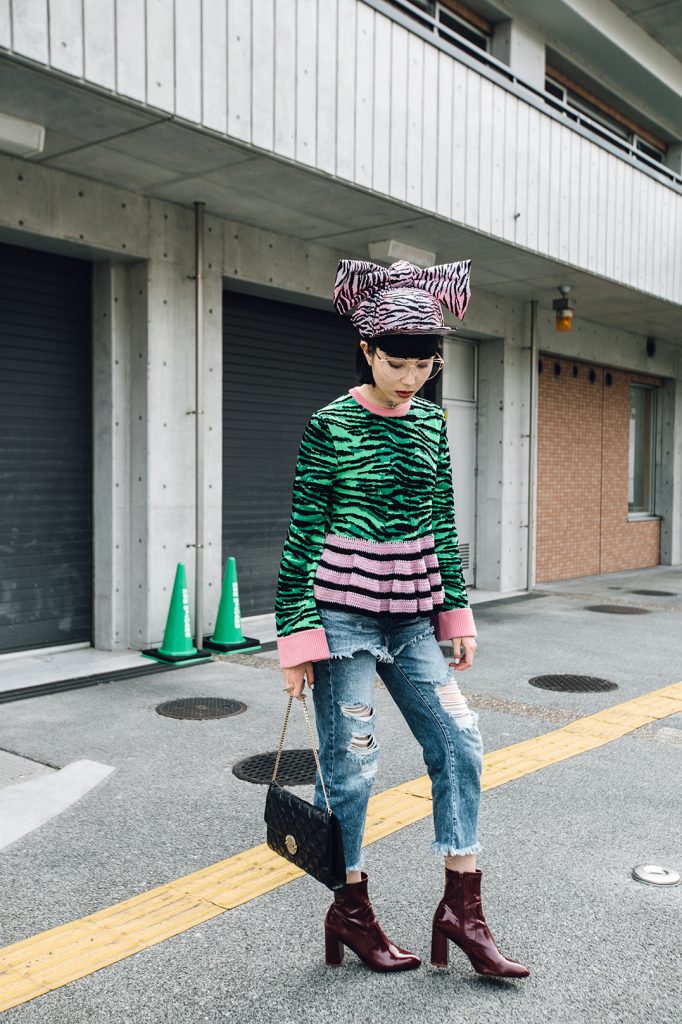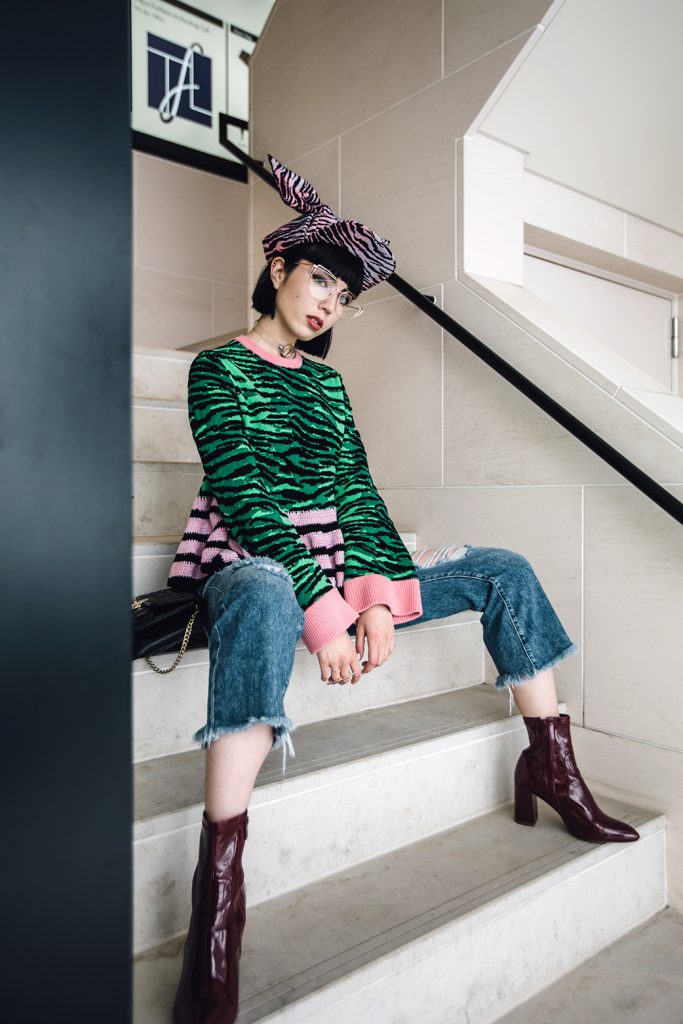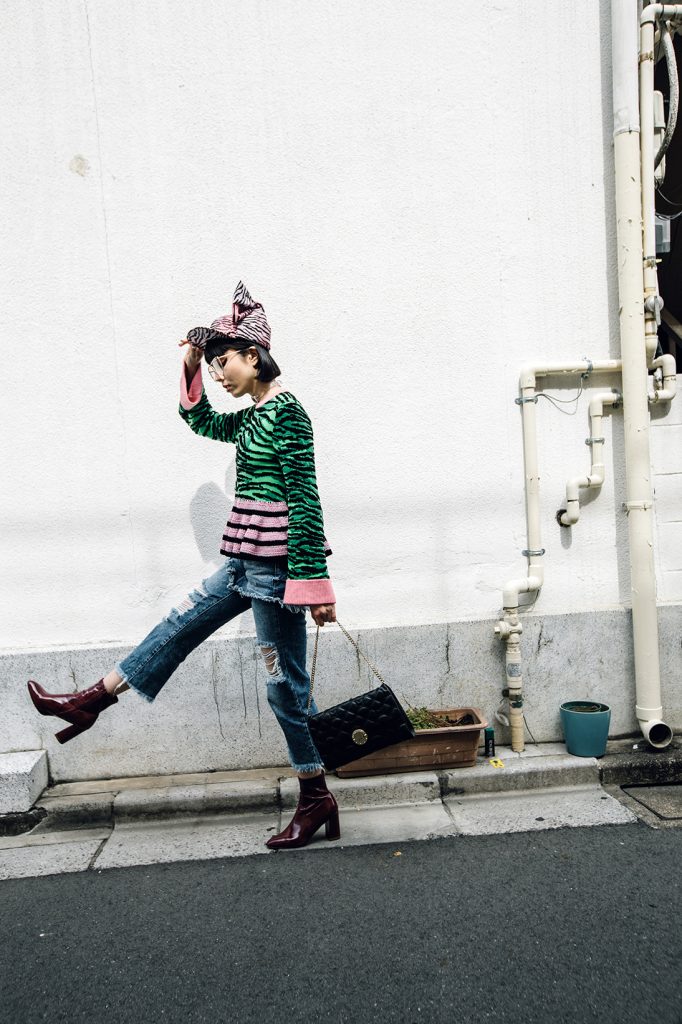 When I purchased this bright sweater and cap to match at the H&M x KENZO shopping party, I was honestly not sure how I was going to style this. I mean… it's green and pink, an unusual color combination with a mix of tiger print and stripes. But luckily, I found this pair of distressed jeans at Zara from the limited Shinjuku Flagship store collection. It's a cropped pant with a mini skirt attached, something I've never seen. I also noticed it was the only item in the collection that was pretty much left untouched, probably because it was an unusual design and not too trendy. So, the rebel in me bought that too, and in my eyes, it was the perfect match with the frilly sweater.
H&M x KENZOのショッピングパーティーでこのカラフルなニットとキャップを購入したのですが、どういう風にスタイリングすればいいか全然分からず・・・グリーンとピンク、タイガー柄とストライプという変わったコンビネーションのお洋服に初めて出会ったのだから。何に合わせようか迷っている中、ちょうどZara新宿フラッグシップ店限定コレクションのデニムを見つけました。クロップ丈のダメージデニムの上に、ミニスカートというあまり見ないデザインだったのもあるし、コレクションの中で在庫が一番残っていたアイテムというのもあったので、逆に欲しいと思いました。自分の中では、この変わり者アイテム同士の相性が良いかもしれないと思ったんです。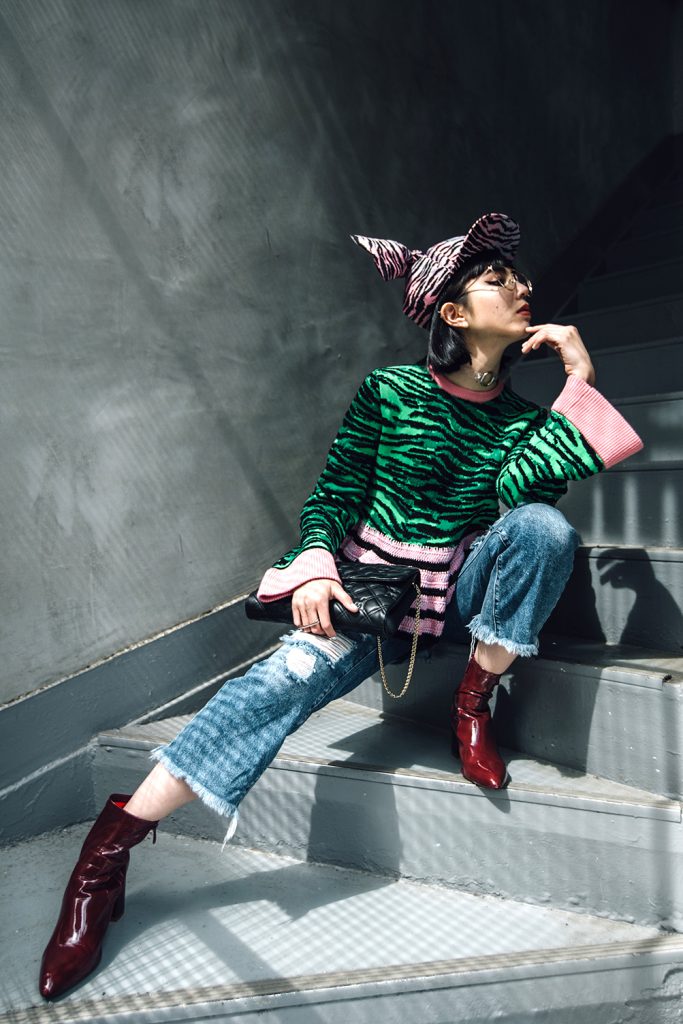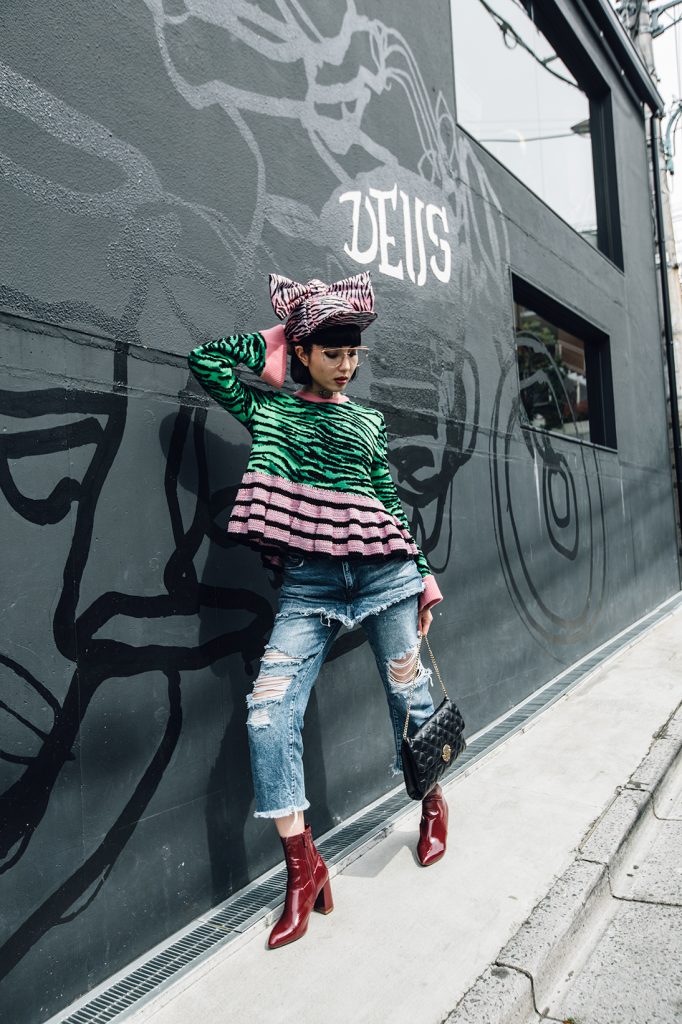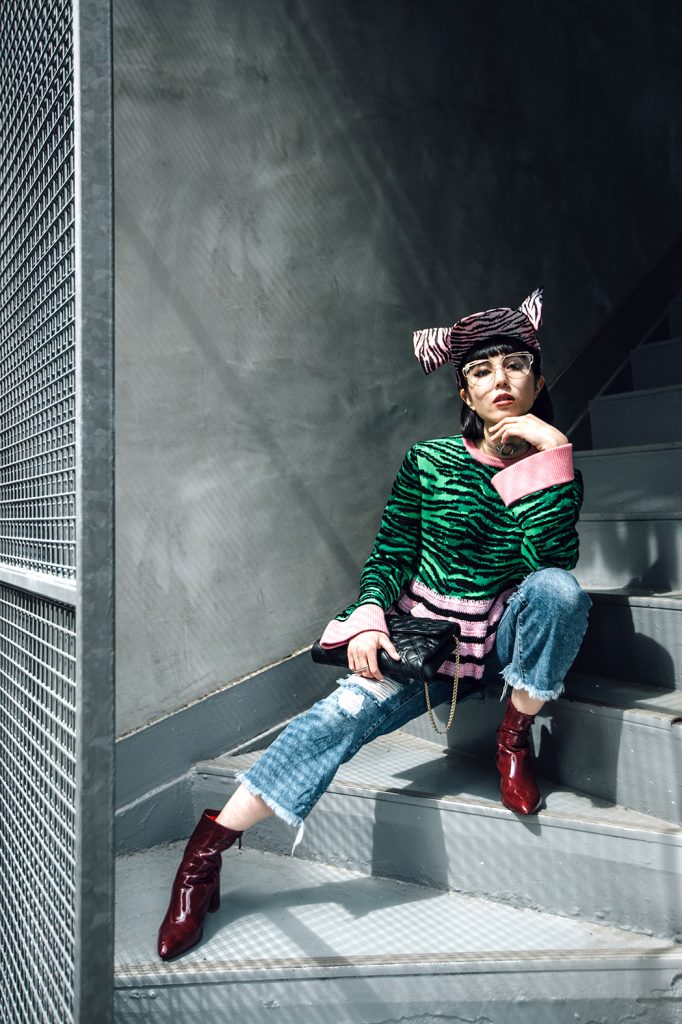 Since it was during Fashion Week Tokyo when I wore this outfit, I felt perfectly in place if you know what I mean. If I were to wear this in my hometown of Huntington Beach, for example, I think people would really stare and I would stand out in the wrong way. But because I want to channel my creativity and experiment with fashion, Tokyo is the place to be for me right now. There are so many fashion lovers and style influencers that it's consistently an eye-opening experience for me daily. I've learned to appreciate things I otherwise wouldn't have if I had stayed in California. Despite the environment you live in though, don't be afraid to dress the way you like. Do it for yourself. And I say let them stare♥︎
アマゾンファッションウィーク中に着たコーディネートだったので、派手ではあるけど違和感を感じることはなかったです。例えば、環境が変わって実家のハンティントンビーチみたいなところで同じものを着てたら、派手すぎて逆に悪い意味で視線を浴びてたかもしれません。ファッションを通して自分の創造性を発信したいので、今の私には東京がぴったりなんです。ファッション好きな人や、スタイルインフルエンサーが多い東京は、常に刺激的で、沢山の影響を受けています。カリフォルニアにいたら分からなかった良さを、今でも知ることができています。ですが、どんな環境にいても、人の目を気にしないこと!自分のために、好きなものを着た方が絶対いい。見る側も、見たかったら見ればいいじゃない♥︎
H&M x KENZO sweater and hat, Zara jeans, zeroUV glasses, Metrocity bag, Public Desire boots
All photos by Mark Nguyen