Growing up in California and having lived in LA for a couple of years during university, it's hard for me to let go of that way of thinking and I think it shows in my personal style. After moving to Tokyo 5 years ago, I've also acquired a lot of the Tokyo street style that's trending or that I find fits my style, and it's so fun to mix the two to create an "LA meets Tokyo" look. As a blogger, I love representing brands that I feel have a strong and unique identity, and UNTITLED CLUB from Japan truly reflects just that.
カリフォルニアで生まれ育ち、大学生の頃数年ロサンゼルスに住んでいたこともあるので、「LA」のライフスタイルが今でも身に付いていて、パーソナルスタイルにも反映されてると思います。5年前に日本に来て以来、東京の最新のトレンドやファッションをコーディネートに取り入れてみたりし始めたので、二つをミックスした「LA meets Tokyo」ルックを考えるのが楽しいです。ブロガーとして私はユニークでアイデンティティの強いブランドのお洋服を着るのが好きで、日本発のUNTITLED CLUBはその内の一つに当てはまります。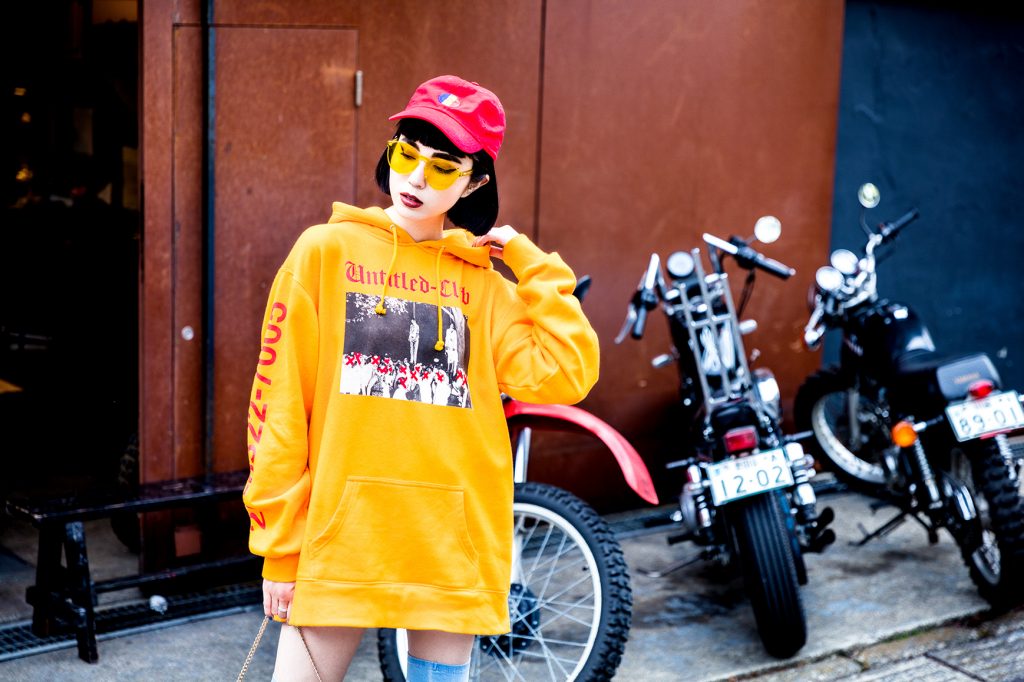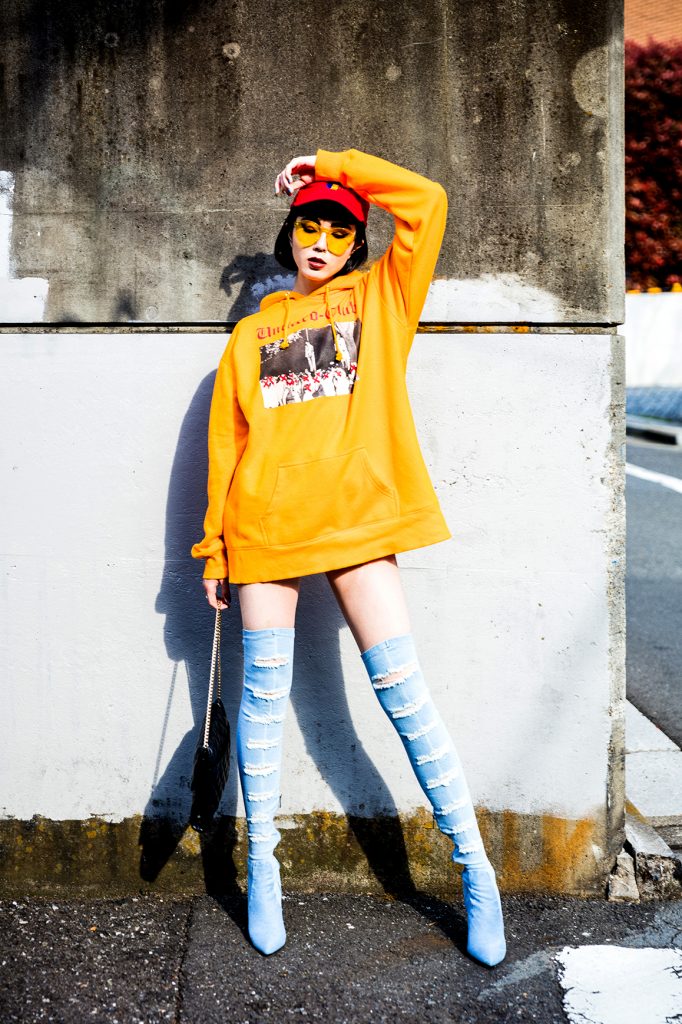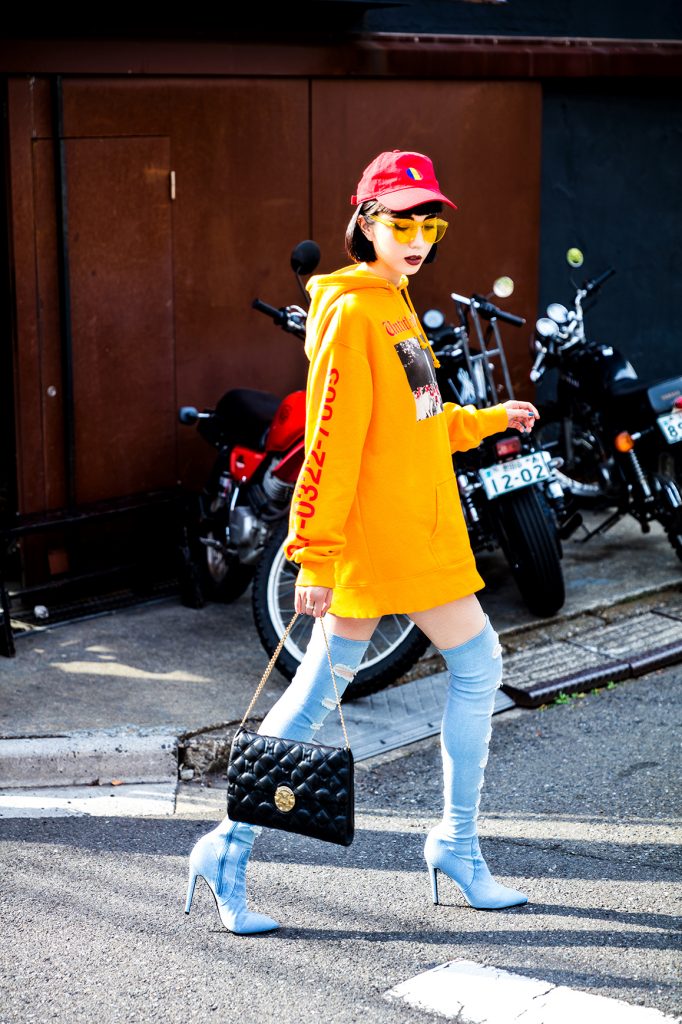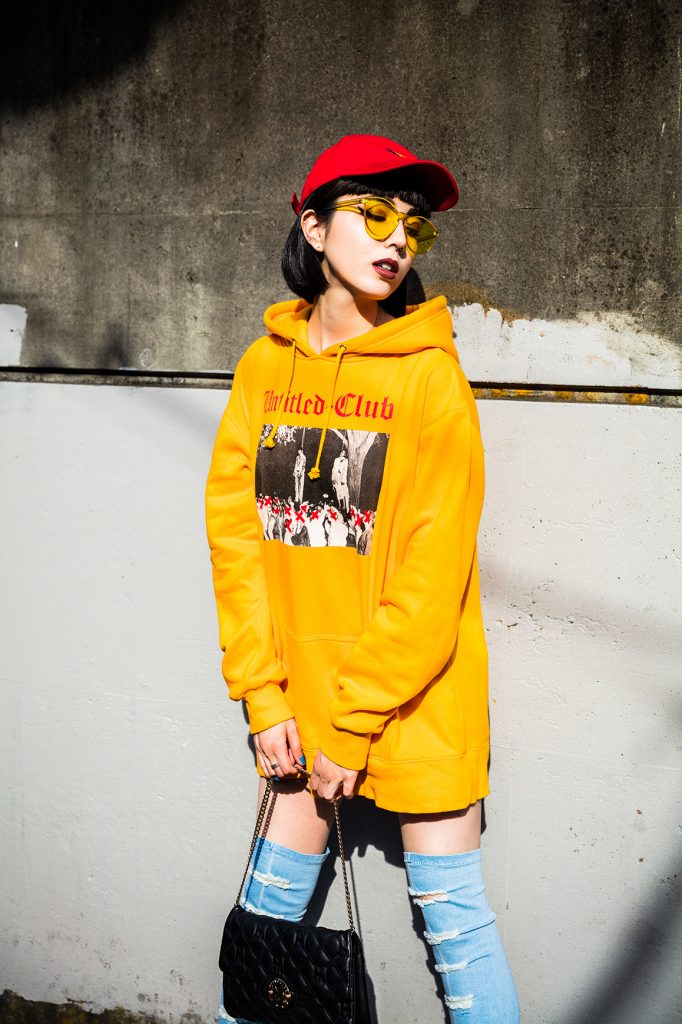 About UNTITLED CLUB, Japanese street wear brand
UNTITLED CLUB is a Japanese street wear label that launched last year in 2016, incorporating the 90s youth culture & subcultures in its designs. I've introduced this T-shirt several times on my blog, and that's where I became really hooked on street wear and wearing oversized clothing. And this hoodie is no different – I purposely ordered the XXL so I can wear it as a dress with OTK boots, precisely as I did in the photos. The reason why I say this style is "LA meets Tokyo" is because I feel like OTK boots are totally LA style, and of course, the always amazing zeroUV, based in Huntington Beach, provides the perfect matching eyewear. And I couldn't imagine not wearing yellow on yellow for the ultimate showstopper look because the way I think of it is, a yellow signal light is much more interesting than the simple "stop" or "go" of the red or green. That's just me, though.
UNTITLED CLUBは2016年にローンチしたストリートウェアのレーベルで、90年代のユースカルチャーやサブカルチャーをデザインに取り入れています。このTシャツを何回かブログで紹介していますが、これをきっかけにラフなストリートウェアやオーバーサイズの服に目覚めました。この着用しているフードもそのひとつです。膝上ブーツなどと合わせられるように、わざとXXLを購入しました。このスタイリングがなぜ「LA meets Tokyo」なのかというと、膝上ブーツはロスでかなり流行っているし、いつも愛用しているサングラスブランドのzeroUVもカルフォルニア発だからです。ダブル黄色という発想も目立ってて良いかなと思いました。だって、分かりやすい赤や青信号より、ちょっと曖昧な黄色の方が面白いと思わない?それとも私だけかしら。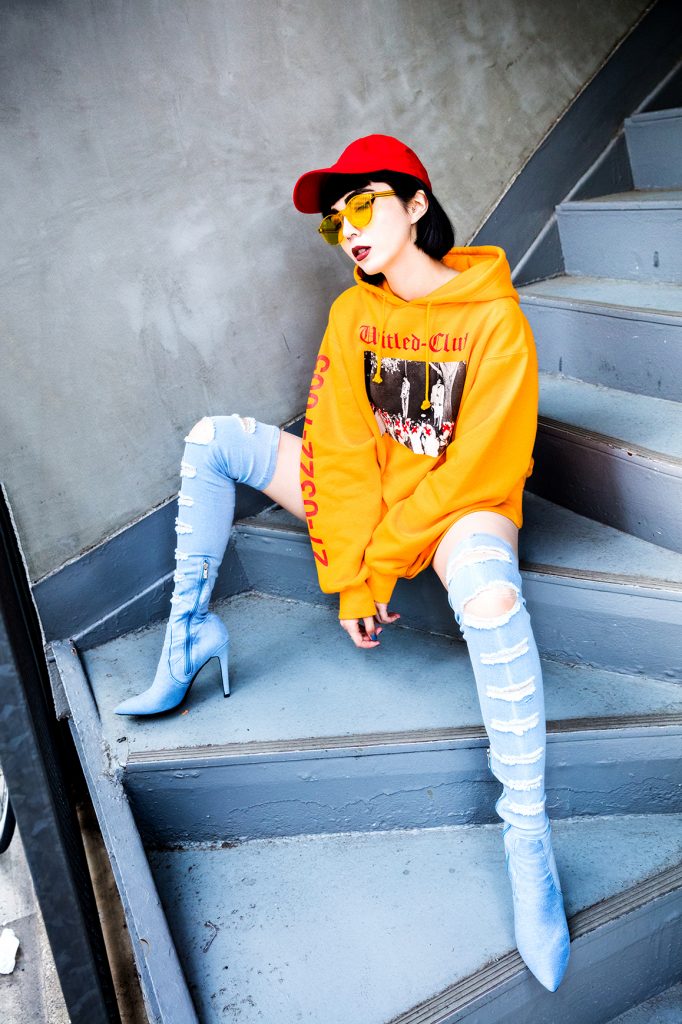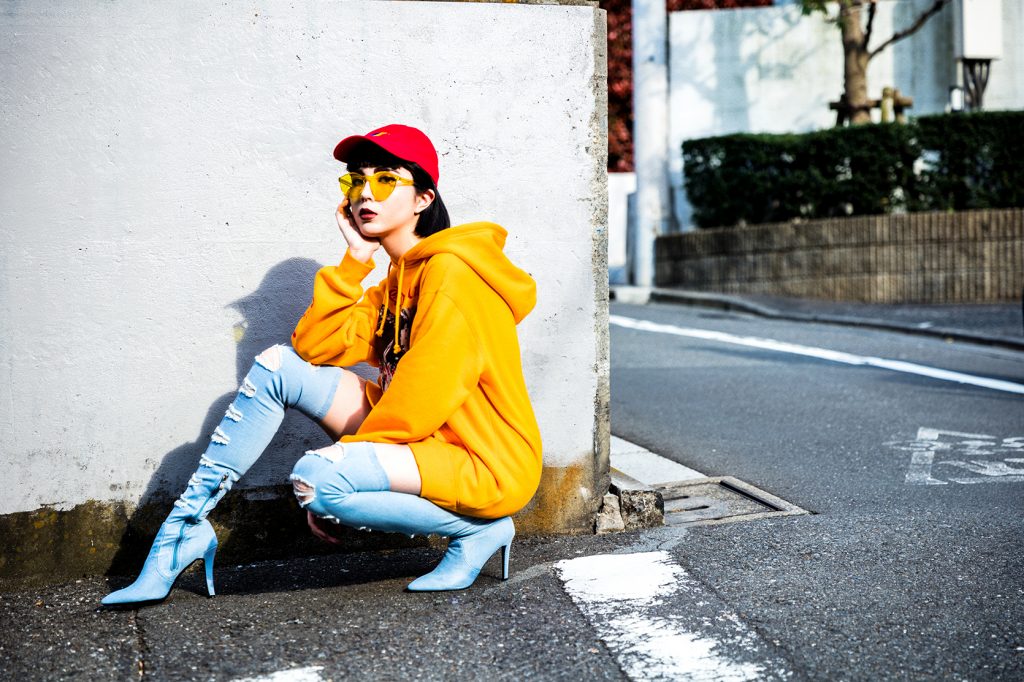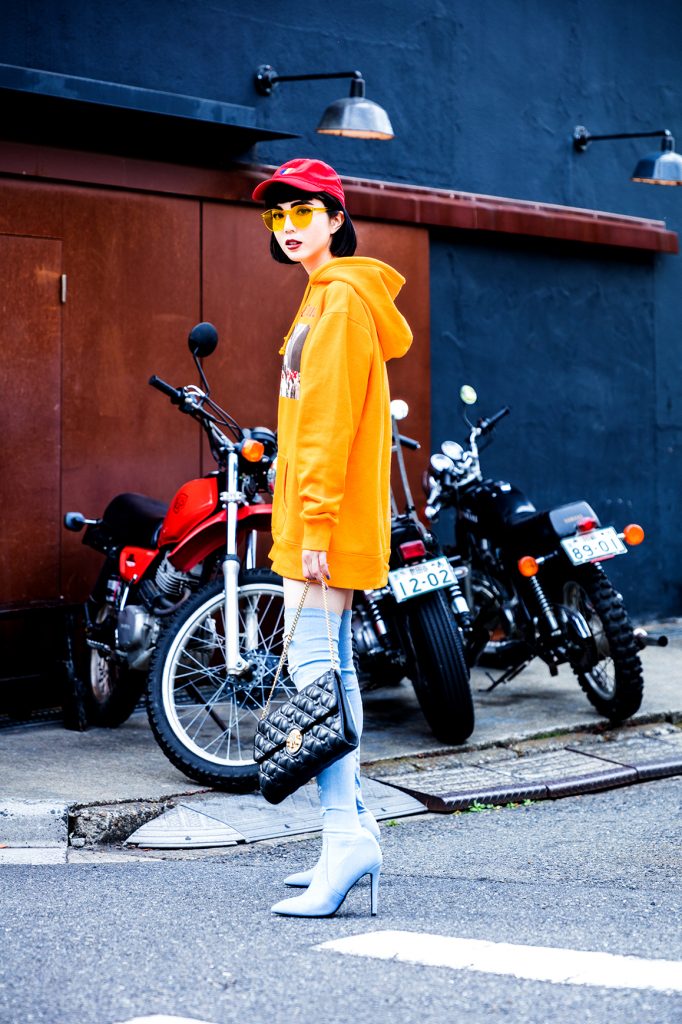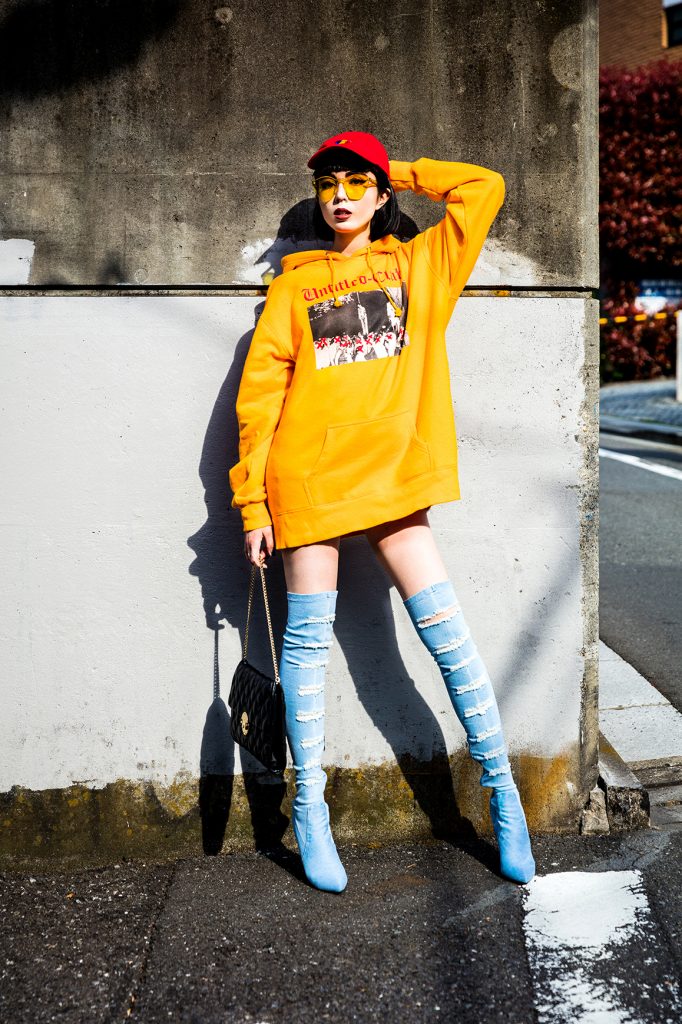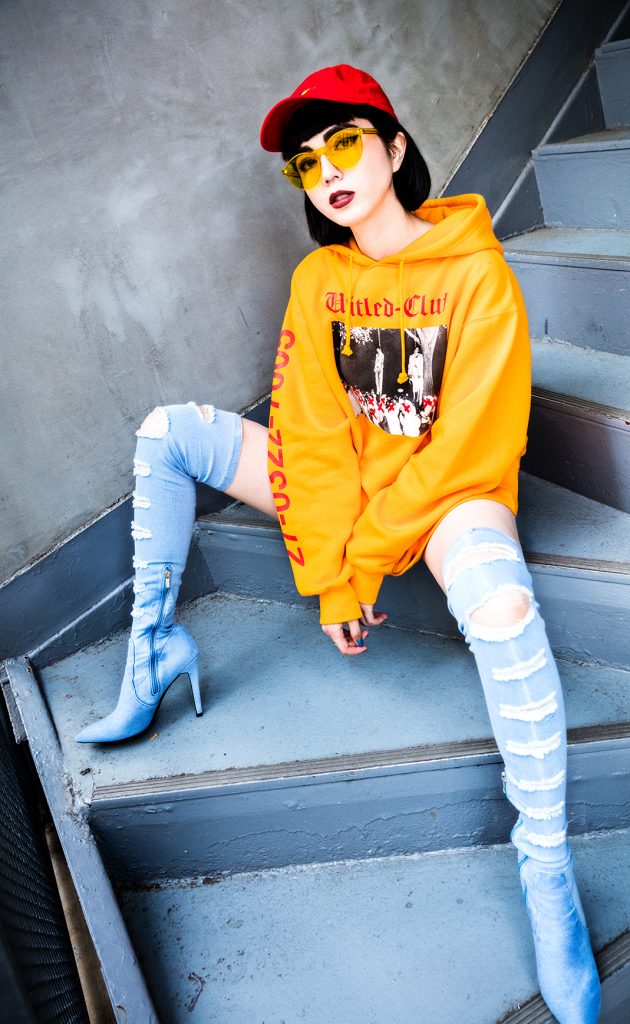 What do you think of this street wear brand, UNTITLED CLUB and how I styled this yellow hoodie? Let me know in the comments!
Untitled Club hoodie & cap, Public Desire boots, Metrocity bag, zeroUV sunglasses
All photos by Fu Sheng Wang
EDIT: UNTITLED CLUB has renamed itself to CLBUN