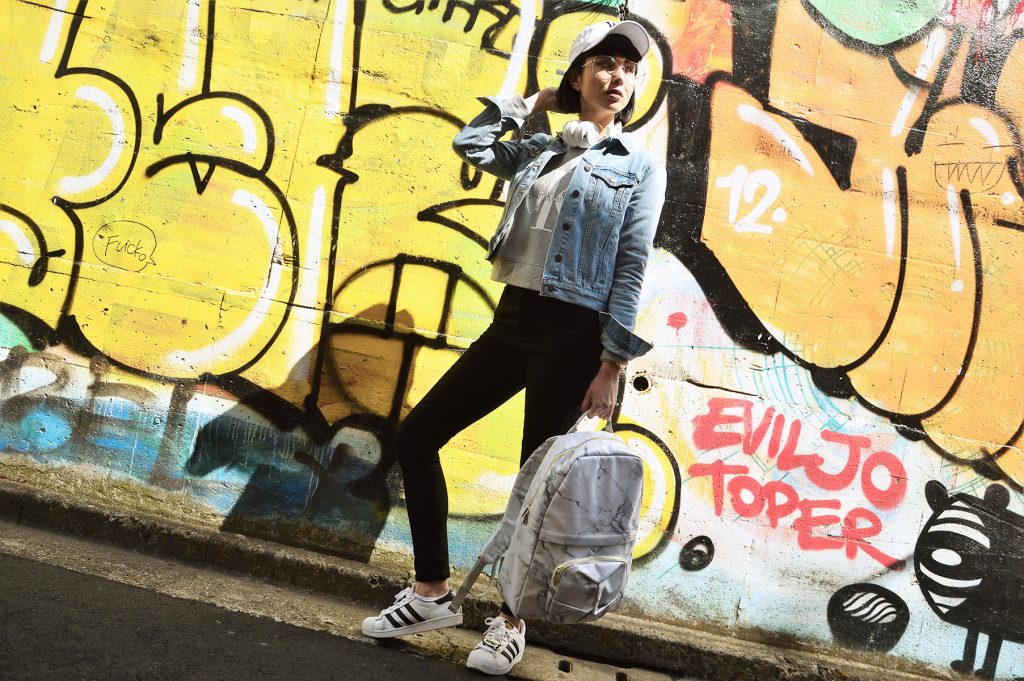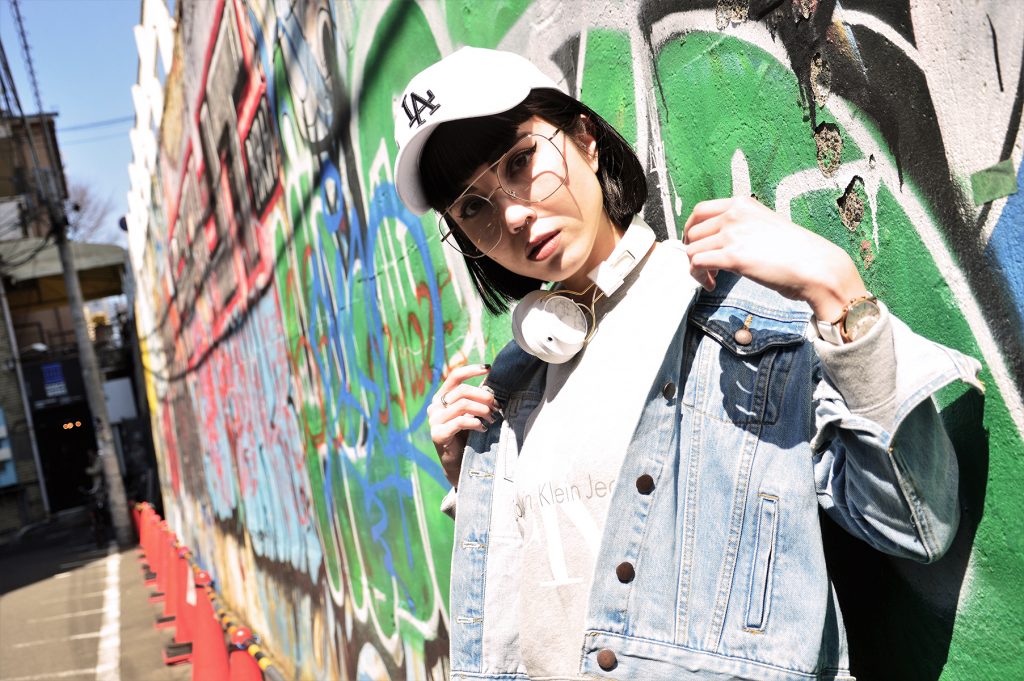 Being a girl with multiple occupations, I'm constantly out and about, sometimes traveling to 3-4 locations in the city per day. As a model, I'll have auditions and photo shoots to go to; as a blogger, I schedule my own photo shoots somewhere in the city with photographers or go to business meetings; and as a DJ, I have lessons and gigs several times a month. Sometimes, I do need to bring my laptop or my modeling portfolio, and this requires me to have a sturdy bag that carries all my belongings. This is where 25TOGO Design's Oribagu backpack comes in extremely handy.
多数の職業を持つ私は、日々移動することが多く、1日に3〜4回移動することも結構あります。モデルとしてオーディションや撮影へ行ったり、ブロガーとして自分で撮影をスケジュールしたり、打ち合わせに行ったりしてます。そして、DJとして、月に数回のレッスンやお仕事のための移動もあります。たまに、ノートパソコン、あるいはモデルのブックを持ち歩かないと行けないので、頑丈で必要なものが全部入るリュックが必要です。そこで、25TOGO DesignのOribaguリュックが必勝アイテムとなります。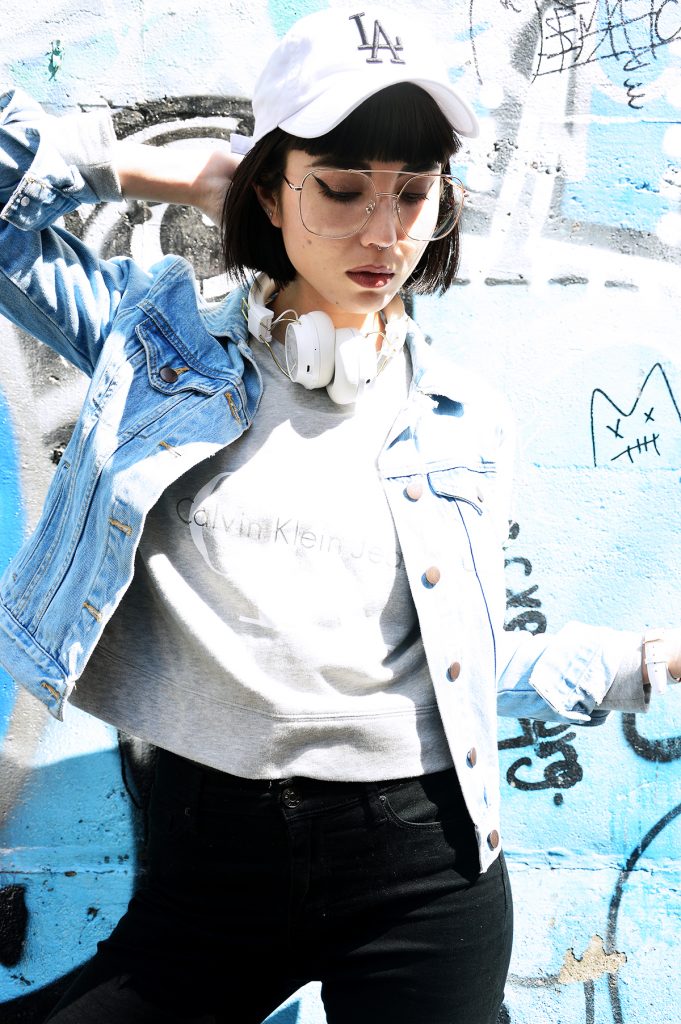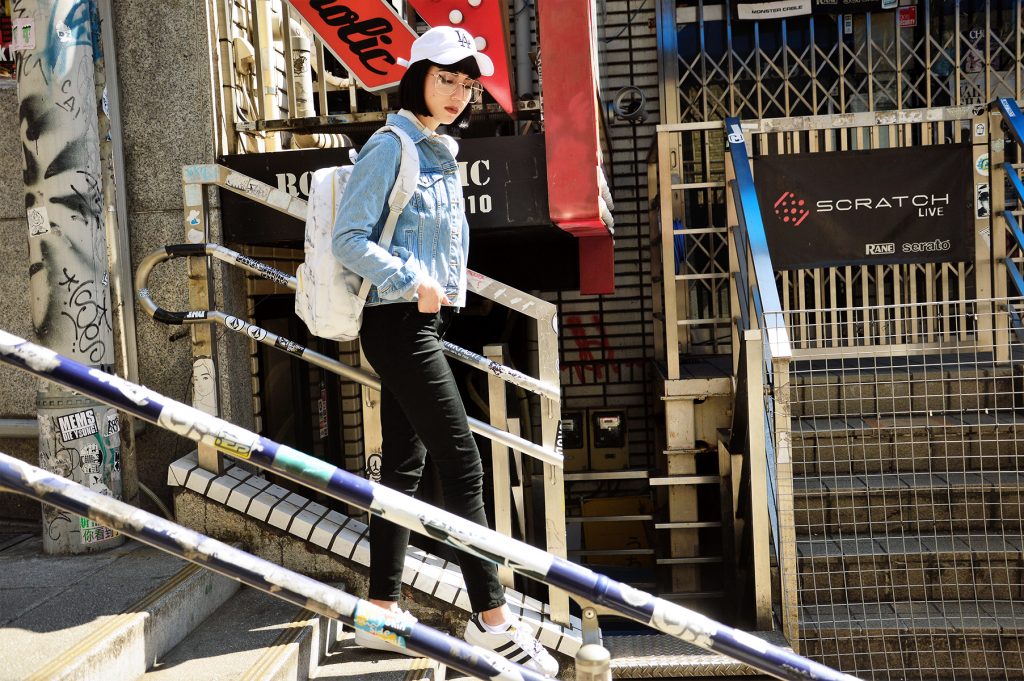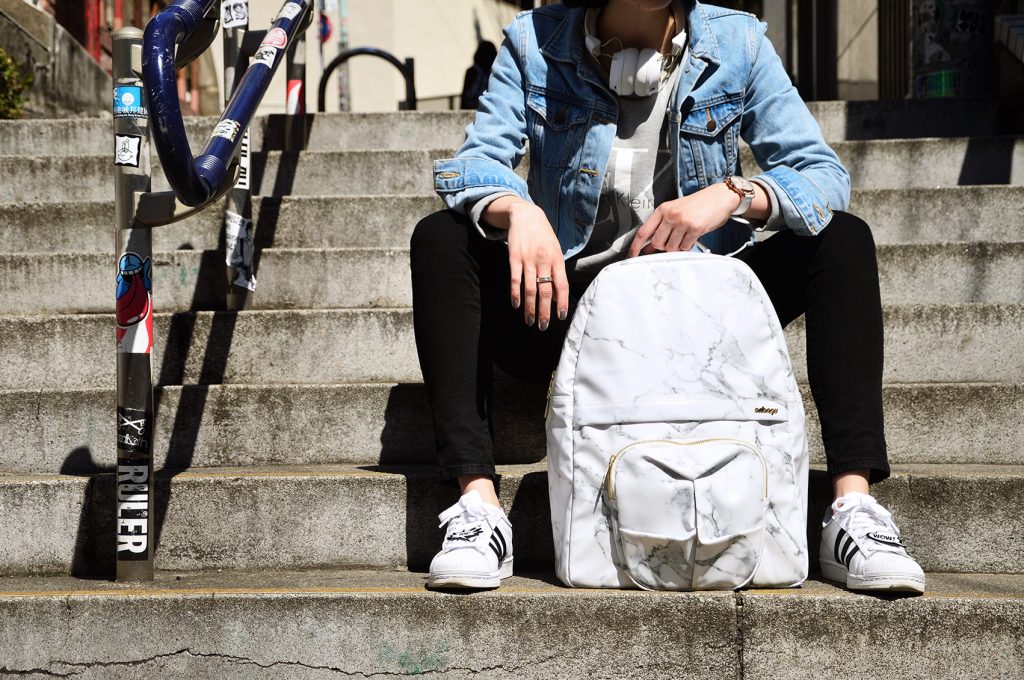 The Oribagu, or the origami bag, literally means "folding paper" in Japanese. Their designs are unique in that they "fold" animals to create 3D bags, giving a traditional art form a modern twist. They have rhinos, bulldogs, bears, and chinchilla cats, to name a few. I chose this Snow Crystal Gorilla for two reasons: it's white marble (my favorite!), and it easily fits my laptop or modeling portfolio in style. I've gotten so many compliments on this backpack already because it's a never-before-seen design, and I think it's hard to come across quality backpacks in the popular marble print.
もちろん日本語が分かる方は、Oribaguの由来は想像付くと思います。折り紙の「Ori」とバッグの「bagu」でOribagu。とてもユニークなデザインのバッグやリュックは、立体感を作るために折り紙風に動物の頭を折っているんです。サイやブルドッグ、クマや猫などのデザインが用意されています。私は、このスノークリスタルゴリラをチョイスしました。理由は、パソコンやブックが余裕に入るのと、白い大理石柄にハマっているからです。リュックを使ってて、すでに沢山の人に気に入ってもらっています。とても珍しいデザインというのもあるし、クオリティーが高い、大理石柄のリュックはなかなかないからだと思います。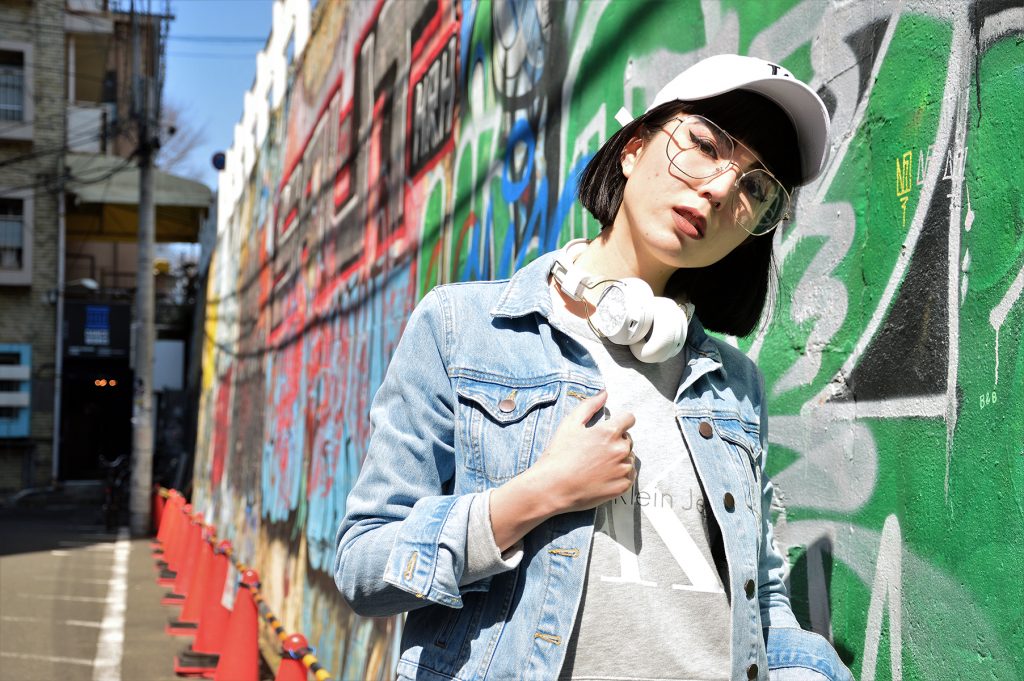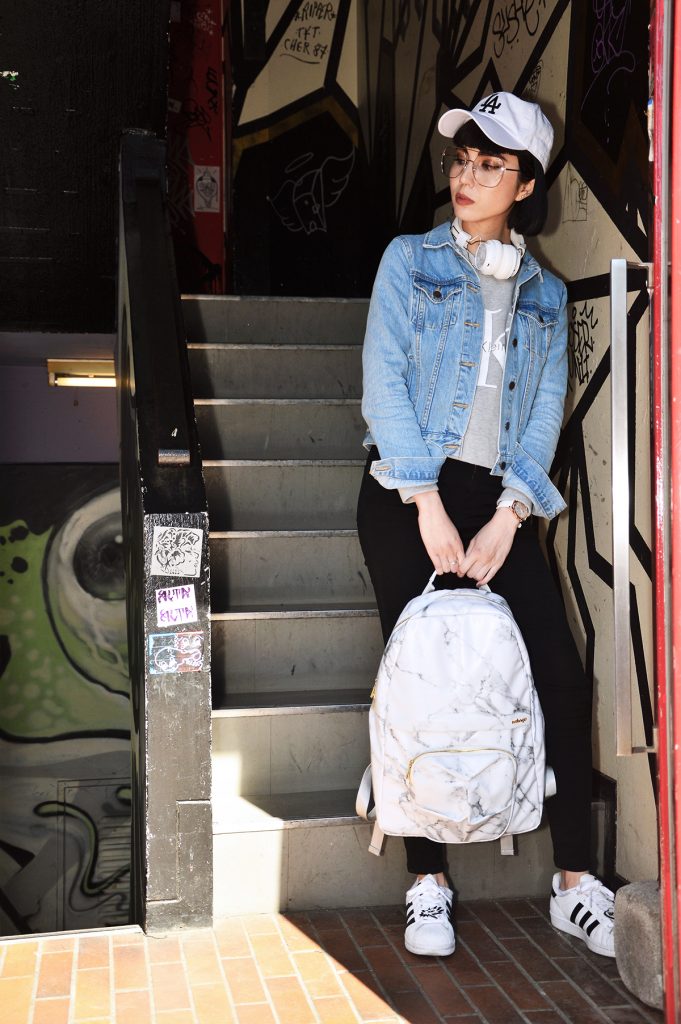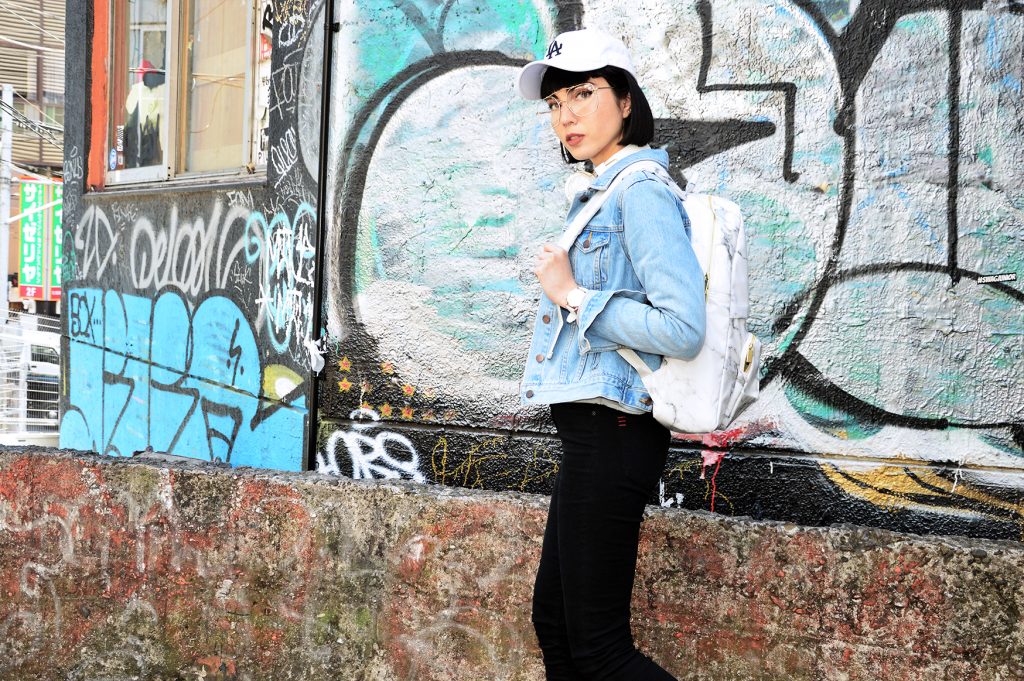 While I do love to get glammed up for parties and events, I usually dress pretty casually especially if I'm required to be in so many in one day. To bring out the clean white marble of the backpack, I selected pale colors like this denim jacket and grey Calvin Klein sweater, but kept things put together with the black skinnies and Adidas. And I just love how my marble Sudio Swedens match the backpack. White marble for the win.
パーティーやイベントのためにおめかしするのは女の子としてすごく好きなのですが、普段は移動が多い分、ものすごくカジュアルな格好をすることが多いです。今回は、白い大理石柄を引き立たせるために、薄い色のデニムやプルオーバー、白のキャップなどを選び、黒いスキニーとAdidasでコーディネートをまとめてみました。ちょうど、Sudio Swedenのヘッドホンも大理石柄だったので、ペアアイテムとして着用しました!やっぱりホワイトマーブル柄はいいですね。
Oribagu backpack by 25TOGO Design, Forever 21 jacket (similar here), Calvin Klein sweater, Urban Outfitters jeans, Adidas Originals, American Needle Cap, Henry London watch, zeroUV glasses
All photos by Ricardo Piras