Metallics are a great way to add spice to any outfit, whether it be a top, a bag, a skirt, shoes, or accessories. I always make sure I have a variety of metallic items in my closet for easy mix and matching. So when I spotted this deep gold pleated skirt on Shopbop, I knew I had to add it to my ever-growing collection of metallic pieces.
メタリックカラーのアイテムは、どんなにシンプルなコーディネートにもちょっとしたスパイスを足してくれます。トップス、バッグ、スカート、靴、あるいは小物やアクセサリー。私は常にメタリック系のアイテムを集めていて、いつでも簡単にコーディネートに加えれるようにしています。今回着用しているゴールドのプリーツスカートをShopbopで見つけた時も、メタリックコレクションに追加しなきゃ!と思いました。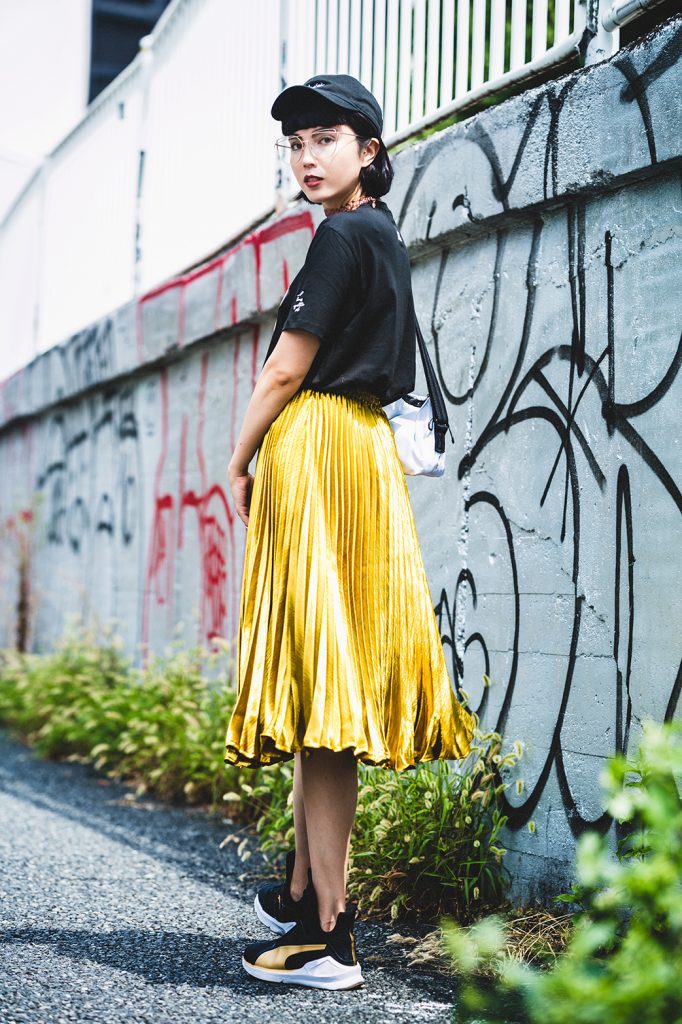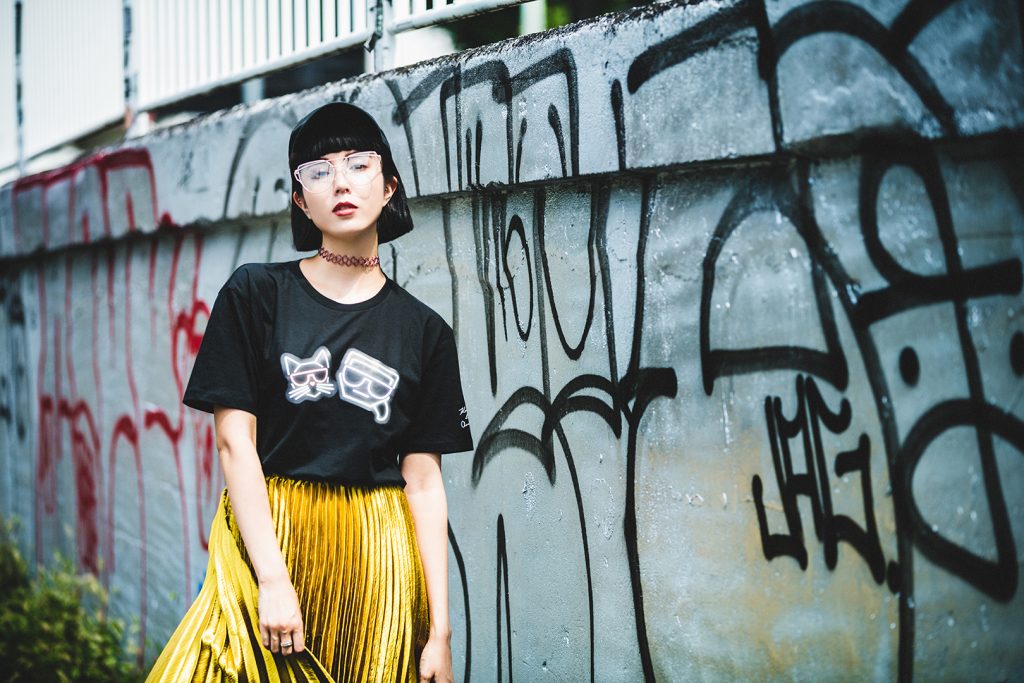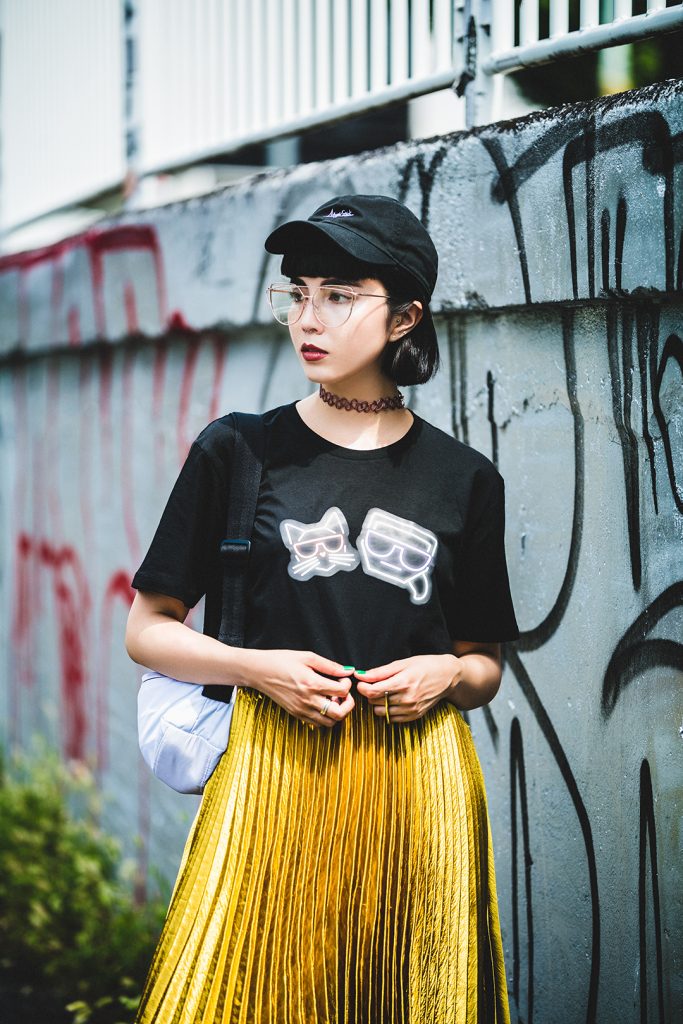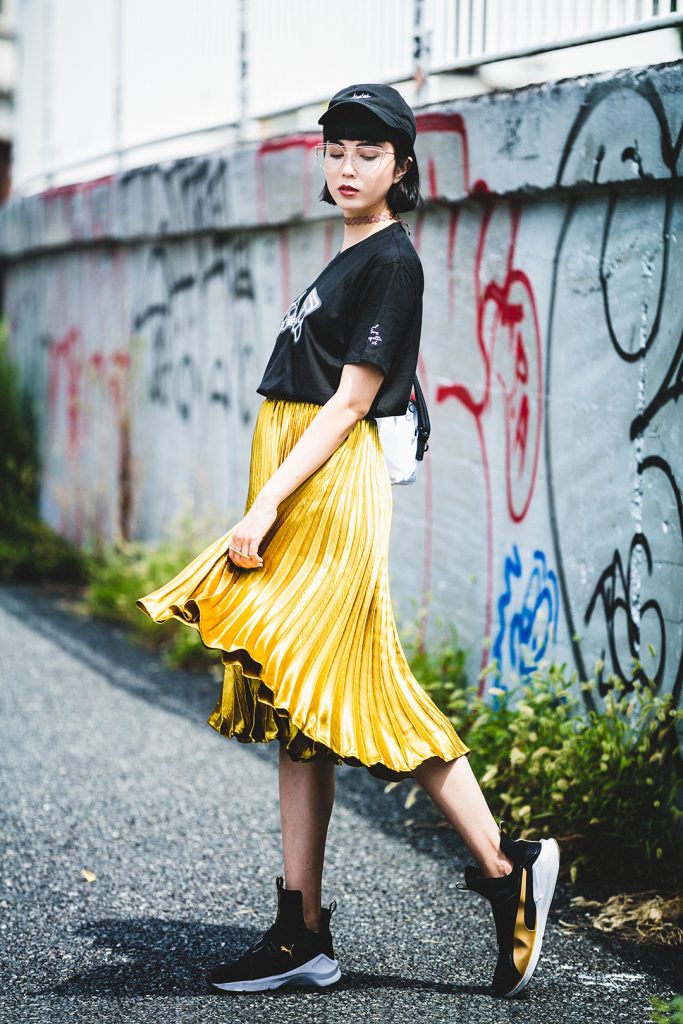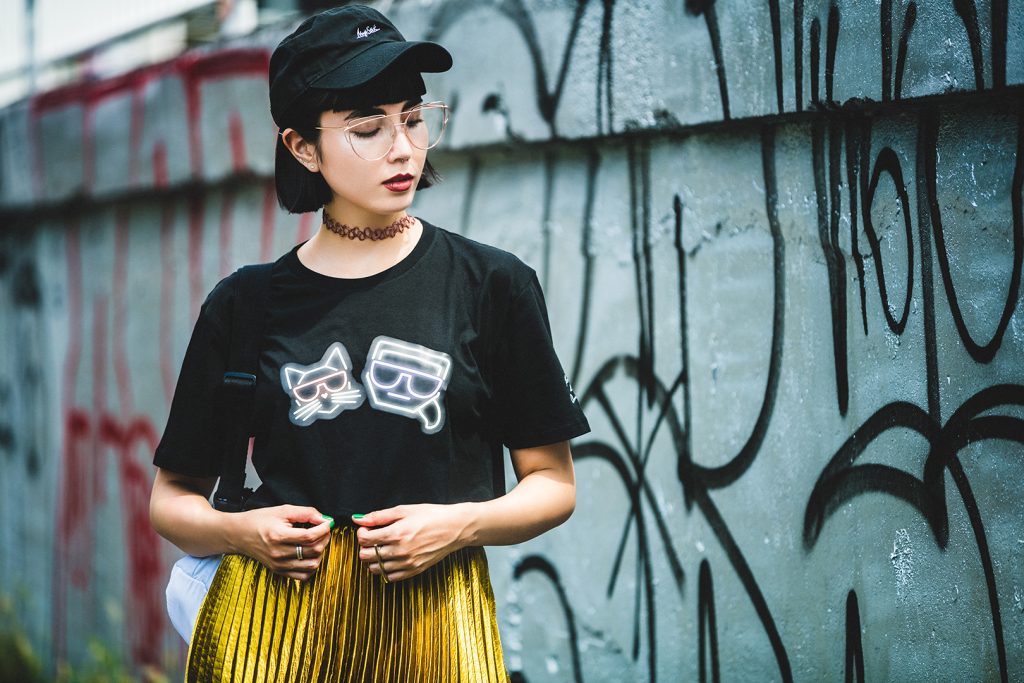 While doing some online shopping on Shopbop, I came across English Factory, a Los Angeles-based brand with an effortless, feminine aesthetic. I noticed all of the pieces on Shopbop were very affordable, the designs wearable and chic. The metallic pleated skirt caught my eye immediately, and while the blue one was also very pretty, I decided that the gold one would be more versatile and also a better choice for fall outfits. And this T-shirt from the newest collection of Limited Edition by Karl Lagerfeld arrived just in time – these cute, neon doodles of Karl and his cat add a fun element to an otherwise simple black & gold outfit.
Shopbopでオンラインショッピングをしていた時、English Factoryというロサンゼルスのブランドを初めて知りました。割と新しいブランドで、コンセプトは楽で努力したように見えないフェミニンなスタイル。このゴールドのスカートはすぐ目に止まり、ブルーの方も凄く可愛かったのですが、ゴールドの方が着回しに良いかなと思いました。そして、Limited Edition by Karl Lagerfeldの秋冬コレクションのTシャツもちょうど良いタイミングに届いたので、この2点を合わせてみました。遊び心のあるネオンカールと猫ちゃんのイラストがシックなメタリックスカートと程よいバランスがとれて、格好よすぎず、誰でも着れるコーディネートに仕上げました。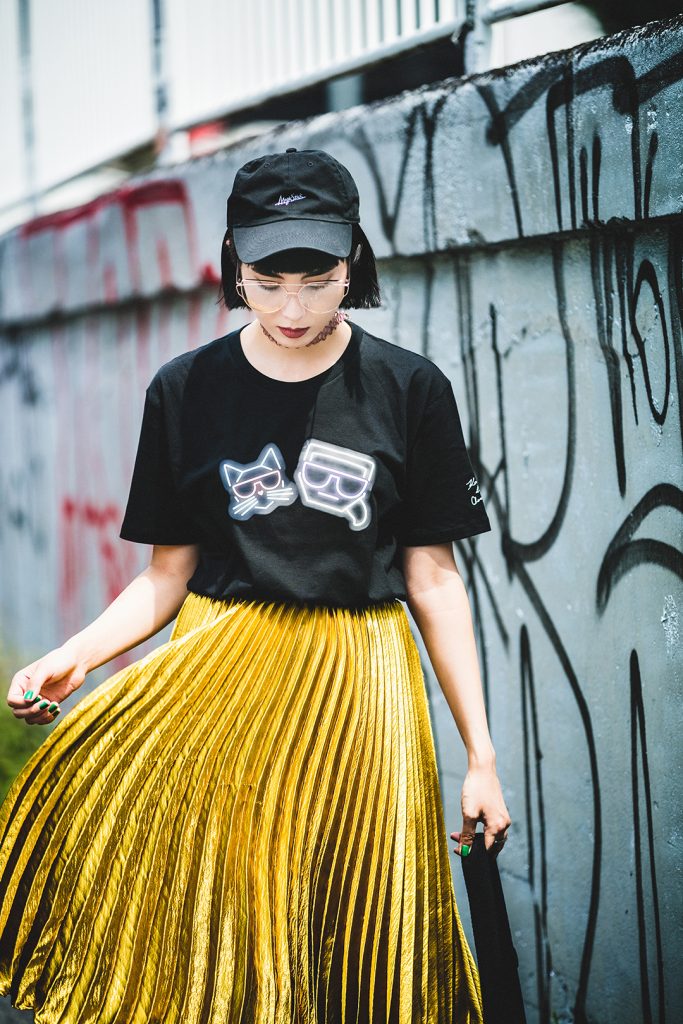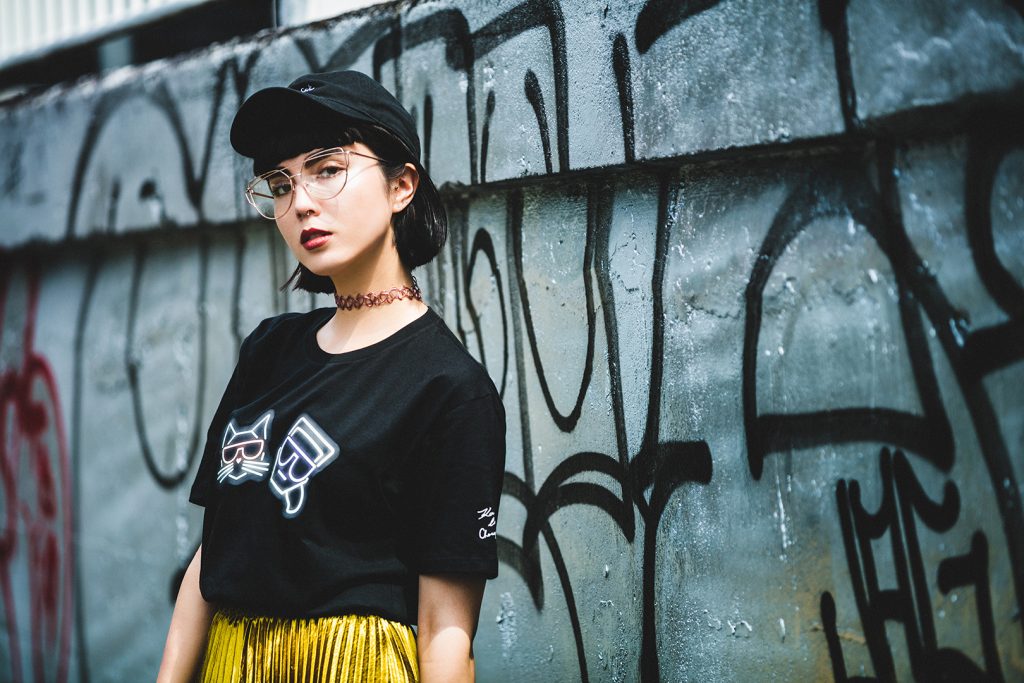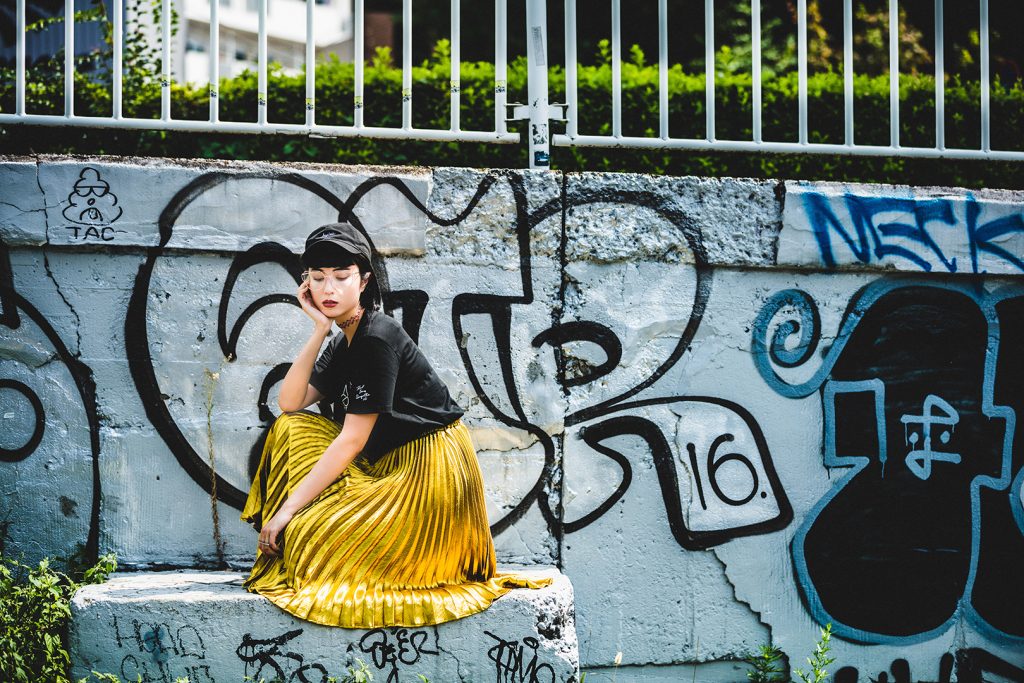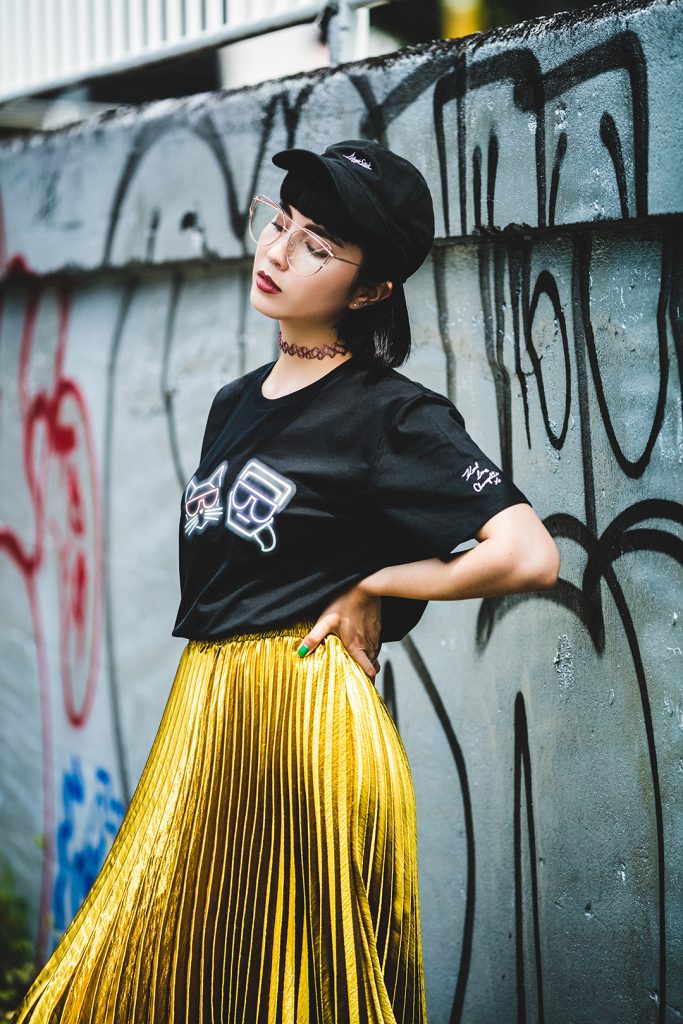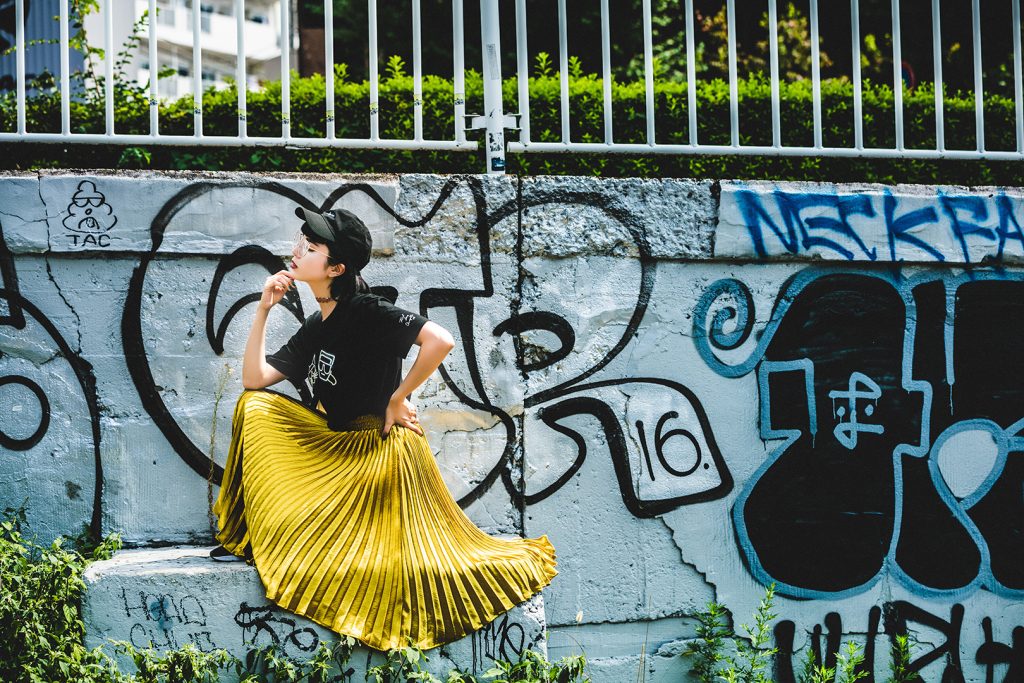 Would it be weird to admit that I actually already own a gold, pleated skirt; yet, I still purchased this one? Probably. But I do have 3 good reasons why I added this in the shopping cart. Reason #1: the deep shade of gold in this skirt is much more to my liking than the one I already had. Reason #2: the length of the skirt hits the area below my knee, making it a perfect length that is not too long (my other skirt hits my knees, which I don't like). And reason #3: I love the movement of this skirt and how it drapes beautifully, as you can see in the photos. All in all, I think I found a pretty good replacement and I'm happy about it. Once sweater weather kicks in, I'll be wearing cozy, chunky knitwear, and maybe even pair it with some heels for an evening look. I can't stress how much I love the versatility of a good metallic piece. What about you?
既にゴールドのプリーツスカートを持っているのに、もう一着買ってしまったと認めたら、変でしょうか?実は、新しいものを購入した理由は3つあります。その① English Factoryの方のしっとりしたゴールドカラーが既に持ってるものより気に入ったこと。その② 着丈がひざ下なので、自分にはちょうどいい丈感だと思ったこと(既に持っているものはちょうどひざ丈なのがずっと気になってました)。その③ スカートの動きが本当に綺麗!写真を見たらそれがすぐ分かると思います。ちょうどいい代わりが見つかって良かったです。もうちょっと秋らしい気候になったら、ニットやブーツと合わせたり、今季は色んなコーディネートに挑戦したいです。メタリックカラーのアイテムは以外と多方面で使いやすい。そう思いませんか?
Limited Edition by Karl Lagerfeld T-shirt, English Factory skirt (via Shopbop), Puma sneakers (similar here), Magicstick snapback, zeroUV glasses, Adidas bag
All photos by Fu Sheng Wang