The transition from summer to fall is probably one of my favorite in-between seasons in Japan. The unbearable humidity of the summer gradually lessens, bringing the crisp, autumn days. While the month of September is still quite warm, it's hard to hold back the urge to start wearing fall-inspired outfits. Since it's still a bit too early to be wearing knitwear and jackets, focusing on colors, textures and silhouettes is key to coordinating pre-fall styles.
夏から秋へと移り変わる期間が多分一番好きな季節のトランジションかもしれません。汗が止まらないくらいの湿度が徐々に柔らぎ、からっとした秋の気候になって行く。9月はまだ暖かい日々は続きますが、秋物の服をどうしても先取りしたい気持ちは押さえられません。ニットやアウターを着るにはまだ早いので、その代わりに色や素材、服のシルエットに拘って初秋スタイルをコーディネートするのが重要になります。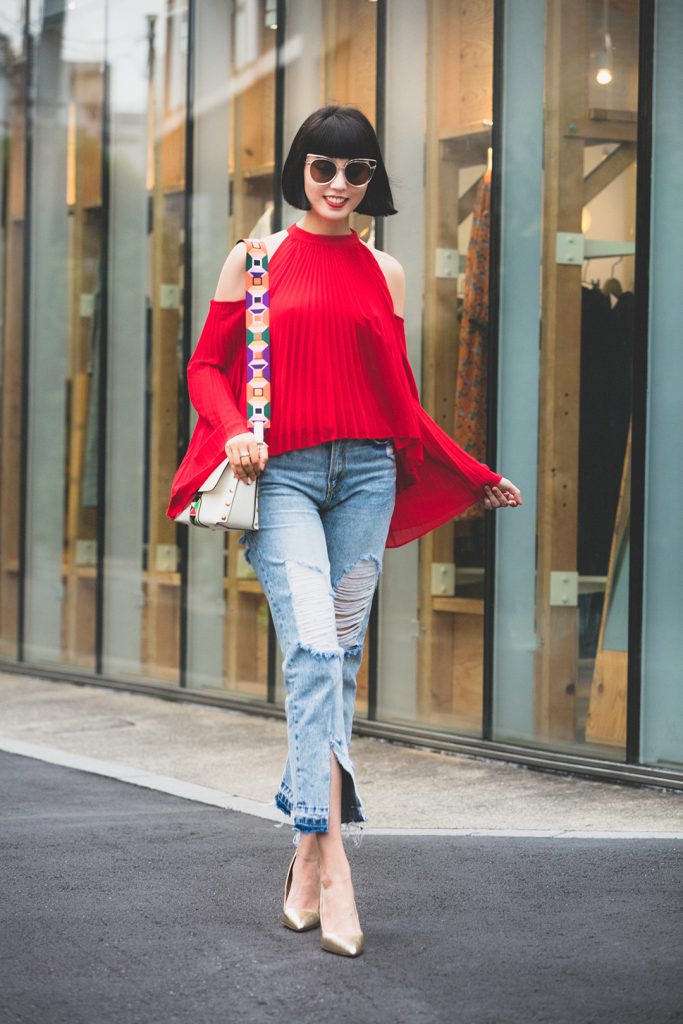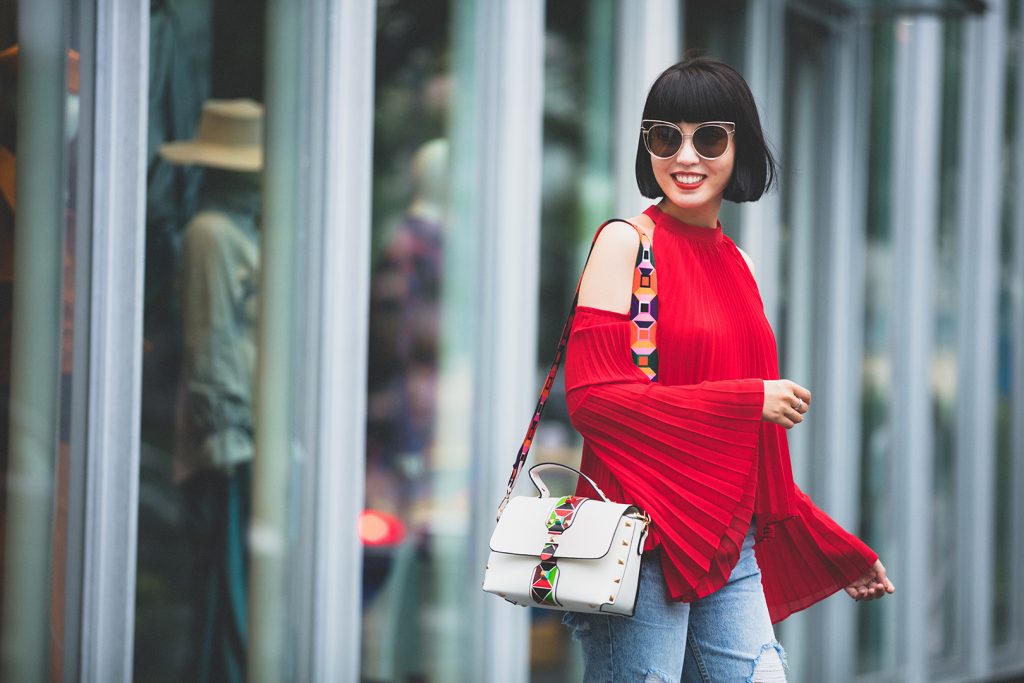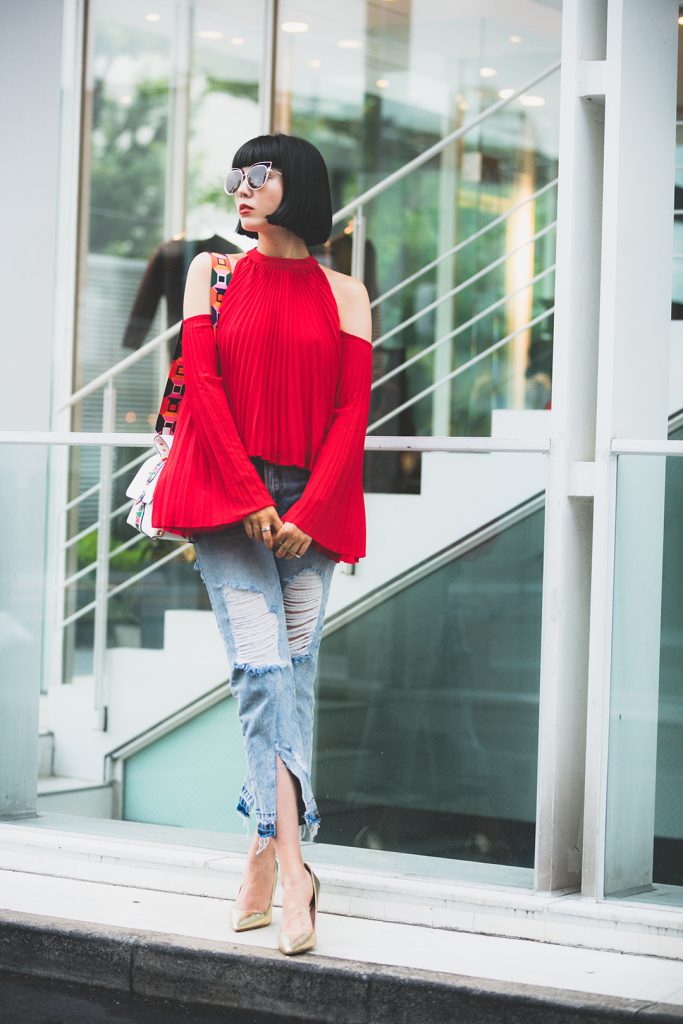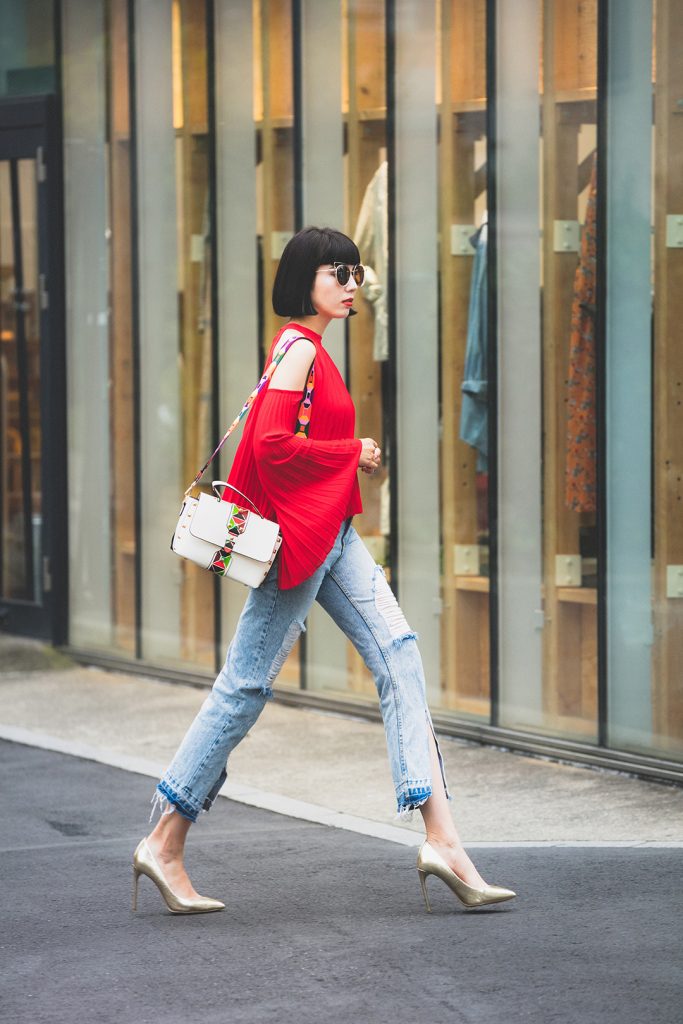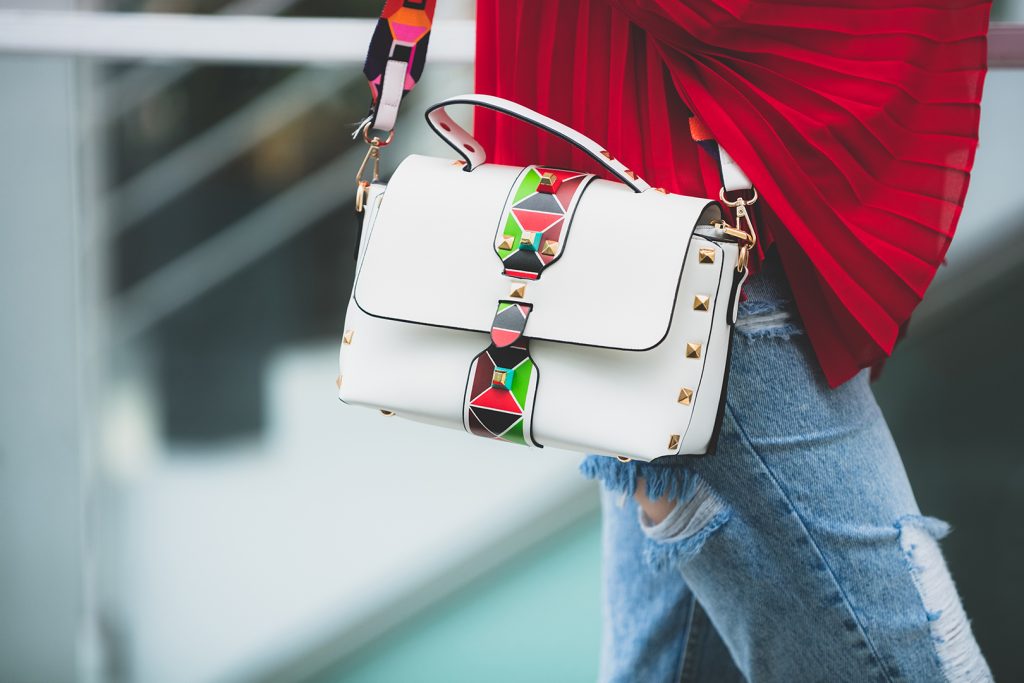 When I recently shopping on Shopbop, I came across this pretty coral-red top, pleated with cutout shoulder details and flared sleeves. It was a combination of so many current trends in one item that I just couldn't resist! Plus, the price was reasonable for a versatile top. If it was summer, I would have styled it with white pants and sandals, but taking into consideration that it is already September, I thought a simple denim look would be a better choice. I still kept things colorful with this beautiful structured bag from Julia Kays, and added a touch of sparkle with a pair of gold heels. Some other fun ways to style this pleated top would be a full-length skirt or flared pants. I can definitely see myself wearing it to a party or a night out for some cocktails with my girlfriends!
最近Shopbopというオンラインプティックで買い物をしていたら、このコーラルレッドのトップスを偶然見つけました。プリーツで肩の部分が切り抜かれ、フレアスリーブという、今トレンドとなっているポイントが3つ合わさっているトップスは買わずにはいられませんでした!真夏だったら、白いボトムスにサンダルとコーディネートしてたと思いますが、Julia Kaysのカラフルなショルダーバッグに、キラキラゴールドのヒールをプラスして、涼しい印象も与えつつ、秋に向けてシンプルなデニムと合わせました。他にもマキシスカートやフレアパンツなど、このようなプリーツのトップスは以外と色んなボトムスに合わせやすいと思います。私だったらパーティーや、お洒落なバーでも着て行きそうなアイテムです!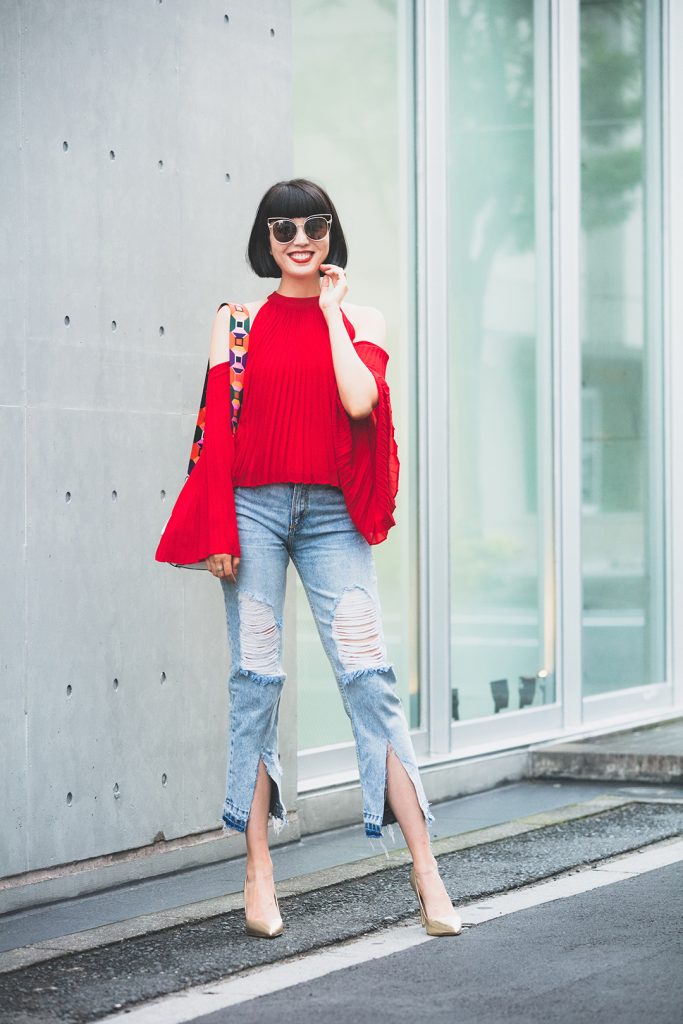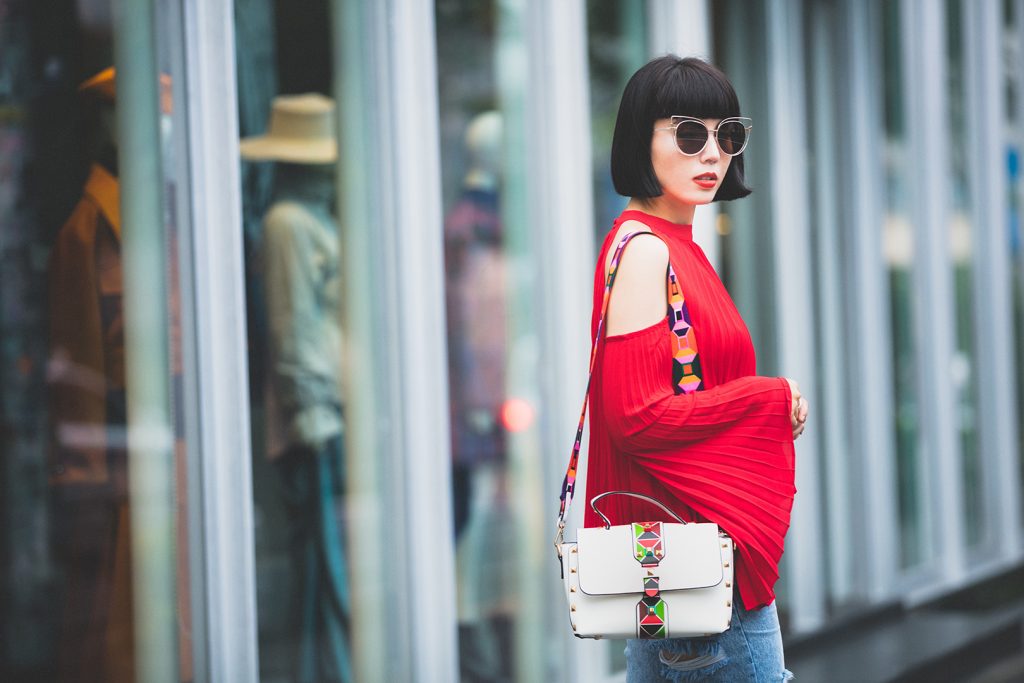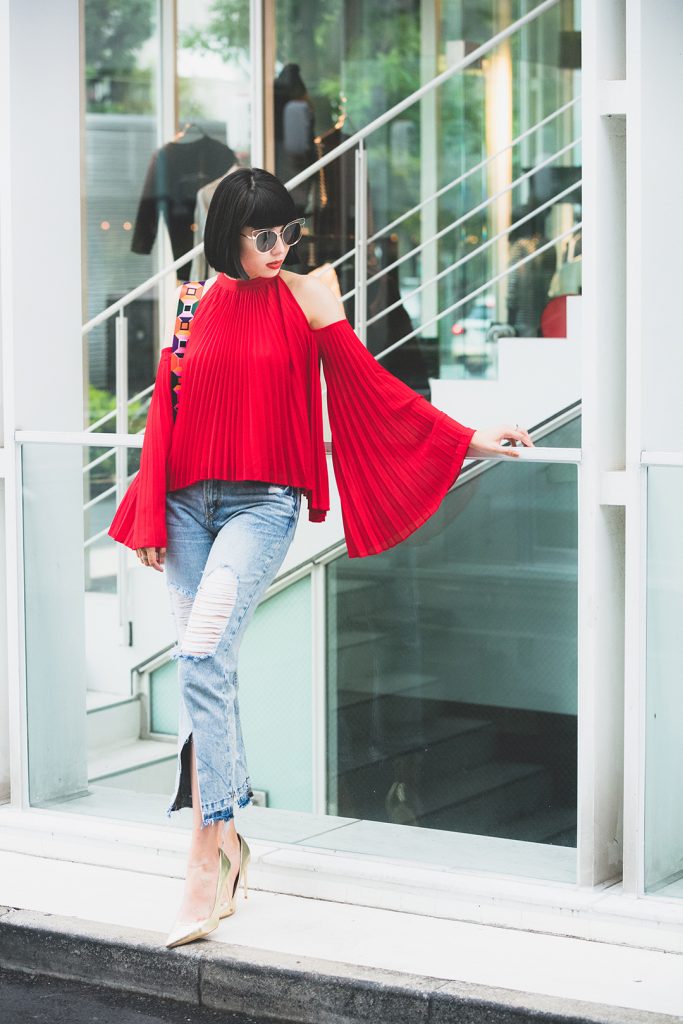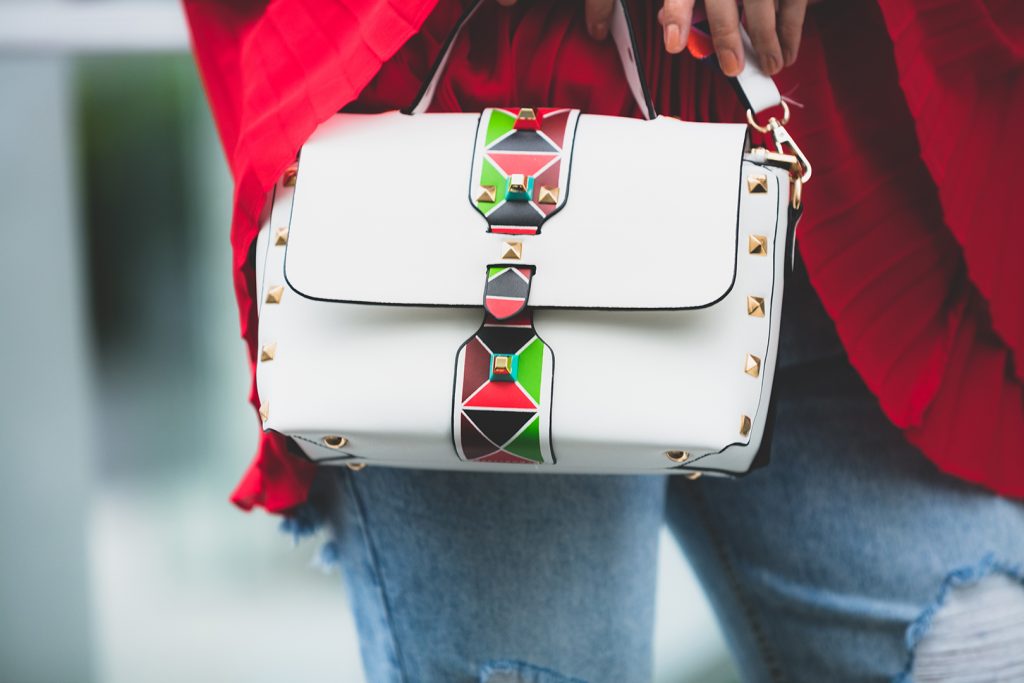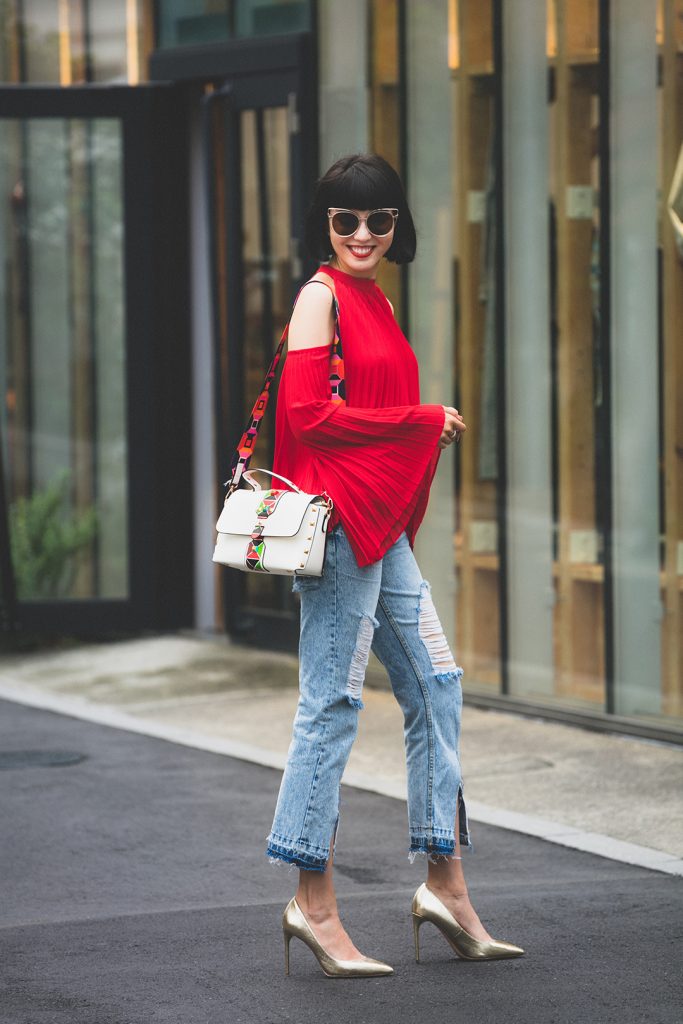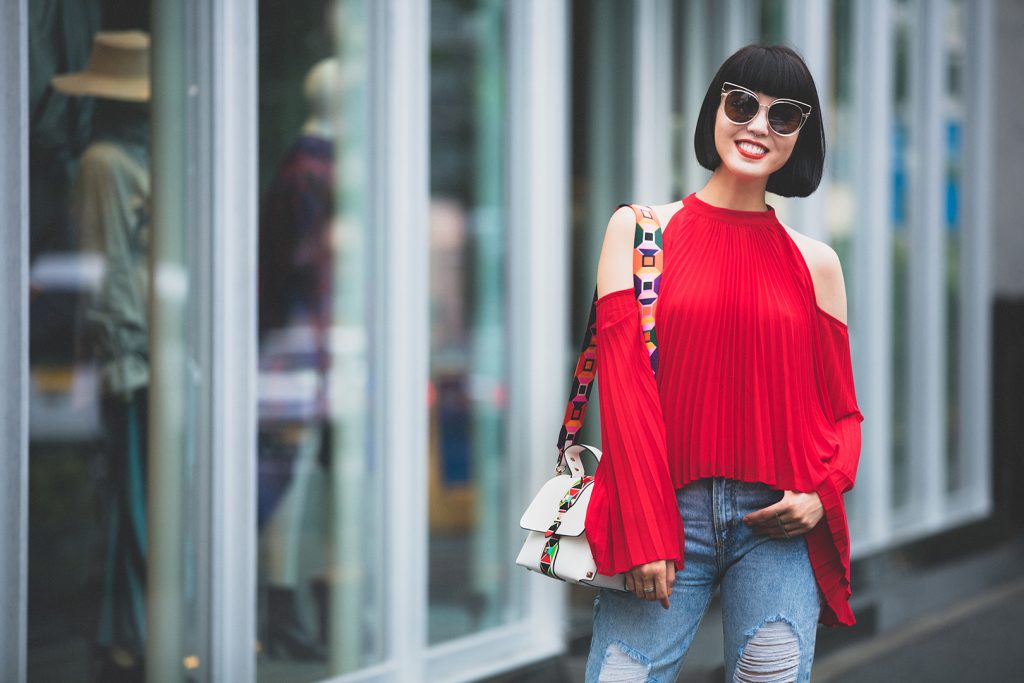 I'm not one to smile much in blog photos, but a bright-colored top really does wonders… My style is all over the place and I know there is a lack of cohesiveness in how I dress, and that's because most of the time I dress according to my mood. But sometimes, the way I dress can in turn affect my mood, and I'm sure many of you can relate to that. Anyways, I'm hoping I'm not creeping any of y'all out with these overly happy photos (laughs). Thanks for reading!
ブログの写真で笑顔を見せることはほとんどないので、明るいお洋服を着るとまた気分も明るくなるんだなと改めて思いました。私は毎日違うスタイルの服を着るので、統一感が欠けているのも分かっているし、気分によって着るものも変わるからしょうがないという部分もあるけど・・・でも、その日着る洋服によって気分が変わることはきっと皆さんにもありますよね。今回は笑顔が多すぎて引いている人がいたらごめんなさい(笑)。いつも読んでくれてありがとうございます!
Style Mafia blouse (via Shopbop), Julia Kays shoulder bag, zeroUV sunglasses, Zara jeans (similar here), Zara heels (similar here)
All photos by Fu Sheng Wang
*This post is sponsored by Shopbop.