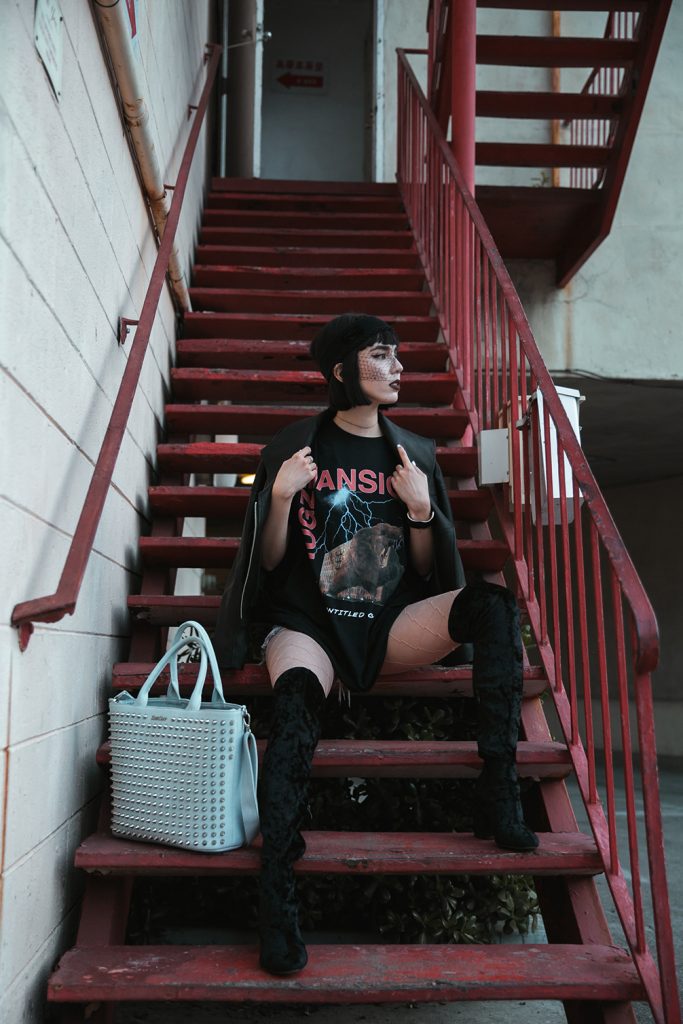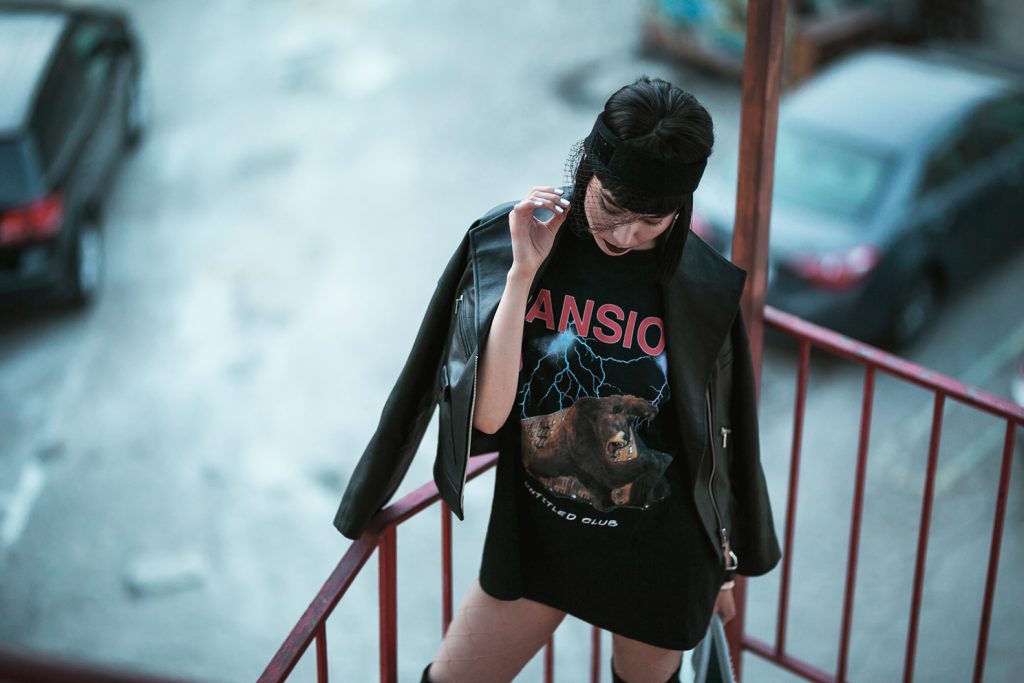 I'm back from my slight blogging hiatus, and I'm ready to get back into the game. In my last post, I mentioned that I was visiting my hometown in California, and also traveling to New York and Texas, all in just 12 days. To be completely honest, it was not enough time at all to do everything I wanted, and there were so many people I wanted to see – but as always, the rest will have to wait 'til next time.
お待たせしました!一週間以上ブログを更新していなかったのですが、本日からまた定期的に記事をアップしていきます。改めて、宜しくお願いします。
ここ2週間、実はロスの実家に戻っていて、その間もニューヨークやテキサス州も訪問してきました。とても弾丸な旅でしたし、やりたいことはもちろん全部できませんでしたが、心から楽しめました。できなかったことは次回ということで(いつものことですが 笑)。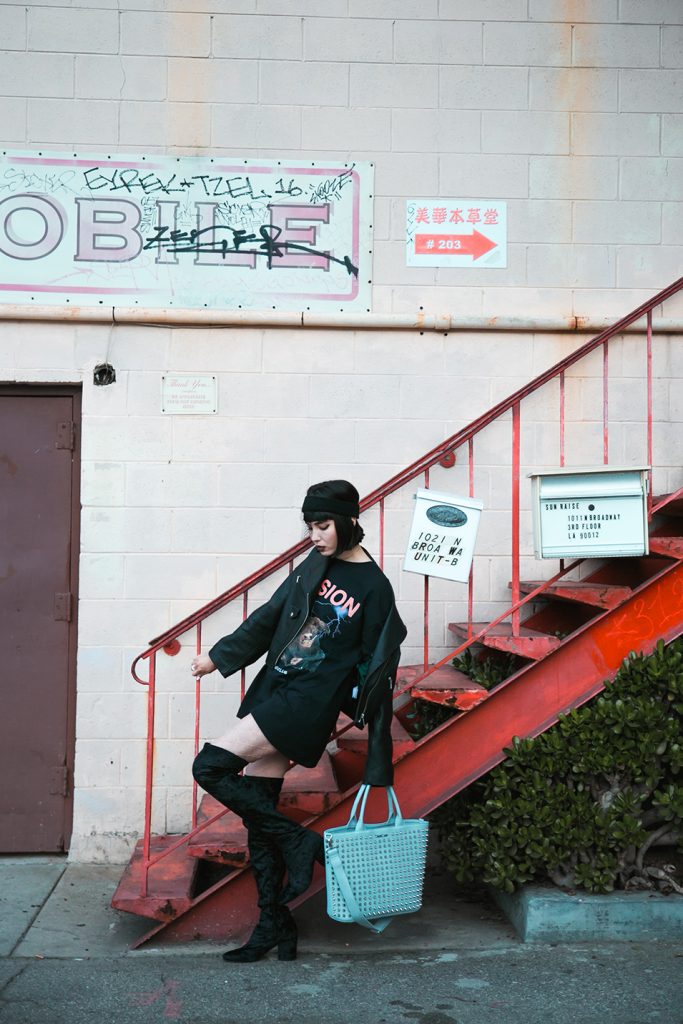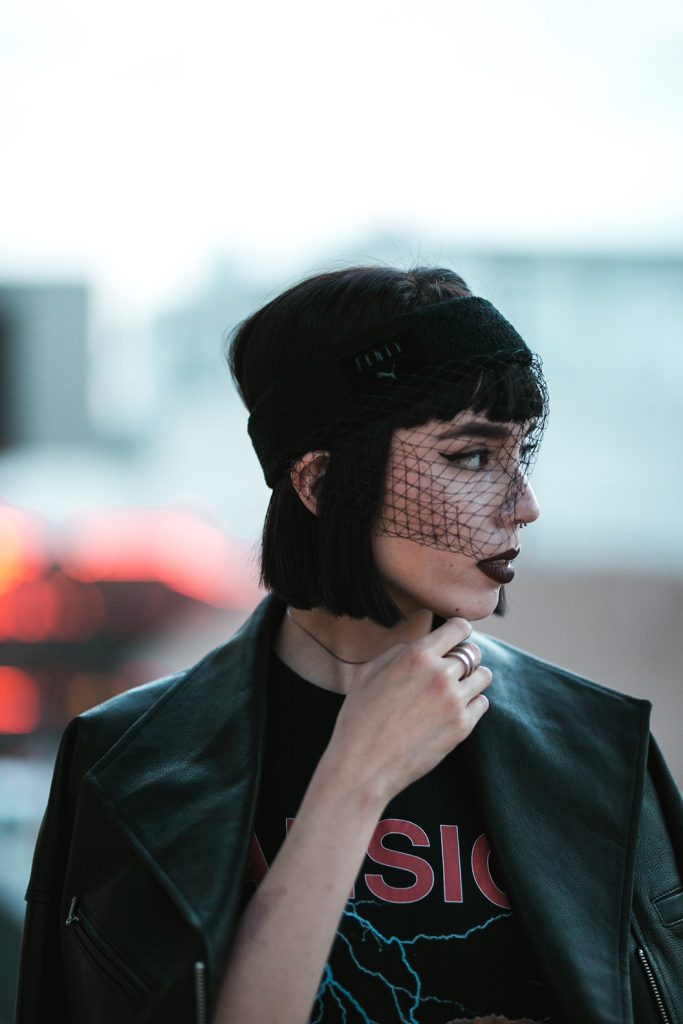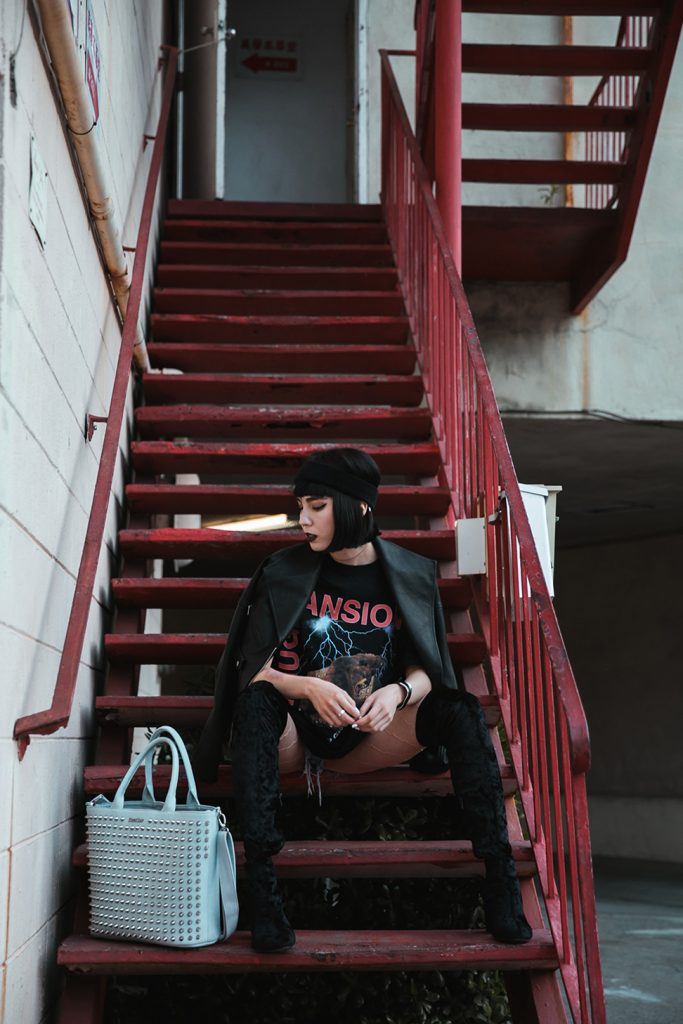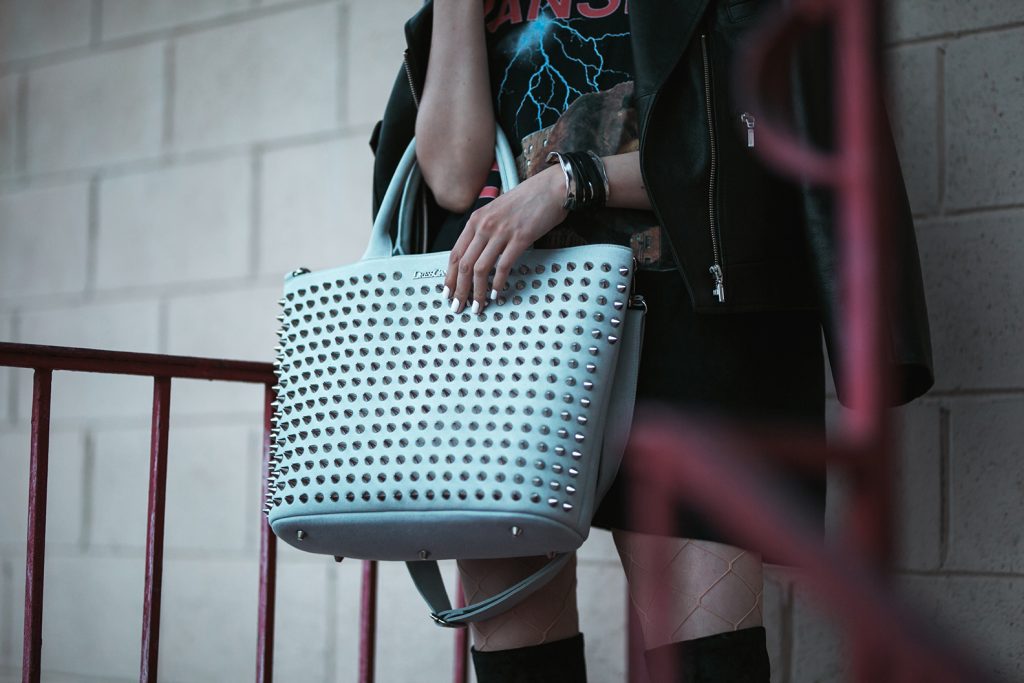 This time around, I was determined to meet with as many photographers in the area as I could to add a little more California vibes to my blog content. These were taken by the amazing Jennifer in a parking lot behind a Vietnamese restaurant in Chinatown. By mere coincidence, the red on my T-shirt matched the red of these awesome New York alleyway-inspired stairs. The glow from the 5 o'clock sunset worked beautifully in our favor, and we shot these in the span of maybe 15 minutes (my photo shoots are quick!).
今回は、なるべく沢山のカメラマンとコラボレーションをしようと心に決めていました。ブログにはいつも東京の風景を紹介出来ていますが、やはりたまにはちょっと違う感じの写真もアップしたいものです。今回の画像は、ロサンゼルスのチャイナタウンにあるレストランの駐車場で撮ってもらいました。カメラマンのジェニファーさんはとても素敵な方で、しかも仕事が速い!15分ぐらいで撮影が終わりました。たまたま私が来ていたTシャツの赤が、階段の赤とマッチしたので、バランスのいい写真に仕上がりました。夕焼けの太陽の光で少しムーディーな感じになったのも気に入っています。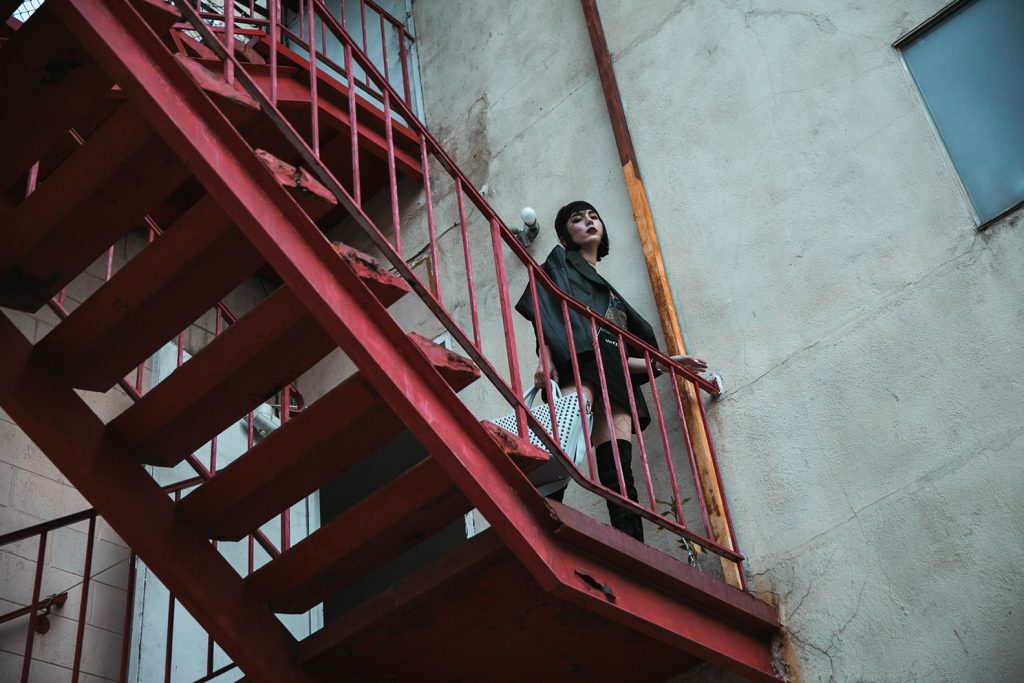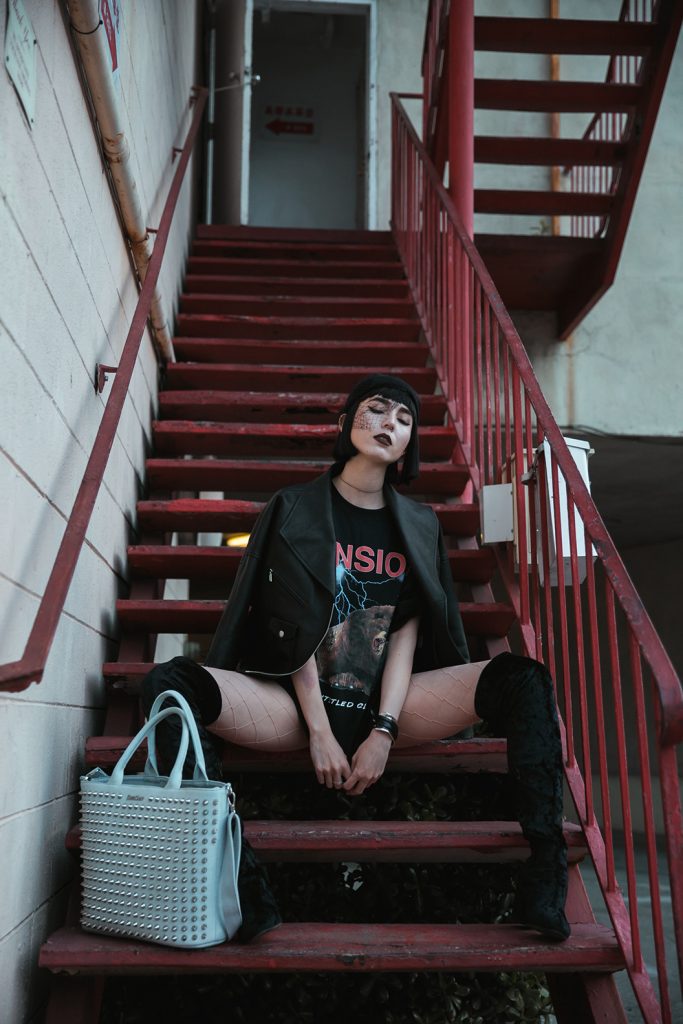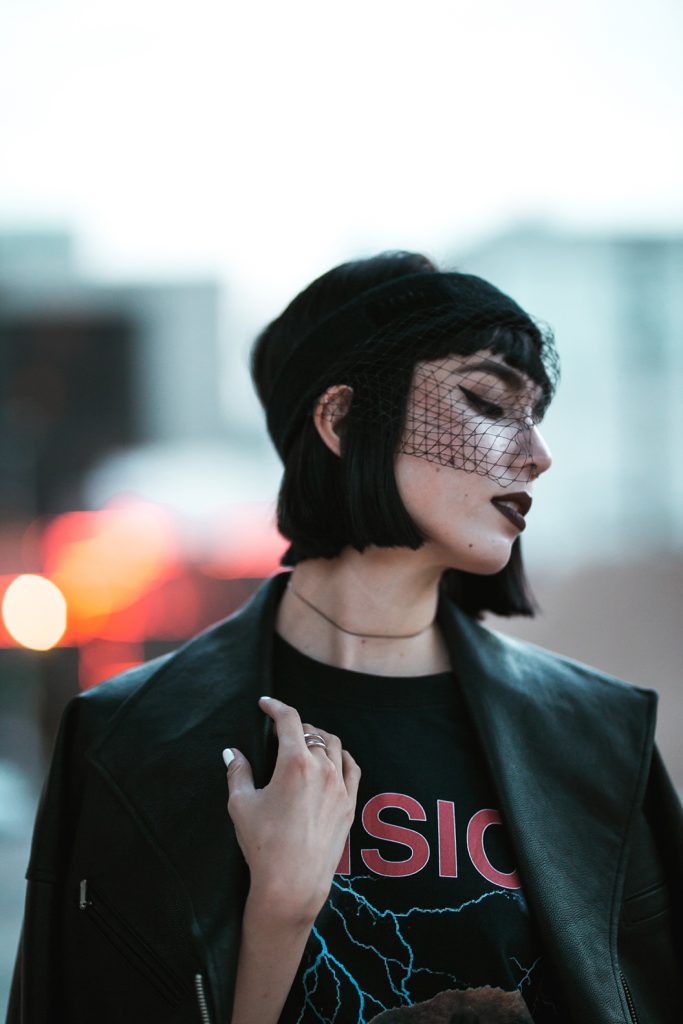 I've recently been a huge fan of wearing oversized clothing, especially T-shirts and sweaters. One of my DJ friends happens to be a designer for a street wear label called Untitled Club, and the image on this particular T-shirt is the same as the poster for my first DJ gig. Yep, he basically offered me my first gig as a DJ, so of course I had to get the T-shirt! I thought if I got it in XL, I could wear it as a T-shirt dress, balanced out with over-the-knee boots so as to not show too much skin but just enough. And this intensely studded denim bag from DressCamp is my absolute favorite. It's edgy, sturdy and fits everything I need which makes it a perfect traveling partner. I usually steer towards monotone colors like black or navy, but I decided to try this light-wash denim color and I ended up getting so many compliments on it. It's always good to change it up and try something different.
最近、オーバーサイズのアイテムにすごくハマっていて、特にTシャツやプルオーバーが好きです。私のDJの先輩がたまたまストリートウェアのブランドのデザイナーで、今回着用しているTシャツのイメージは初めてのDJのお仕事のポスターと同じイメージなんです!それはやはり買わずにいられませんでした。Tシャツワンピとして着たかったので、XLサイズを購入。膝上ブーツとバランスが良いかなと思いました。そして、このバッグ!ドレスキャンプの新作のデニムシリーズは、沢山のスタッズディテールですごくエッジが効いていて、しかも頑丈で沢山ものが入るから使いやすいです。普段はモノトーンカラーを選びますが、今回は薄いデニム色を選びました。たまにはちょっと違うものをトライするのもいいですね。
My next post will be about my New York trip, so stay tuned! Thanks always for the love<3
次回はニューヨーク旅行についてアップするので、お楽しみに❤️
Untitled Club T-shirt, Rim.Ark jacket, Public Desire boots, FentyxPuma headband, Uno de 50 cuff, DressCamp bag, Forever 21 tights
All photos by Jennifer