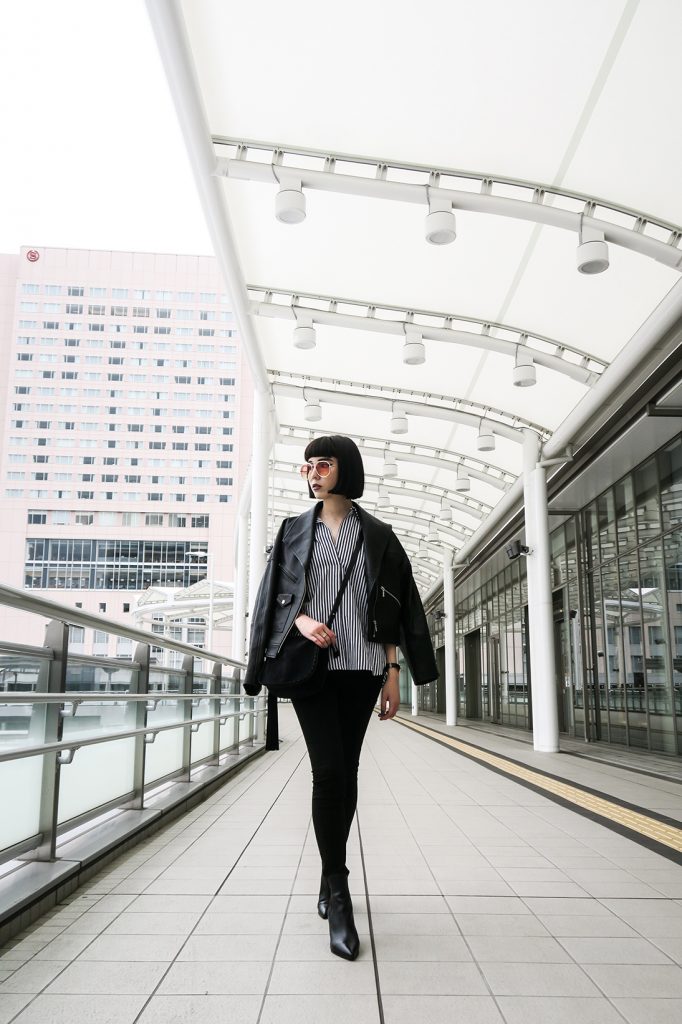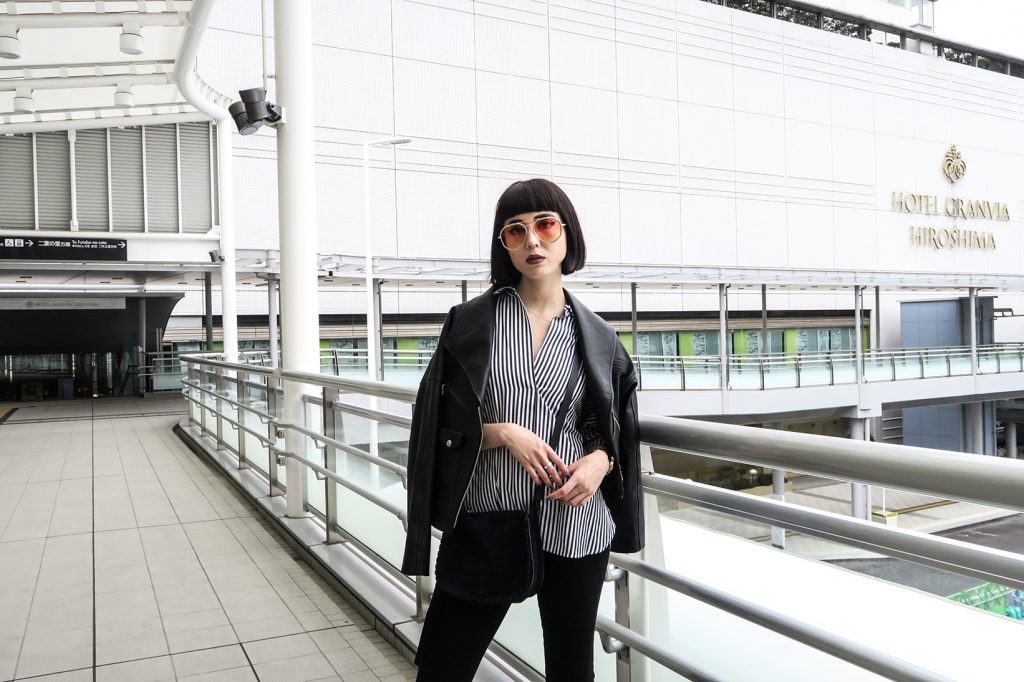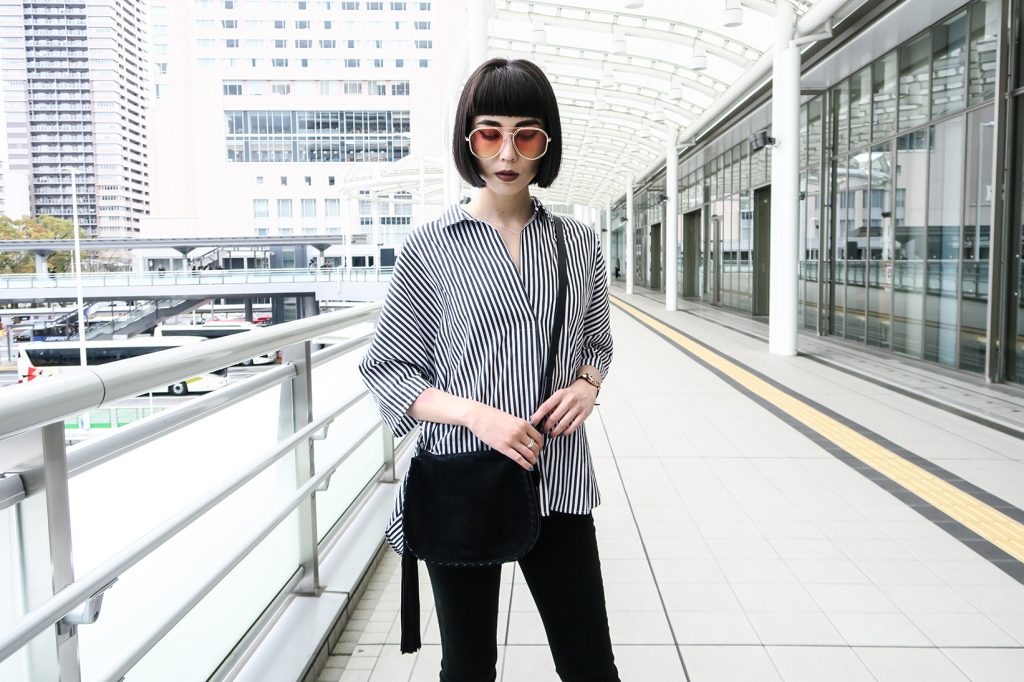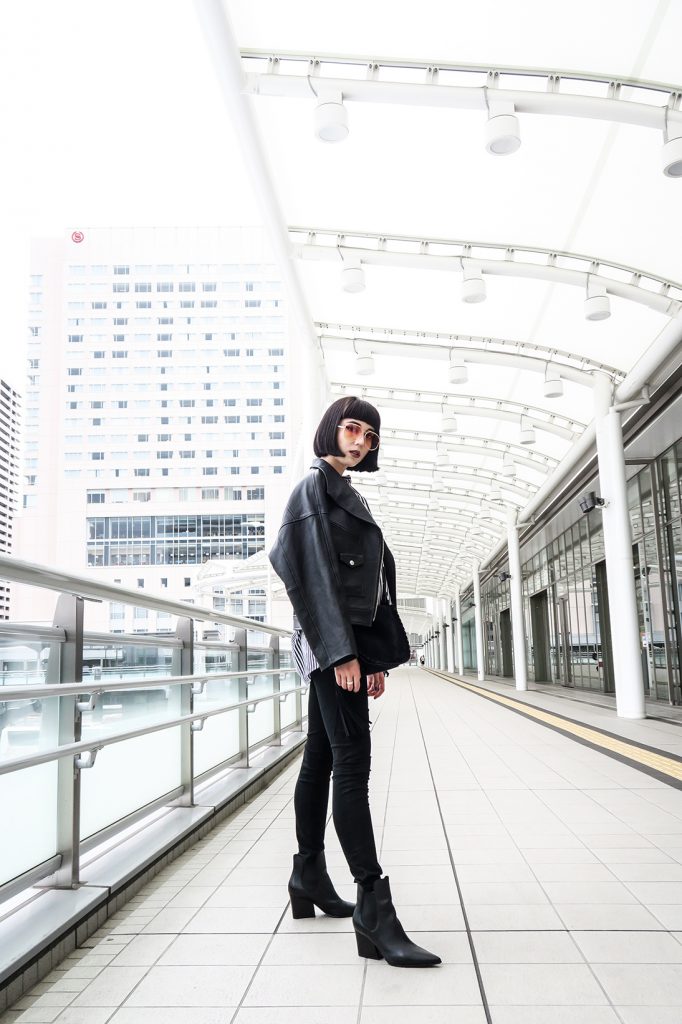 Before I delve into the rest of the Global Travel Blogger Summit adventures, I decided to squeeze in an outfit post taken during that week. My good friend Gail of The Equinox Fashion took these photos for me, despite the very limited amount of time we had before the two of us headed over to our next destination.
Black is one of my go-to colors as you may already know, but I always love to challenge myself with other colors. This time, I'd like to introduce my new chic suede leather crossbody bag from AllSaints, It might be a bit difficult to tell that it's navy suede in the photos, but I think you can see the color and texture of the bag in the very last one. The leather is ultra soft, and the bag itself fits everything I need for the day.
グローバールトラベルブロガーサミットの続きの記事を載せる前に、私服コーデを紹介したいと思います。タイのブロガーで親友のゲールちゃんに、タイトスケジュールの中撮ってもらった写真なので、本当にありがたいです。
黒い服にすぐ手を出してしまうタイプなのですが、他のカラーを着用するのももちろん好きです。今回はシックなネイビーにチャレンジしてみました。ベーシックアイテムやレザーグッズで有名なAllSaintsのスエードレザークロスボディーにすごくハマっています。写真では、スエードのネイビーだということが分かりにくいかもしれませんが、一番最後の写真だと分かりやすいと思います。とても柔らかいレザーでできていて、コンパクトなのにその日必要なものが全部すんなり入るので、万能なバッグです。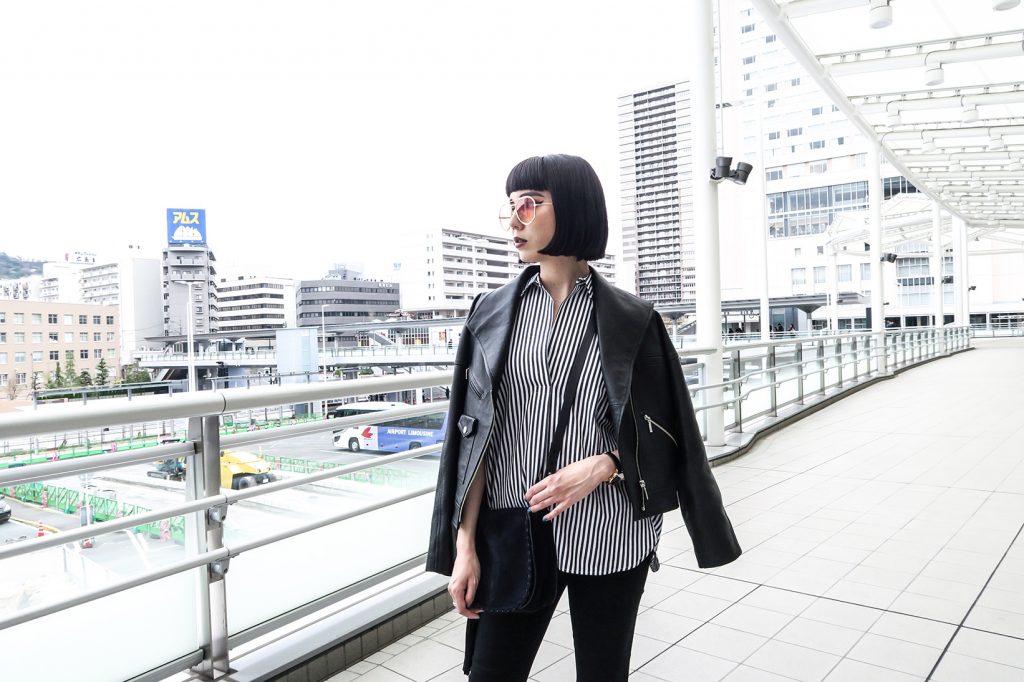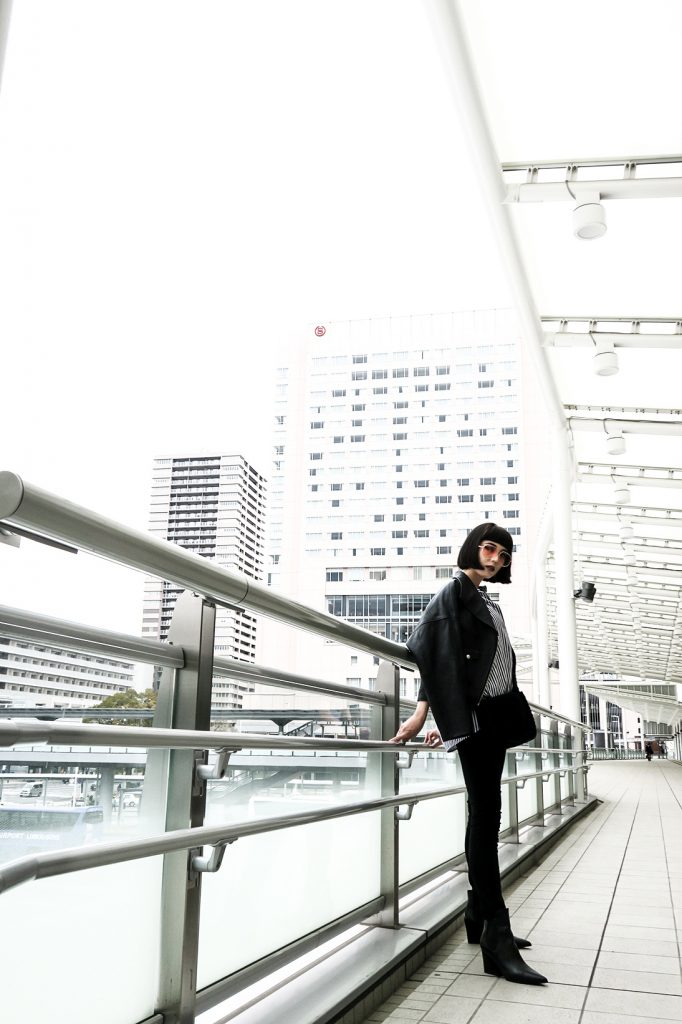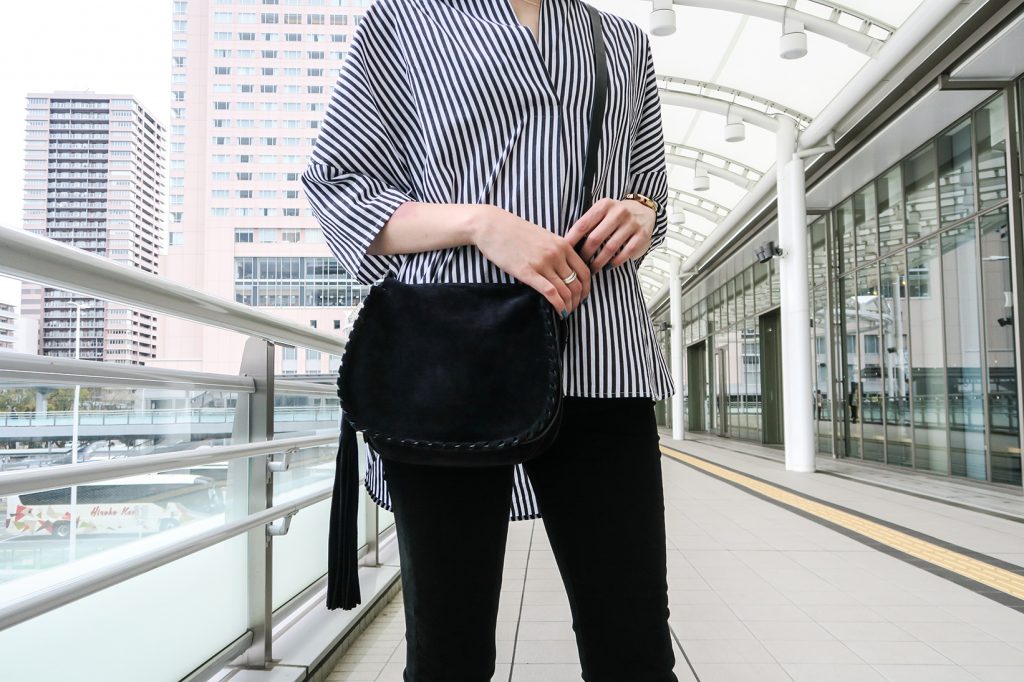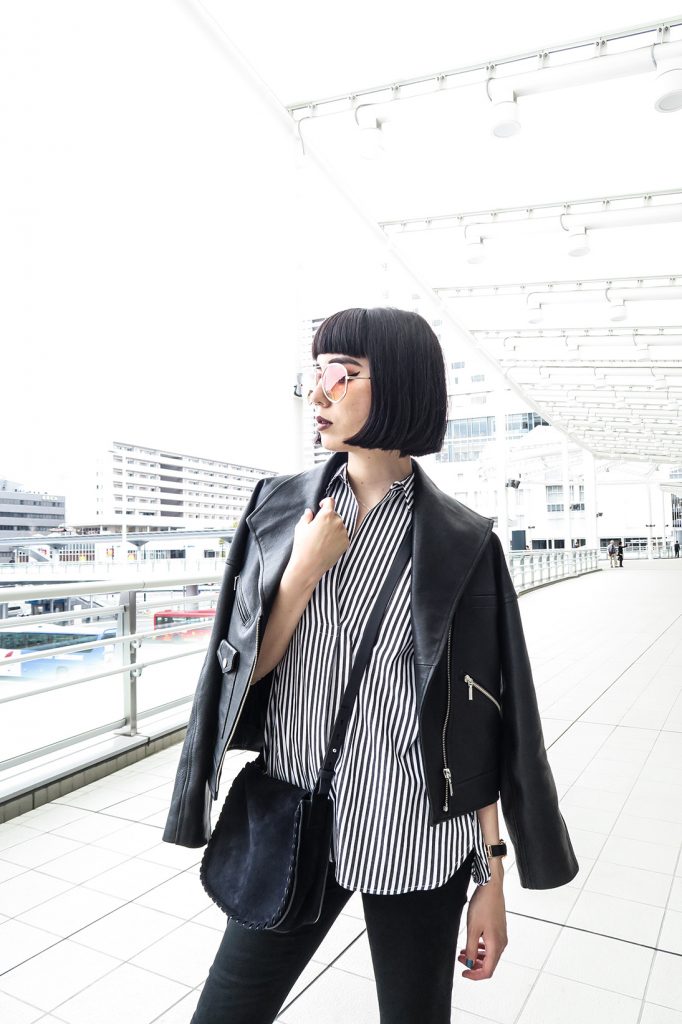 At first I was a bit unsure of pairing a navy-colored bag with a black & white outfit, but because the color scheme is so simple, it works quite well. And did anyone notice that this striped shirt is from the same brand as the white shirt in this post? I just couldn't help myself and got the striped one too! I wore this the entire day I was sight-seeing in Hiroshima, and while it can look like a dressy piece, it's comfortable enough to wear from day to night unlike a stuffy corporate-style shirt. And of course, can't forget the leather jacket. I know I wear mine a little too much, but we all know a leather jacket is a must in anyone's wardrobe, right?
モノクロコーデにネイビーを取り入れることに抵抗はありましたが、全部落ち着いたカラーなので、以外と合っていると思いました。ストライプのシャツは、この記事と同じブランドのものだとお気づきになった方はいませんでしたか?このゆったりとしたフィット感が好きすぎて、ストライプバージョンも欲しくなってしまいました。一日中広島の観光スポット巡りをしていたにもかかわらず、このようなオフィススタイルのシャツを着ていました。全然違和感がなく、涼しくカジュアルに着ることができました。そして、レザージャケットですね。ほぼ毎日着てるぐらいお気に入りなんですけど、ワードローブには欠かせないアイテムです。
Next, I will be posting about my travels in Hiroshima, so stay tuned! Have a great week.
次回は、広島についての記事をアップします。お楽しみに!
Rim.Ark jacket (similar), Allumer shirt, Urban Outfitters jeans, Kendall & Kylie boots, AllSaints bag, zeroUV sunglasses
All photos by The Equinox Fashion