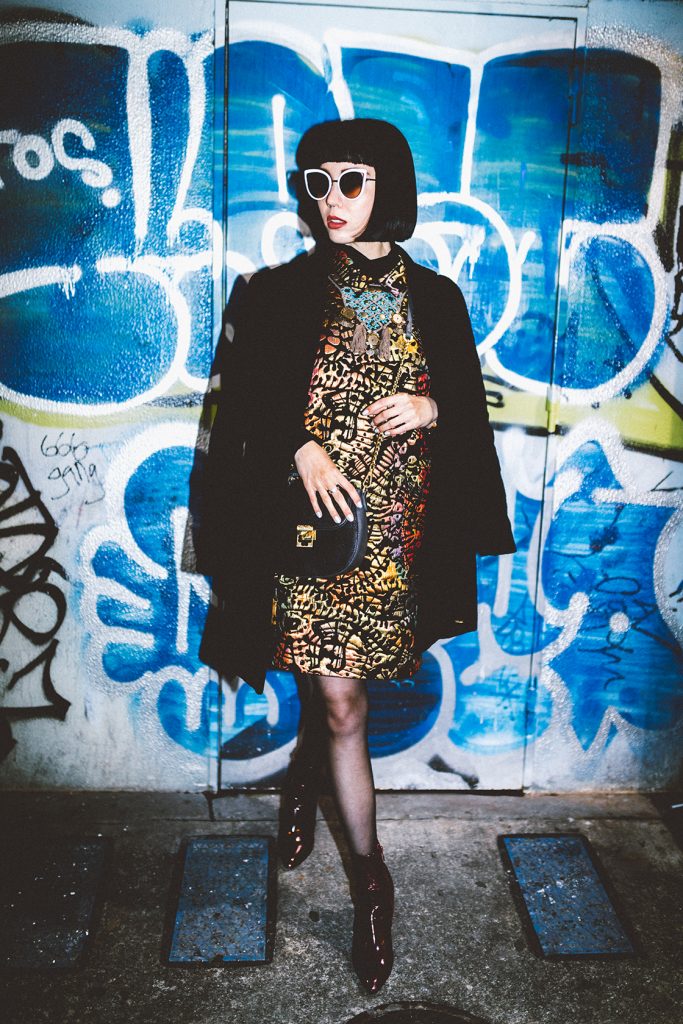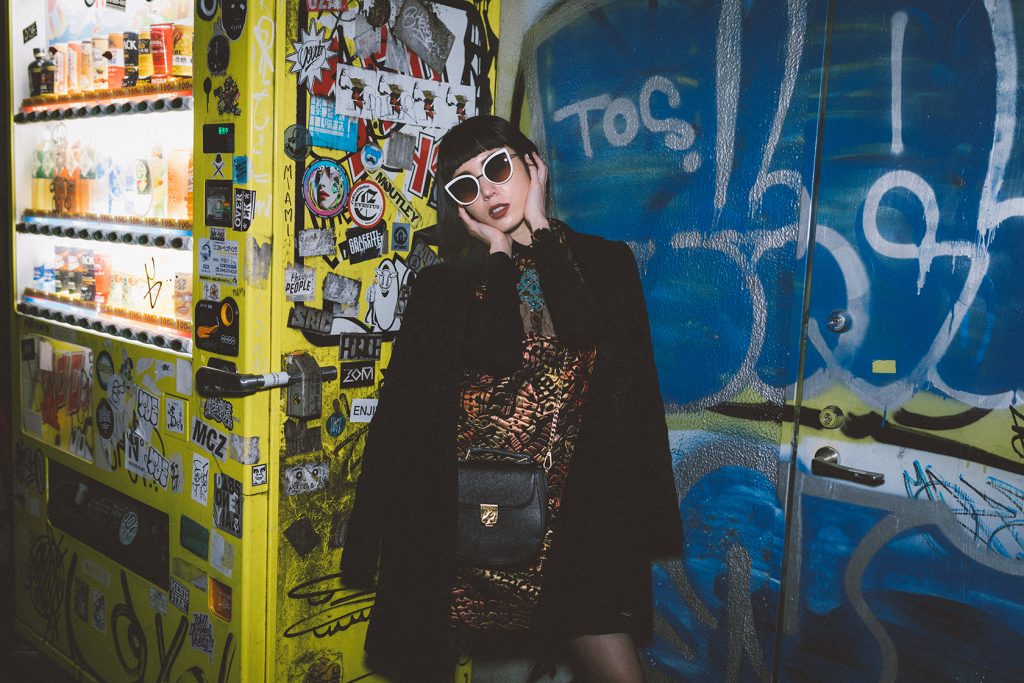 Have you ever encountered a dilemma when trying to find the perfect statement dress? Whether it's the color, the style or the overall design, I'm sure many things factor in when choosing the right dress. I'm always on the lookout for something sophisticated and chic that is suitable for a party or event. When I was browsing through the Desigual store a month ago, my eyes immediately fell on this beautiful number, a collaboration design by French designer Christian Lacroix.
これだ!といったステートメントワンピースを探すとき、ちょっとしたジレンマになったことありませんか?カラーやスタイル、全体的なデザインなど、様々なポイントを重視して最終的に選ばれるかと思います。私もパーティーやイベントに着れる、シックで大人っぽいものを常に探しています。ちょうど一ヶ月前にデシグアル原宿店でお買い物してたとき、クリスチャンラクロワコラボレーションデザインのワンピースがすぐ目に止まりました。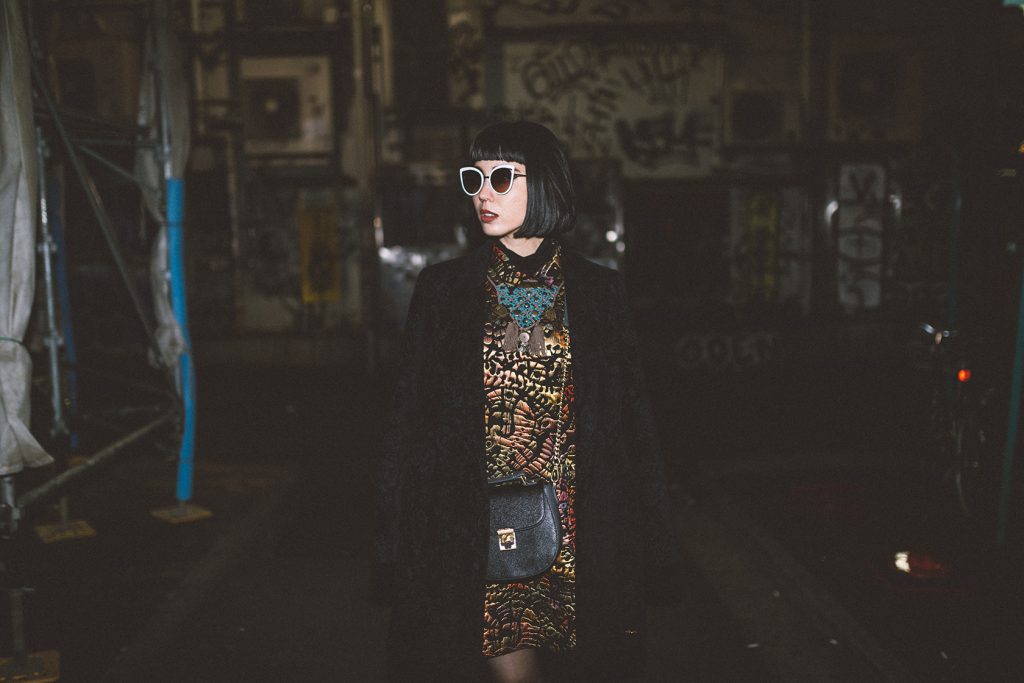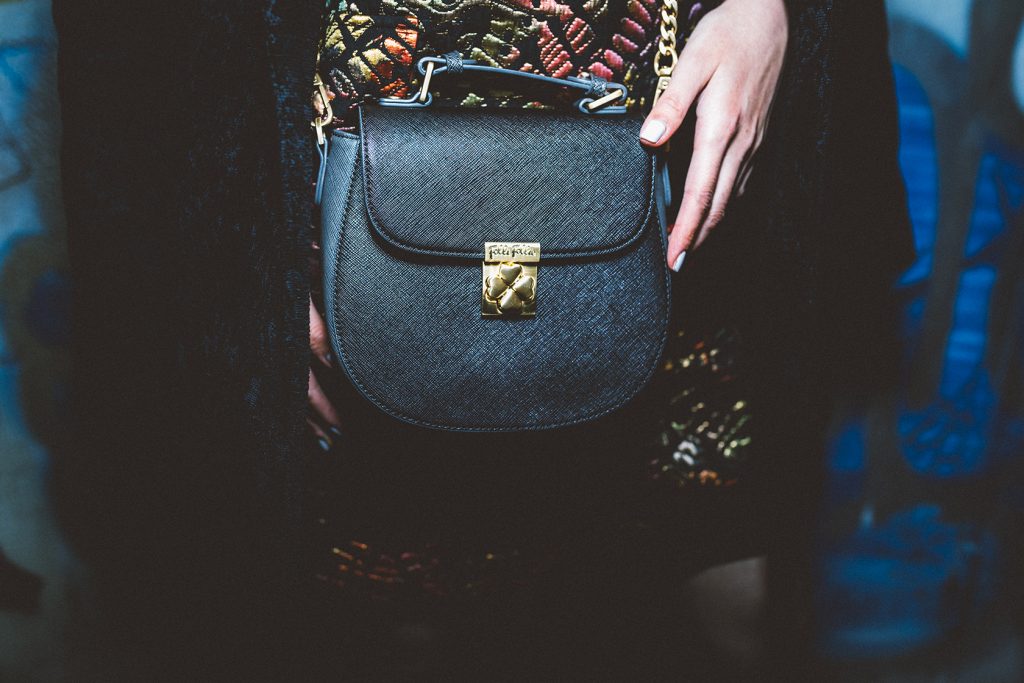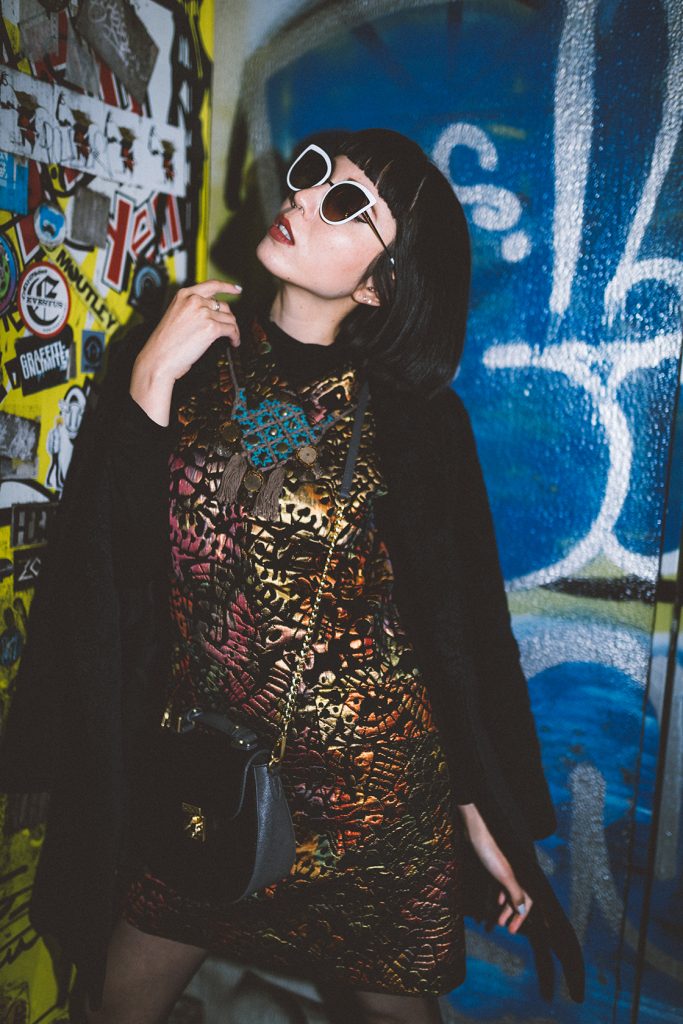 The intricate metallic print in subtle spectrum of color, the beaded and tasseled details to decorate the décolleté area, and a smart collar that screams sophisticated. It's not exactly a fitted dress, which adds room for layering during the colder winter months – I did so with a simple turtleneck top. This textured chester coat made in a velvety material is also a Lacroix collaboration piece, and I find it to be one of my more versatile outerwear choices this winter. Both of them are my go-to items for a fun & luxurious night out in Tokyo.
細かな虹色のメタリックプリント、ビーズとタッセルのディテール、そして、スマートな襟元がとてもお洒落なワンピース。フィット感はゆるめな方なので、寒い日は下に黒いタートルニットなどをインして暖かくコーディネートができます。上に羽織っているベルベット素材のチェスターコートもラクロワのコラボレーションデザインで、ワンピース共に今年の冬に着こなしたいアイテム達です。都内での楽しい、お洒落なパーティーナイトにぴったりだと思いませんか?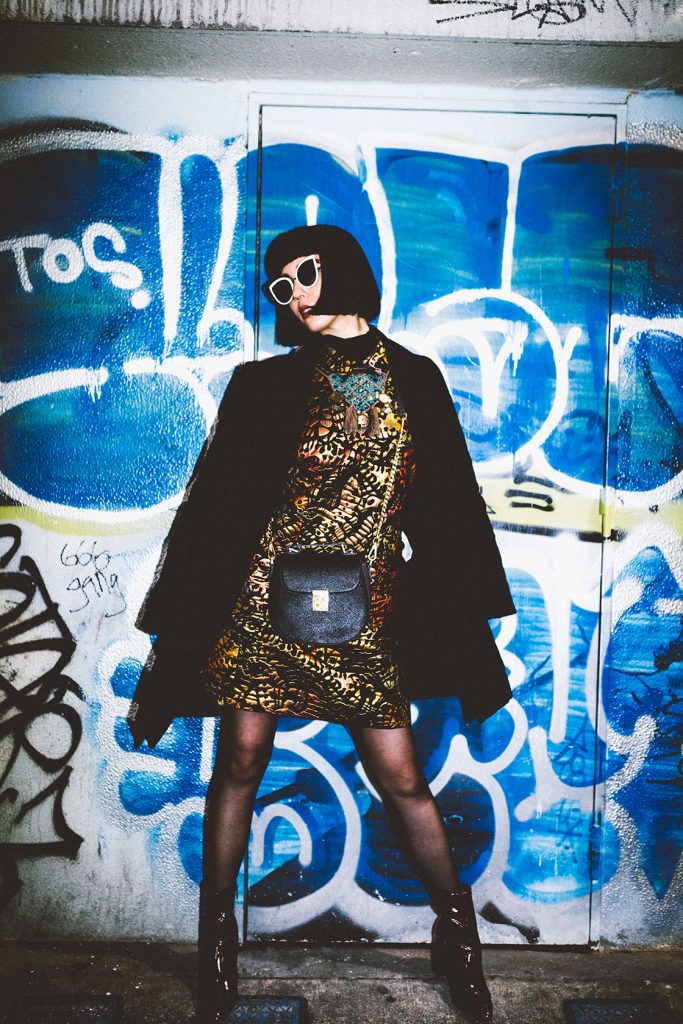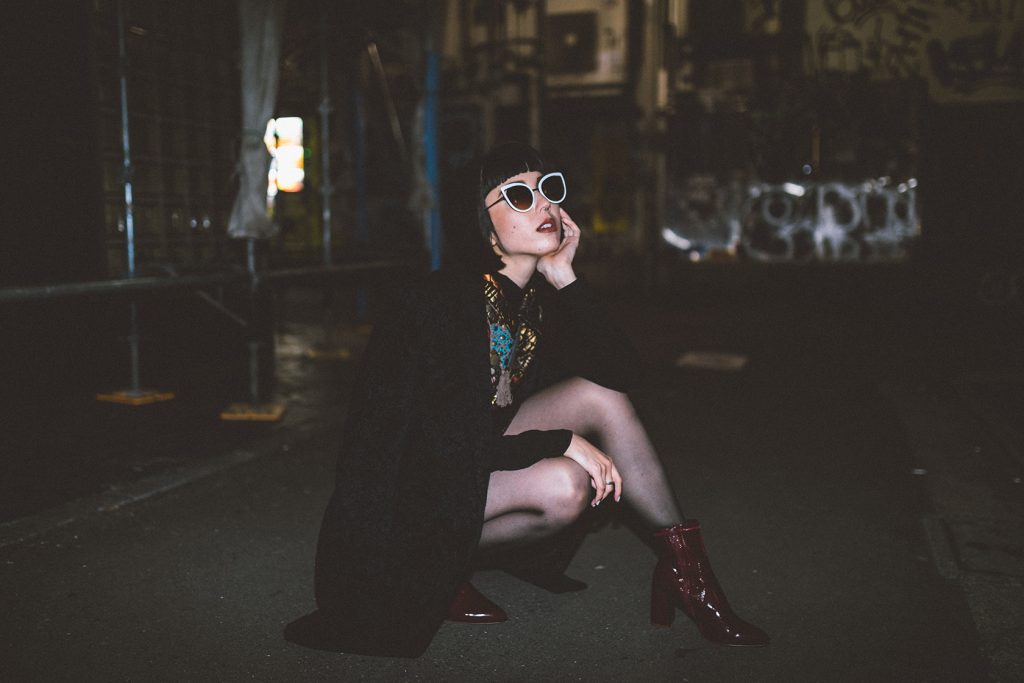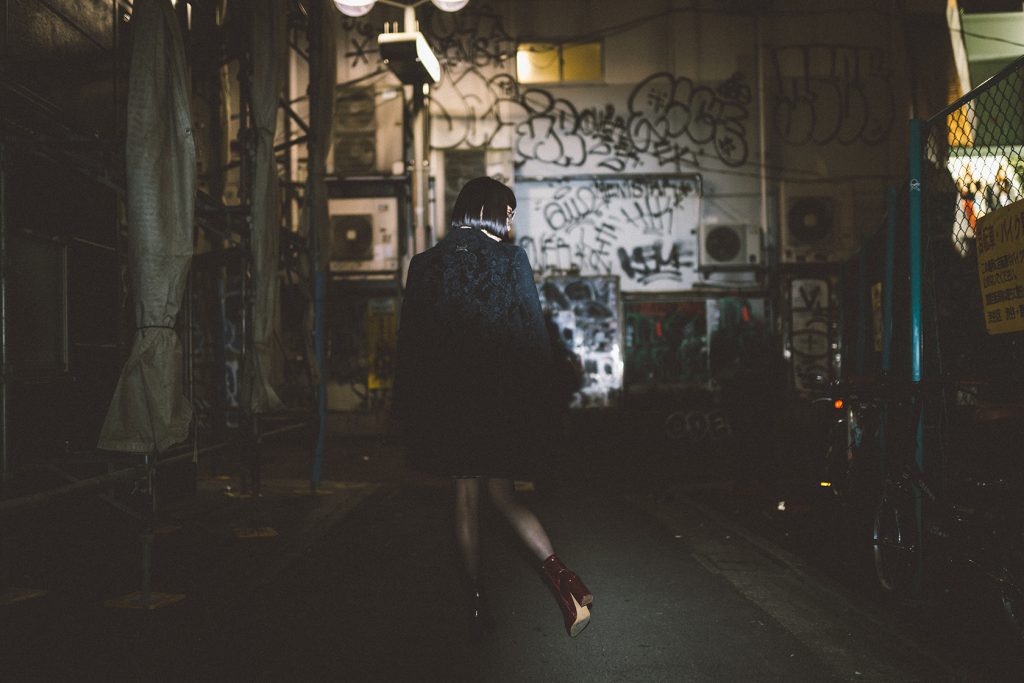 Desigual always has cute and colorful designs for day and evening wear, no matter the season. It's very easy to fall into the black/gray/brown color palette trap during winter, but Desigual always has brighter options to spice up your wardrobe. Just last summer, I wore a head-to-toe all red ensemble for their collection launch party (see post here), and I'm still in love with the setup. Have you ever shopped at Desigual before? Do you like wearing statement pieces in color, or would rather stick to a monotone wardrobe for fall/winter? Let me know in the comment section!
デシグアルはどんなシーズンでも、キュートでカラフルなお洋服を提案しています。秋冬になると、黒やグレー、茶色を着用してしまいがちだと思いますが、デシグアルの明るいコーディネートで寒い日々を楽しむのも手です。ちょうど去年の夏も、デシグアルのコレクションプレビューパーティーで全身真っ赤なコーデに挑戦してみました(記事はこちら)。実は、今でもお気に入りのセットアップです!あなたはデシグアルでお買い物したことありますか?色物、もしくはモノトーンアイテムを好みますか?コメント欄にて是非教えて下さい!
Desigual by Christian Lacroix coat & dress, zeroUV sunglasses, Public Desire boots, Folli Follie bag
All photos by Rhino Lee