This is a sponsored post. All thoughts and opinions are my own.
My personal style has changed significantly over the years due to many factors. The most important one is probably the fact that I get to work with different brands, which in turn allows me to try new styles. And as I discover new brands and become acquainted with the creative minds behind them, each one holds a special place in my heart, as well as influence my overall personal style. In this post, I'll be introducing 3 Tokyo-based streetwear brands that you all should get to know and why it's important for me as a Tokyo-based blogger to represent them.
私のパーソナルスタイルはここ数年、様々な要因のお陰で変化しつつあります。ひとつの大きな理由は、お仕事を通して沢山のブランドとの出会いだと思っています。新しいブランドと出会う度に、そのブランドを立ち上げたクリエイティブな方々との繋がりを築くことによって、自分にとってスペシャルな存在になります。今回は、そんな東京生まれのストリートウェアブランドを3つ紹介したいと思います。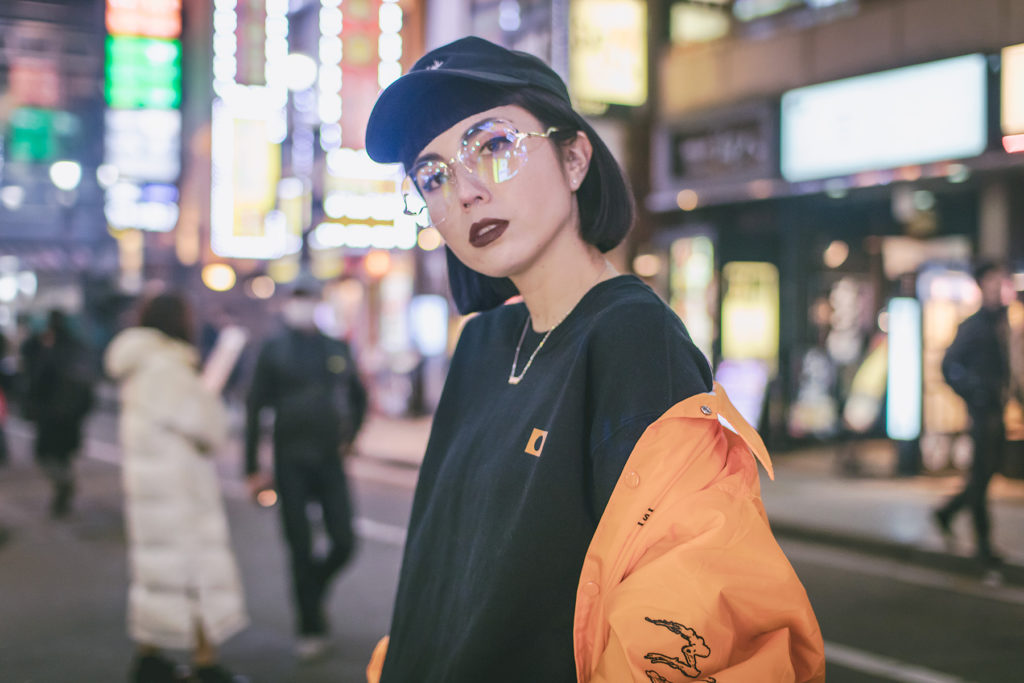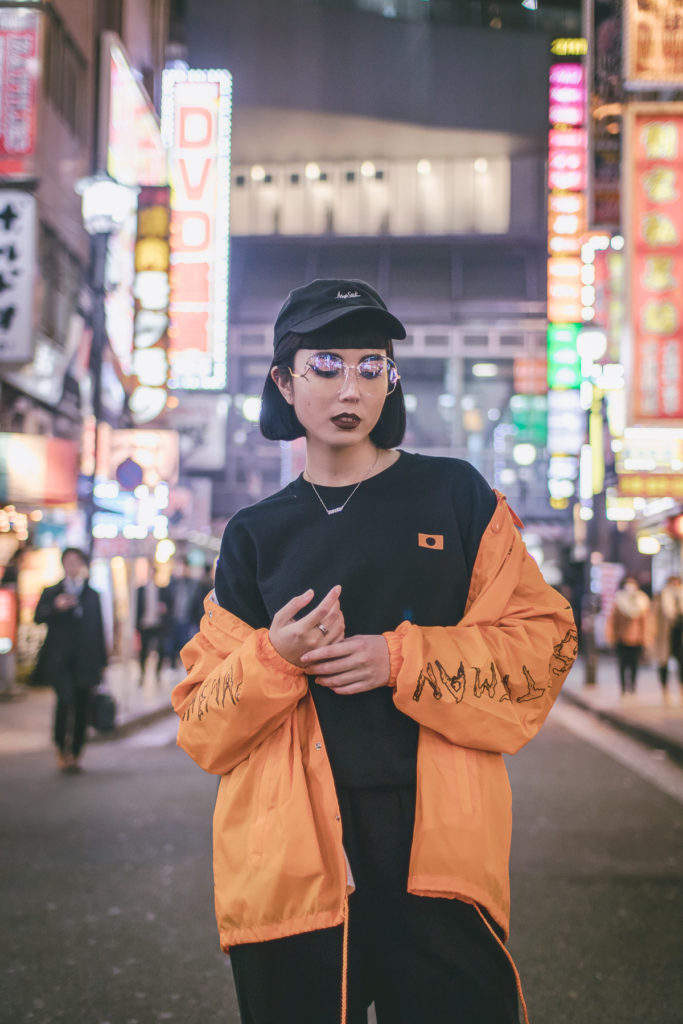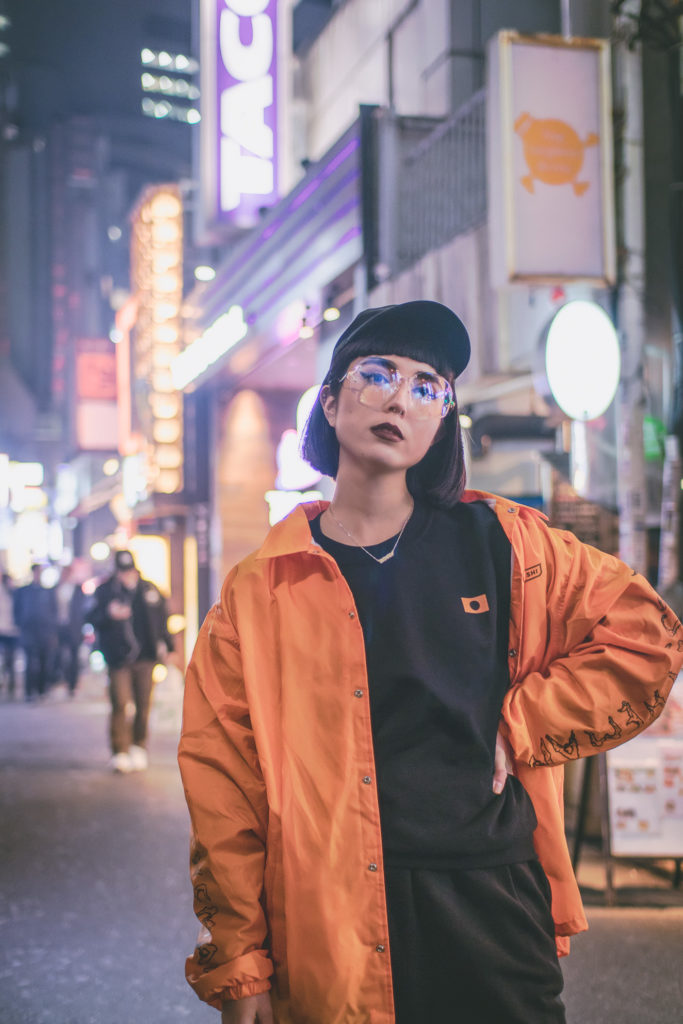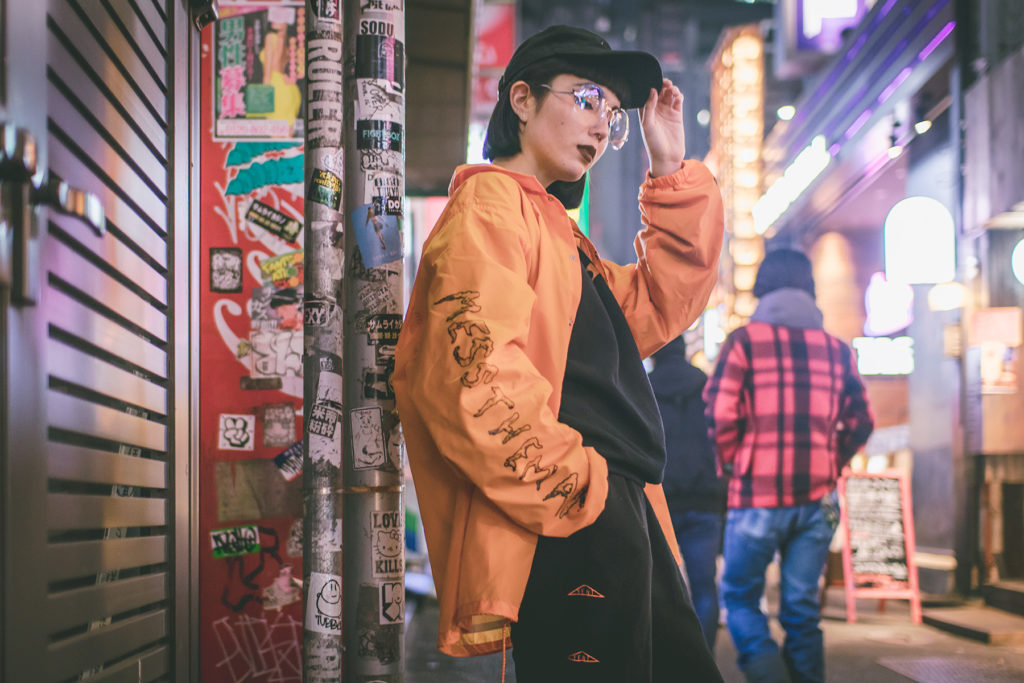 MAGIC STICK & MESS THE MAN
I think what got me interested in hip hop-influenced streetwear is MAGIC STICK. About 3 years ago, I visited their showroom in Harajuku with one of my managers, who is good friends with the designer. And this was around the time when I had just changed agencies, started cutting my hair short, and was experimenting more with my personal style. I stepped into this world I've never really associated myself with – really edgy, timeless pieces with bold graphics, oversized silhouettes and super casual pieces that can be worn by men or women. I remember ordering a pair of black & white socks with "FUCK" printed across in bold, thinking it was the funniest pair of socks I'd ever seen. At a different showroom, a proceeded to purchase this snapback with their logo on it, and has become a staple accessory ever since. I can say that MAGIC STICK was my first step into the Tokyo streetwear culture that has forever changed my outlook on street style swag.
ヒップホップカルチャーを背景としたストリートウェアブランドに興味を持ち始めたのは、MAGIC STICKに出会った頃です。3年前ぐらいに、原宿ので開催されていた展示会に初めて行きました。当時は事務所が変わったばかりで、髪の毛もショートにし始め、それに合わせてパーソナルスタイルも色々試していた時期でした。あまり知識がなかったかっこ良くてカジュアル,そしてタイムレスなこのストリートウェアブランドに触れたことによって、また新しい世界が広がりました。その日注文したアイテムもまだ覚えてます。足の表部分に「FUCK」が大文字でプリントされたソックス。今でも愛用しています(笑)。別の展示会で、写真で着用しているキャップを購入し、今ではワードローブステープルです。今振り返ってみれば、東京ストリートウェアの世界に足を踏み入れることができたことは、MAGIC STICKのお陰だと言えます。
On the other hand, I was introduced to Mess the Man just last month, when my friend & mentor Jaxx asked me to DJ at his label's event, Sushi Records. For that particular event, Sushi Records collaborated with Mess the Man for an exclusive collection. The collection consisted of mainly long-sleeve graphic tees, but my eyes were immediately drawn to this bright orange windbreaker, with both logos subtly printed on the front and sleeve. The old Samantha would have never chosen such a vivid colors, but the Samantha now is all about going for statement pieces that can still be incorporated seamlessly into her personal style.
それとは裏原に、Mess the Manはつい先月初めて知りました。Sushi Records を代表するJaxxさんが私にDJを依頼してくれたイベントで、Sushi Records x Mess the Man コラボが発表しました。コラボコレクションのメインはグラフィックロンTでしたが、私が気になったのはオレンジのウィンドブレーカー。絶対目立つステートメントアイテムだと思い、チョイスしました。昔のサマンサだったら絶対選ばなかったアイテムですが、今のサマンサだからこそ着こなせる自信があります。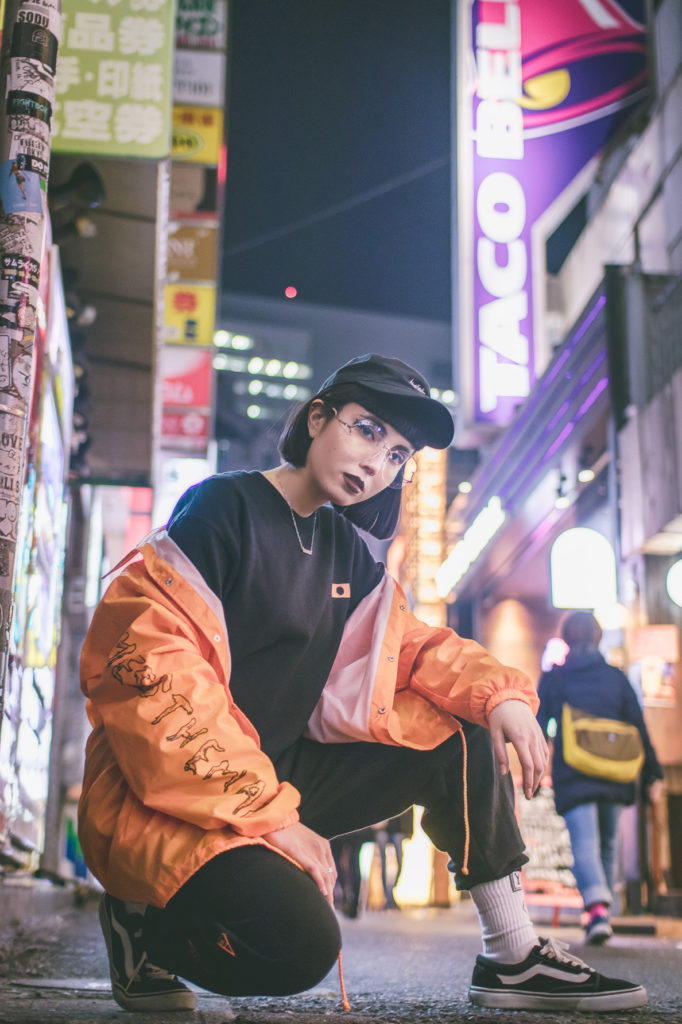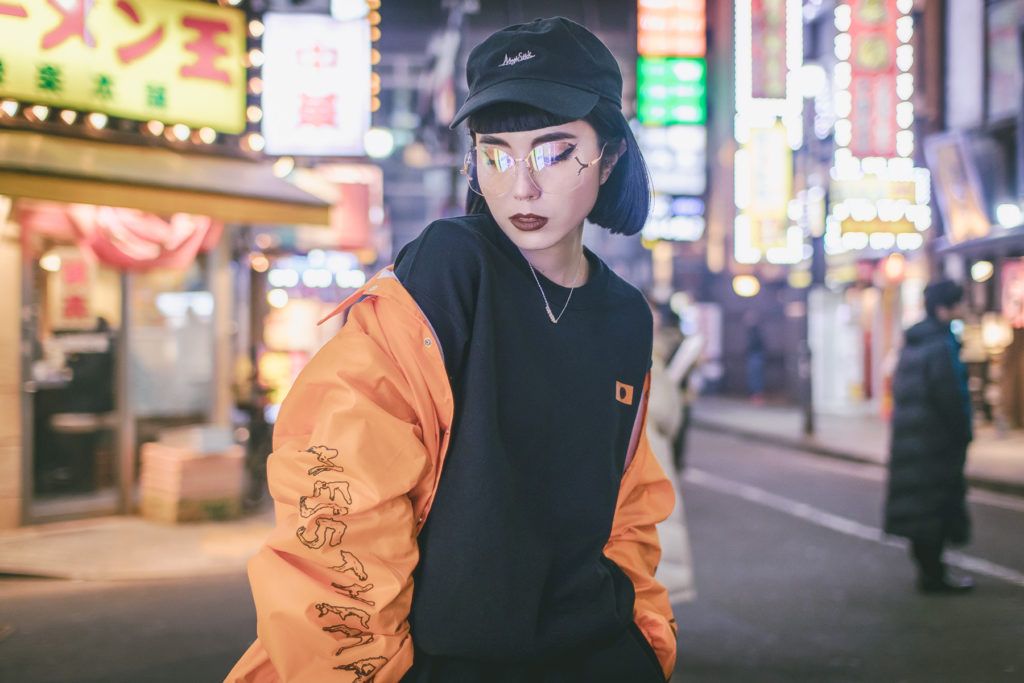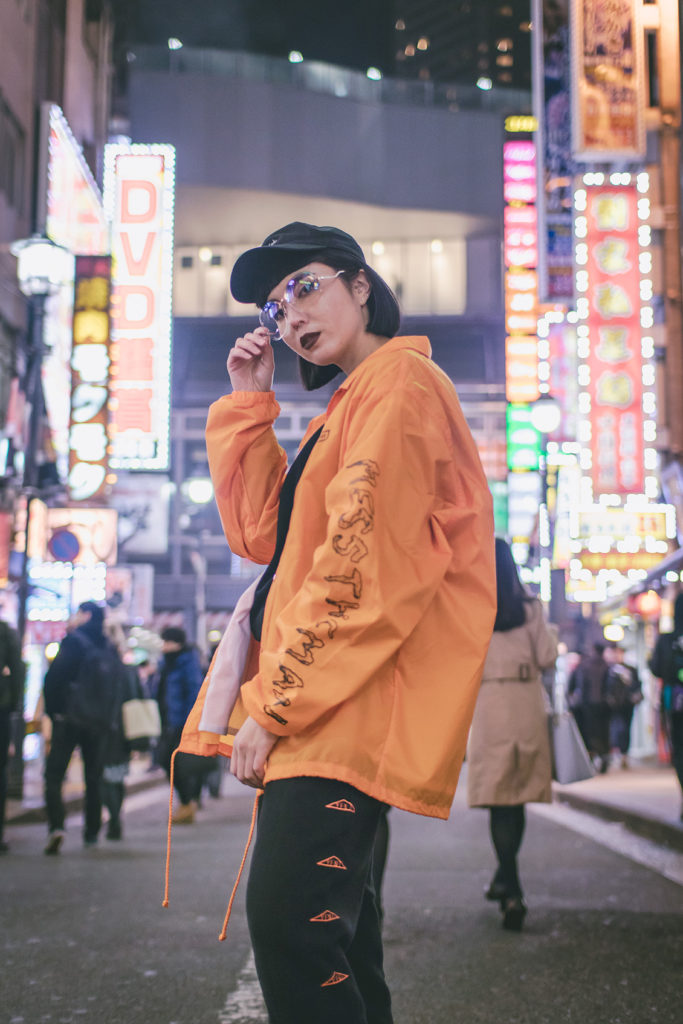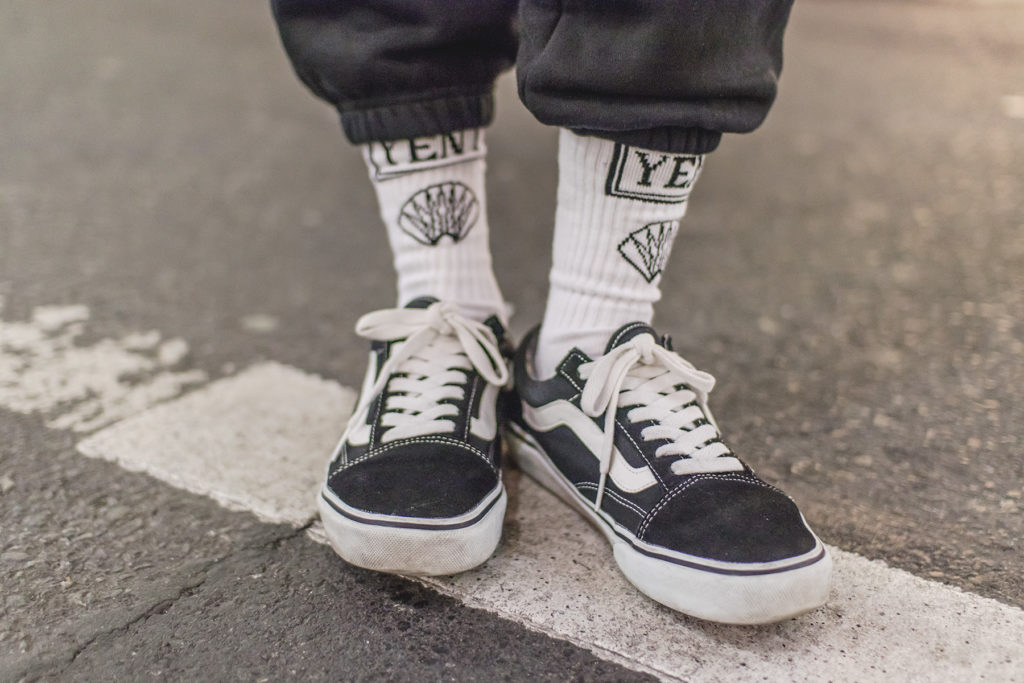 YENT TOKYOMADE – "Get it how you live"
YENT TOKYOMADE is a Tokyo based clothing and lifestyle brand that represents each individual's everyday hustle. YENT was first established as an event promotion group in Tokyo in 2013, which soon branched off as a clothing line designed and handcrafted by Kahlean, as YENT TOKYOMADE. This is a noteworthy brand in the hip-hop culture, and has been represented by many musicians and artists globally. 
I first met Kahlean when she agreed to do a pop-up for an event I'm a co-producer for, La Fondue Tokyo. I immediately fell in love with the brand and its concept, and I ended up dressing almost head to toe in YENT for the event. For this look, I'm wearing the same tracksuit and socks I wore to La Fondue but with different headwear & outerwear. Even something as simple as a tracksuit can make a girl feel comfortable while maintaining a good amount of poise and swag. This brand is definitely worth keeping an eye out for. And just for my readers, YENT TOYKOMADE is offering 10% off on your purchase with discount code yentsamanthamariko. Start shopping at YENT TOKYOMADE for unique and original streetwear. 
YENT TOKYOMADE は、個人個人のエネルギー表す、東京発のアパレルとライフスタイルブランド。YENTはもともとイベントプロモーションのグループとして2013年に設立されたのですが、その翌年の2014年にブランド代表のカリンがアパレルラインYENT TOKYOMADEにリニューアルしました。アンダーグラウンドのヒップホップカルチャーを代表とするブランドであり、様々なヒップホップアーティストにも愛用されています。
カリンに初めて会ったのは、私がプロデュースするイベント、「La Fondue Tokyo」でポップアップをしてくれたことがきっかけです。ブランドとブランドコンセプトにすぐハマり、先月のイベントでもほぼ全身YENTを着用しました。写真に写っている上下セットアップとソックスはYENTの。ここまでシンプルでカジュアルなトラックスーツでも、クールに着こなせるのが◎。是非チェックして欲しいブランドです。そして、YENT TOKYOMADEでお買い物される方には特別に割引コードyentsamanthamariko10%オフがもらえます!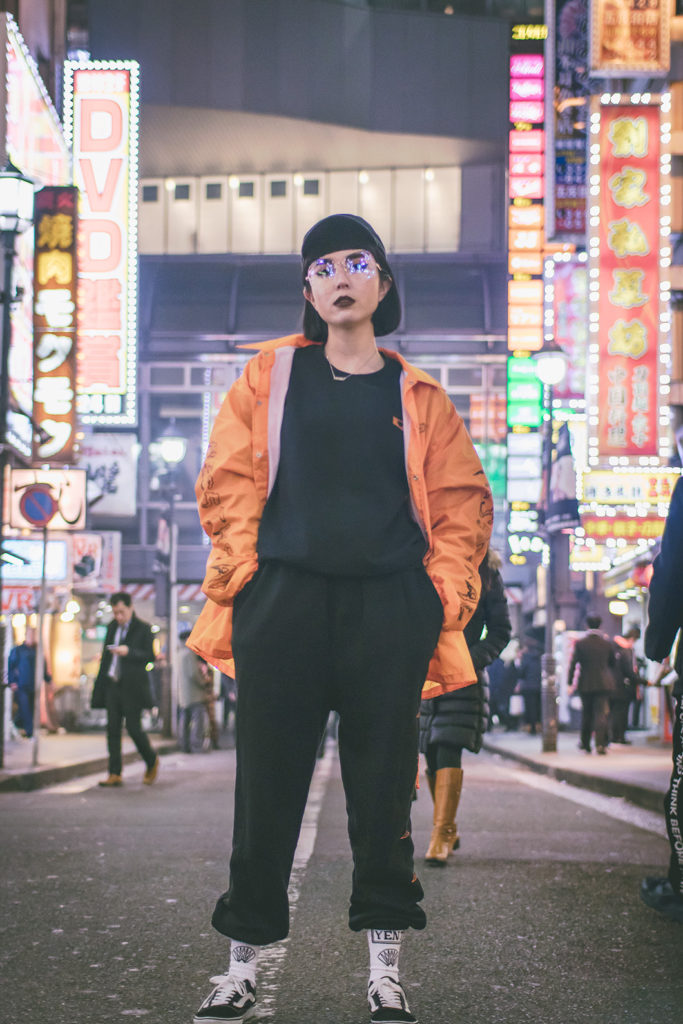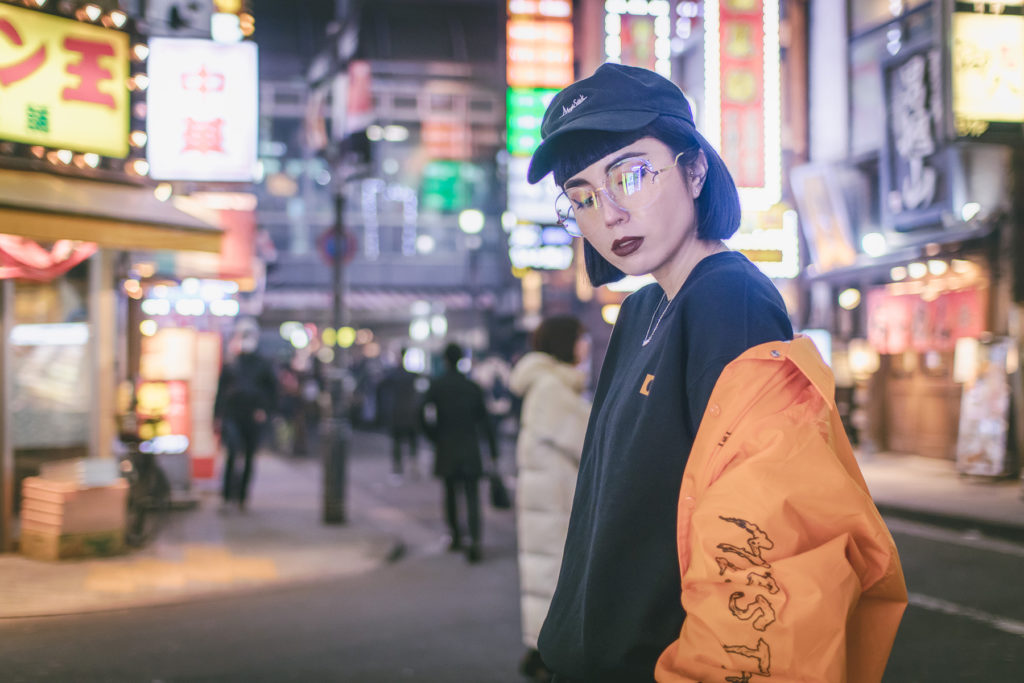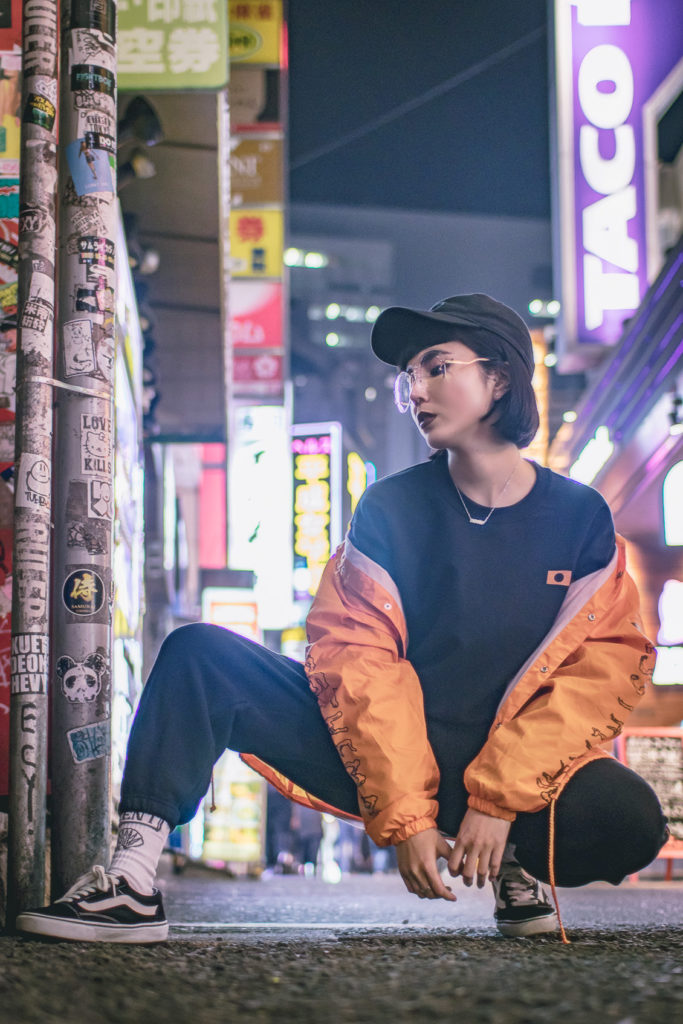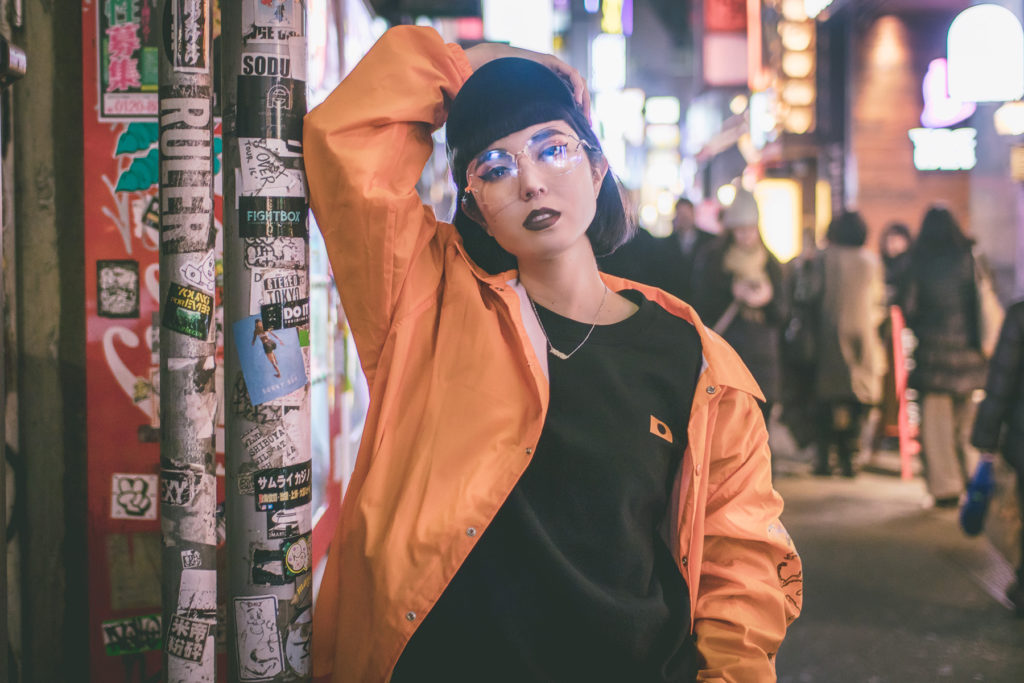 My introduction to Tokyo street style has forever changed my outlook on fashion and my own personal style. I feel comfortable and confident dressing this way, almost as much as when I dress up. And as a blogger currently based in Tokyo but at the same time sharing content globally, it's important that I represent these brands who have helped shape who I am today. Make sure to check these 3 brands out!
東京ストリートウェアに出会ってから、自身のファッションやパーソナルスタイルへの目線が大幅に変わりました。着心地も良く、自分にとって大きな自信へと繋がりました。東京をベースとしたブロガーなので、このようなブランドをどんどん紹介していくのが私の役目だと思っています。この3つのブランドを是非チェックして下さいね!
YENT TOKYOMADE tracksuit (USE 10% code yentsamanthamariko at checkout!), Mess the Man x Sushi Records windbreaker, MAGIC STICK snapback, RKT necklace, zeroUV glasses, Vans sneakers
All photos by Nona