Skincare has been the most important step in my beauty regimen ever since I experienced a terrible bout of acne a few years ago. After much experimentation and figuring out what products worked best for my skin, I've come up with a pretty solid skincare routine that has significantly reduced the amount of breakouts, leaving my skin feeling baby smooth and soft. For this post, I'll be focusing on cleansing, because that is the very first step in a good skincare routine.
ここ数年、スキンケアは私のライフスタイルにとってとても大切な一面であり、今でも常によりよいスキンケアを追求しています。数年前ニキビにひどく悩まされ、色々試したら自分に一番合ったスキンケアルティーンを見つけることができました。見違えるほど肌の調子が良くなり、触らずにいられない時も増えました。この記事は肌のクレンジングを重視に、私のルティーンと愛用している商品を紹介していきます!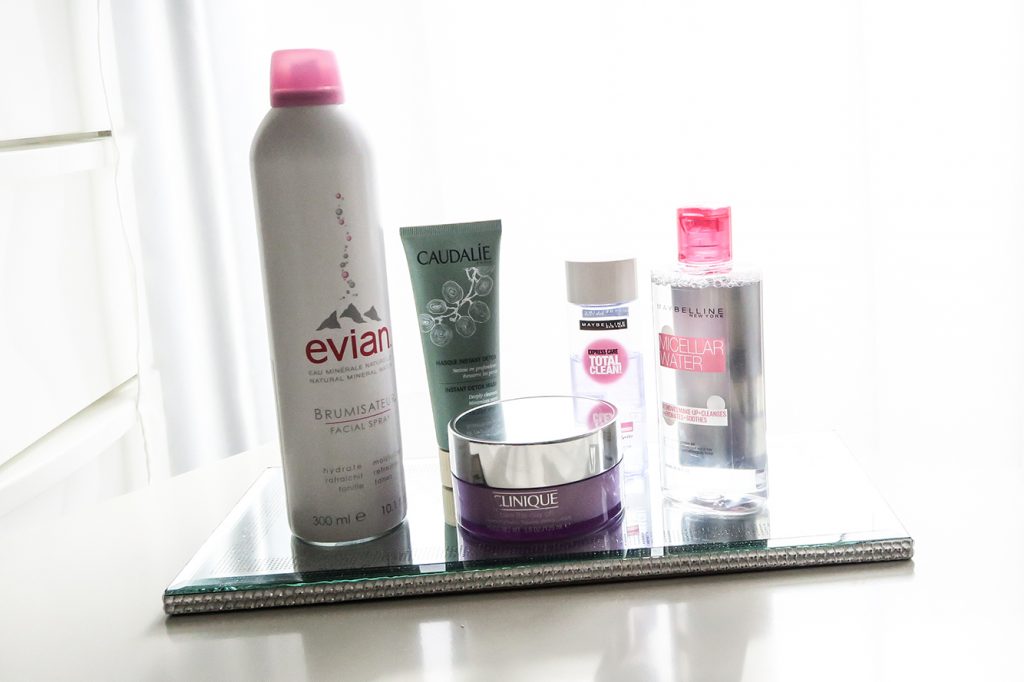 Why is proper cleansing so important? なぜクレンジングは大事か?
Without properly cleansing your skin, whatever skincare products you use afterwards will not be as effective. When your pores are still clogged up with dirt and makeup residue, how will the toner or cream that is applied work its magic? This was the big mistake I was making up until a few years ago, causing massive breakouts that just wouldn't heal. I thought all the makeup removers or cleansers at the drugstore were the same, thinking a cheap one would be just as effective as a department store product. Boy, was I wrong! After doing an extensive amount of research by reading related articles, I discovered products and methods that I had not known before. Disclaimer: while I still do get the occasional pimple on my chin, that is almost nothing compared to what I used to experience thanks to my new cleansing regimen. Read on to see which products I currently use!
クレンジングをしっかり行うことによって、その後に使うスキンケアがより良く浸透するため、その効果が最大限に発揮されます。毛穴に汚れが残ったまま化粧水やクリームを使っても、あまり意味がないです。私も数年前まではクレンジングを怠っていた上、あまり商品にも拘らなかったので、ニキビがびっくりするぐらいできてしまいました。正しいクレンジング法についての記事を山ほど読んで様々な商品を試した結果、今のクレンジングルティーンに至り、ニキビもほとんどできなくなりました。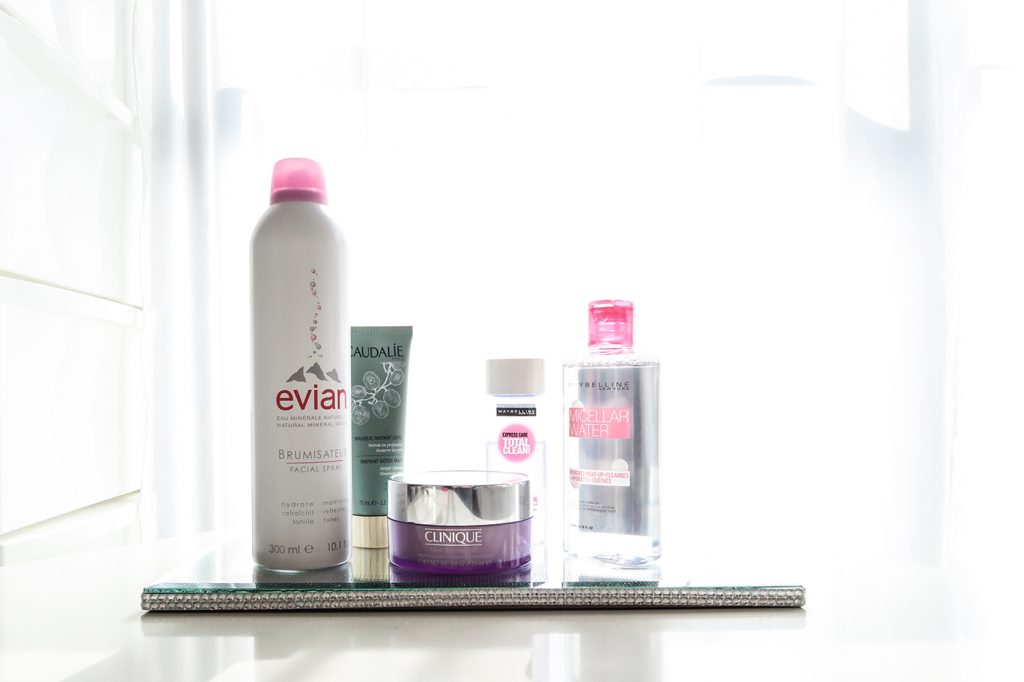 My morning cleansing routine 朝のルティーン
I actually use two different cleansers for morning and night because I obviously don't need to use a makeup-removing cleanser in the morning. In the A.M., I use Maybelline's Micellar Water with a cotton pad to remove any residue that may have accumulated during the night. Honestly, any micellar water is fine – I just use Maybelline because it is very affordable, I like the packaging, and it works for me. Into the Gloss recently posted an article about choosing the right micellar water, so it might be worth the read. After the micellar water, I could skip right over to applying toner, but I usually spray some Evian Natural Mineral Water Facial Spray all over my face to get that extra moisture back in my skin.
朝はメイク落とし用のクレンザーを使わなくても良いので、朝晩は別のクレンザーを使っています。朝起きたら、コットンを使ってメーベリンミセラーウオーターで顔の汚れを拭き取ります。ミセラーウオーターは沢山あるので、色んなブランドのを試してみても良いと思います。メーベリンのはお手頃だし、ボトルの形が使いやすい上、私の肌に合ってる気がします。その後、エヴィアンフェイシャルスプレーで肌に潤いを与えます。
My evening cleansing routine 夜のルティーン
My evening routine is a little more complex than my morning, but not that much. First, I use Maybelline's Express Care Total Clean Point Makeup Remover with a cotton pad to remove my eye makeup and lipstick if I'm wearing some. Then, this is the fun part: I take a bit of Clinique's Take the Day Off Cleansing Balm and massage it all over my face until the rest of my face makeup melts. It's quite amazing. It literally removes everything with a couple of strokes and I just rinse it off with lukewarm water. I swear by this cleansing balm and it is most definitely worth the money. After everything is completely off, I apply a clay or mud mask and take a bath for about 15 minutes while that works its magic too. Since the air can be so dirty in a busy city like Tokyo, it's important that I do a double cleanse with a clay or mud mask every night. I'm currently using Caudalie's Instant Detox Mask, and I just love how my skin feels after I wash it off. Some other clay/mud masks I like are the Rare Earth Deep Pore Cleansing Mask from Kiehl's and the Tea Tree Skin Skin Clearing Clay Mask from The Body Shop.
夜のルティーンはもうちょっとコンプレックスだけど、そこまででもないです。一番始めに、コットンを使ってメーベリンエクスプレスケアトータルクリーンポイントメイクレムーバーでアイメイクとリップを綺麗に落とします。そこで、ここから本題:私の大好きなクリニークテイク・ザ・デイ・オフクレンジングバームで残りのメイクを完全に落としきります。適量をとり、水を使わずに顔をマッサージする感じでフェイスメイクを溶かし、生温いお湯で洗い流すだけです。使った後の肌触りは半端ないですよ!これ以外のクレンジングは使えないくらいです。最後に、お風呂につかりながらクレイかマッドマスクをつけます。都内の空気は凄く汚れてるので、ダブルクレンジングが本当に重要になってきます。今愛用しているのはコーダリーインスタントデトックスマスクです。10〜15分ぐらい使うだけど、赤ちゃん肌のようにツルッツルになります。他にオススメするマスクはキールズレアアースマスクとザ・ボディーショップのスキンクリアリングクレイマスクです。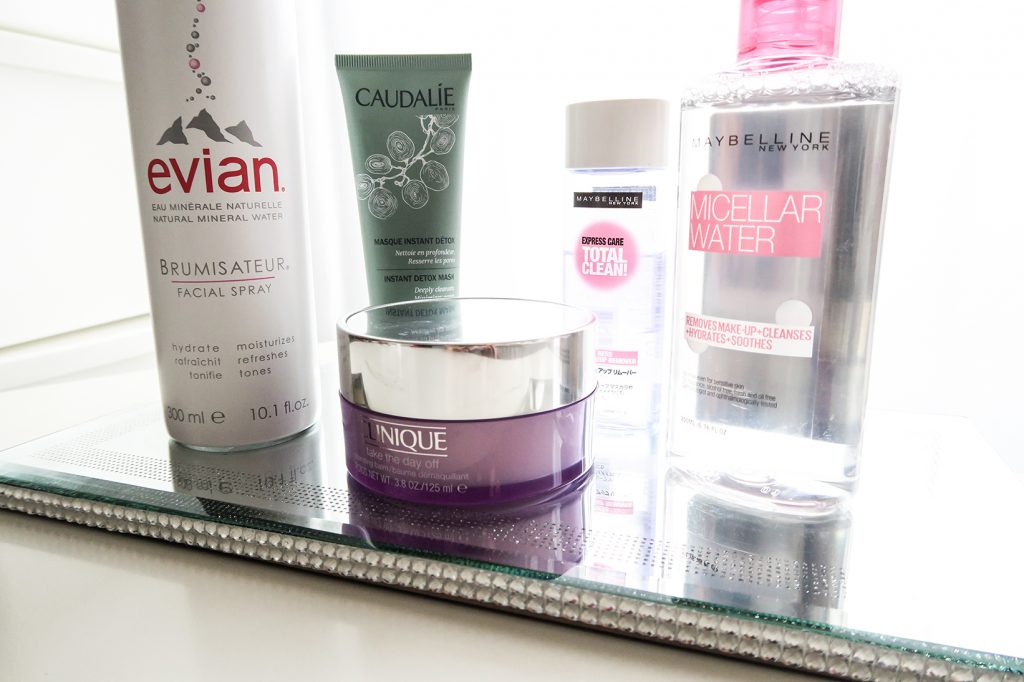 Did you find this post helpful at all? Do you have any holy-grail cleansing products? Please share them in the comment section ❤️
この記事は役に立ちましたか?あなたのオススメするクレンジング法や商品についても是非読んでみたいです!