It has always been my dream to see the iconic Eiffel Tower with my own eyes. My friend Yuri, who was also my tour guide during my first week in Paris, surprised me with the best scenic view of the Tower. I think my jaw literally dropped when I turned the corner and saw the most beautiful sight I've ever seen in my life.
人生一度はこの目で見たいと願っていたエッフェル塔。今回の初パリ旅行中、やっと見ることができました。パリに詳しい友達の友里ちゃんに、エッフェル塔の眺めが最高に良いスポットへ連れて行ってもらい、駅を出て角を曲がったすぐ先のこの素晴らしい光景に思わず目を見開いてしまいました。街の中でもこんなに綺麗な景色が存在するんだなと、感動しました。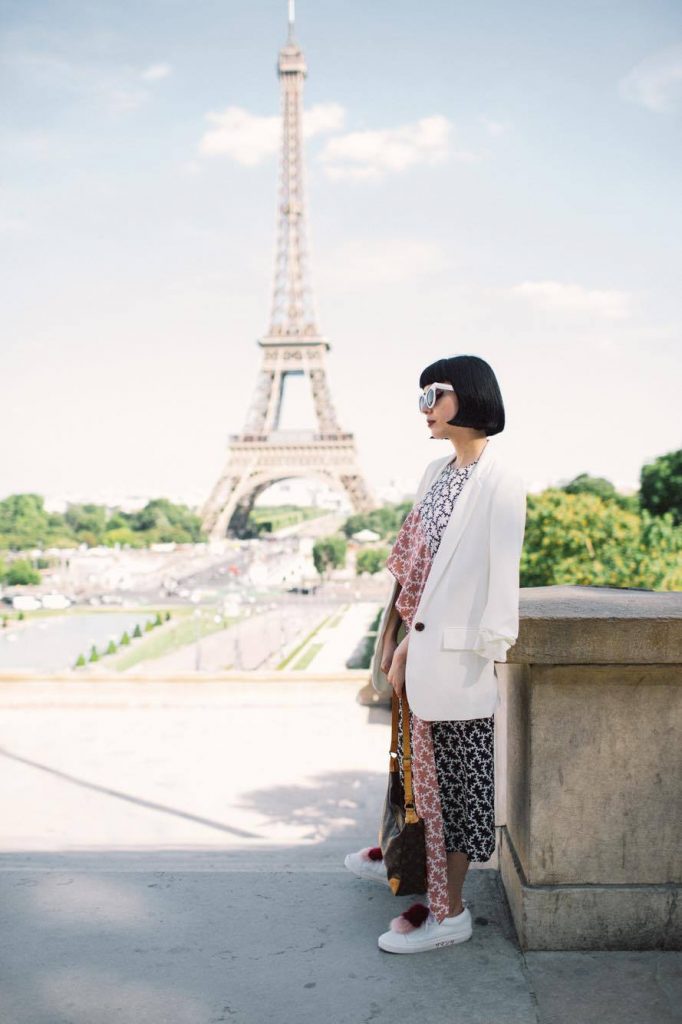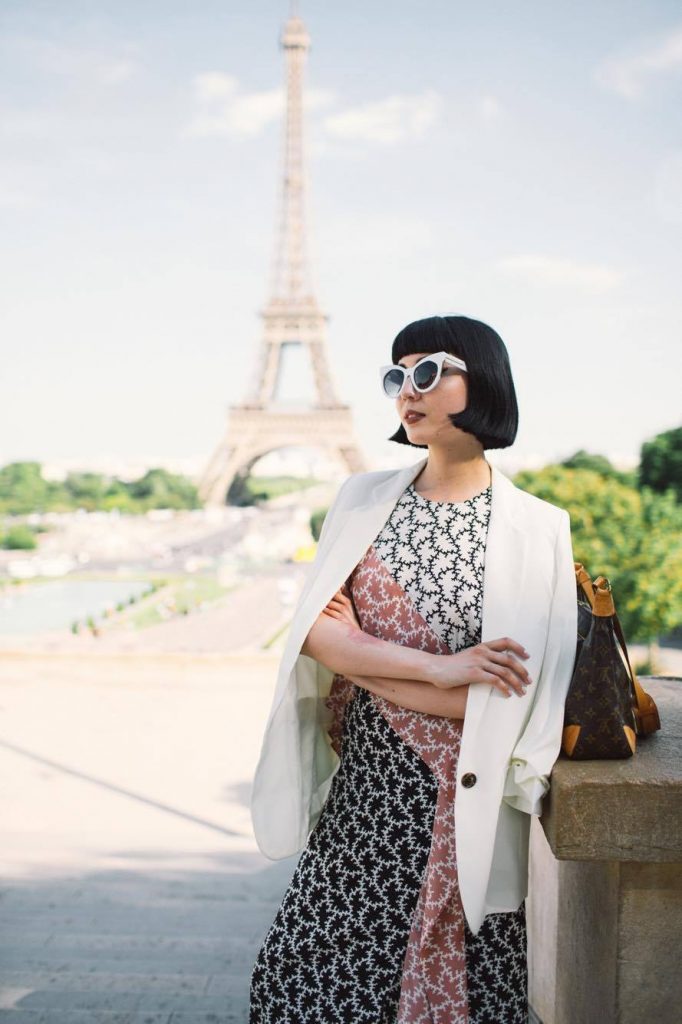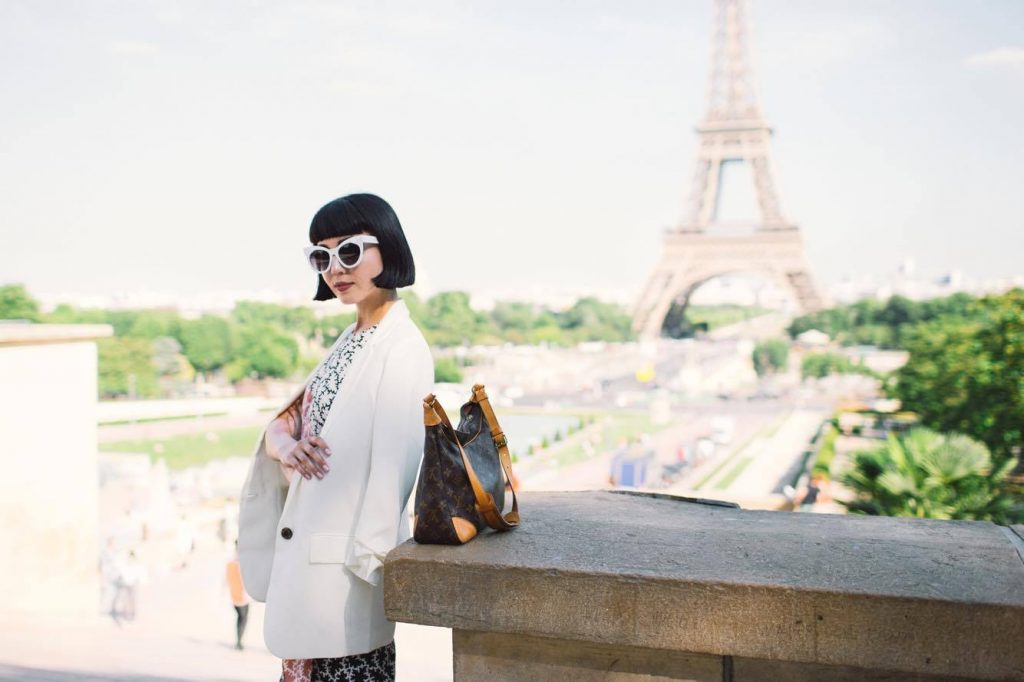 I remember Yuri kept laughing at my yelps of glee as I rushed closer to see the Eiffel Tower, snapping away on my camera. Yuri had also scheduled a photo shoot with Russian photographer Belaya Lena, who was kind enough to also snap these gorgeous portraits of me as well. I'm glad I was wearing this particular outfit that day – my favorite color-block dress courtesy of DVF, a chic white blazer I found at the H&M in Thailand, retro cat-eye frames from zeroUV, my personalized white kicks from Josefinas, and my mother's old LV shoulder bag that she bought in Paris over 30 years ago. Welcome back to Paris, little LV.
興奮を押さえられず、「ヤバい!すごい!」とはしゃぎながら近くまで見ようと小走りになる私はきっと子供みたいだったんだろうな。友里ちゃんがちょうどその日、ロシア人のカメラマンベラヤ・レナさんと撮影をすることになっていたので、私も何枚か記念に撮ってもらいました。DVFのカラーブロックワンピースに白いブレザー、白いスニーカーにサングラスという、偶然エッフェル塔とお揃いの白メインのコーディネートにしたのも何かの運だと思います。そして、ママが30年前にパリで買ったヴィトンのバッグを旅のお供に。パリへお帰り。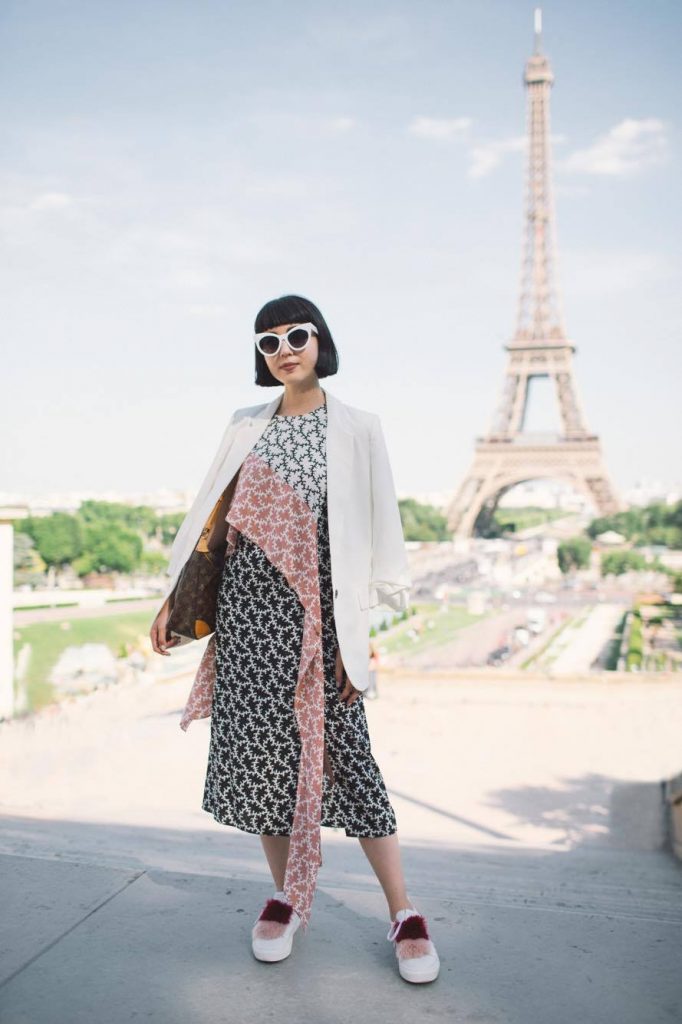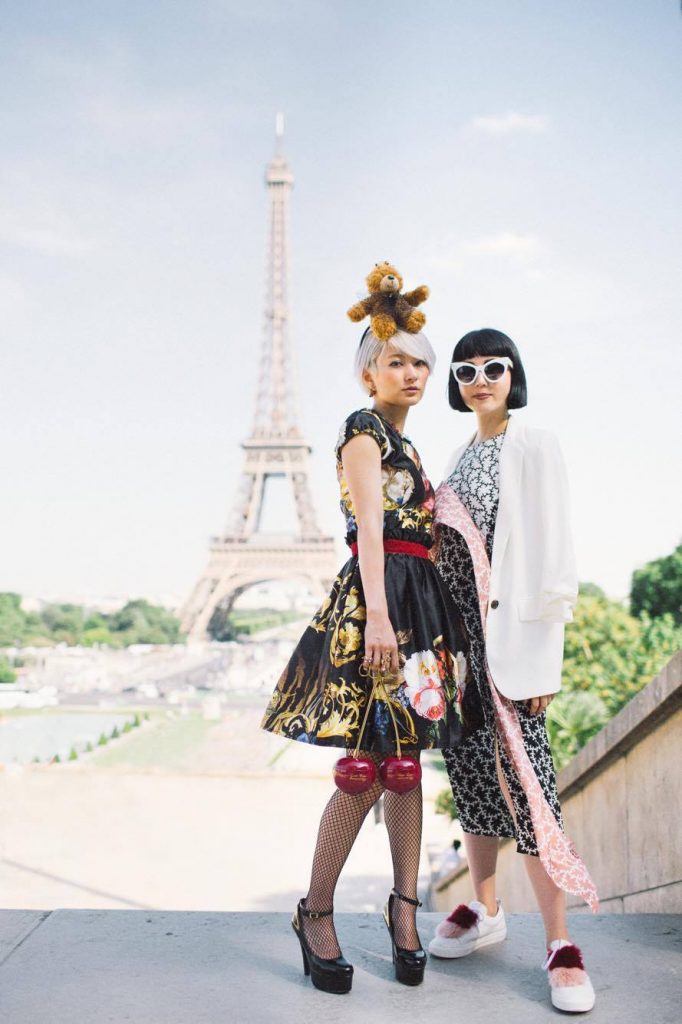 On a side note, this is actually the day I flew in to Paris. Doesn't look like I traveled 12 hours, does it? Even the always-energetic Yuri was surprised at how much energy I had the entire day. I mean come on, it was my first time ever in Paris – I would be an idiot to pass out on the hotel bed right after my flight on the first day, right? Simply not an option. I am one to enjoy my travels to the fullest whenever possible.
実はこの写真を撮った日に、パリへ到着したんです。12時間以上飛行機に乗ってた風に見えないですよね(笑)。やっぱり初ヨーロッパ、初パリが楽しみで仕方なかったので、疲れも吹っ飛んだんだと思います。せっかくの旅行を無駄には過ごしたくない主義なので!
DVF dress (on sale), zeroUV sunglasses, H&M blazer, Josefinas shoes, Louis Vuitton bag.
All photos by Belaya Lena