During the first week of my stay in Paris, the Christian Dior exhibit, Couturier du Rêve, or "Designer of Dreams," opened its doors to the public at Les Arts Decoratifs. Celebrating the 70th anniversary of the creation of the House of Dior, this beautiful exhibit allows visitors to immerse themselves in the world of Dior, and to also view the designs of the couturiers who succeeded him.
While I've always known of Dior, it wasn't until recently that I learned of the history behind the brand and what makes Dior the brand that it is today. Within the past couple of months, I've been fortunate enough to have participated in several Dior parties and events in Tokyo, allowing me to understand why Dior is such an iconic brand that people have and continue to love over the years. So the Couturier du Rêve was the most perfect opportunity for me to see all of the history up close, in the city where it all began.
私が先月パリに滞在していた一週間目に、クリスチャン・ディオールのエキシビション、「Couturier du Rêve(夢のクチュリエ)」を装飾芸術美術館で開催されました。ディオール創業70周年を祝うこのエキシビションでは、メゾン創業者ディオールとその後を継いだデザイナー達の独特な世界観をしっかりと味わうことができます。
ディオールの存在をずっと知っていたとはいえ、正直どういうブランドなのかはそこまで詳しく知らなかったです。今年入ってからいくつかのディオールのイベントに参加させていただいたのをきっかけに、ディオールの歴史やデザインの背景、なぜここまでディオールが象徴的で今でも沢山の人に愛されているかを理解することができました。なので、旅行中に始まったばかりのエキシビションを絶対に見逃すわけにはいきませんでした。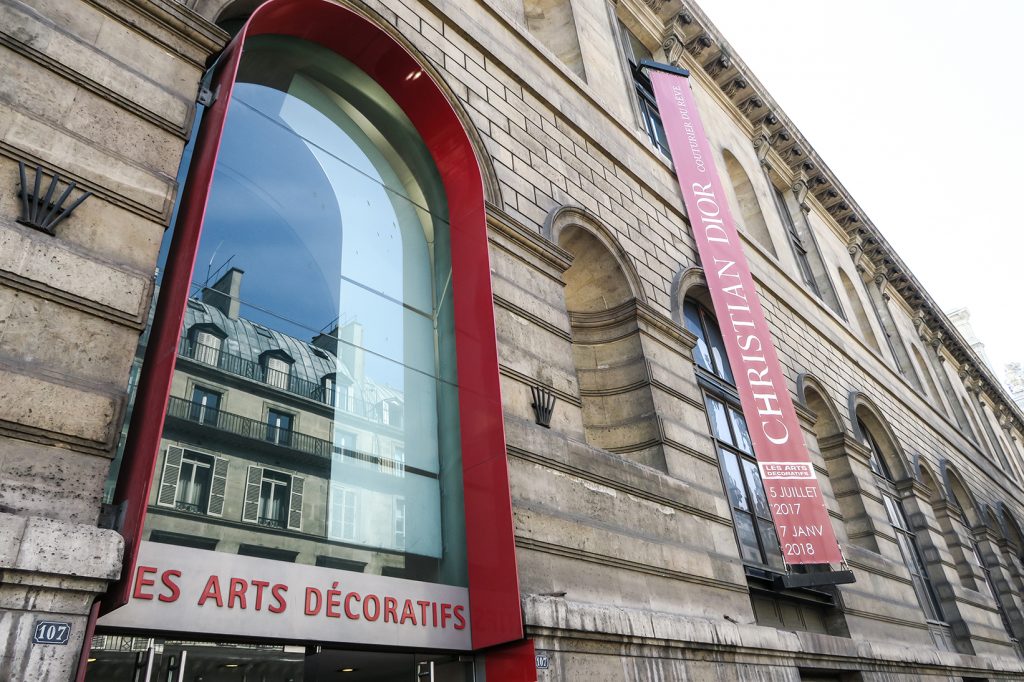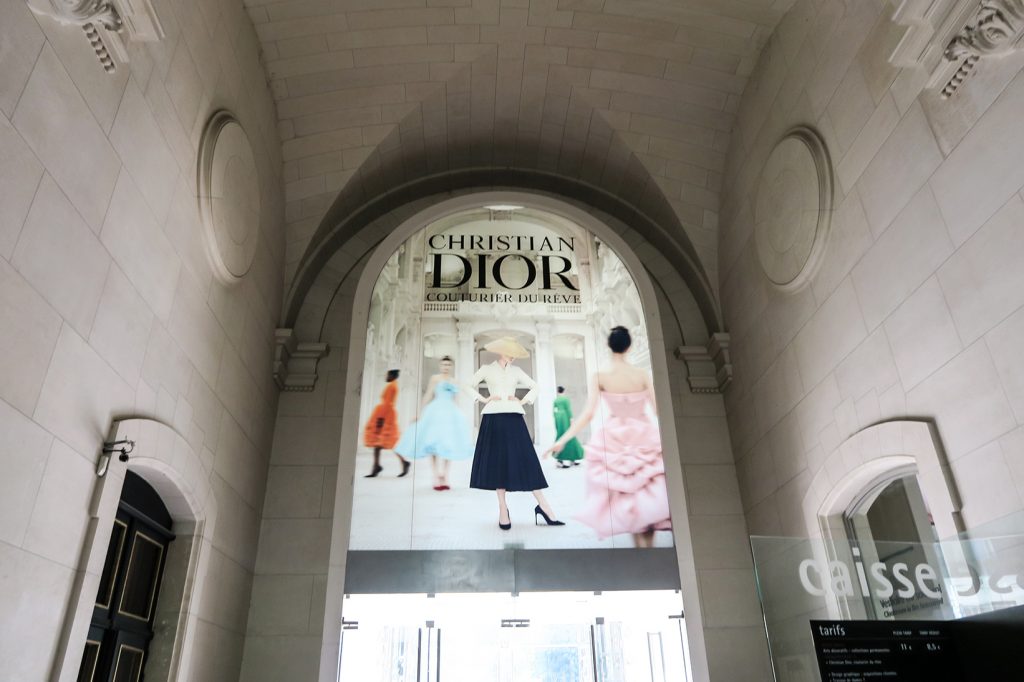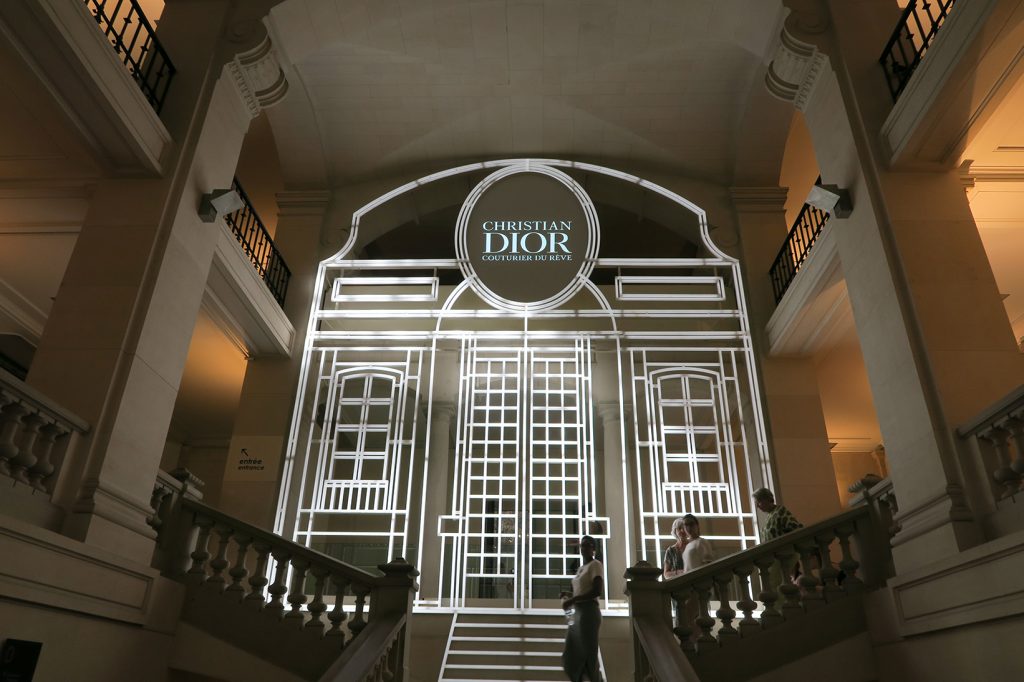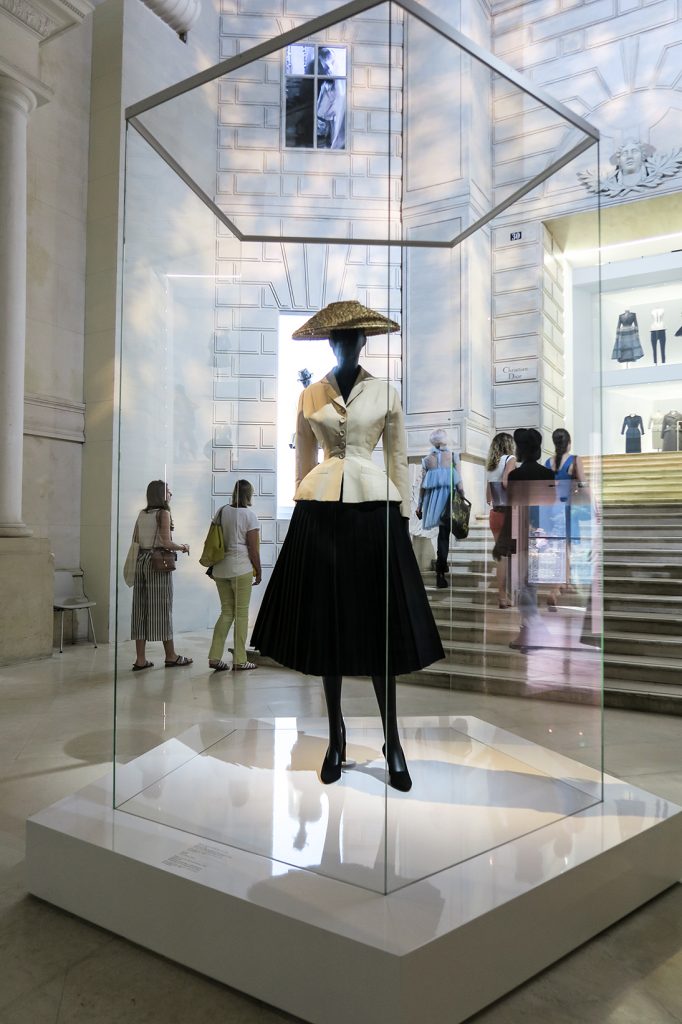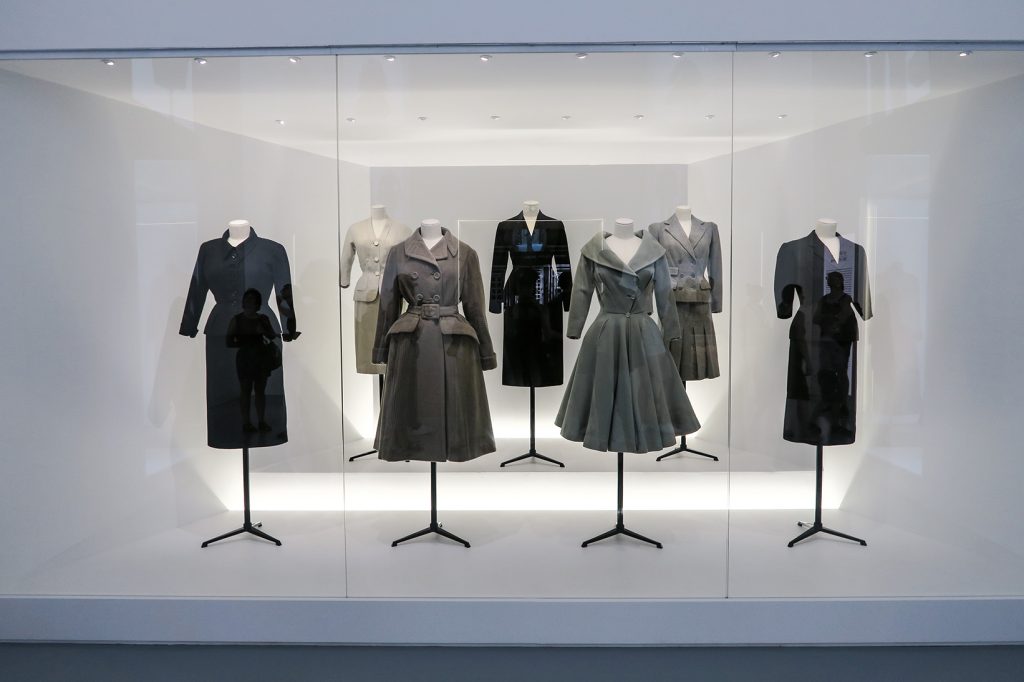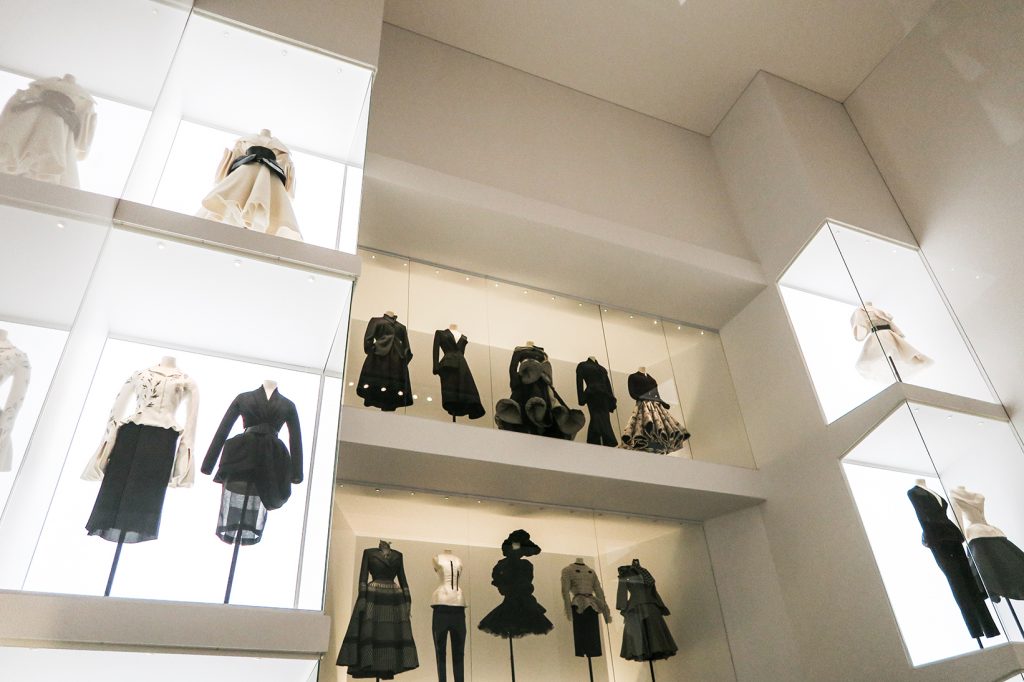 The exhibit spreads over 3,000 square meters and displays over 300 couture pieces. It begins at the nave, which is apparently a replica of the facade of the house's headquarters at 30 Avenue Montaigne. According to an online article by Vogue.com, "…when the maison Dior debuted on February 12, 1947, it provoked immediate rapture, occasionally scandalized, and eventually changed fashion forever. With the New Look came a return to femininity, sumptuousness, and indelible Parisian-ness that reverberates through fashion to this day." The clothes in the front windows are not Dior; they show how the "New Look" influenced other designers after him, both in Paris and abroad.
このエキシビションは広さ3000平方メートル以上で、およそ300点ものクチュールデザインが展示されています。美術館を入ってすぐ左側のディスプレイは、30 Avenue Montaigne に建つHouse of Diorの本部を再現しているそうです。Vogue.comの記事によると、ディオールが1947年2月12日にデビューした以来、沢山の人を夢中にさせ、でも時には反感を起こし、最終的にはファッションを変えたのです。「The New Look」と共に女性らしさや贅沢さ、そして誰もが想像できるようなパリらしさも現在のファッションに映し出されています。ウィンドーに展示されている型は実はディオールのデザインではなく、ディオールの「New Look」にインスパイアされたデザイナー達のクチュールデザインです。
THE COUTURIERS, PAST AND PRESENT
After Christian Dior passed away, several designers succeeded him to make sure his vision continued on as the House of Dior. Starting with Yves Saint Laurent, each successor created lavish collections which still incorporate Dior's original vision of beauty and femininity, designs that uphold classiness and elegance of Parisian chic. Despite this, you can still see the individuality of each designer as you go through each room in a side gallery.
ディオールが亡くなった後、彼のヴィジョンを引き継いだデザイナー達によって、House of Diorも今年で70周年を迎えることができました。イブ・サン・ローランを始めに、どの後継者も華やかなコレクションを生み出し、そして同時にディオールが描いていた美と女性らしさの図も取り入れながらパリらしいシックとエレガンスを表現しています。サイドギャラリーの各部屋が各デザイナーの作品を展示しており、デザイナー一人ひとりの個性も堪能することができます。
Yves Saint Laurent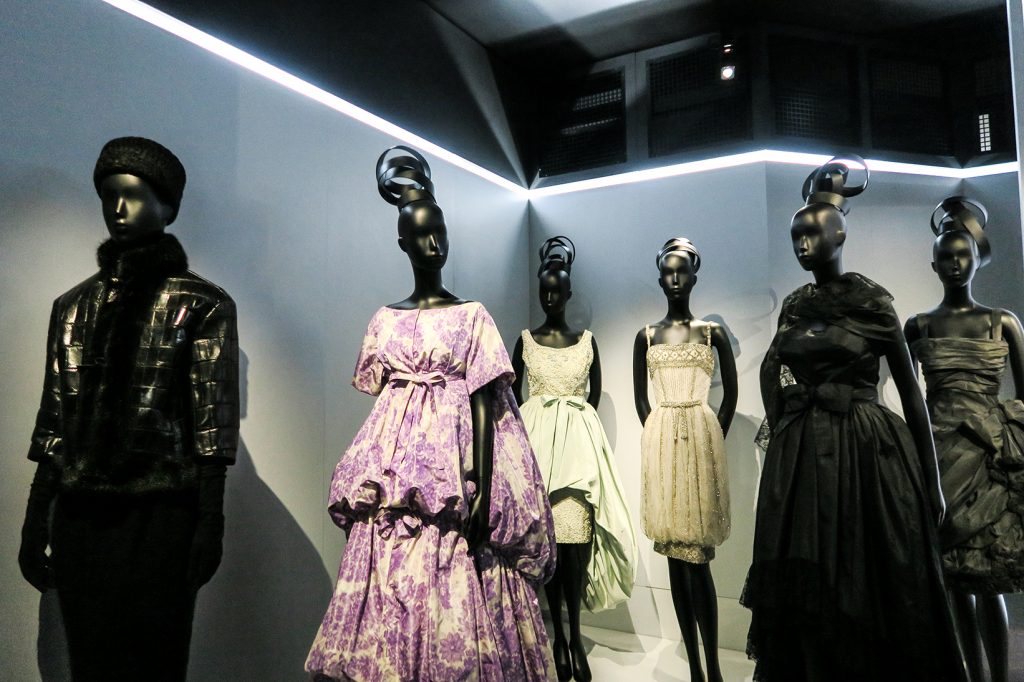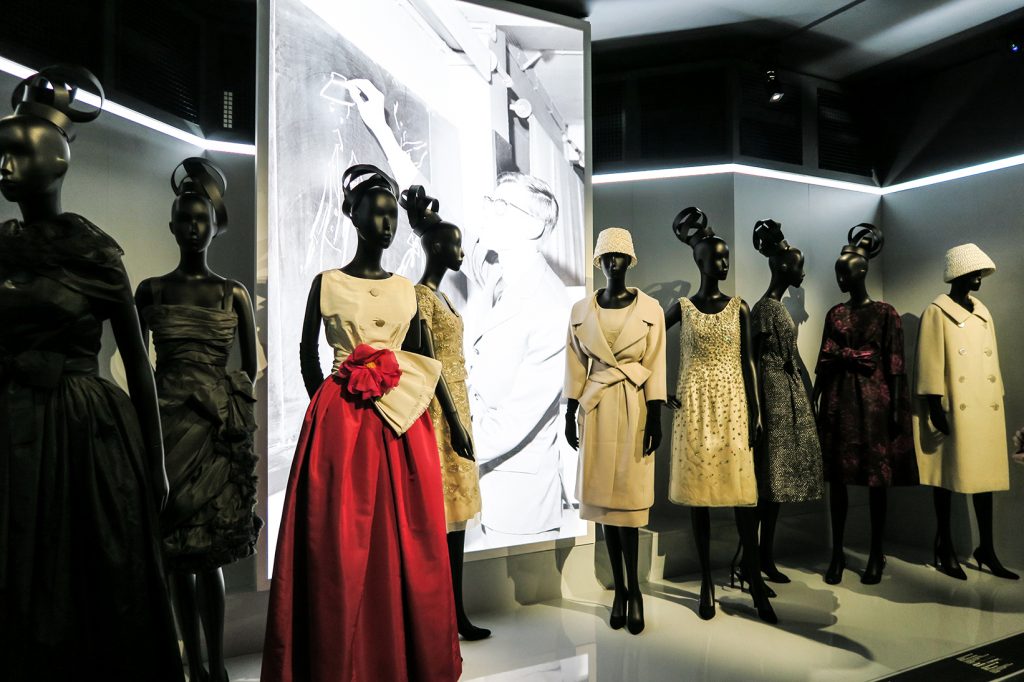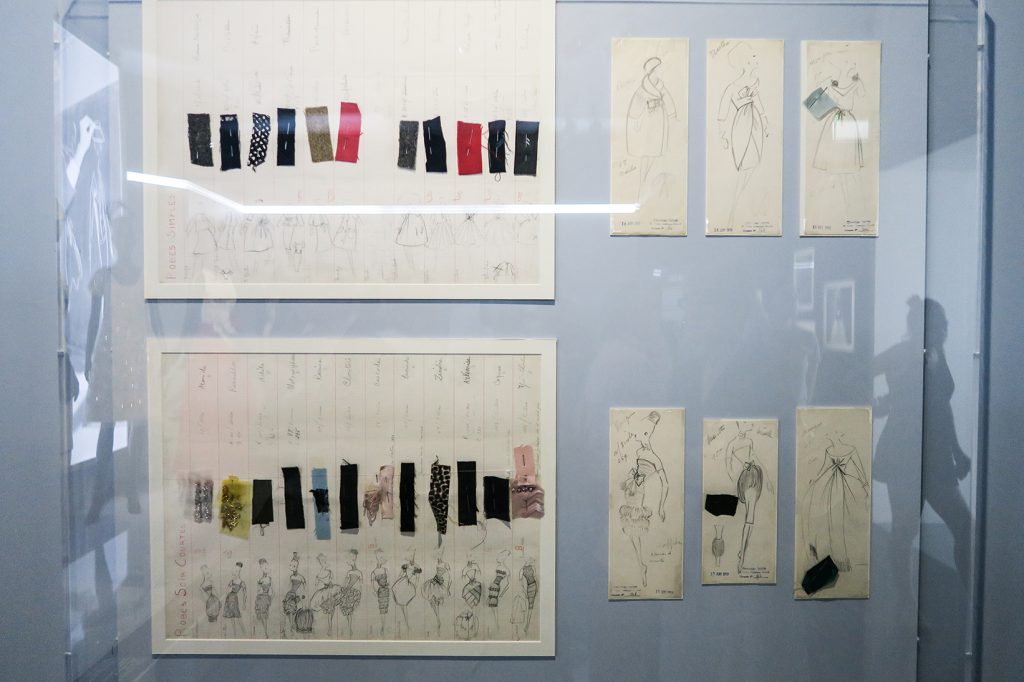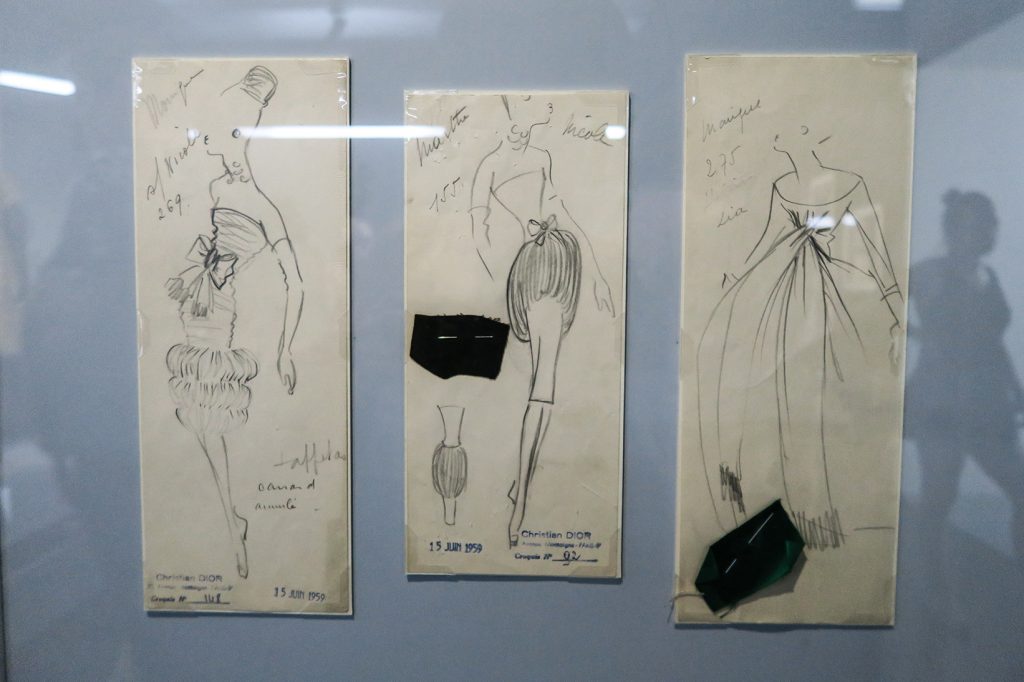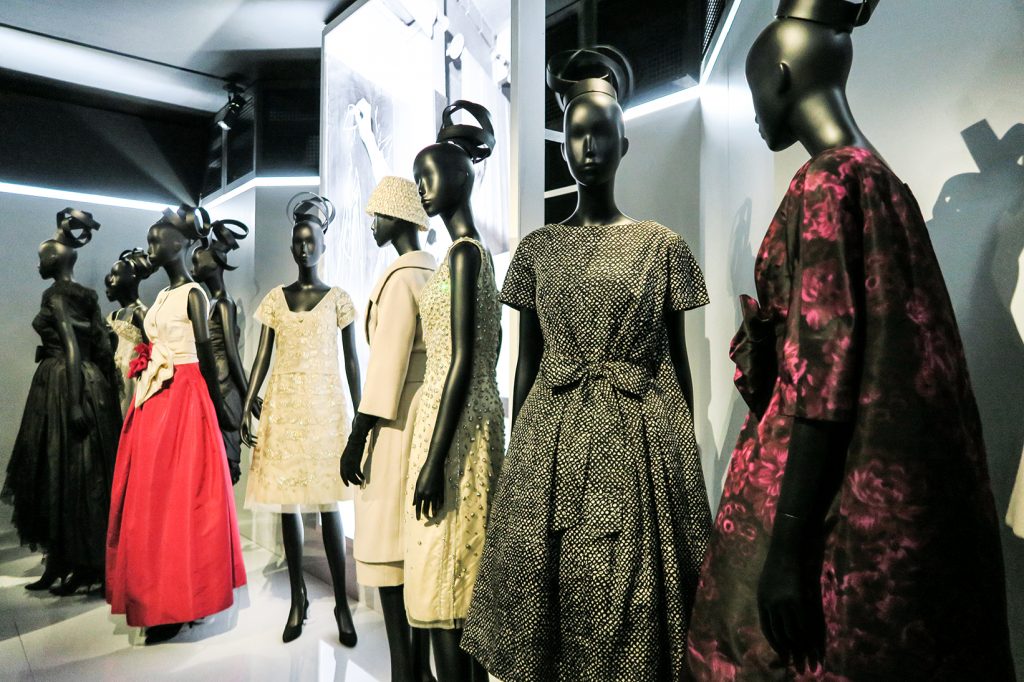 Marc Bohan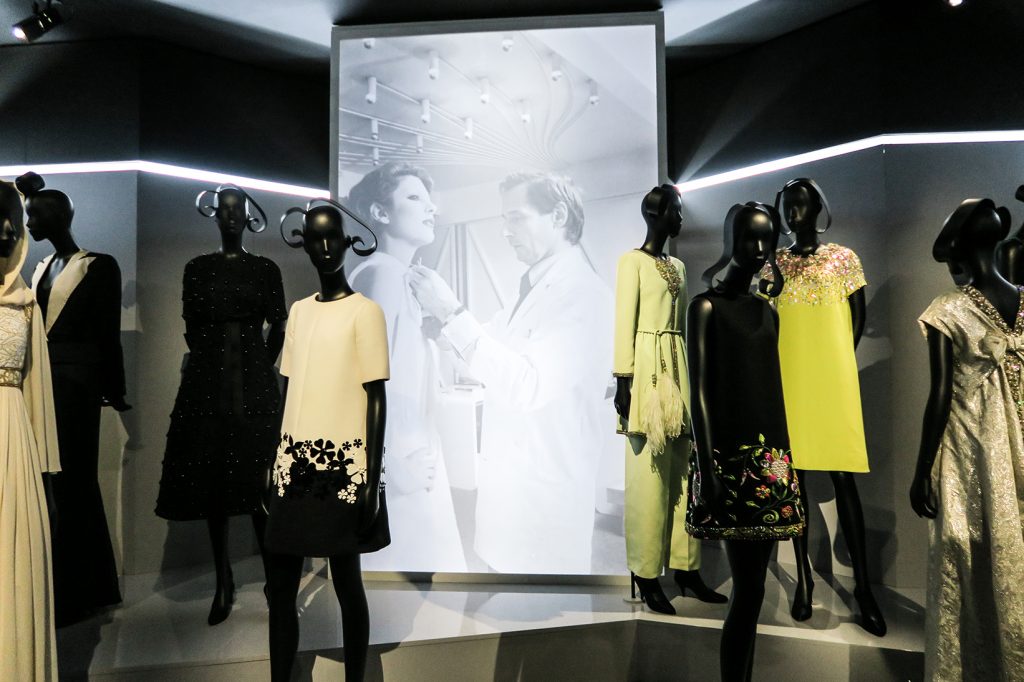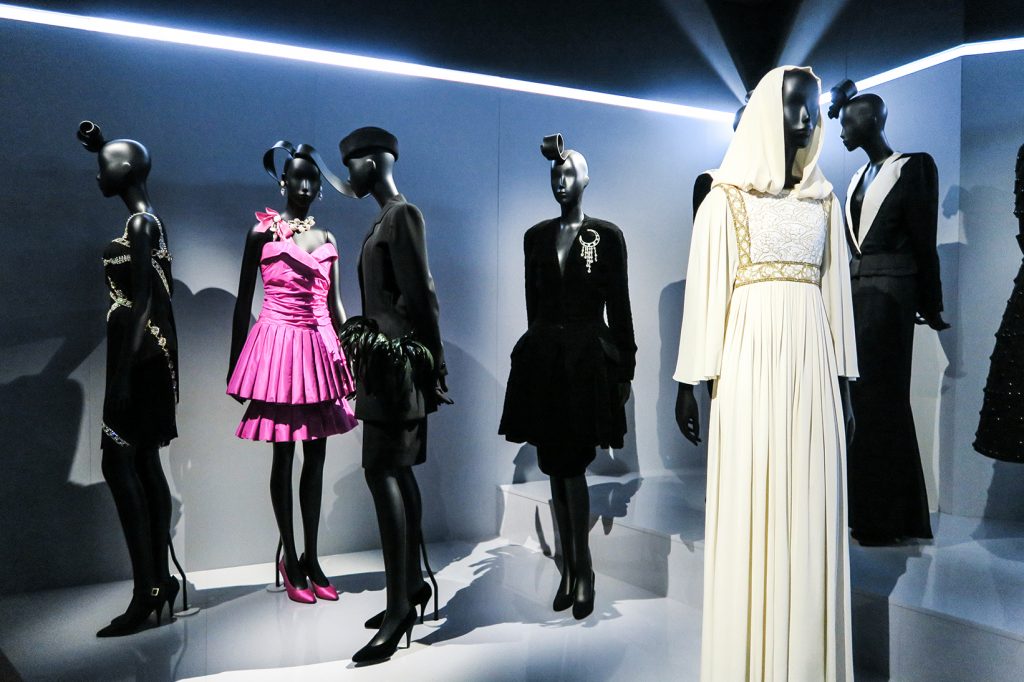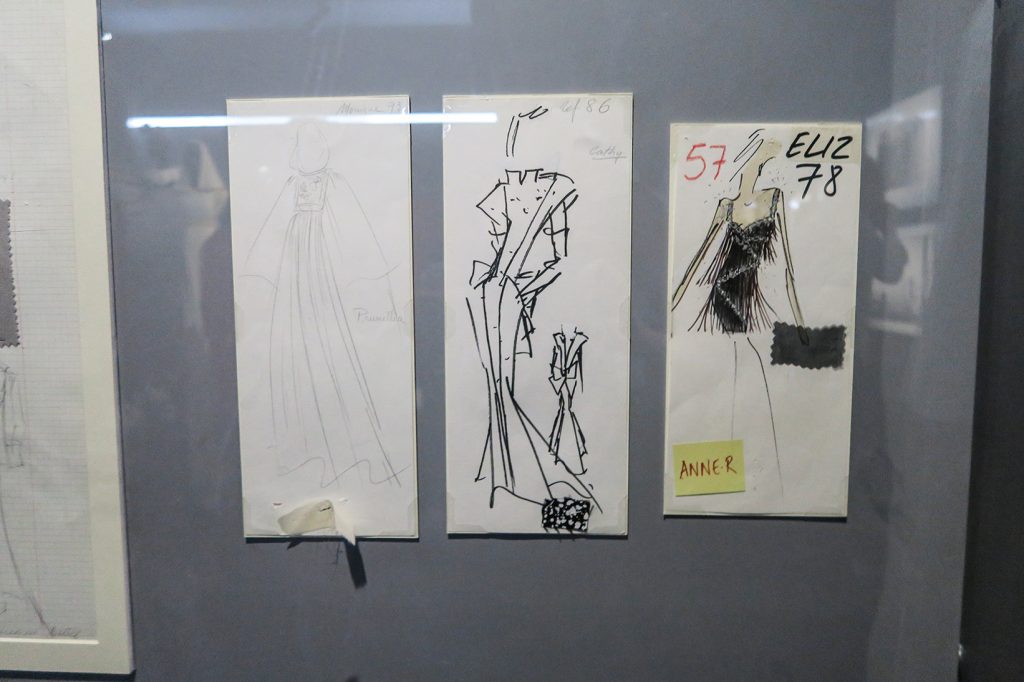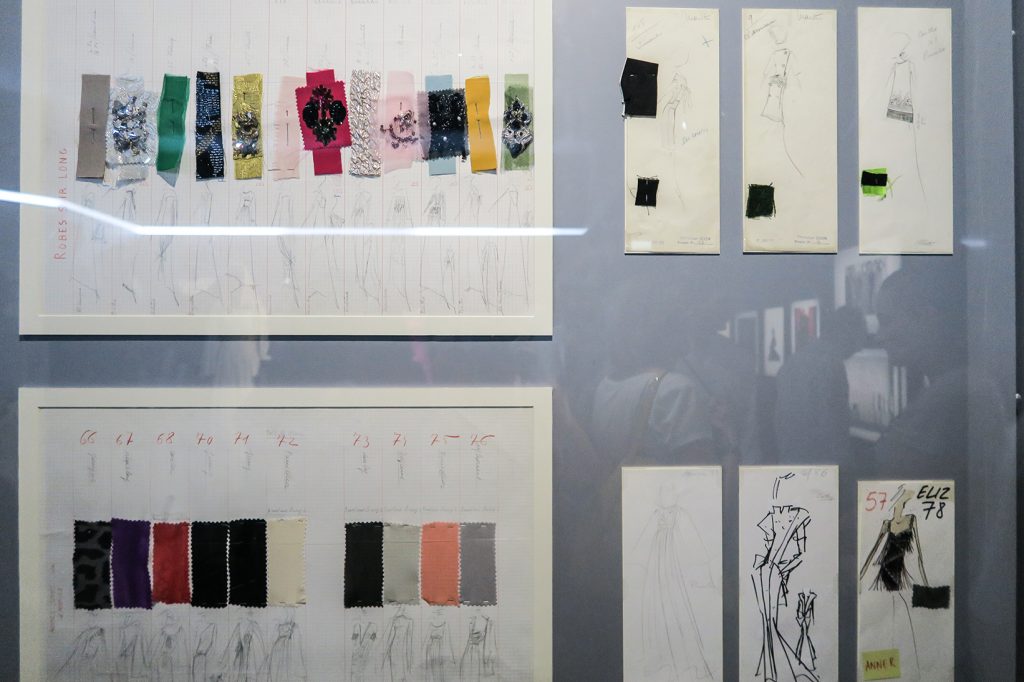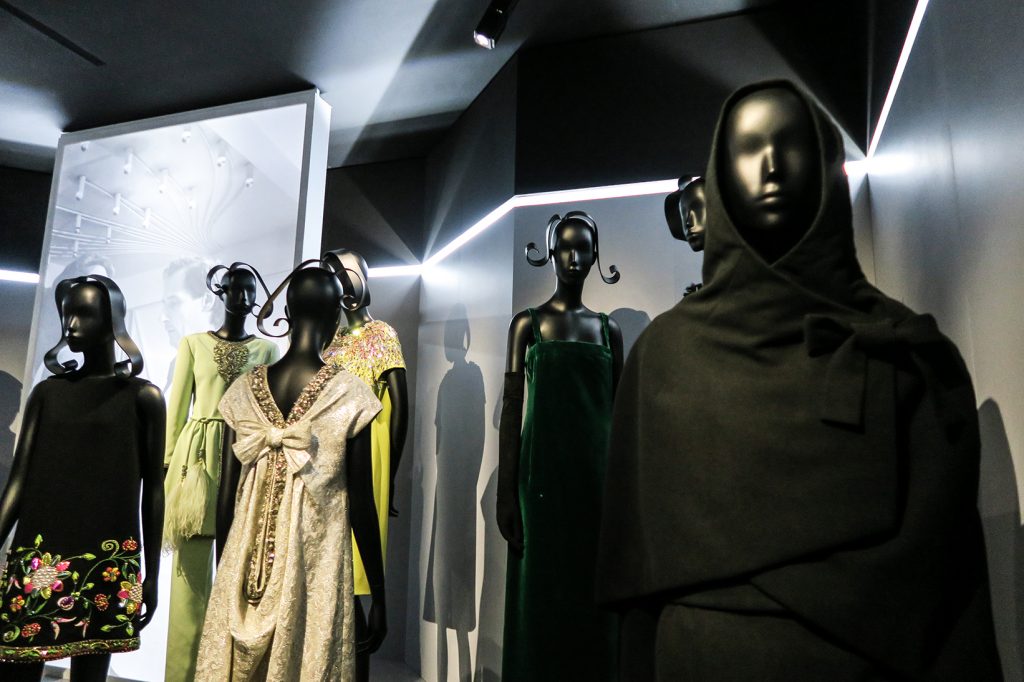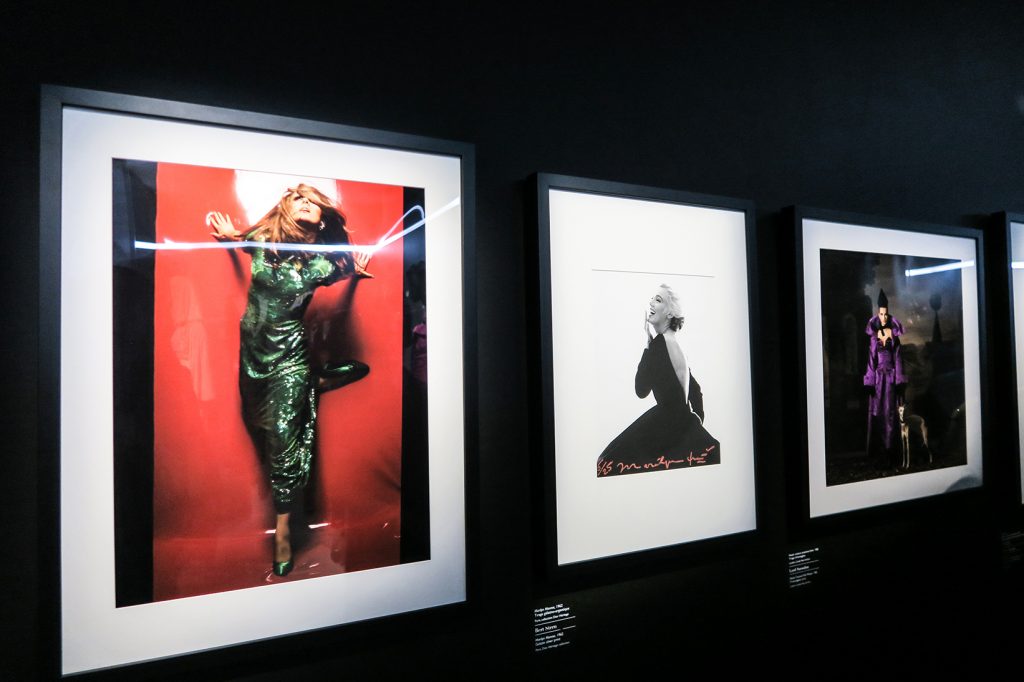 Gianfranco Ferré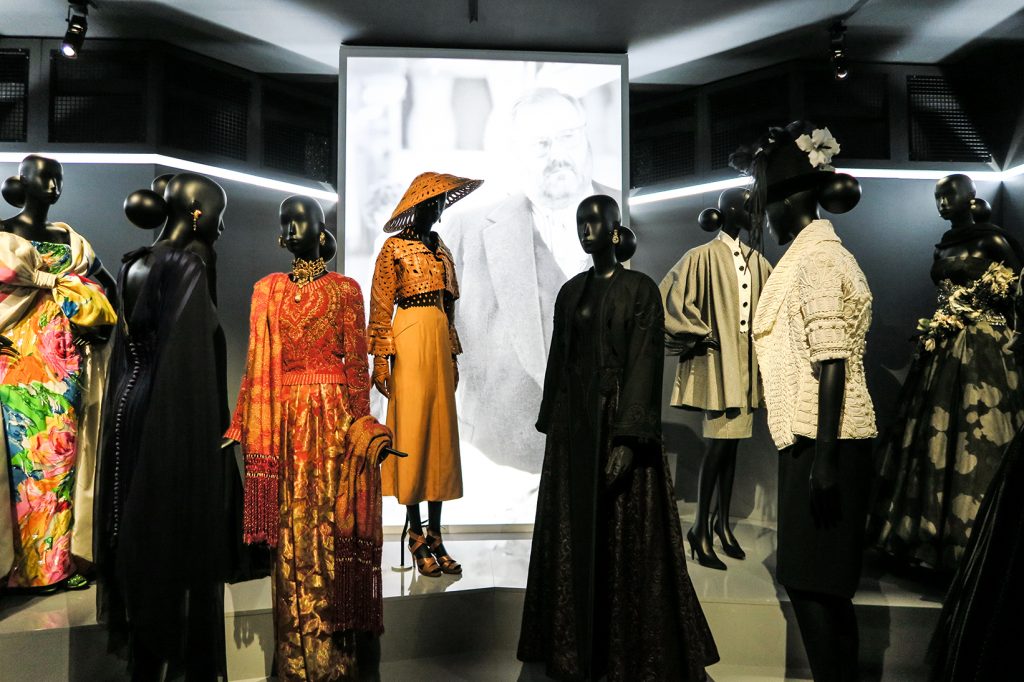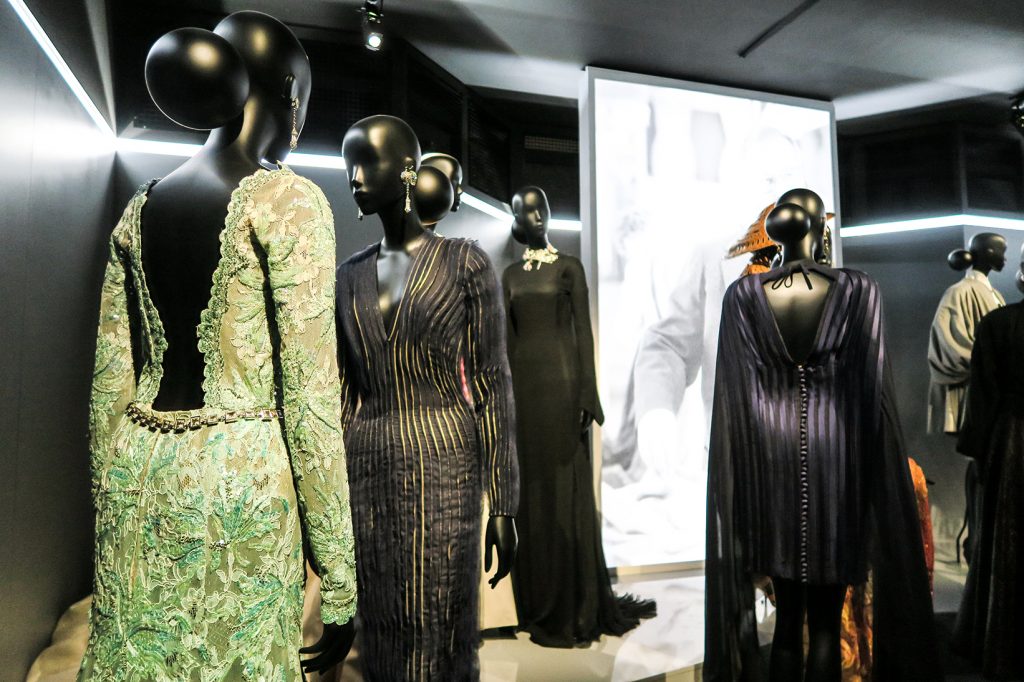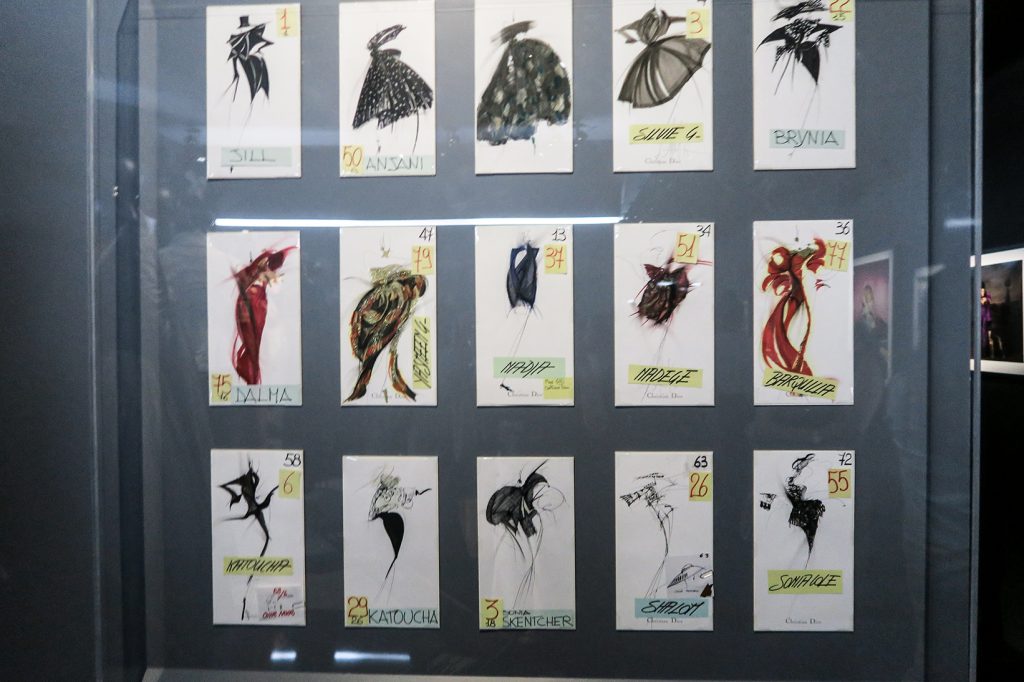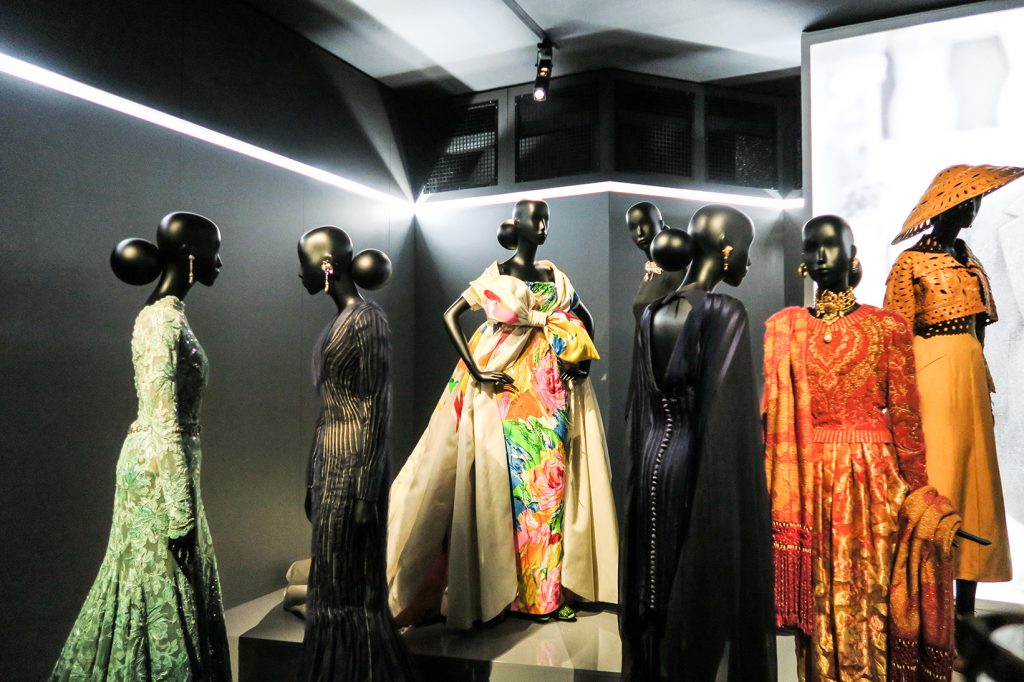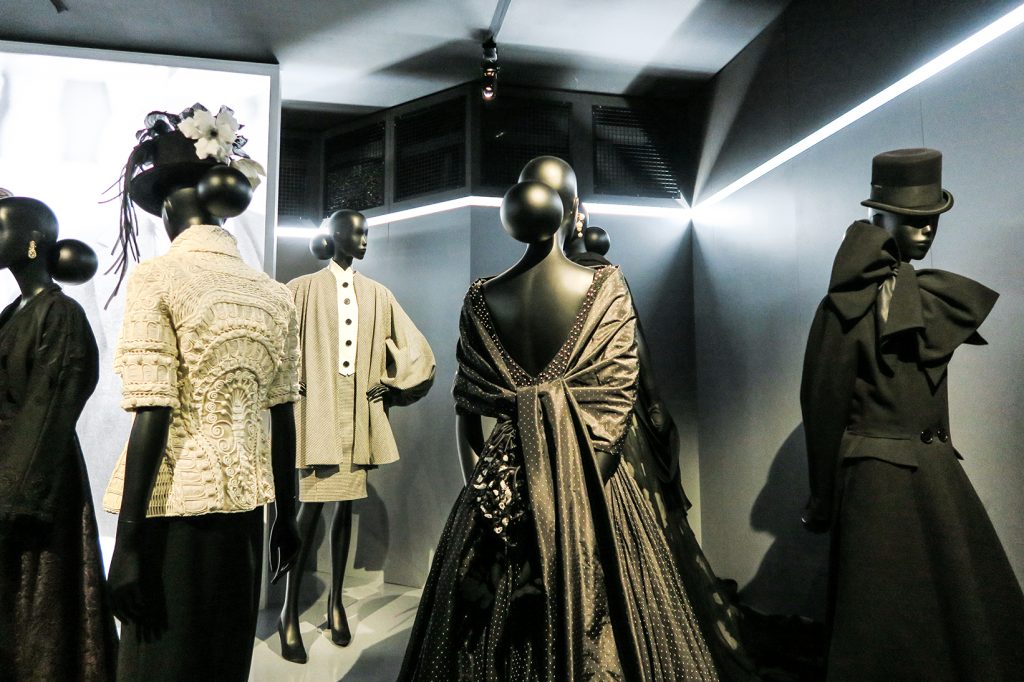 John Galliano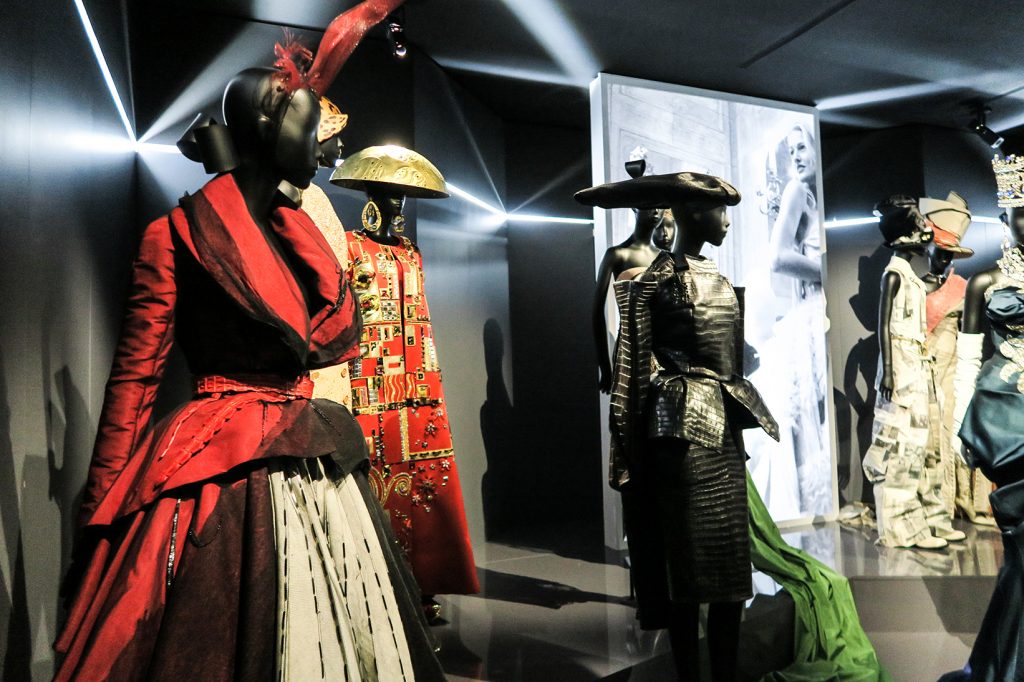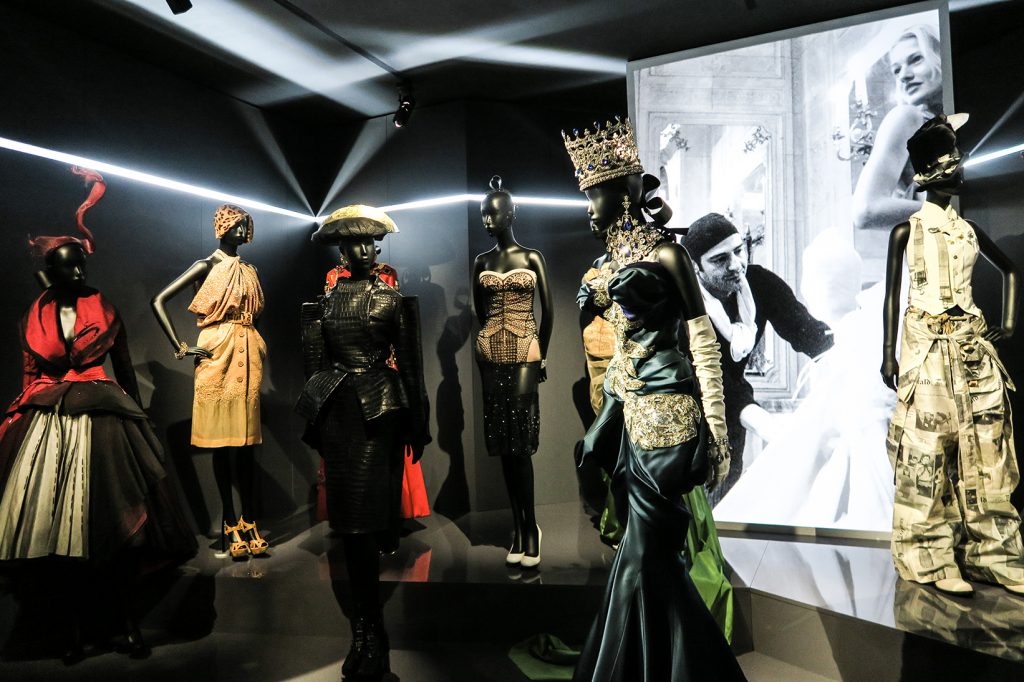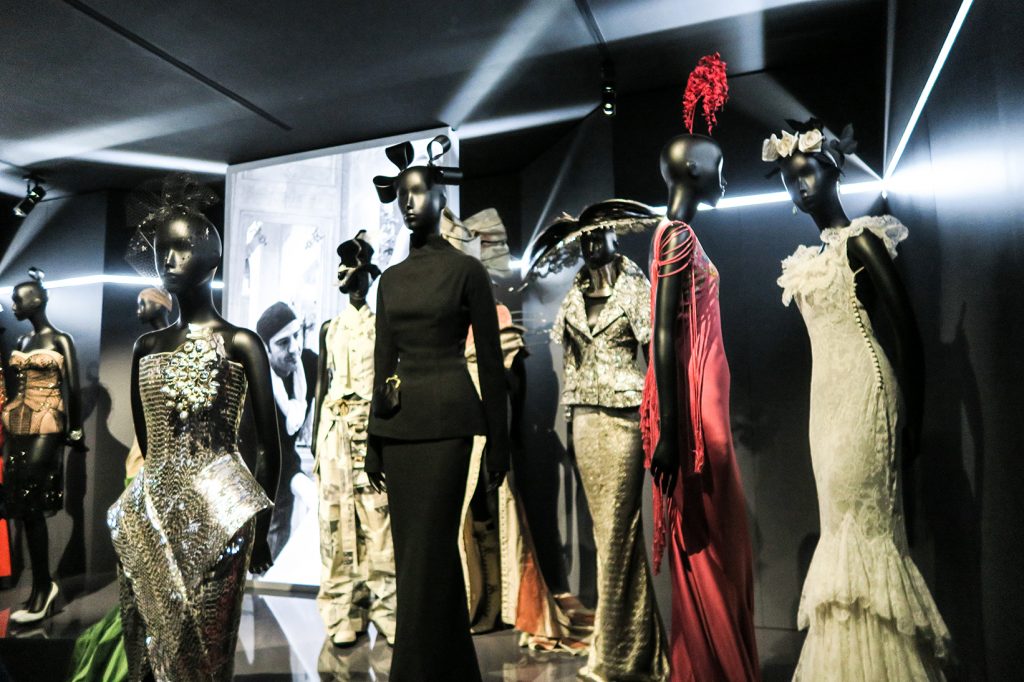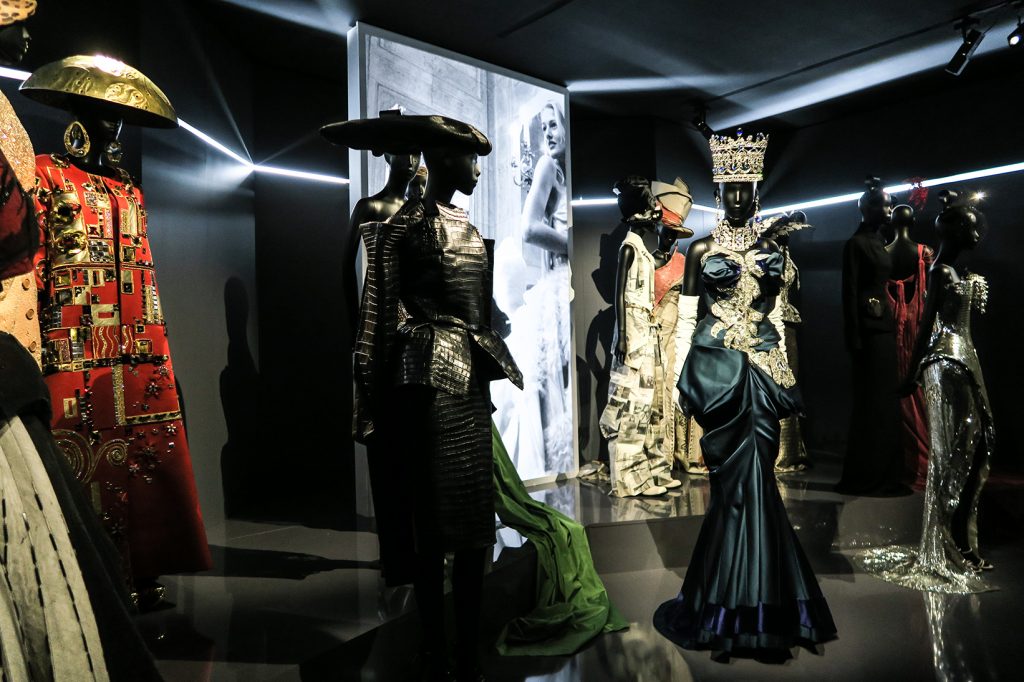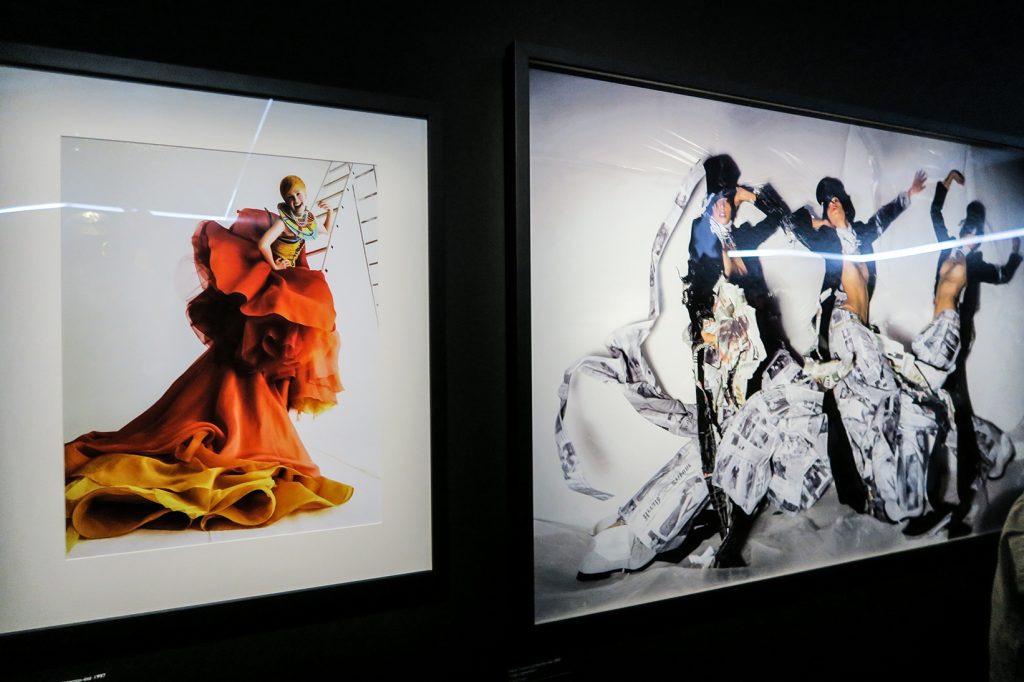 Raf Simons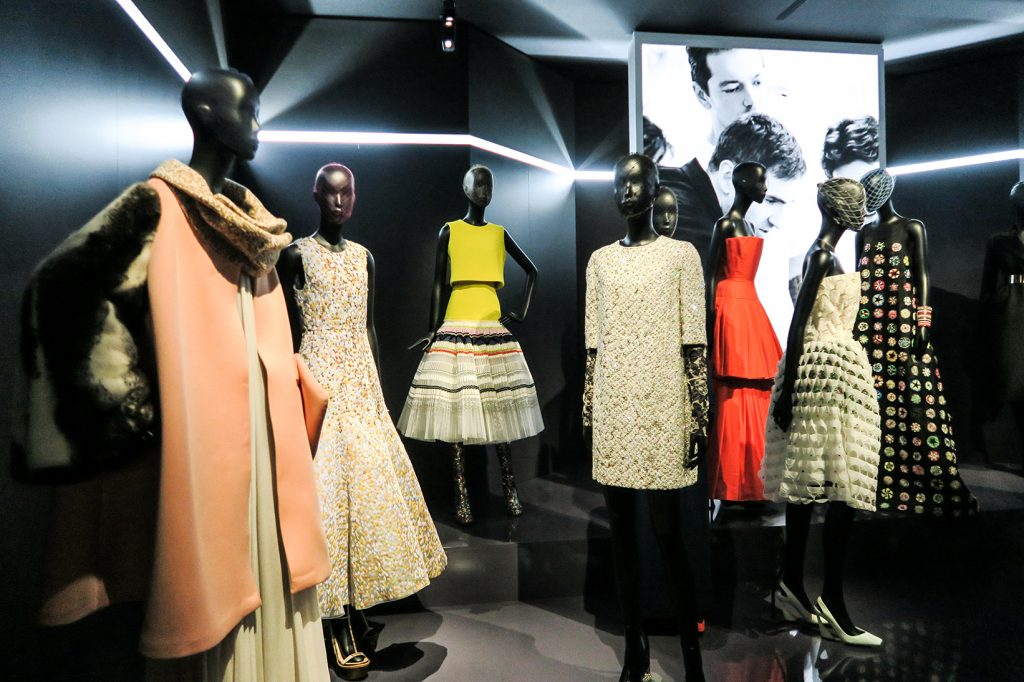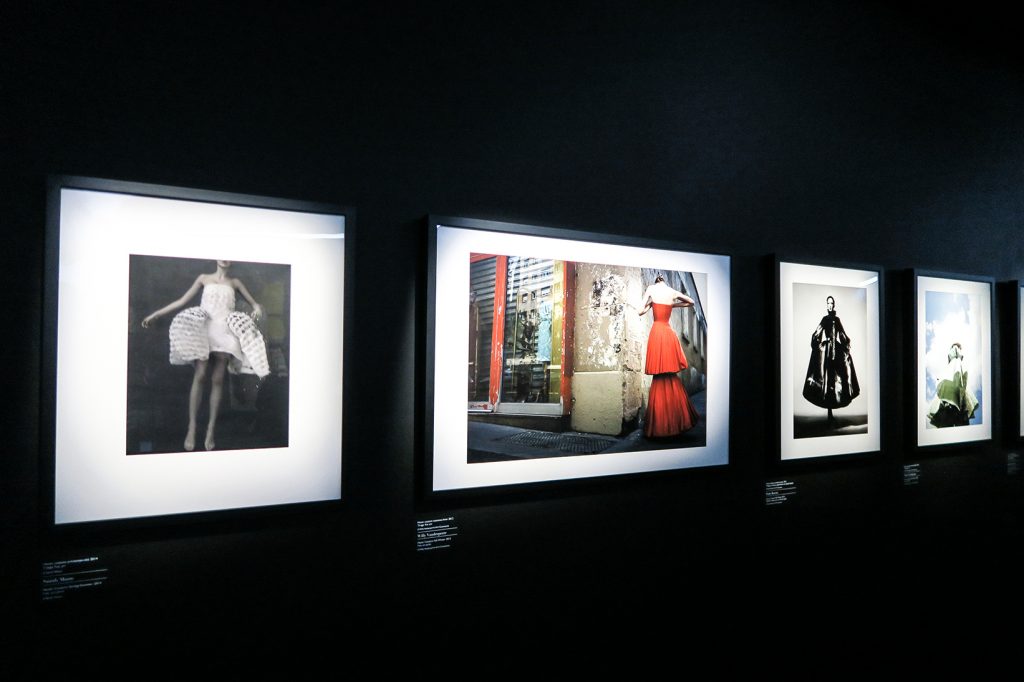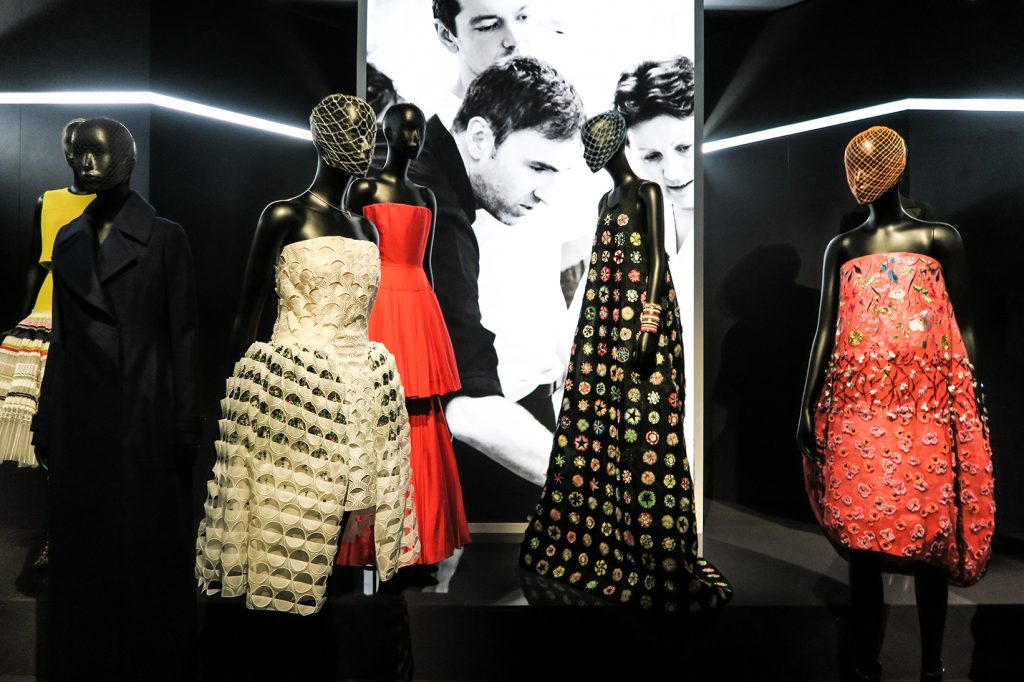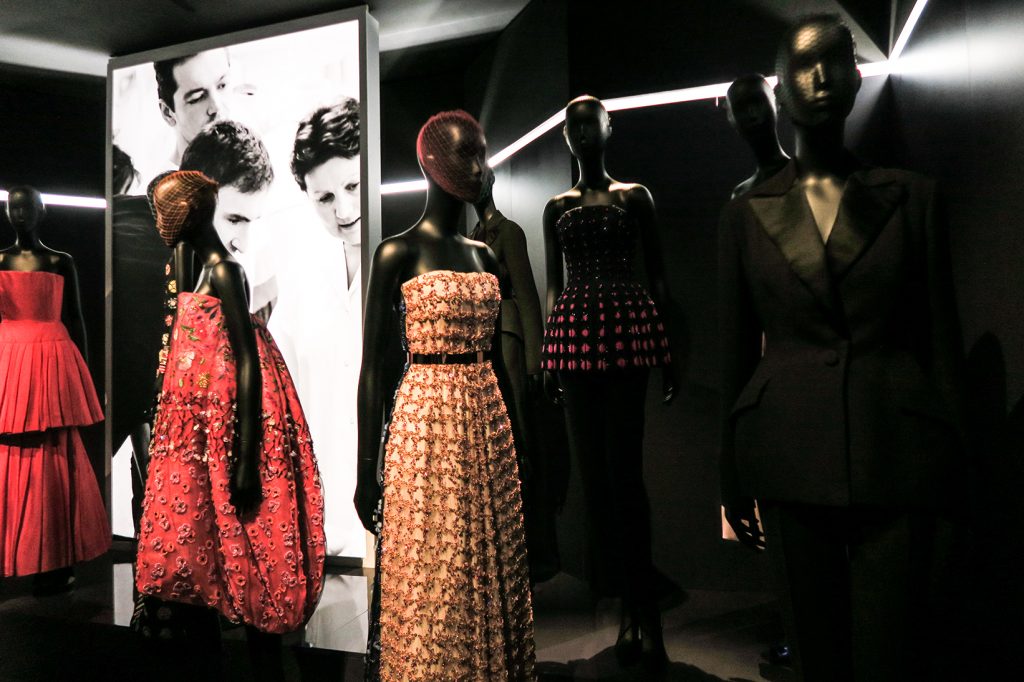 Maria Grazia Chiuri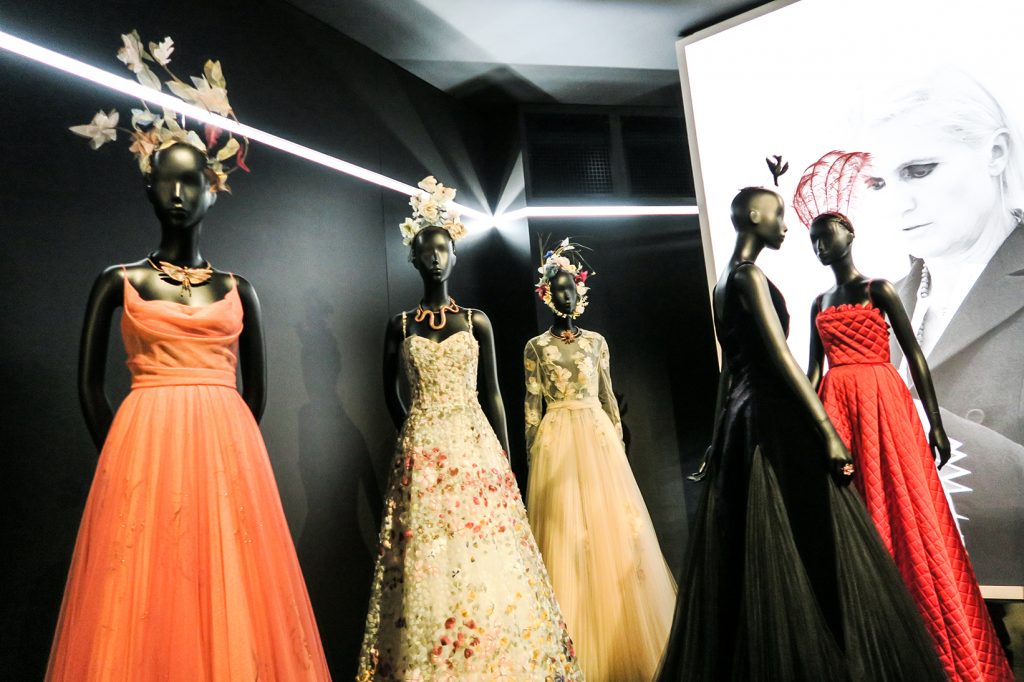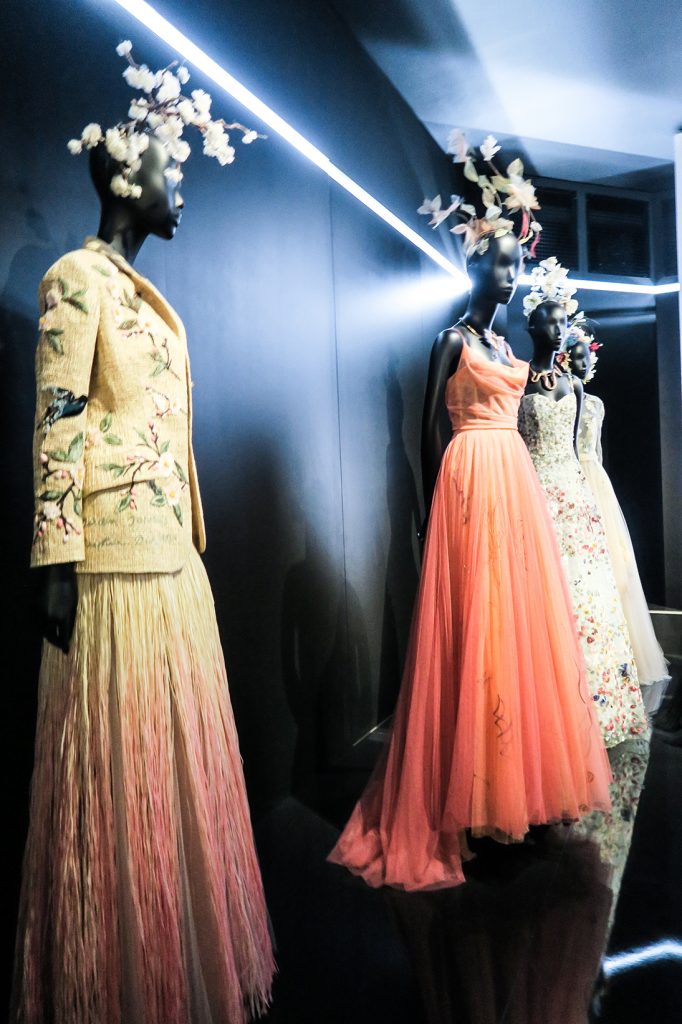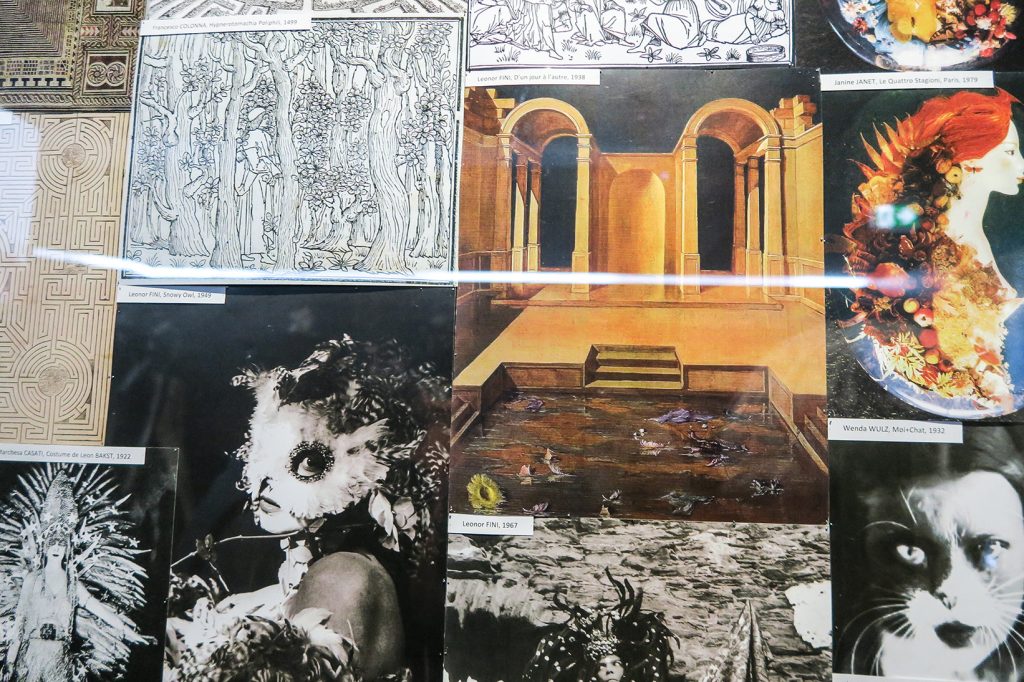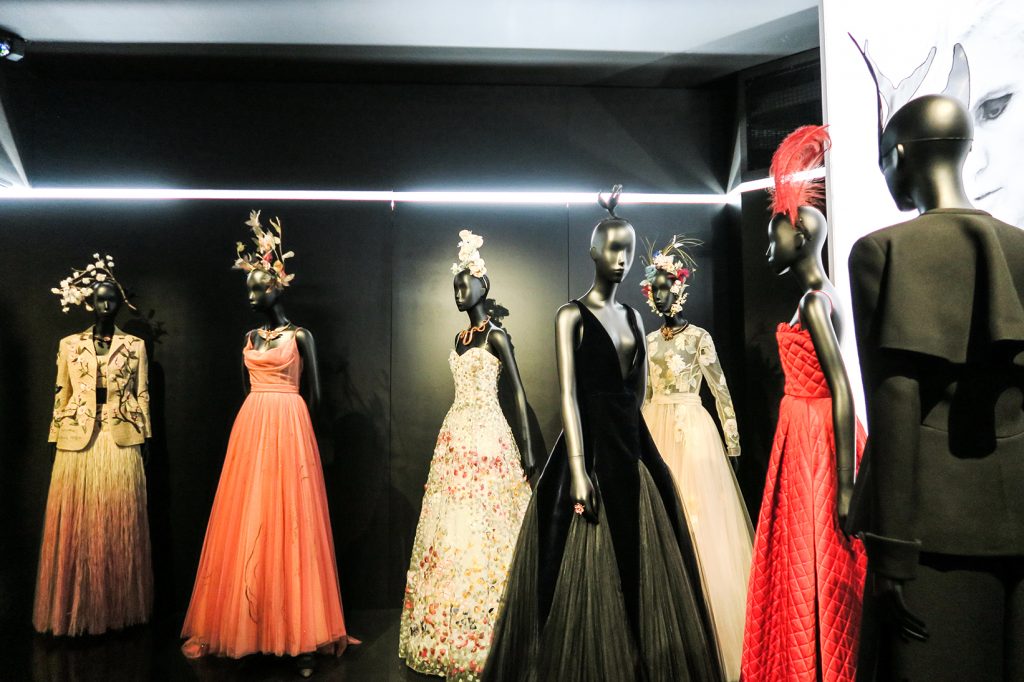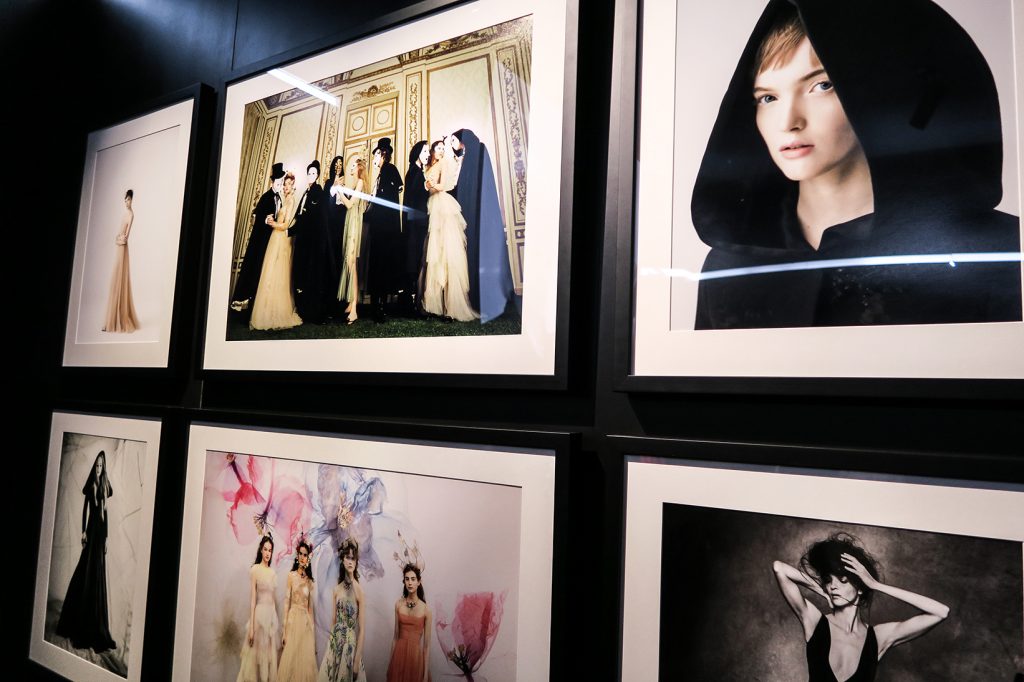 After the side gallery, guests immediately enter a white wonderland, a showcase extraordinaire of the Ateliers from 1947 to 2017. The next gallery was one of my favorites – "The Dior Allure," which displays some of Dior's iconic dresses in gray, red and black tones. You can see through these structured designs that Dior constructed his dresses based on his observations of the female body and a desire to idealize its proportions.
サイドギャラリーを抜けた後、あっと驚くようなホワイト・ワンダーランドが目の前に広がります。この1947年から2017年のアトリエの展示の更に先が、私が最も楽しめたディオールの作品達が飾られていたスペース、「The Dior Allure(ディオールの魅惑)」。赤、グレー、黒のディオールらしいガウンやドレススーツを着たマネキンが一列に並び、ディオールがいかにも女性らしさや女性の身体の作りを意識していたかが分かります。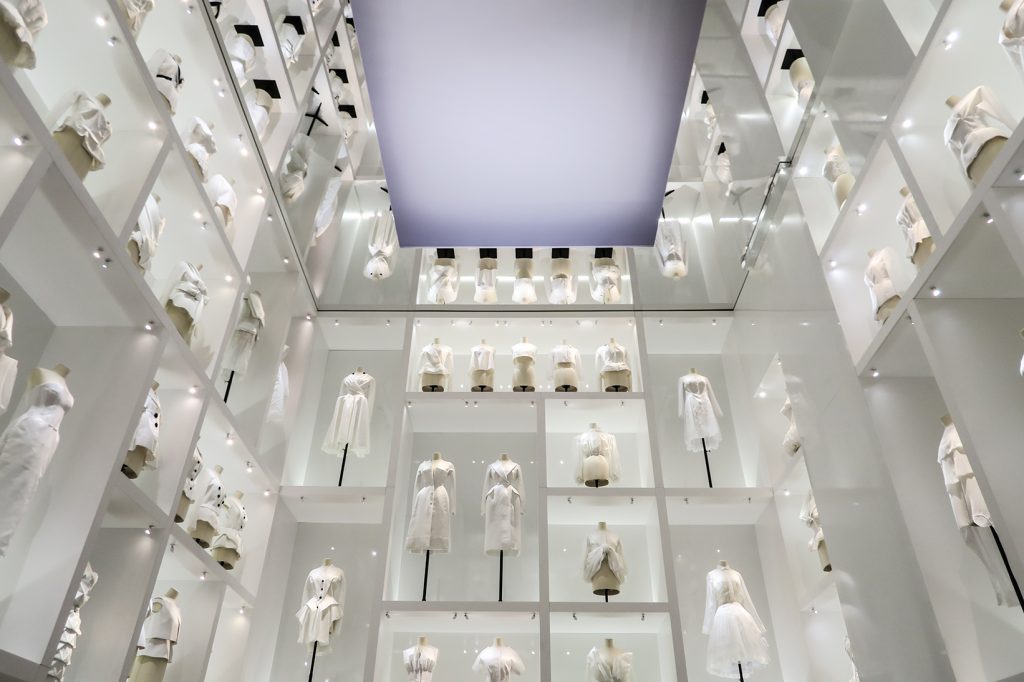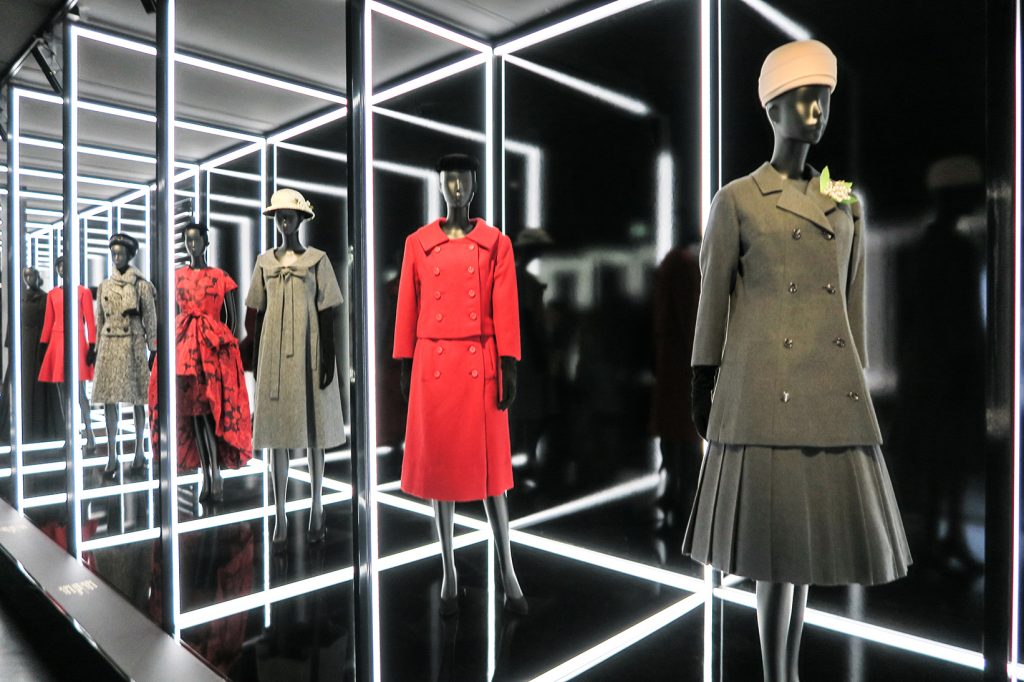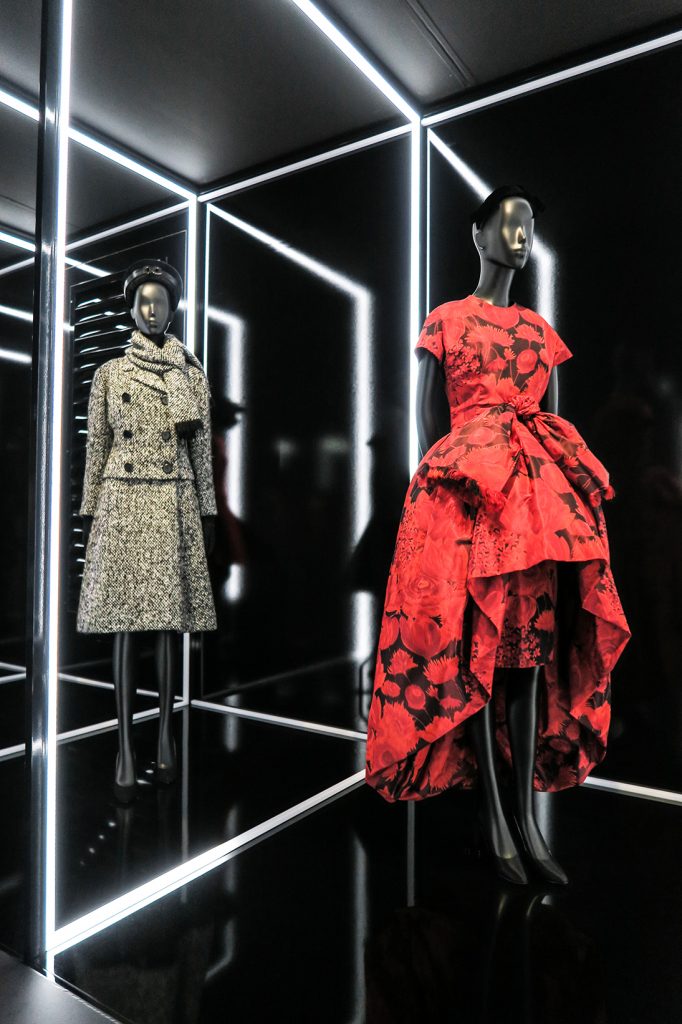 Lastly, guests enter a grand installation of gowns worn by famous female figures. This room is replicated after the Hall of Mirrors in the Palace of Versailles (a destination I visited after this exhibit so it all makes sense now). Not only are the gowns beautiful beyond words, taking in the overall installment is just as exciting, as the light projection changes every few minutes. I could easily describe this grand finale as a fashion lover's dream come true.
最後のグランド・フィナーレは、ファッションアイコンが着用したことのあるガウンを展示したインストレーション。この部屋はベルサイユ宮殿の鏡の間のレプリカだそうです。もちろんガウンは写真で見るより断然美しいのですが、プロジェクションマッピングで天井や壁の色やライティングが数分ごとに変わるので、この部屋は全体的に楽しむこともできます。ファッション好きにはたまらない、まさに夢のような世界です。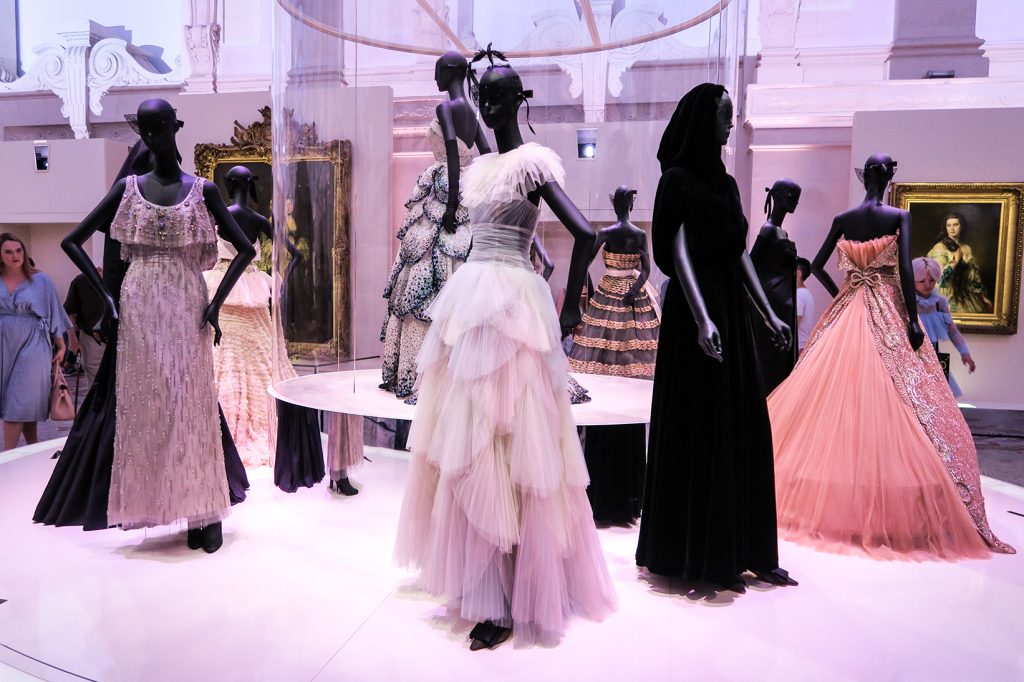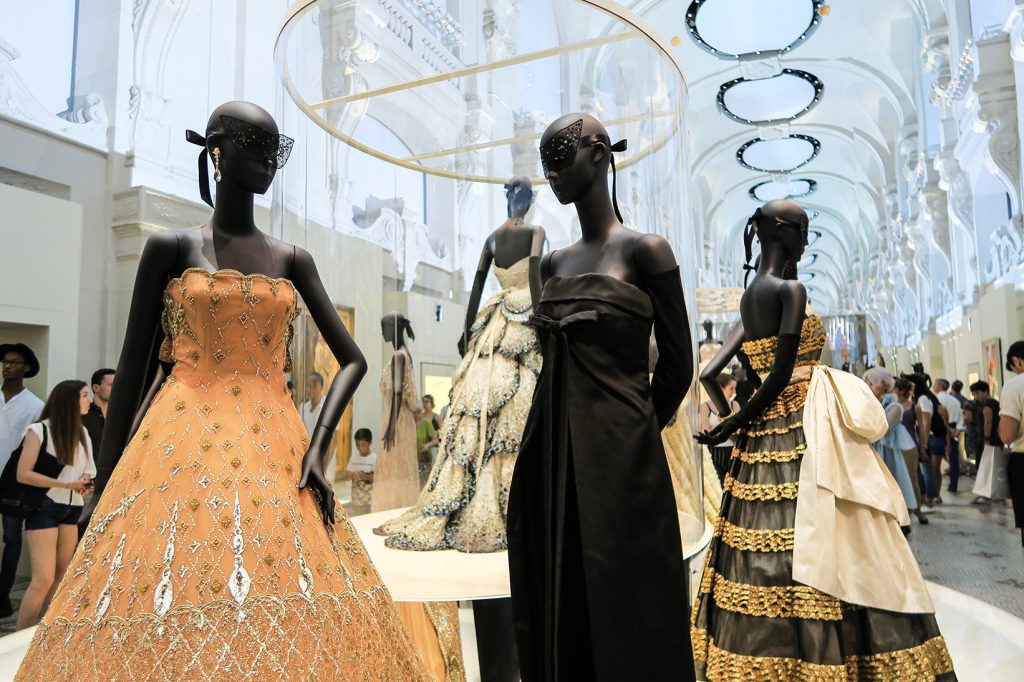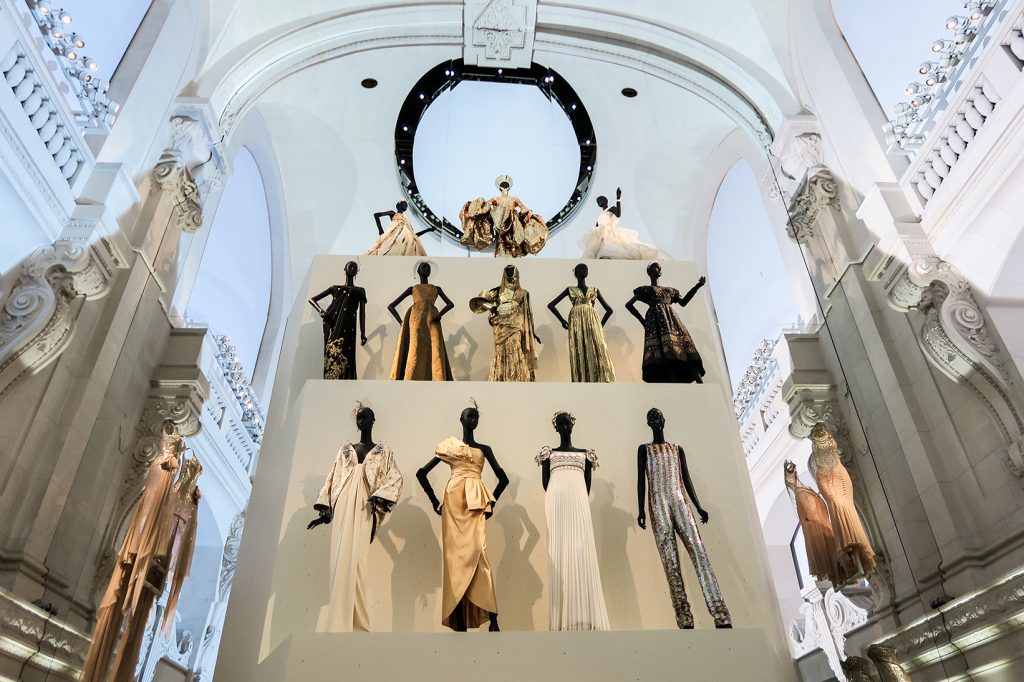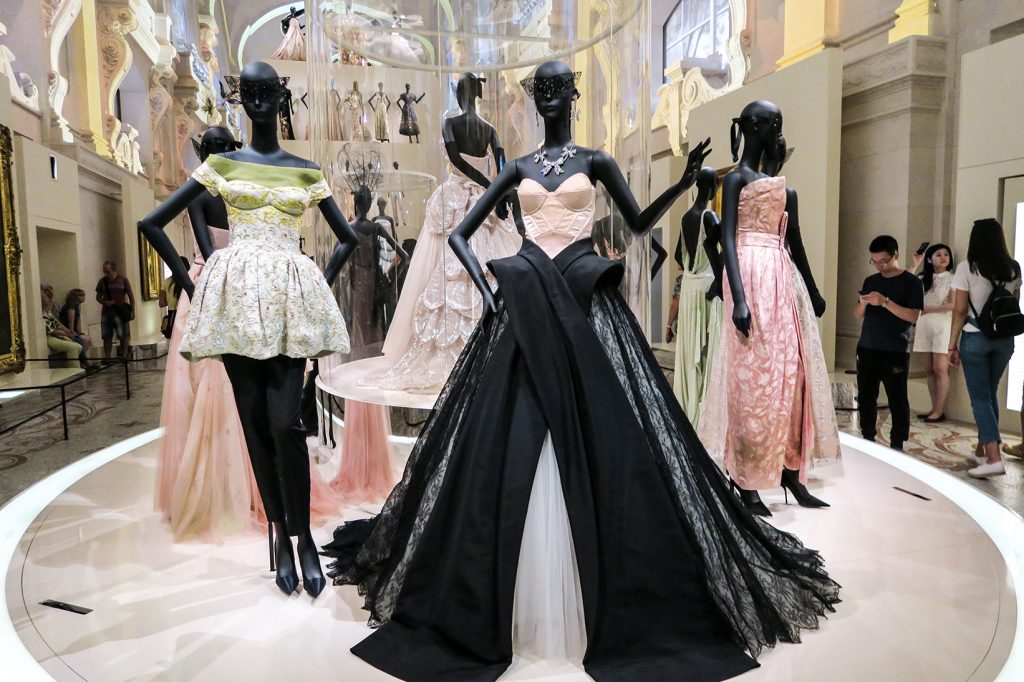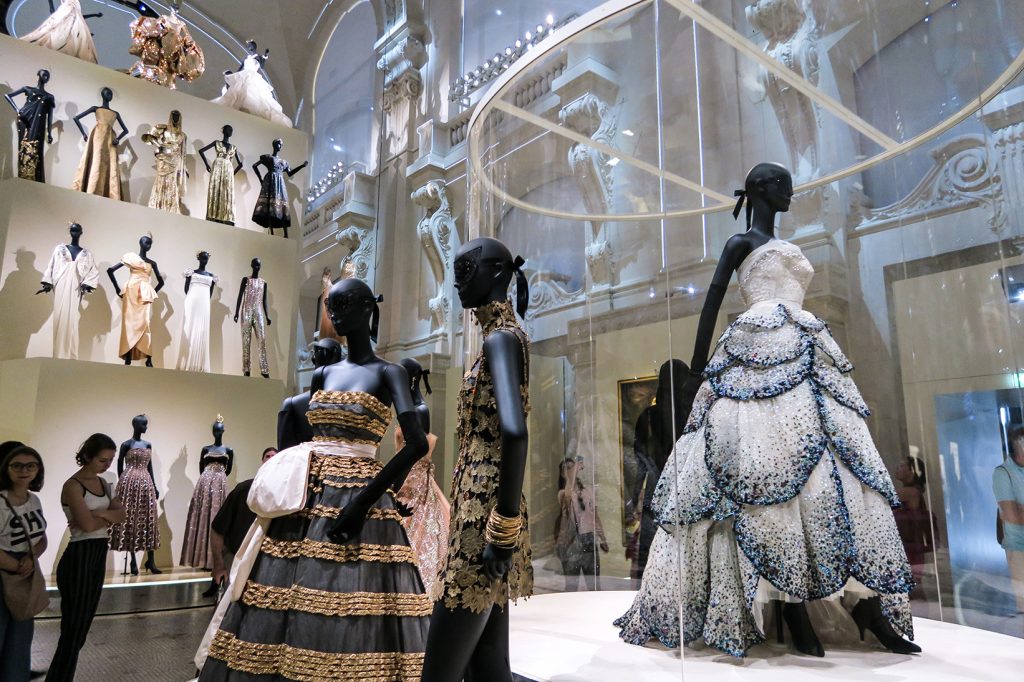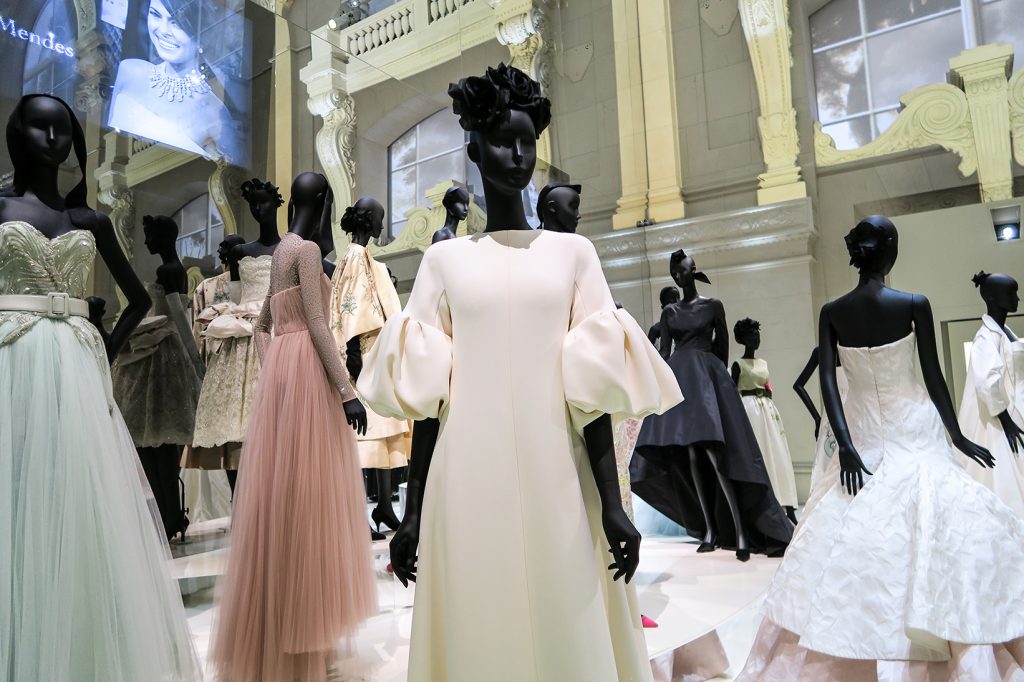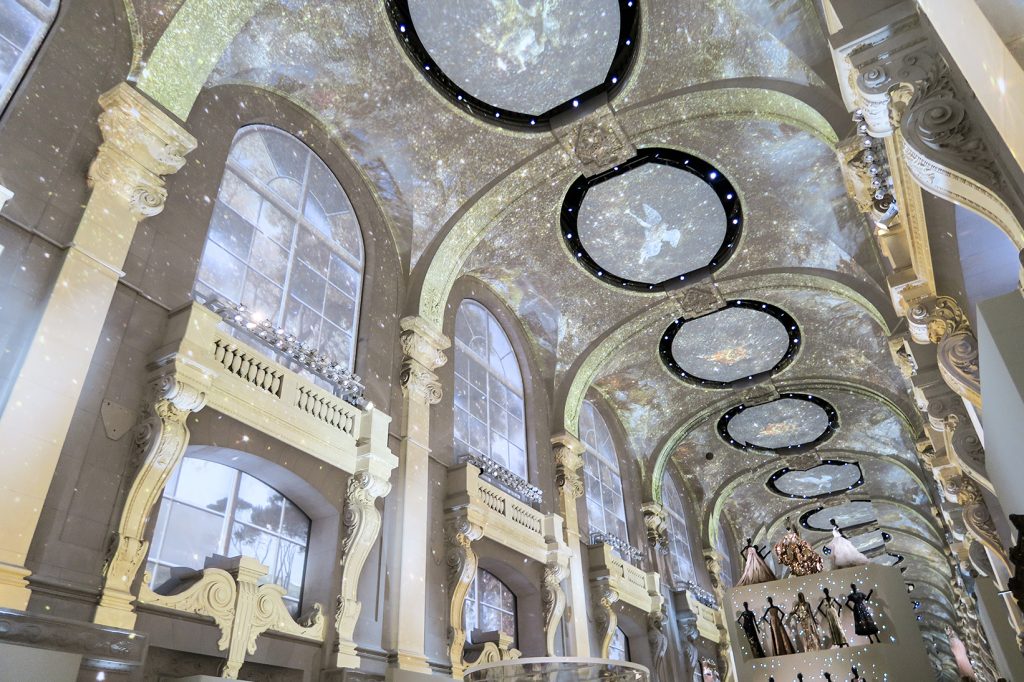 "Christian Dior, Designer of Dreams" is on view from July 5, 2017, through January 7, 2018. For more articles about the exhibit, check out Vogue.com and The Telegraph UK.
クリスチャン・ディオール、夢のクチュリエは2017年7月5日から2018年1月7日まで開催します。エキシビションについてもっと読みたい方はこちらの記事をご覧ください。
All photos taken and edited by Samantha Mariko.