To those of you who wanted to dress more casually but still wished to maintain that element of feminism – well, this is the post for you. As you may already know, I'm huge fan of street style and definitely not shy to wear the most oversized T-shirt or the most distressed jeans. But I recently realized that there are more feminine ways to do street style. It's all about following these simple guidelines to achieve a girly street chic look.
もっとカジュアルなストリートスタイルを着こなしたいけど、女性らしさも取り入れたい。そんな方のために今回の記事をまとめました。ご存知かもしれませんが、私はすごくカジュアルな服を着るのが好きで、オーバーサイズのTシャツや、ダメージデニムはリピートで着ています。ですが、ストリートスタイルをもっと女性らしく着こなすこともできます。下記のステップを是非読んでみて下さい。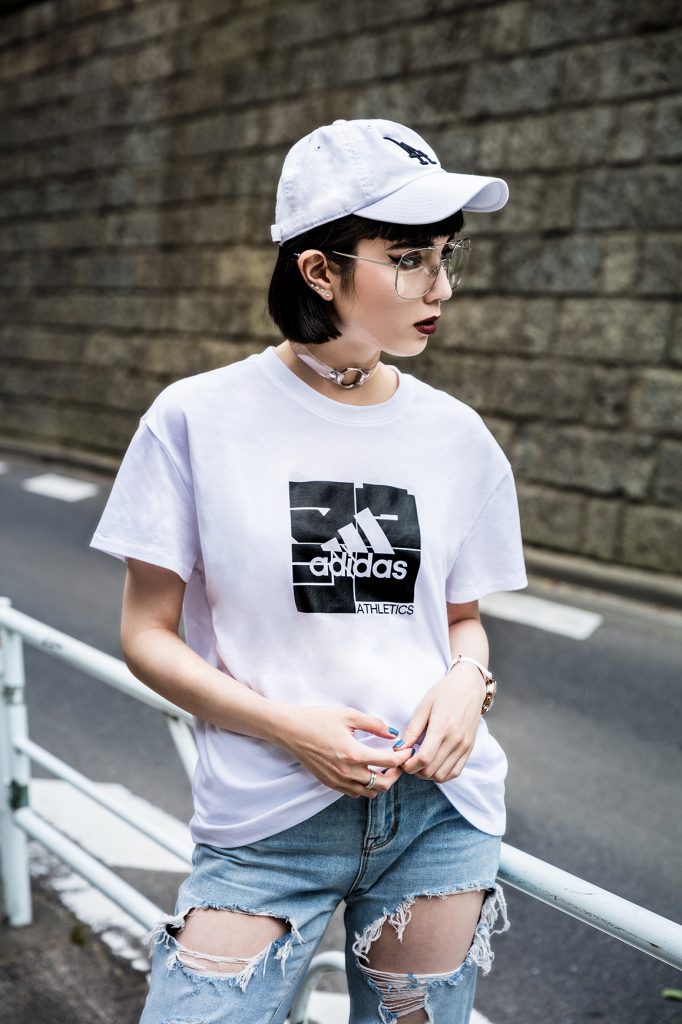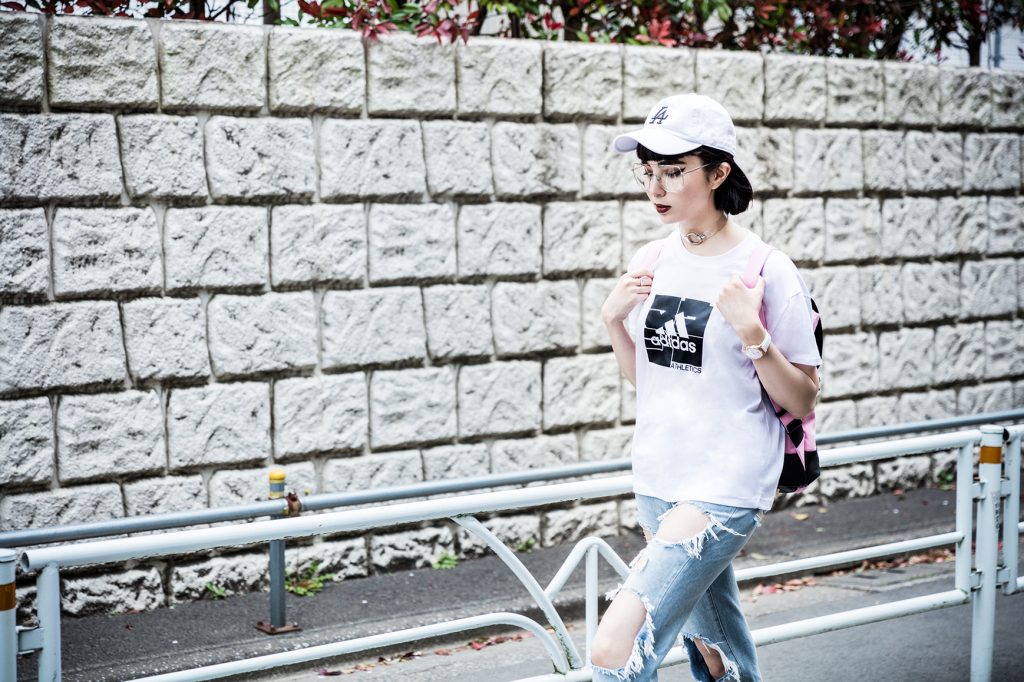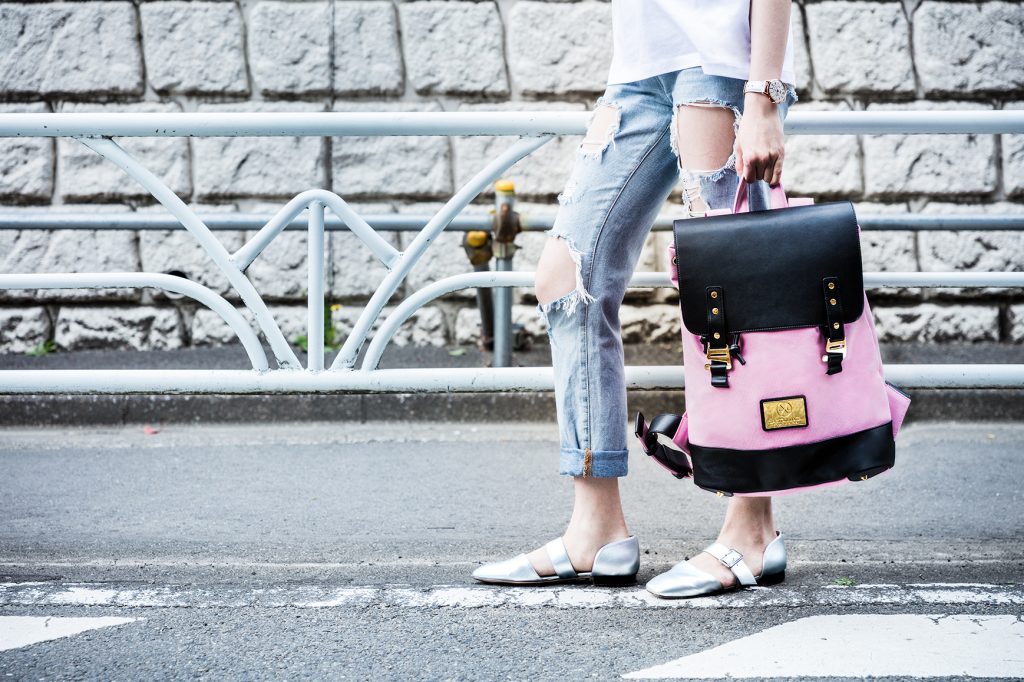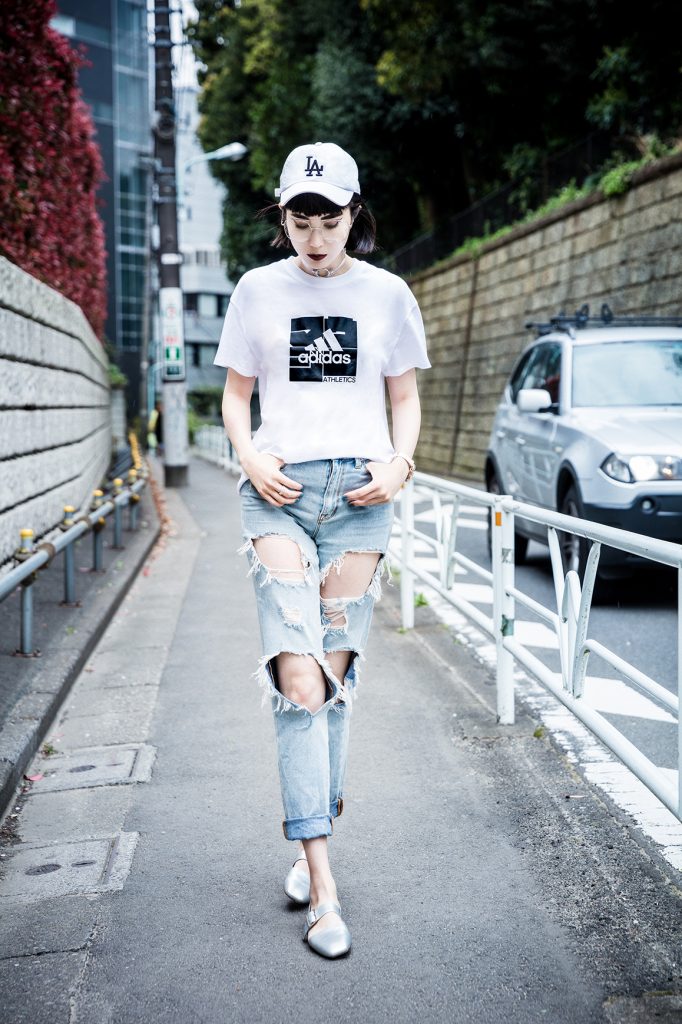 Steer towards lighter colors. Instead of going for all black or darker colors, wearing whites or light wash colors can bring out more of that feminine element. For my outfit, I did a white cap with this white T-shirt from Moussy x Adidas, and even though my jeans are distressed, they are in a light wash which makes it less heavy to the eye.
明るいカラーを取り入れて。オールブラックや濃い色合いではなく、白系やライトウオッシュのカラーの方が、女性らしさを演出することが出来ると思います。私のコーディネートも、白いMoussy x AdidasのTシャツと白のキャップ、ライトウオッシュのダメージデニムをチョイスしています。見た目もヘビーではないので、おすすめです。
Go for a more fitted silhouette. While I am in love with oversized clothing, casual street style can still be achieved with a more fitted silhouette. My Adidas T-shirt is in women's sizing, which makes it easier for any woman to wear. Also, these distressed jeans are in the mom jeans style, making it a perfect pair of trendy pair of jeans fitted at the waistline. Even a pair of skinny jeans will do just fine.
フィットしたシルエットをチョイス。オーバーサイズの洋服を主に着ていますが、フィットしたシルエットのアイテムでもストリートスタイルを着こなすことができます。このAdidasのTシャツはウィメンズのサイジングなので、誰でも着やすいトップスです。そして、ダメージデニムではありますが、今流行のママデニムなので、きゅっとハイウェイストスタイルを楽しめます。ダメージが苦手な方は、スキニーデニムでも全然大丈夫ですよ!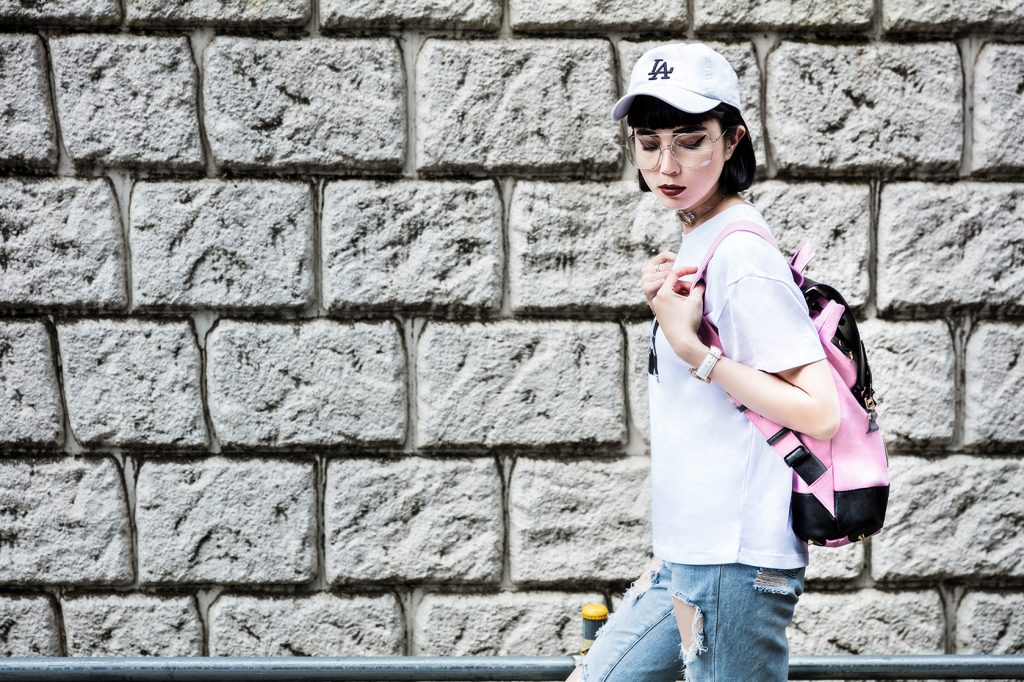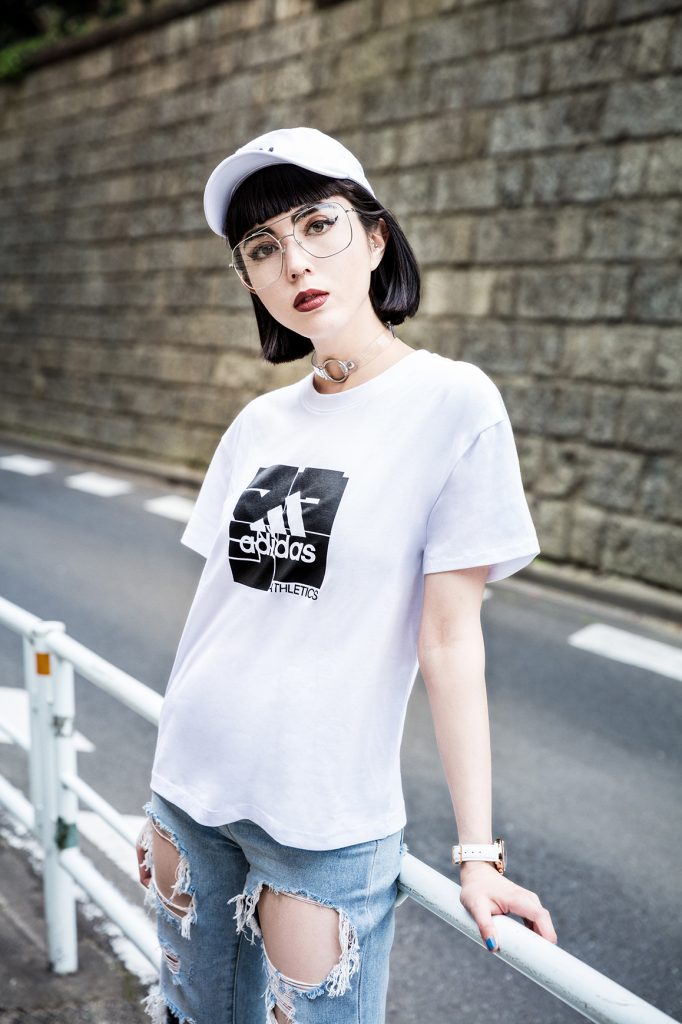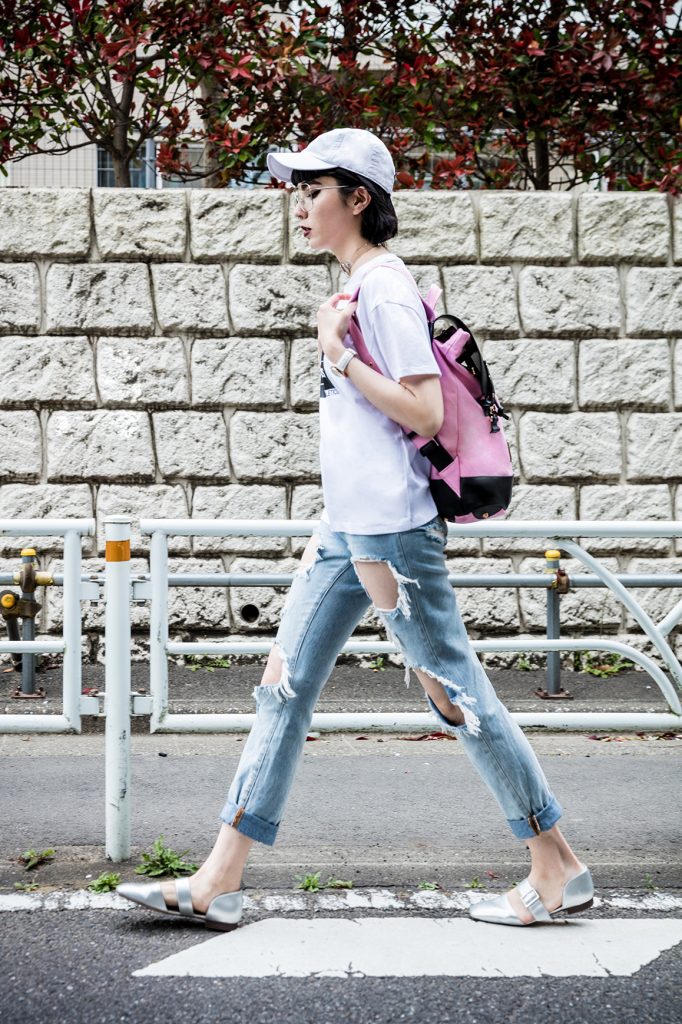 Add some girly accessories/ statement pieces. You don't have to wear sneakers. Explore      different options for footwear – for example, I'm wearing these metallic ballet flats because it matched the color scheme, and I also wanted to add just a touch of elegance. And can't forget the pink! I recently discovered the backpack brand Gaston Luga, and I just couldn't get enough of this bubblegum pink backpack. Girly but still casual, making it the perfect accessory for the girly tomboy.
ガーリーなアクセサリーをプラスする。スニーカーがストリートスタイルとは限らないですよ!他のオプションも是非試してみて下さい。例えば、色合いと女性らしさを意識して、今回はメタリックのバレーフラットを履いてみました。そして、ピンク!最近Gaston Lugaというリュックのブランドを発見して、可愛らしいピンクのリュックにハマってしまいました。ガーリーだけどカジュアルで、女の子らしいtomboyを演出するためのパーフェクトアイテムです。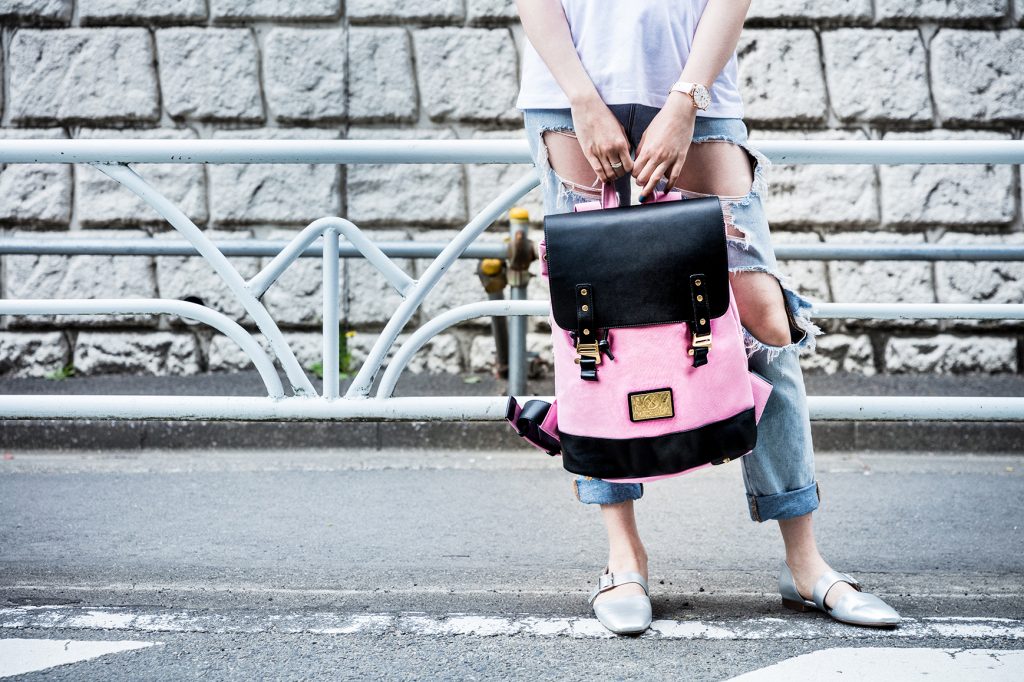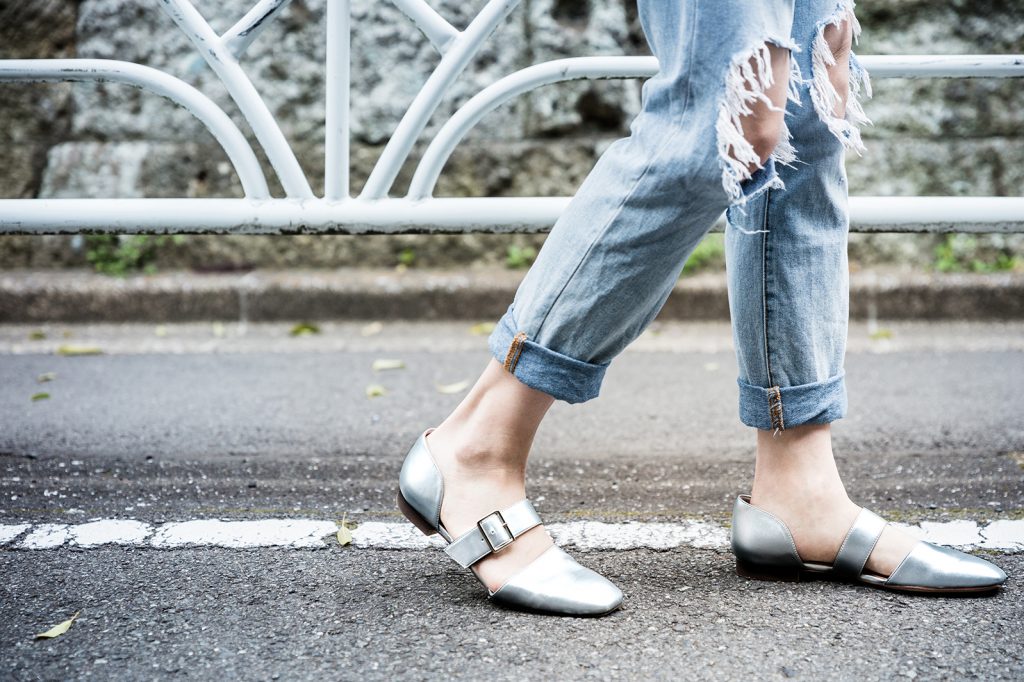 Were these tips helpful at all? Let me know in the comment section!
Moussy x Adidas T-shirt, Urban Outfitters jeans, Charles & Keith shoes, Gaston Luga backpack, zeroUV glasses, American Needle cap, Henry London watch
All photos by Fu Sheng Wang