This is a sponsored post. All thoughts and opinions are my own.
In Japan, beauty brands go all out during the holiday season with their Christmas Coffret gift sets. It's hard to resist the limited edition products beautifully packaged. So why not show your love & and thanks for that special bestie in your life? Because we all know that they deserve only the finest during the season of gift-giving. In this post, I'll be introducing five different gifting ideas that are all related to beauty, including makeup, skincare, and bath products.
ホリデーシーズンになると、美容系のブランドのクリスマスコフレの展開が楽しみですよね。期間限定のオシャレアイテムが詰まっているギフトセットを、今年お世話になった仲良しの子にプレゼントしてみては?見た目も、中のコンテンツが豪華なホリデーギフトに喜ぶはず!今回は、そんな方にプレゼントしたいギフトセットを5選を紹介します。
Kiehl's Holiday Gift Set 
Kiehl's released their limited edition holiday products that would make a perfect Christmas gift, whether it be one item or a few wrapped up in a gift box. I recently participated in their "GIVE JOY" campaign and was lucky enough to bring home many of the limited edition products to try. I've become a huge fan of Kiehl's products over the past couple of years and I would highly recommend them to all my friends. They even have pre-made gift sets of all shapes and sizes that are available for purchase on the 25th. My favorite item so far is the Creme de Corps – it's a whipped body cream that glides on smoothly and moisturizes extremely well despite the dry weather!
キールズは、この季節限定のホリデーパッケージの商品を発売!単品でのギフティングももちろん可能ですが、ギフトボックスに包んでプレゼントするのがおすすめです。先月、「GIVE JOY」キャンペーンに参加した時に、この期間限定の商品をいただき、使わせていただいてます。ここ数年、キールズの商品を使ってからニキビもほとんど出来なくなったのもあり、今でも愛用しています。今月25日まで、ホリデー限定商品やギフトセットを購入することができますよ!私が個人的に気に入っているのはCreme de Corpsボディークリーム!スフレみたいに軽くて、塗り心地が最高なんです!
RMK Christmas Travel Makeup Kit & Base Makeup Kit 2018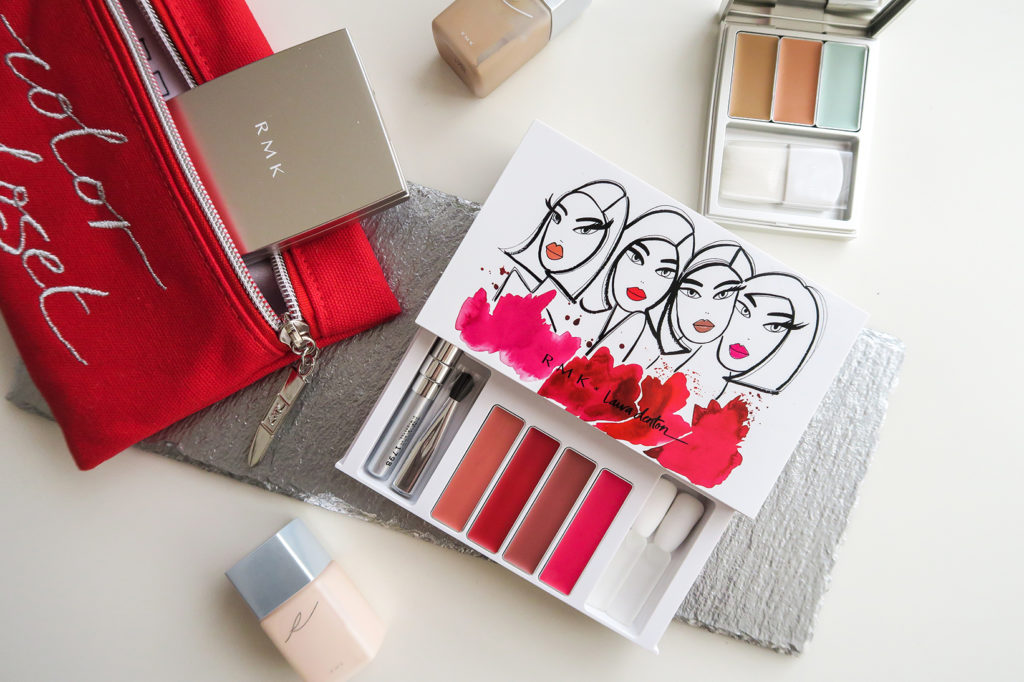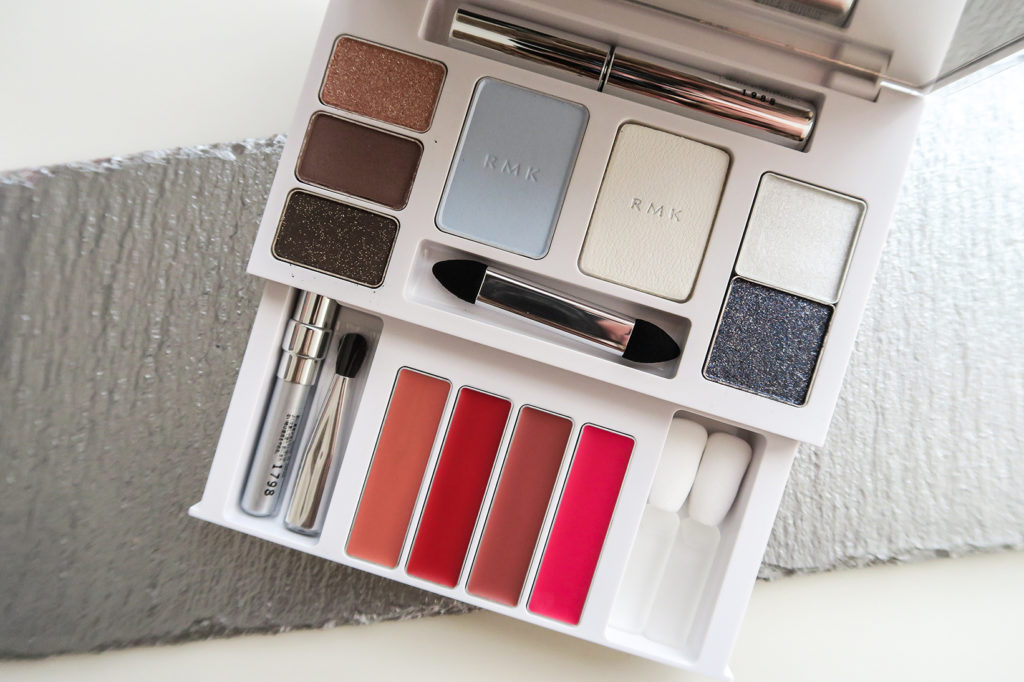 RMK is one of the leading Japanese cosmetics brands, beloved by so many women for the quality and affordability of their products. This year's Christmas Coffret is especially perfect for the girl on the go. The Christmas Travel Makeup Kit 2018 is in collaboration with Canadian artist Laura Denton makes a pretty gift with everything a girl needs. The kit comes with everything from eyeshadow to lip colors, highlighter, blush, eyeliner, and mascara in an illustrated compact case with a makeup pouch to match. RMK makeup is highly pigmented and despite how compact this travel kit is, you can create a variety of holiday looks with it. I also recommend the Base Makeup Travel Kit that includes travel-sized liquid foundation, primer, and concealer compact.
2018年のRMKからは、忙しい女性にぴったりなお気に入りのmy basicを詰め込んだトラベルメイクアップキットが登場。カナダ出身のアーティスト、ローラ・デントンとのコラボレーションのパレット・ポーチのおしゃれで可愛らしいデザインにも注目!アイシャドーやリップカラー、ハイライター、チーク、アイライナー、マスカラも全部入っています。これを1つ持っておくだけで、様々なホリデーメイクを作ることができるので、ギフトとしてもぴったりです。ポーチ付きのベースメイクアップトラベルキットもオススメです!
Sabon "The Splendors of Nature" Gift Box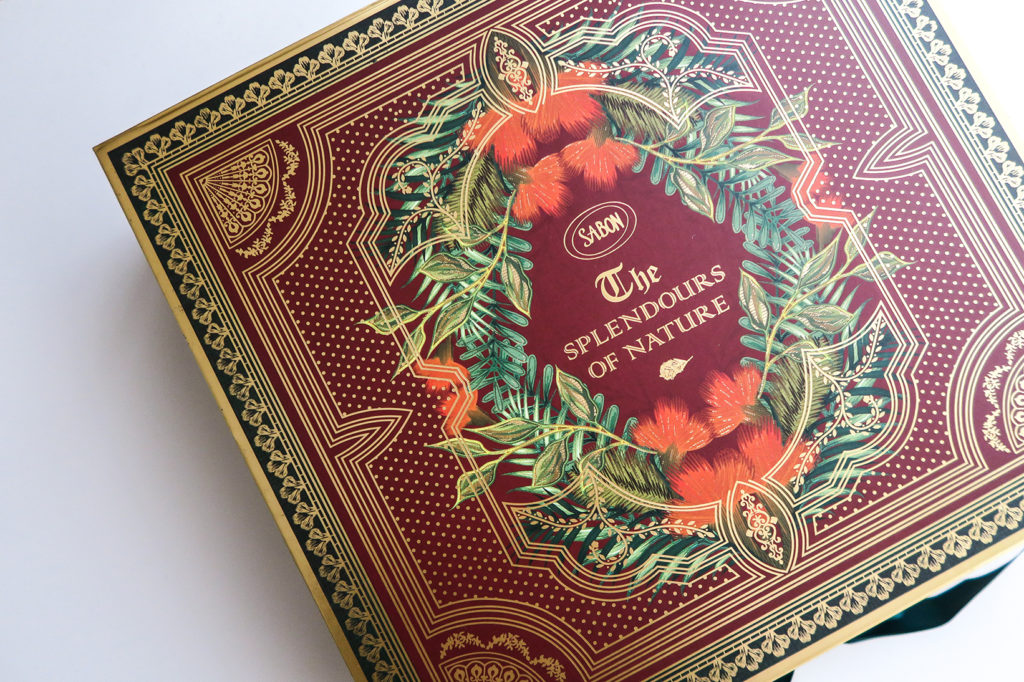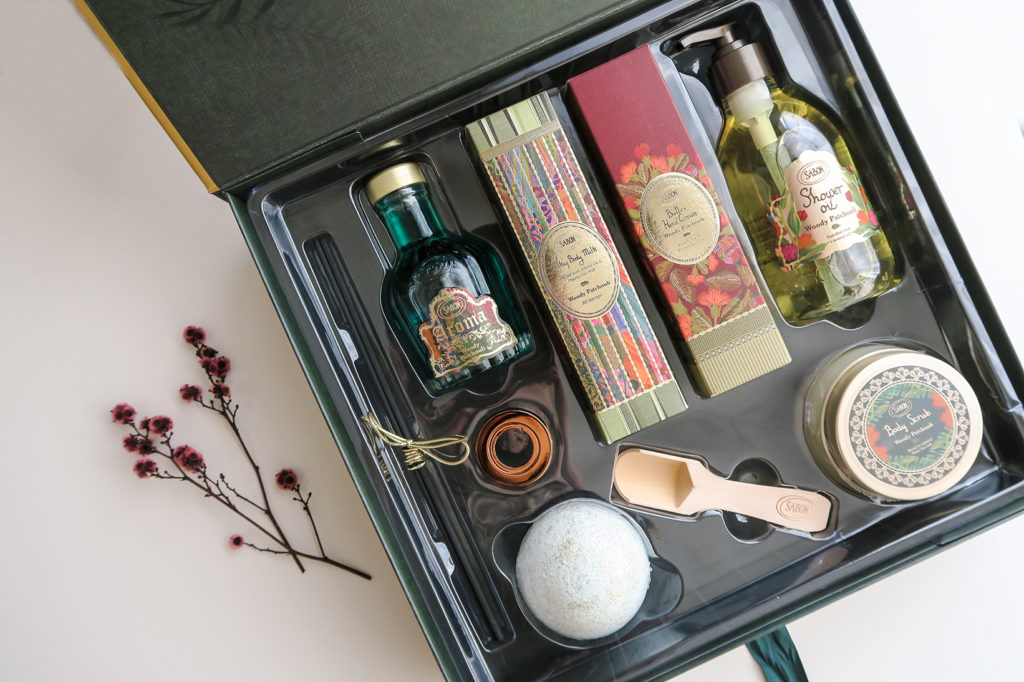 Sabon's Christmas Coffret gift box is equal parts alluring in its scent and eye-pleasing packaging. "The Splendors of Nature" gift set includes skincare, bath and fragrance products all made with a woody patchouli scent. With top notes of orange and cinnamon, followed by floral scents of roses and violets mixed with amber, and finished off with warm base notes of patchouli and vanilla, this holiday gift box will leave a lasting impression to whomever you send this to.
パチュリをベースに自然のカラフルさとパワフルさを表現した新しい香り「ウッディーパチュリ」のセット「ザ スプレンダーズ オブ ネイチャー」が2018年のクリスマスコフレとして登場!オレンジやシナモンから始まり、ローズやバイオレットなどのフローラルタッチと官能的なアンバーのハーモニー、最後にパチュリやバニラがエキゾチックな印象を残す「ウッディーパチュリ」。そんな特別な香りを楽しめるボディスクラブやシャワーオイル、シルキーボディ ミルク、バスボールなど、計6アイテムが詰まったセットは、男女関係なく楽しんでもらえるギフト間違いなしです。
NYX x Natasha Lillipore Limited Edition Christmas Gift Sets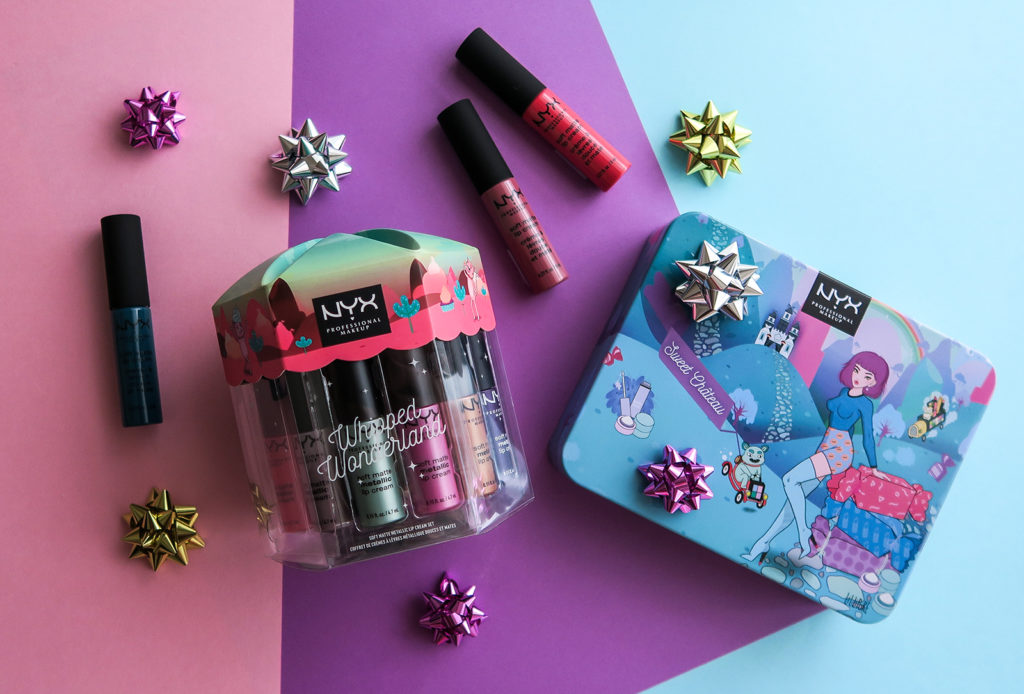 NYX Cosmetics never disappoints when it comes to colorful gift ideas. This year, they collaborated with artist Natasha Lillipore for a variety of gift sets filled with cosmetics including lip products, eye products, and face products, and also individual products. I received two lip kits – the "Sweet Chateau soft matte lip creme set" with 4 highly-pigmented liquid lipstick shades and the "Mini soft matte metallic lip creme set" with 12 different metallic shades of lipsticks. The illustrations on the packaging remind me of the stationary and school items from junior high school that were popular back in the day (who remembers Lisa Frank?)
カラフルなギフトを選ぶのであれば、NYX がおすすめ!今年のクリスマスコフレは、アーティストのナターシャ・リリポワのイラストが描かれたポップで可愛らしいコラボアイテムたちです。写真に写っているのは、スウィートシャトー ソフト マット リップクリーム セット(¥2,800)とミニ ソフト マット メタリック リップクリームセット (¥4,500)。どれも発色がバッチリのリキッドリップが入っています。他にも、アイシャドーやハイライターが入っているギフトセットもあります。昔、学生の頃集めていたステーショナリーのイラストみたいで、少し懐かしい気持ちになりました。流石NYX、いつも商品のパッケージが可愛い!
AZUL BY MOUSSY Bath Set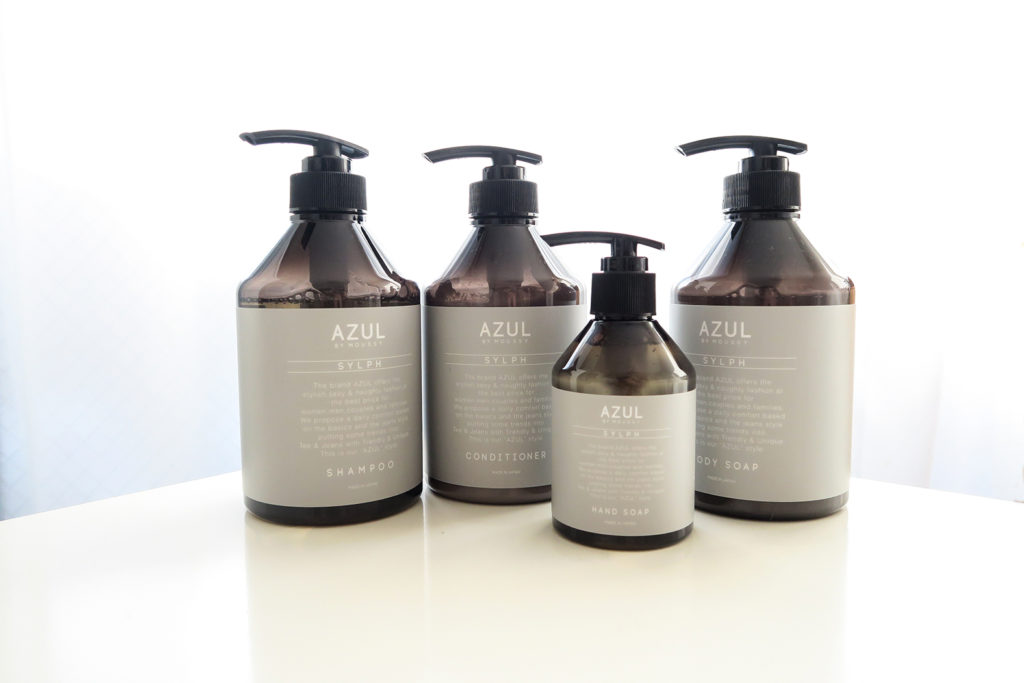 AZUL BY MOUSSY is a Japanese fashion brand marketed towards men & women in their twenties and thirties. I learned only recently that they also have a fragrance and bath product line that is very affordable and perfect for gifting. The series picture here is the SYLPH collection, with top notes of fruity citrus and basil, middle notes of jasmine, rose, iris and cardamom, ending with base notes of woody musk and amber. With the chic packaging, affordable price point and wonderful scent, these bath products would make a thoughtful Christmas gift.
AZUL BY MOUSSY ブランドのバスグッズは、価格帯もとてもリーズナブルでパッケージもシックでオシャレなのがポイント。シャンプー・コンディショナー・ボディーソープ・ハンドソープのコレクションは、3種類の香りで展開しています。グレーのラベルのSYLPH ラインは、ジャスミン・ムスクの幻想的な香り、カルダモンのハーバルノートと 森を吹き抜ける風を感じるグリーンノートを基調に、柑橘系の爽やかさを 加えたシトラスグリーンの香り。トップノートにはフルーティなシトラス、バジル、マテ 。ミドルノートはジャスミン、ローズ、アイリスとカルダモン 。ベースノートにはウッディームスクとアンバーの香り。洗面台やお風呂場に置いてもオシャレで大人っぽいアロマのバズグッズをギフトにしてみては?
What kind of gifts will you be giving your besties and loved ones? Let me know in the comments! Happy holidays❤️