This is not a sponsored post. All opinions are my own.
Beautifying oneself and all things beauty-related are topics of interest that I love to research and experiment with. And I certainly never write enough about it. For this updated beauty post, I'll be sharing my favorite face and eye makeup products I use on a daily basis.
私の中では自分をより美しくすること、そして美容に関してのトピックにはいつも興味深く、常にリサーチしています。今回のビューティートピックは、今愛用しているフェイス&アイメイクアイテム達。デイリーに使っているベースメイクやアイメイクをすべて紹介していきます。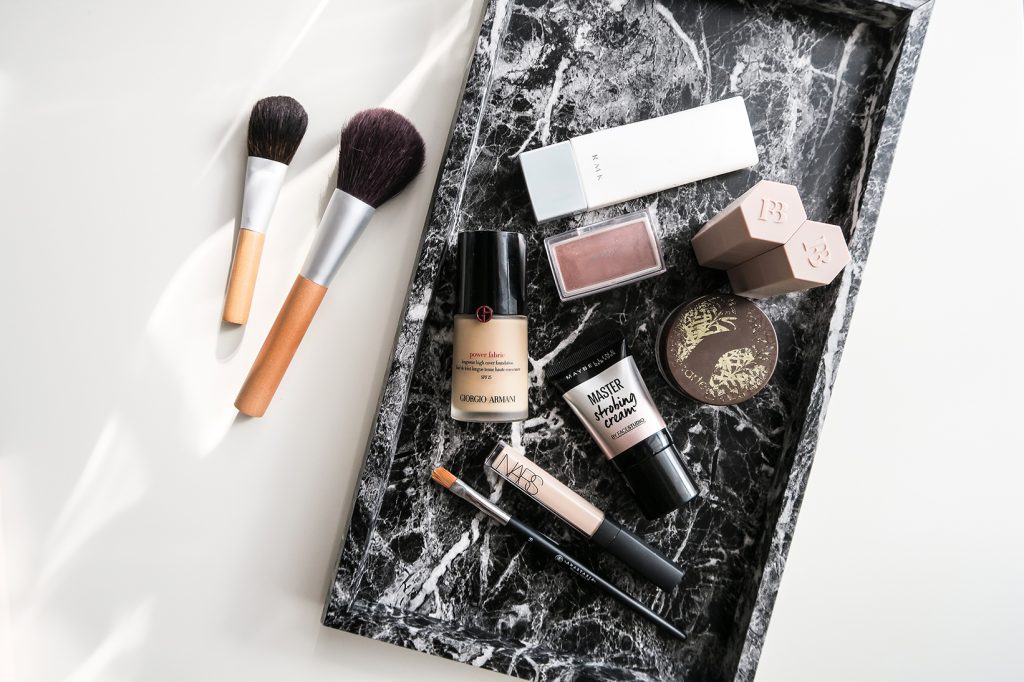 Favorite face products
After going through a year or two of a really bad acne phase, it was so important for me to find a makeup routine that could cover the flaws in my complexion to a certain degree. Trust me when I say I've tried A LOT of different foundations and concealers, probably more than I really needed to. For combination skin with oiliness at the T-zone and healing acne scars, I found that using a good primer (currently using RMK Long Lasting UV primer) underneath the Giorgio Armani Power Fabric foundation with the NARS creamy concealer works best for my skin type. At this point I'm only aiming to even out the redness in my skin, not necessarily covering every single damn flaw (hey, flaws are beautiful).
4−5年前にひどいニキビを経験して以来、その赤みや凸凹をどれだけ上手く隠せるかを常に追求していました。正直、必要以上のファンデーションやコンシーラーを使い比べたりしていましたよ!私みたいにTゾーンがオイリーなコンビネーション肌を持っていてニキビ跡が多少残っている人には、下地(RMK Long Lasting UV primer)を塗ってからGiorgio Armani Power Fabric foundationとNARS creamy concealer を使うのがおすすめです。カバー力がある上、ナチュラルな仕上がりへと導きます。今は大分ニキビも治まってるので、全体的な赤みをカバーすれば良いかなと思ってます。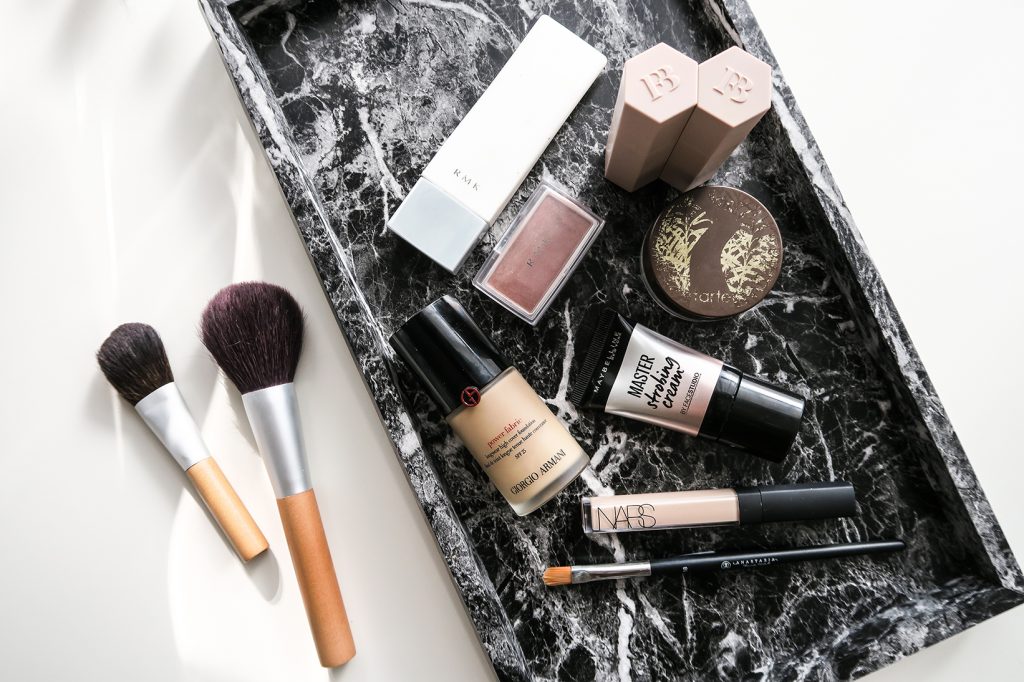 Next, I do a little contouring with the Fenty Beauty Match Stix and use a liquid highlighter by Maybelline to add more depth and structure to my face. I'll top that off with some RMK blush and set everything with Tarte Smooth Operator Amazonian Clay finishing powder using a fluffy Muji powder brush. It's a pretty simple routine for a natural finish.
次に、Fenty Beauty Match Stixでコントアリングし、Maybelline Master Strobe liquid highlighterでほお骨に光沢感を足します。光が当たる時とか、写真を撮るときに違いがすぐ分かりますよ!RMK blushで色味を加え、最後に無印のパウダーブラシを使ってTarte Smooth Operator Amazonian Clay finishing powderでベーズメイクを整えます。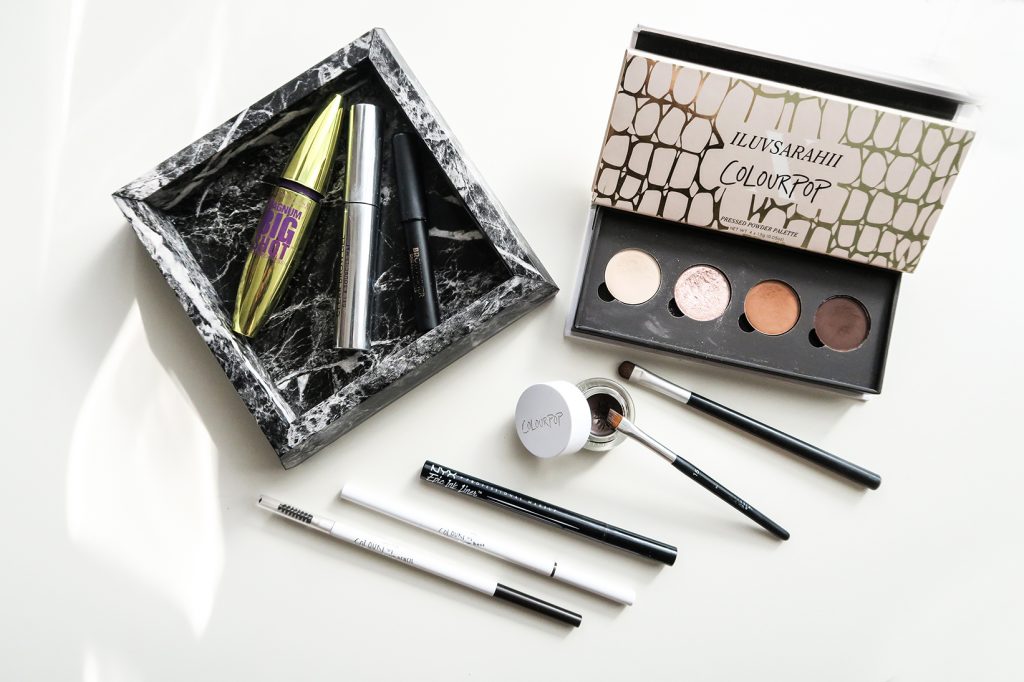 Favorite eye makeup products
My go-to eye makeup brands are Maybelline, NYX, Colourpop and Anastasia Beverly Hills. I try to select affordable products in terms of eye makeup because that's the area I really like to change up for different occasions. Here are my current top favorites clockwise from the top left:
Maybelline Magnum Big Shot Mascara / Anastasia Beverly Hills Clear Brow Gel & Brow primer / Colourpop Cosmetics ILUVSARAHII pressed powder palette in Chic-y / Colourpop Cosmetics Precision Brow Color / NYX Cosmetics Epic Ink Liner / Colourpop Cosmetics Brow Boss Pencil & Precision Brow Pencil
アイメイクで主に使うブランドはMaybelline、 NYX、Colourpop と Anastasia Beverly Hillsです。なるべくコスパが良いブランドを選んだ方が、沢山のアイメイクに挑戦することができるからです。左上から時計回しに今愛用しているアイメイクアイテムを紹介↑↑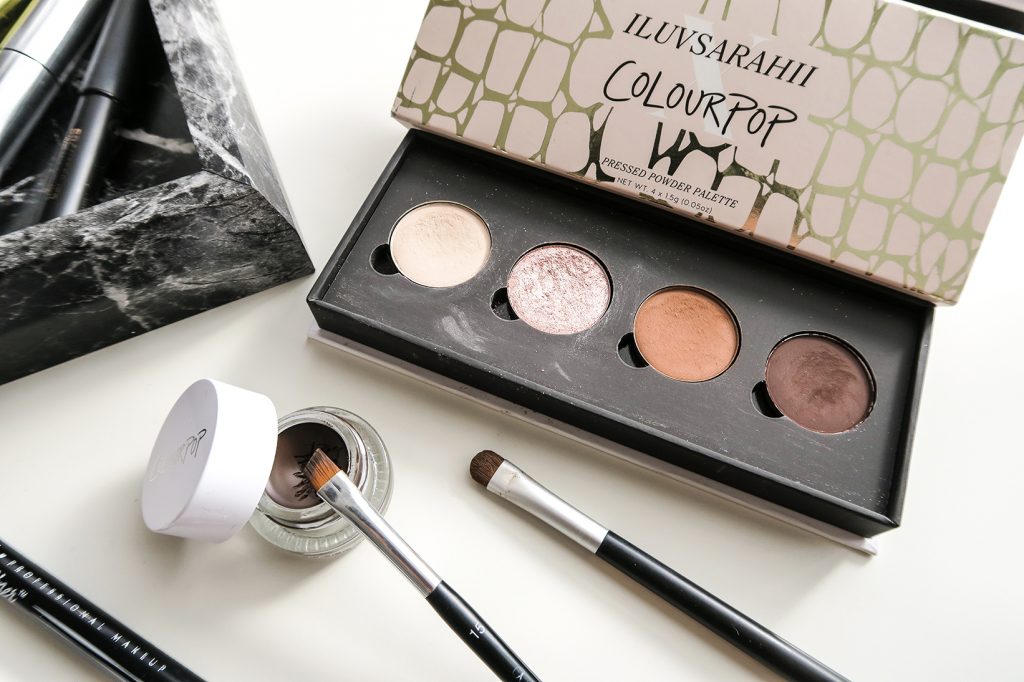 Are there any makeup products that you currently use or would like to try? Let me know in the comments!
あなたも既に使っているもの、使ってみたいアイテムはありましたか?コメント欄にて教えて下さい!