This is a sponsored post. All thoughts and opinions are my own.
Beauty and skincare have been such an important part of my daily routine for a while now. Even though I haven't posted much recently about my routine or new/favorite products I've been trying, I thought this would be a great opportunity to share my experience with products from the world-renowned beauty brand, DHC. They recently reached out to me to try two of their cleansing oils – the DHC Deep Cleansing Oil and the DHC Deep Cleansing Oil Renewed & Brightened.

私にとって、美容とスキンケアは日頃のルーティーンに欠かせないものです。本当はもっとブログに普段使っているアイテムや、新しく発見したものをシェアすべきなのですが・・・今回、世界的に注目を浴びているビューティーブランドDHCから人気の「DHCディープクレンジングオイル」と「DHCディープクレンジングオイル リニューブライト」を試すことができたので、この商品についてのレビューをまとめてみました。
About DHC
Let me give you a brief description of the company since this was a huge reason why I have a newfound appreciation for the brand and their products:

About 40 years ago, when cosmetics produced with chemical and artificial ingredients were the norm of the time, DHC was among the first companies to explore the healing powers and skin compatibility of natural ingredients (keyword here!). Founder Yoshiaki Yoshida started his journey when he first encountered the amazing qualities of olive oil. As he found out more about its potential in cosmetic use, he visited Spain, the largest producer of olive oil in the world.

After numerous negotiations, DHC partnered with the olive oil producer who was named the best and longest-producing organic olive oil manufacturer in Spain by the EU organic certification body CAAE. This effort led to the development of their first cosmetics product, "DHC Olive Virgin Oil," a beauty essence made of 100% natural ingredients.

はじめに、DHCのブランド説明からしたいなと思います。DHCの始まりやブランドコンセプトを知り、改めてDHCの良さがわかりました。

約40年前、まだコスメブランドが主要成分や人工的な原材料を使用した商品を作り出していた頃、DHCは天然成分の肌に対しての効果にいち早く着目しました。創業者の𠮷田嘉明会長は、オリーブオイルの素晴らしい特性を知った後、その特性をどうコスメに導入できるか探るために、オリーブオイル生産国No.1のスペインに旅立ちました。

たくさんの交渉を重ね、今やEUオーガニック認証機関CAAEも認証しているスペインで一番のオーガニックオリーブオイル製造業者を誇るオリーブオイルプロデューサーとのパートナーシップが成立しました。そしてそこから、初めての商品「DHCオリーブバージンオイル」の開発に成功することができました。この商品は100%天然成分で作られた美容エッセンスです。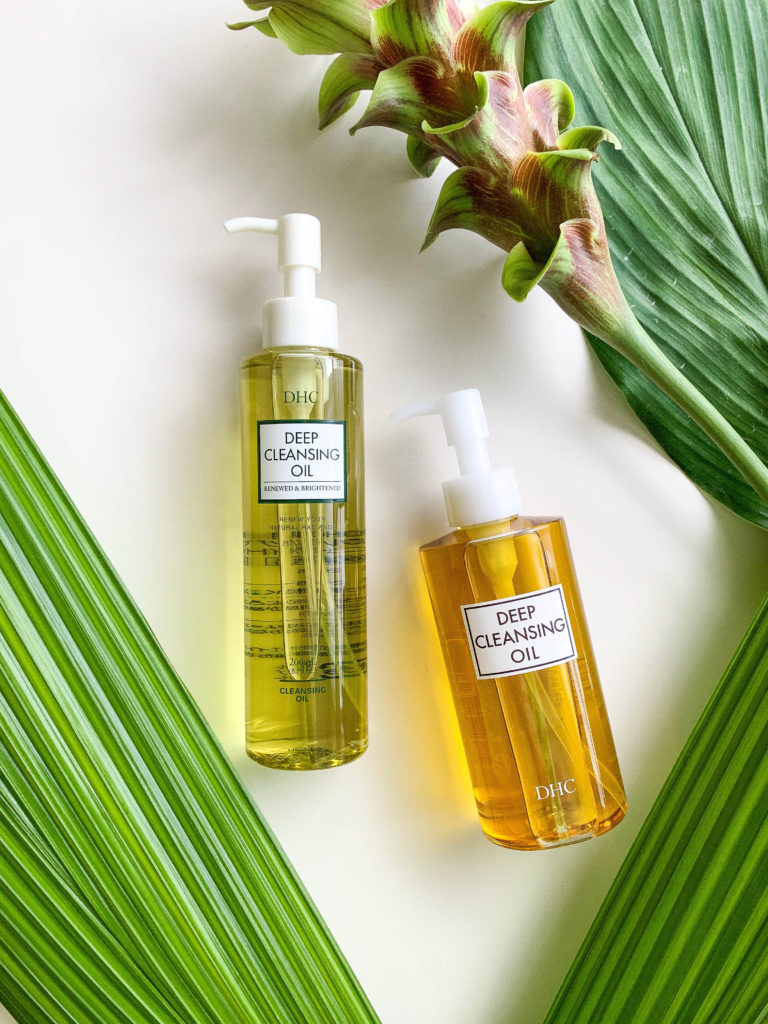 The key ingredient – Flor de Aceite
DHC focuses on a precious oil that has a higher standard than even the top-grade extra virgin olive oil – a rare oil that can only be harvested in very small amounts. This precious olive oil is made from Flor de Aceite (Flower of the Oil), which is the juice that drops from the fresh hand-picked organic olives obtained from the olive fruit that is crushed using a stone mill.

To use Flor de Aceite in skincare, the impurities need to be carefully removed without disturbing the oil's power to protect and beautify the skin. DHC's researchers took on this challenge, and after countless trials and tests, DHC Olive Virgin Oil was born. Flor de Aceite constructs the basic formula of the Olive Sube-Sube Series products with its water- and skin-friendly characteristics, as well as its composition similar to that of human sebum to protect skin from external damage. Furthermore, oleic acid, vitamin E, and vitamin A are also the benefits of the olive fruit which are essential for beautiful skin.

DHCは、トップグレードのエキストラバージンオリーブオイルよりも高品質で、少量の収穫しかできない貴重なオイルを使用しています。この貴重なオイルはフロール・デ・アセイテ(バージンオイルの精華)と呼ばれ、手で摘んだフレッシュなオーガニックオリーブを石臼で砕いて手に入れることのできる滴からできてます。

フロール・デ・アセイテをスキンケアに使うには、肌のバリア機能や修復する力を失わずに、不純物をしっかり取り除くことが重要です。DHCの研究者が様々なトライアルや研究を続けた結果、「DHCオリーブバージンオイル」が誕生しました。フロール・デ・アセイテは肌をダメージから守る人間の皮脂と似た構成を持ち、肌と水によくなじむ特徴から、DHCのオリーブすべすべシリーズのベースの成分として使われています。更に、オリーブには美しい肌に欠かせないオレイン酸、ビタミンEとビタミンAも含まれています。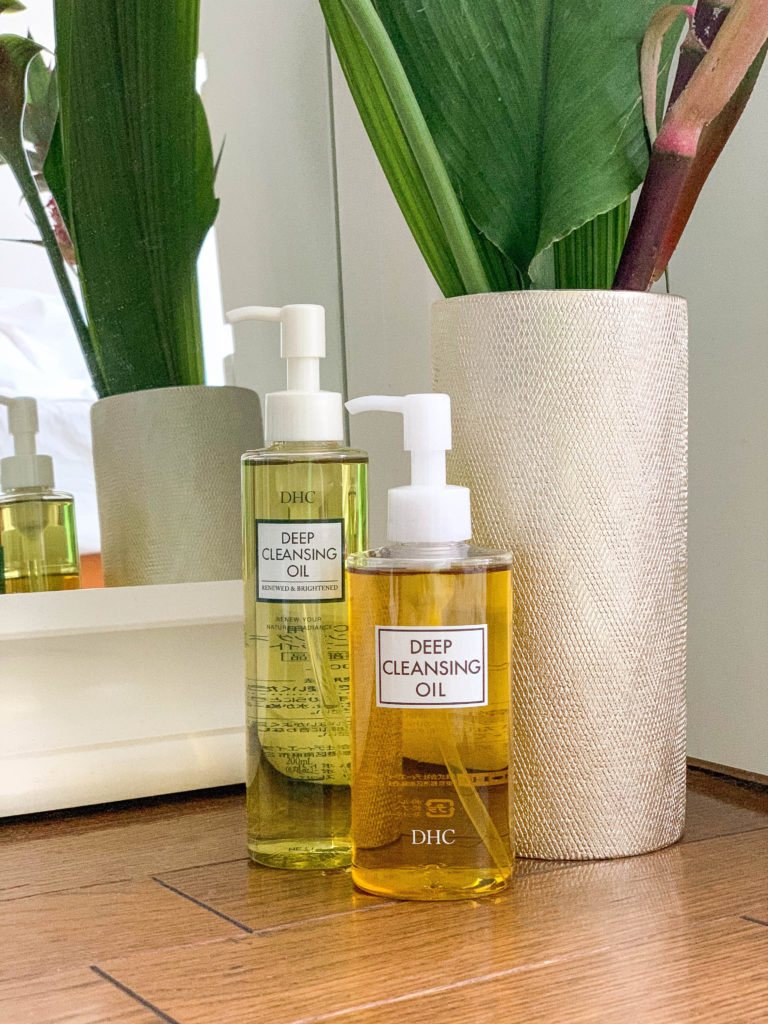 My experience with the DHC Deep Cleansing Oils
So, with any skincare routine, cleansing is the most important first step. While there are many types of cleansers out there (oil cleansers, milk-type cleansers, mist removers, makeup wipes, etc.), I've found that oil-based cleansers work the best with my skin.

I've actually used the classic Deep Cleansing Oil before and loved it, so this time I tried both the Deep Cleansing Oil and the Renewed & Brightened version to see if there was a difference. There are two important qualities they have in common: they both remove thick makeup without clogging pores, and they wash off oil-based makeup which regular face wash cannot remove. I think we all know that if any makeup residue is left on the skin, no matter how good the skincare products are that are applied afterward, they will not be as effective and the remaining residue WILL cause skin problems.

Since I hadn't tried the Renewed & Brightened version, I started with that one first. I already had a great first impression with the delicious green breeze scent – a beautiful, refreshing soap-like scent that makes the cleansing process even more enjoyable. I also noticed the texture of the oil was lighter than the original Deep Cleansing Oil, which I believe makes it the better option for warm summer months. And as with the original version, it left my skin feeling thoroughly cleansed and refreshed. All my makeup and residue from the day were washed off completely, and I love how it makes my skin feel after use.

The original Deep Cleansing Oil does the same job, but the two significant differences from the Renewed & Brightened are the scent and texture. The original literally smells like olive oil, which is great for people who love that natural scent of the product. Also, the texture is thicker and much more like an oil. I would recommend using this one for the colder, drier winter months when the skin needs the extra moisture. My skin definitely feels more supple after use, even before continuing on with the rest of my skincare routine.


スキンケアルーティーンの中で最も大事になステップはクレンジングです。クレンジングは様々なタイプがあるんだけど(オイルクレンジング、ミルクタイプクレンジング、ミスト状リムーバー、メイクワイプ、など)、私の肌はオイルベースのクレンジングが一番合う気がします。

実は以前DHCのディープクレンジングオイルを使ったことがあって、すぐにお気に入りの商品になりました。今回はこのオリジナルバージョンと新作(リニューブライト)を比べて使ってみました。でもまず、両方とも共通点がありました:普通の洗顔と違って、どちらも毛穴を塞がずしっかりとメイクや汚れを落とし切ります。多分みなさんはもうご存知だと思うけど、クレンジングでメイクや汚れを落とし切れなかったら、その後のスキンケアがしっかり肌に浸透できず、肌荒れの原因にもなります。

まだリニューブライトバージョンを使ったことがなかったので、まずこちらから試してみました。はじめに印象に残ったのが香り!「グリーンブリーズの香り」に包まれながら、豪華なクレンジング時間を体験することができました。そして、オイルの軽さにも驚き!さらっとしてて、夏にはぴったりのクレンジングオイルだなと思いました。オリジナルバージョンと同じく、メイクは綺麗にスッキリ落とされ、肌触りもとても良くなった気がします。

ディープクレンジングオイルも同じ役割を果たしますが、リニューブライトと比べて2つの違いは香りとテクスチャー。オリジナルは植物性を最も生かした本物のオリーブオイルの香りがします。また、テクスチャーもリニューブライトよりナチュラルオイルに近い重みがあります。乾燥しがちな冬の時期にぴったりのクレンジングオイルだと思います。この一つの商品で肌がしっとりすべすべになるのが嬉しいです。
Overall, I loved both types of cleansing oil, and it would be smart to use each one depending on what your skin needs or even what season it is. Right now on DHC, you can purchase the Deep Cleansing Oil Renewed & Brightened for 12% off (a great bargain!) so I highly recommend trying it if you haven't before. And if you like their Deep Cleansing Oil, I would recommend branching out and trying some of their other amazing products. Thanks for reading this review and good luck with your skincare♡

全体的に、どちらのクレンジングオイルもすごく良かったので、肌の状態や季節で使い分けることをお勧めします。そして今DHCでは、大変お得な期間限定のセールをやっています!また、どっちのクレンジングオイルを使えばいいかわからない方はこちらを参考にしてみてください。クレンジング以外の商品もお勧めなので、是非使ってみてください。長くなってしまいましたが、このレビューを最後まで読んでくれてありがとうございました♡