This is a sponsored post. All thoughts and opinions are my own.
Last week, I had the honor of attending the 10-year anniversary party of Atelier Swarovski and Swarovski Ginza. And to celebrate this remarkable anniversary, Swarovski Ginza invited Taiwanese-American fashion designer Jason Wu for an evening of cocktails, as well as having his beautiful collaboration collection on display during the party. Read on for more about Atelier Swarovski, the Jason Wu collection, and more photos of the party!
先週は、アトリエ・スワロフスキーとスワロフスキー銀座店の10周年を祝するパーティーにお招きいただきました。そして、それを記念すべく、アトリエ・スワロフスキーと3度目のコラボレーションを果たしたアメリカのファッションデザイナーJason Wu氏が来日されました。アトリエ・スワロフスキーの歴史、Jason Wu氏とのコレクションについて、そしてパーティーの様子など、是非ご覧になって下さい!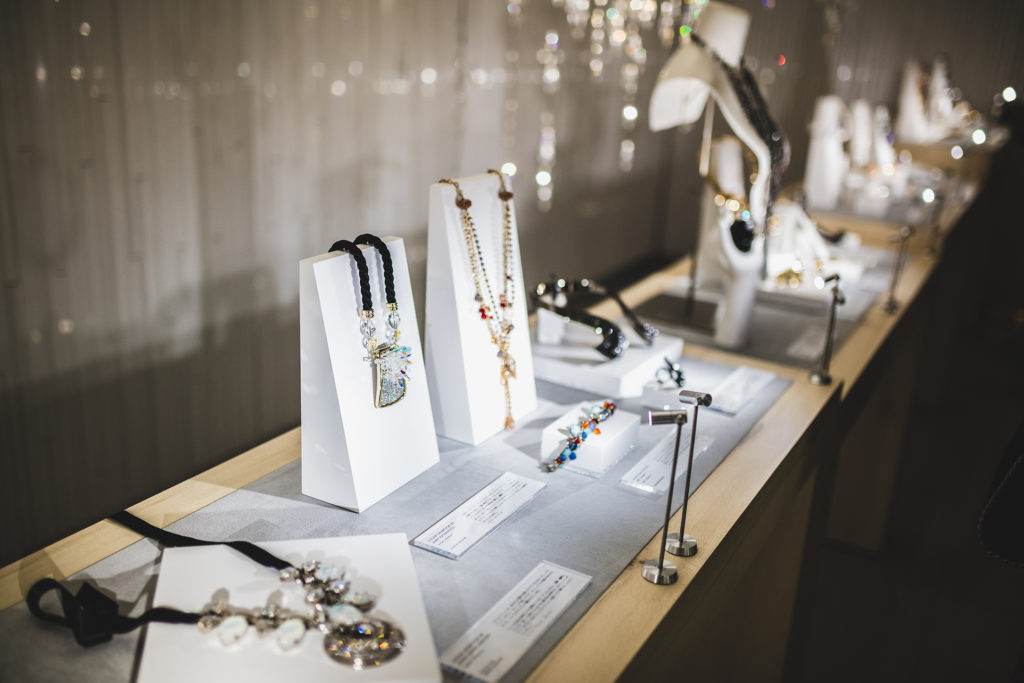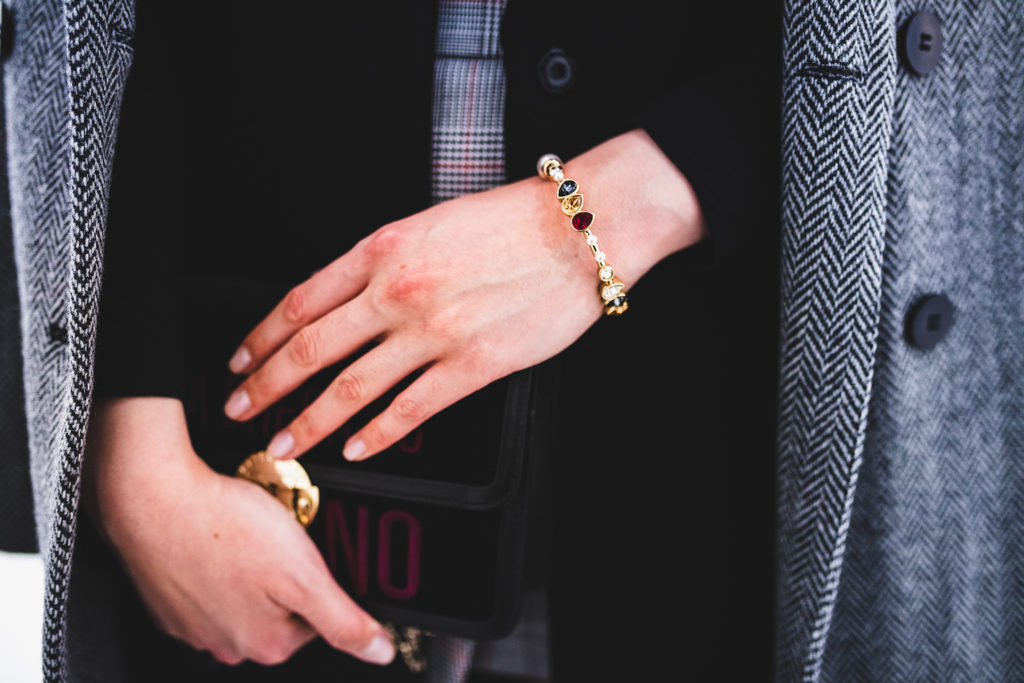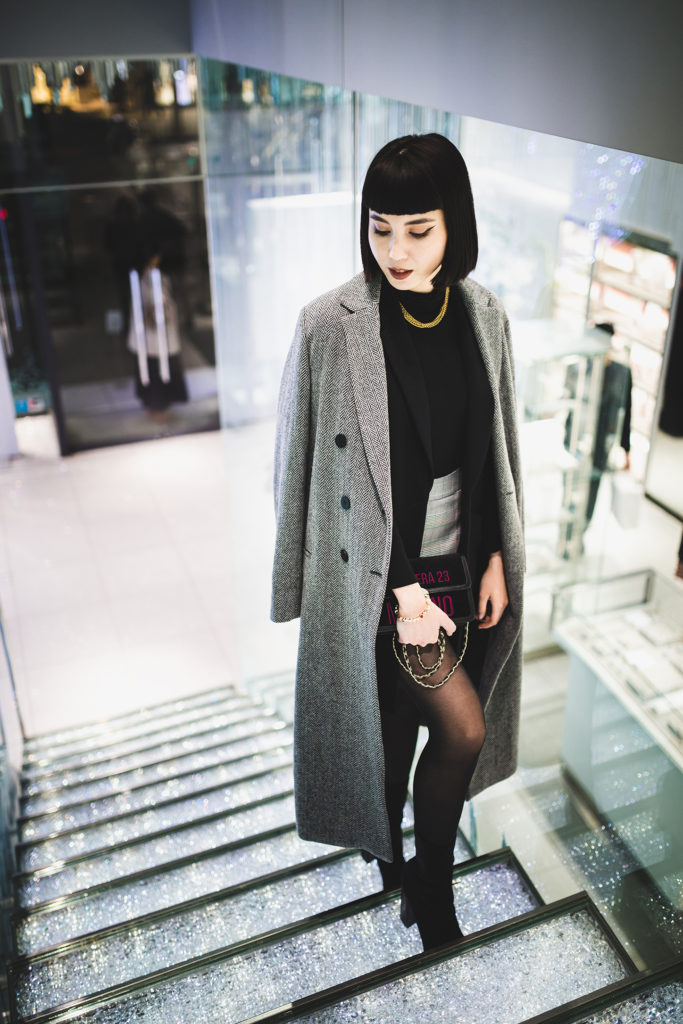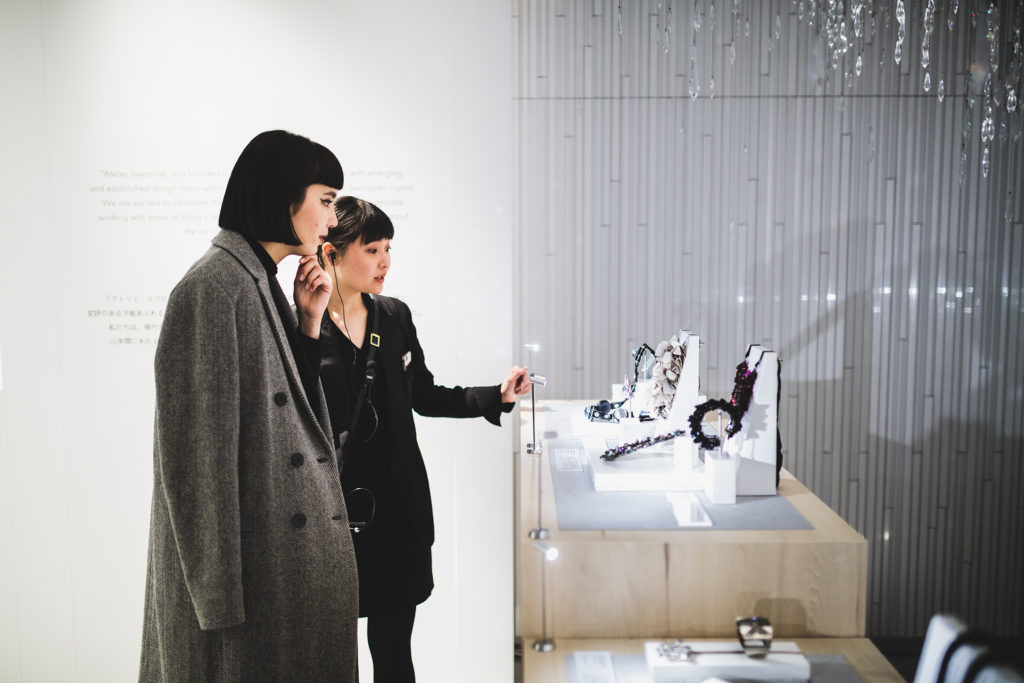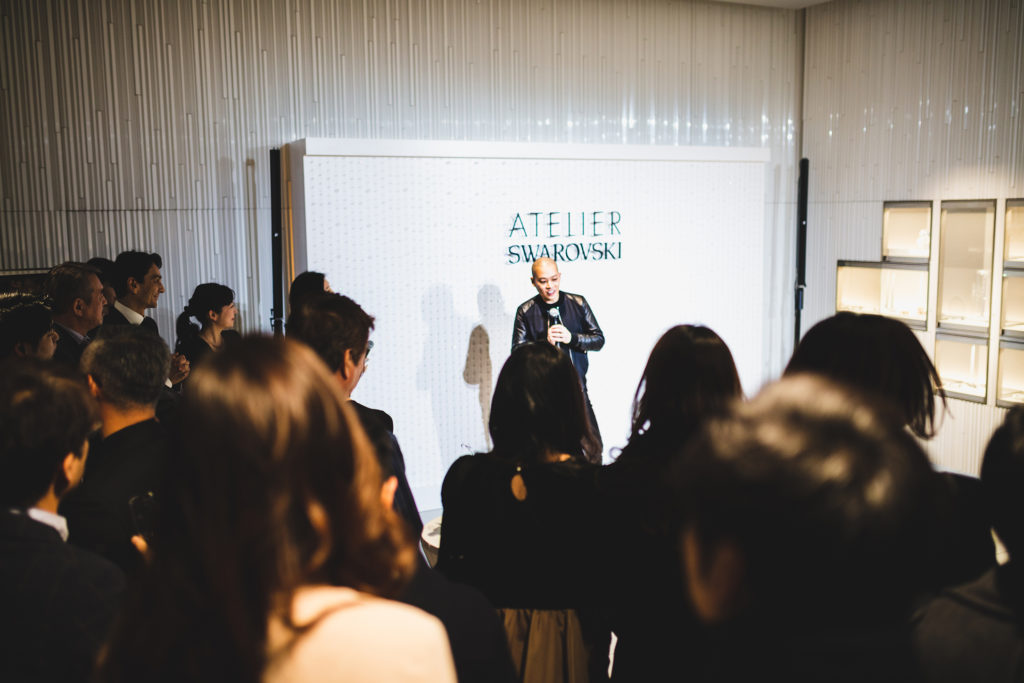 About Atelier Swarovski
Atelier Swarovski welcomes it's 10th year since its founding in 2007 by Swarovski executive board member Nadja Swarovski.  Since then, Ateliar Swarovski has collaborated with 75 of the world's most exciting contemporary designers. Designers of such collaborations include Aldo Bakker, Christopher Kane, Devi Kroell, Eric Daman, Iris Apfel, Jean Paul Gaultier, Jonathan Saunders, Konstantin Kakanias, Karl Lagerfeld, Maison Martin Margiela, Rodarte, Lanvin, and Viktor & Rolf, to name a few. Twice a year, Atelier Swarovski invites cutting-edge talent from fashion, industrial design, architecture and couture jewelry to produce a collection. According to Nadja, the Atelier name was launched to honor the company's exceptional history and was inspired by collaborations of the past – from her grandfather's with Christian Dior on the 'New Look,' to her great great grandfather's with the founding figures of haute couture in find de siecle Paris. Atelier Swarovski is also known for their Fine Jewelry Collection and home collection
アトリエ・スワロフスキーは、クリスタルの魅力を究極に表現した最先端のジュエリー、アクセサリー、ホーム・デコール製品を提供しています。2007年にスワロフスキー社エグゼグティブ・ボードメンバーのナディア・スワロフスキーが創立したこのブランドでは、ファッション、ジュエリー、建築、デザインといった分野において世界でも有数の才能あふれる人々とコラボレーションし、創造性とクラフツマンシップの限界に挑戦する独特の作品を作り出しています。ジャン=ポール・ゴルチエ、ヴィクター&ロルフ、クリストファー・ケイン、メゾン・マルジェラ、ランバン、メアリー・カトランズなど、トップデザイナーとのコラボレーションによって生み出されてきた、心を揺さぶるアトリエ・スワロフスキーのコレクションは、2017年に10周年を迎えました。アトリエはスワロフスキーの盛大な歴史を祝うために設立され、ナディア氏の祖父とクリスチャン・ディオールの「New Look」や、曾祖父とパリのオートクチュール創立者の、スワロフスキーの今までのコラボレーションからインスリレーションを受けています。レッドカーペット向けの製品を専門とするアトリエ・スワロフスキーファイン・ジュエリーコレクションやラグジュアリーなホームコレクションも最大な支持を受けています。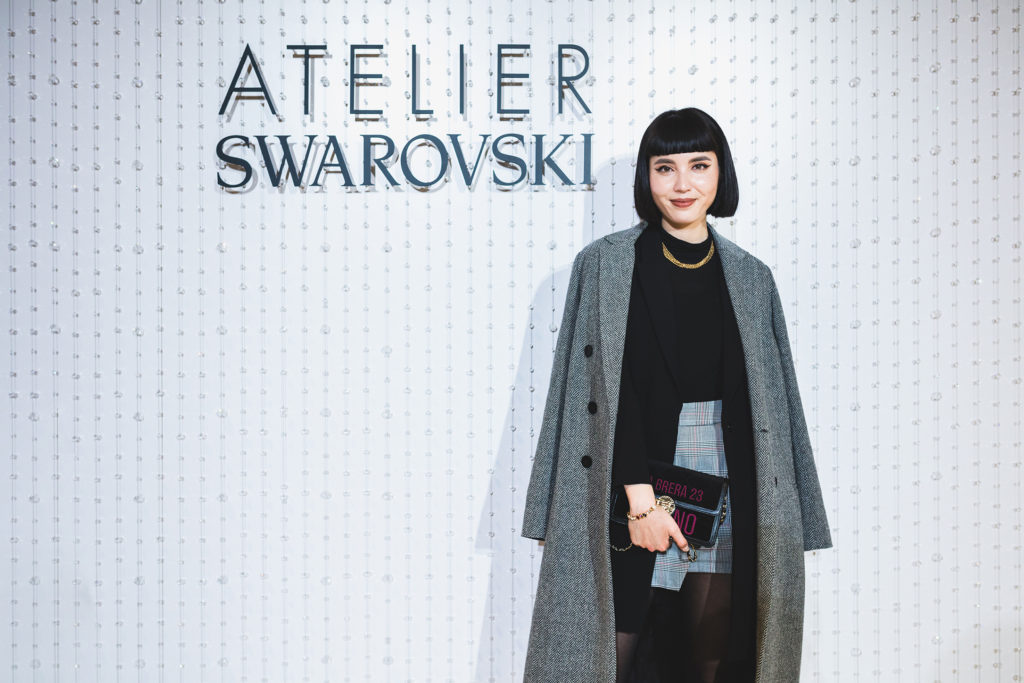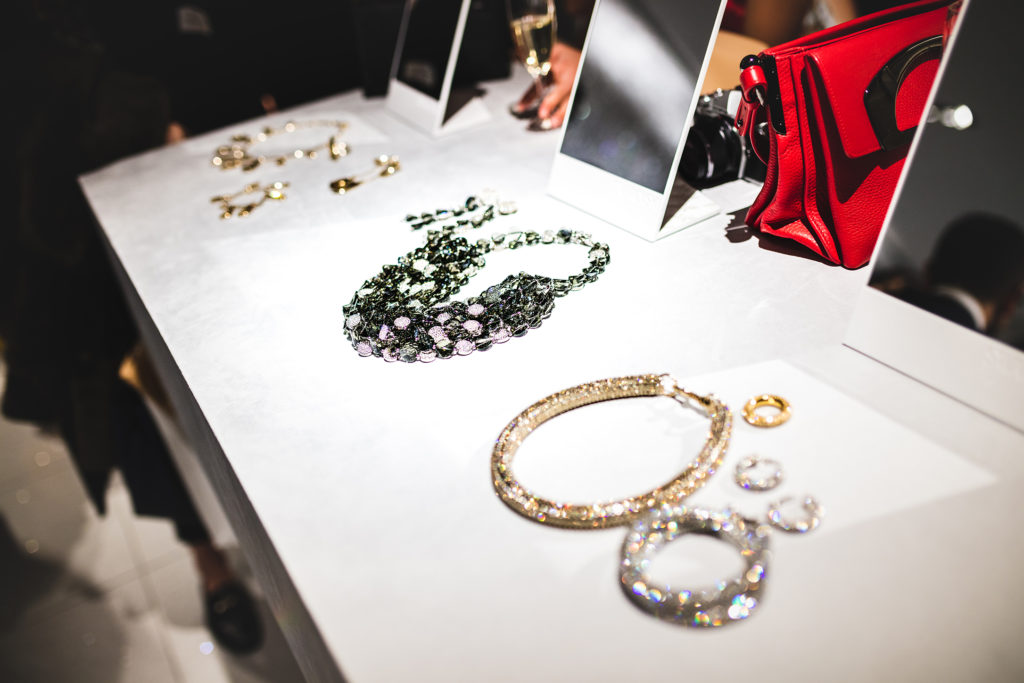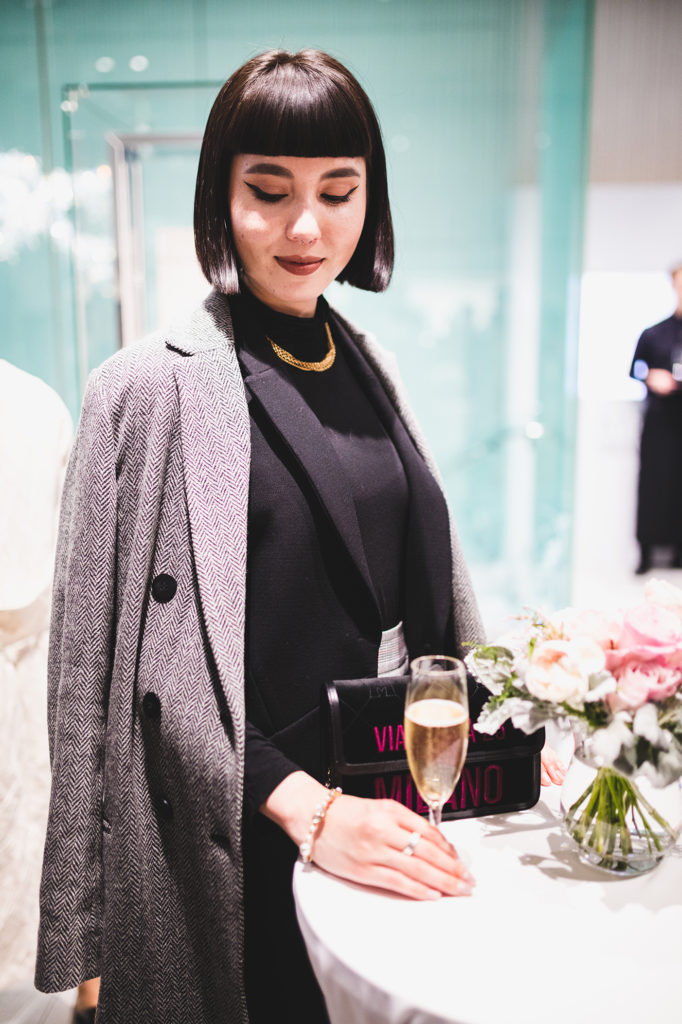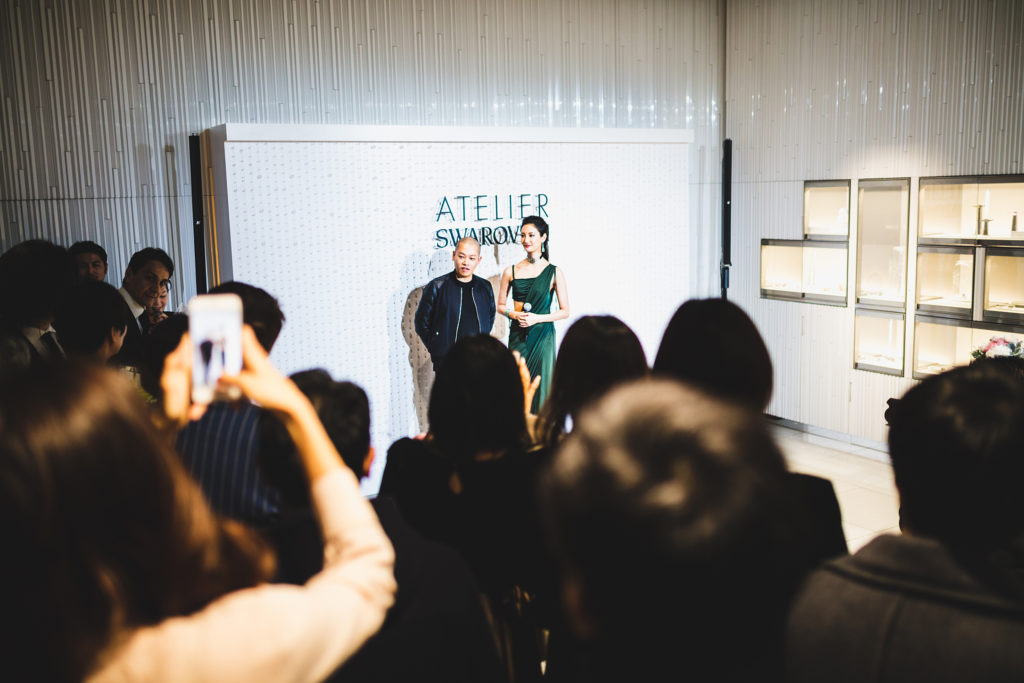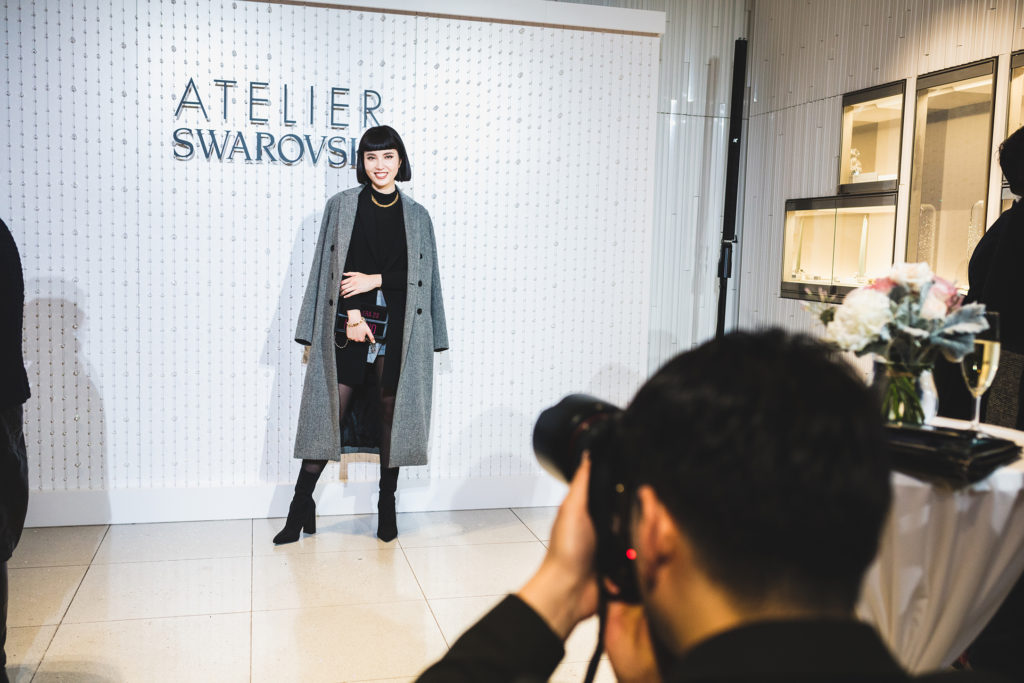 The Jason Wu Collection for Swarovski
This is Jason Wu's third collection for Swarovski, and it truly reflects the elegant aesthetic of his fashion designs. As many of you may know, he is well known as the designer for former First Lady Michelle Obama's inauguration dress in 2009, as well as countless red carpet looks. In celebration of Wu and Atelier Swarovski's 10- year anniversaries, the designer has combined his impeccable design signature utilizing clear and champagne-colored Swarovski crystal to embrace the purity and craft behind each stone. According to the collection description, Wu's Spring/Summer 2018 collection 'Mosaic' is a decadent and sophisticated range of earrings, necklaces, bracelets, and rings decorated with clusters of sparkling, asymmetrically-cut stones. Jason Wu was very friendly in person, sharing with me how much he was enjoying his stay in Japan. I wore his Mosaic fine bangle in gold plating from his collection, courtesy of Swarovski Japan.
Jason Wu氏とアトリエ・スワロフスキーの3度目のコレクションは、Wu氏が知られているエレガントなデザイン製が反映されています。アメリカ元大統領の夫人ミシェル・オバマが2009年の就任式に着用したガウンもデザインしたことで知られ、その他にも数多くのレッドカーペットルックもデザインしています。Jason Wuとアトリエ・スワロフスキーの10周年を記念に、今回はクリアとシャンパンカラーのスワロフスキークリスタルを使用した上品なデザインを通して、一つひとつの宝石の品質に拘りを表しているのがわかります。Wu氏の2018年春夏コレクションは「モザイク」をテーマにした、イアリングやネックレス、ブレスレット、リングなど、高性能なセレクションを展開しています。パーティーでお会いしたWu氏はとても親切な方で、日本が大好きだとおっしゃっていました。今回パーティーのため、スワロフスキー様よりJason Wuコラボレーションのモザイクファインバングルをプレゼントしていただきました。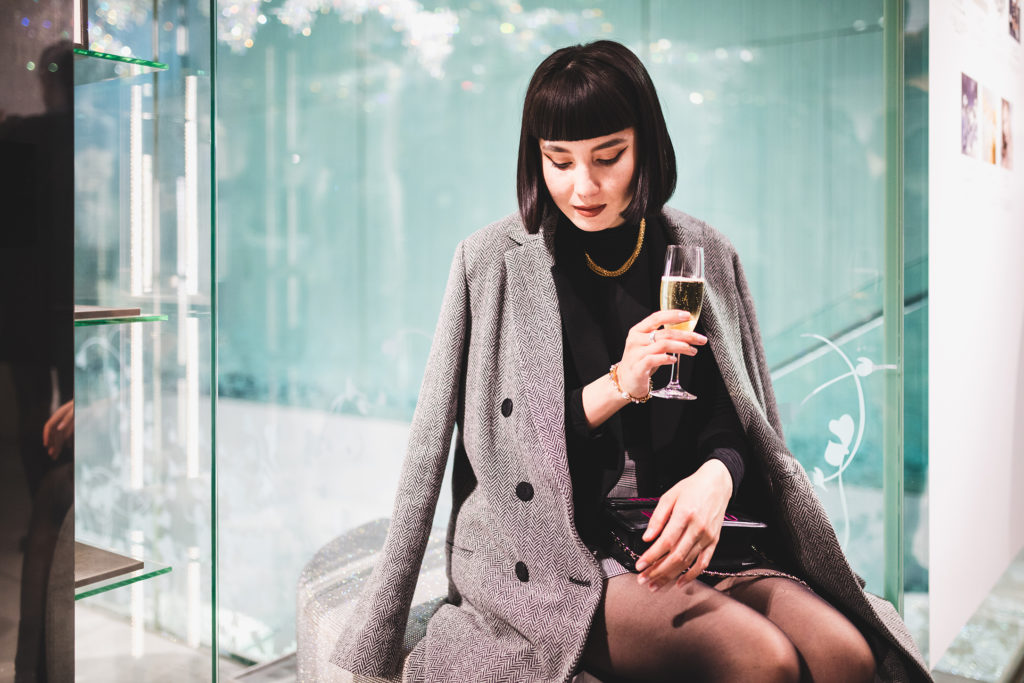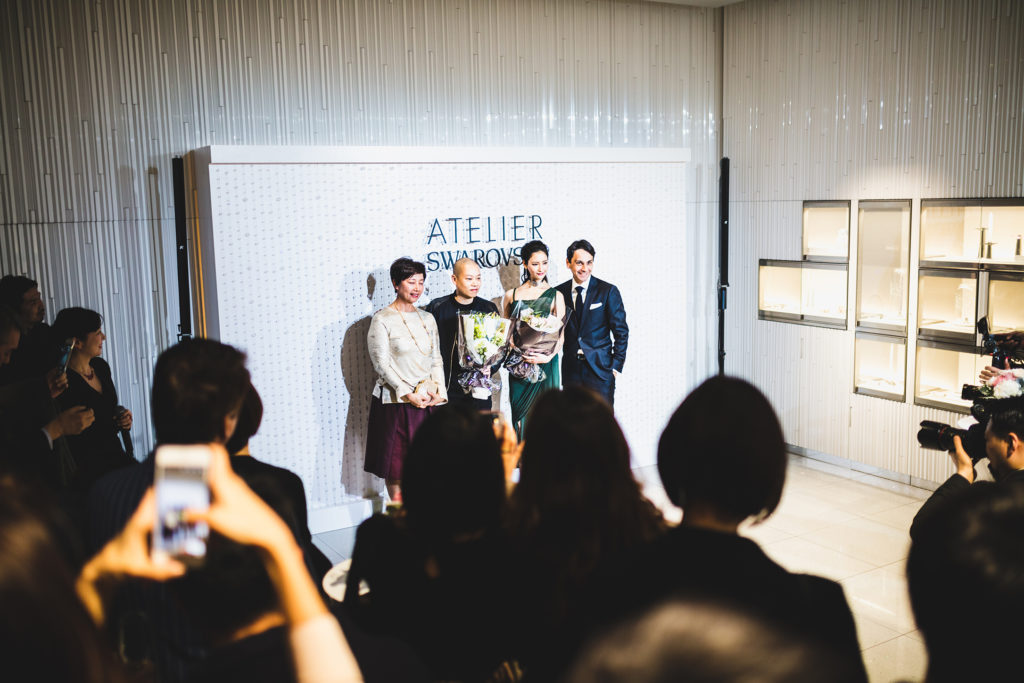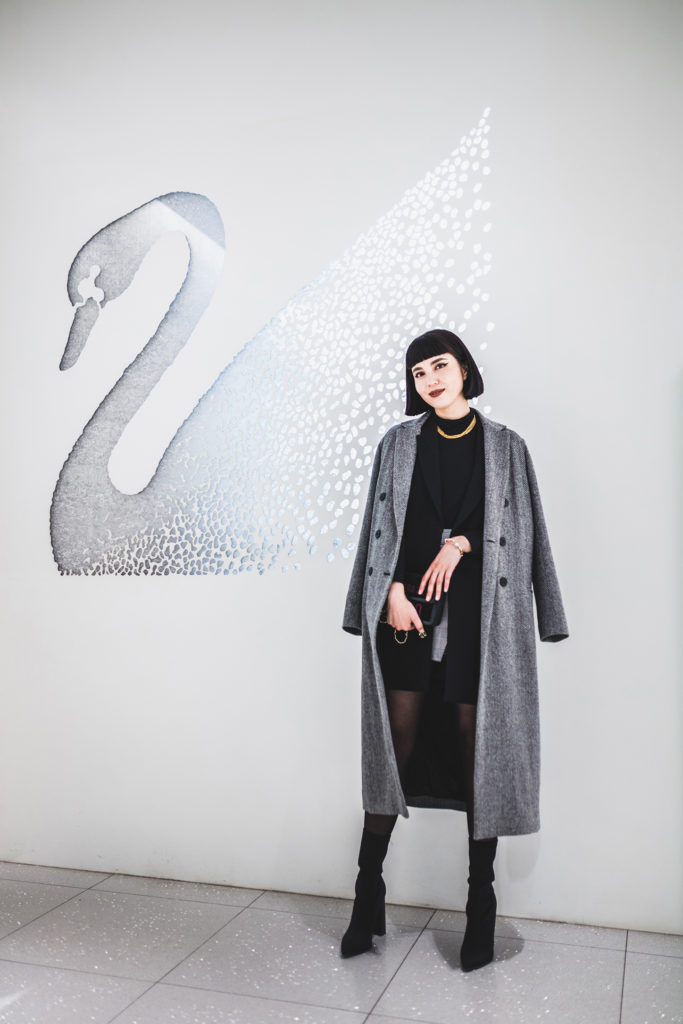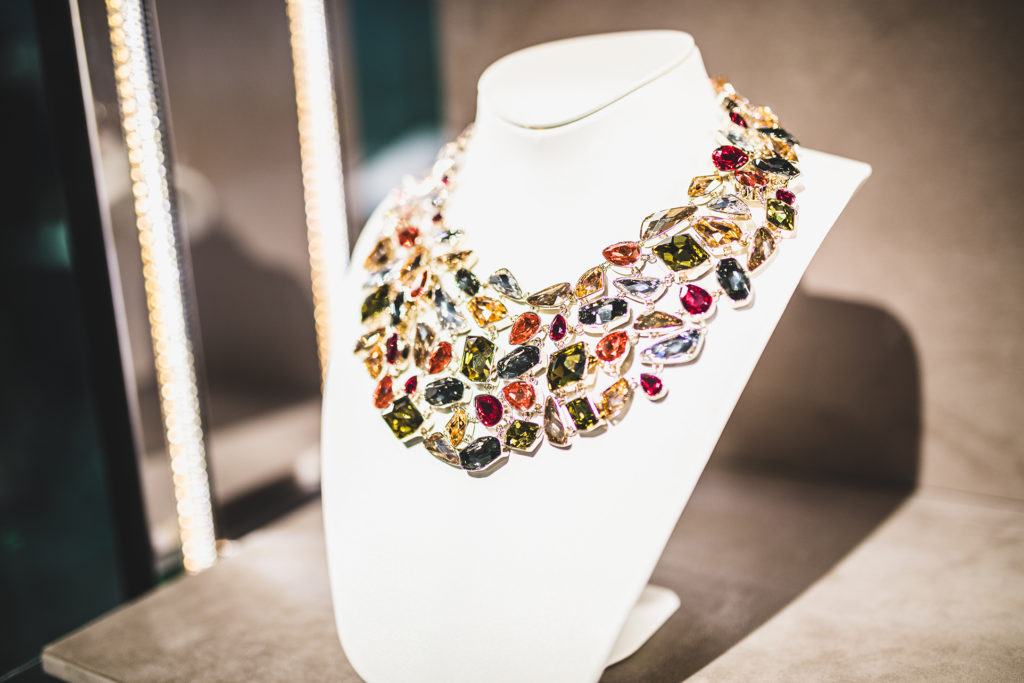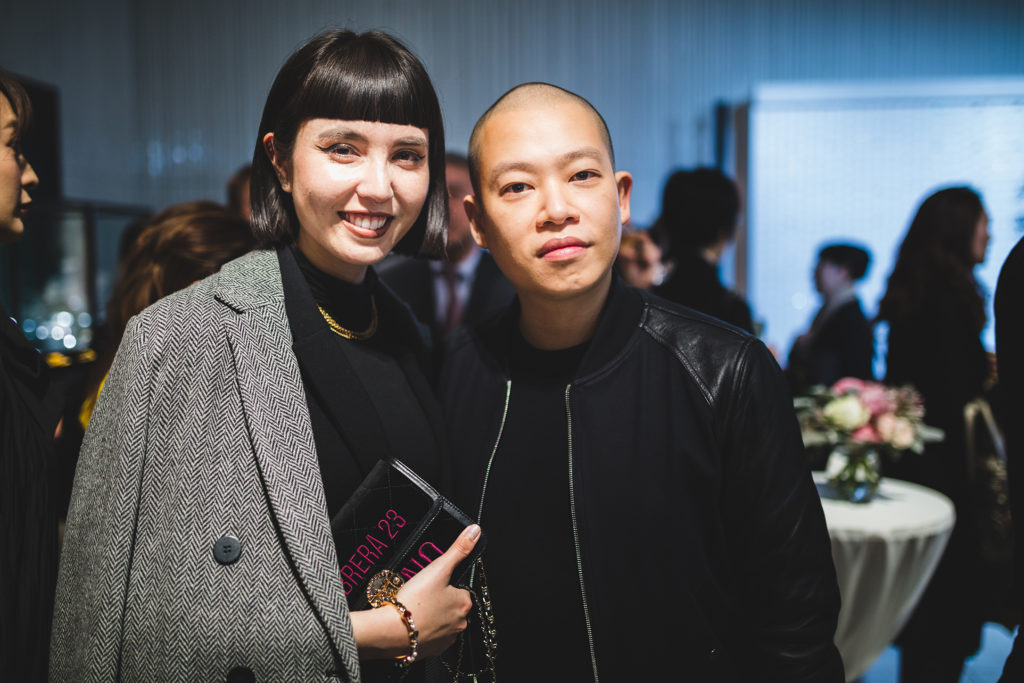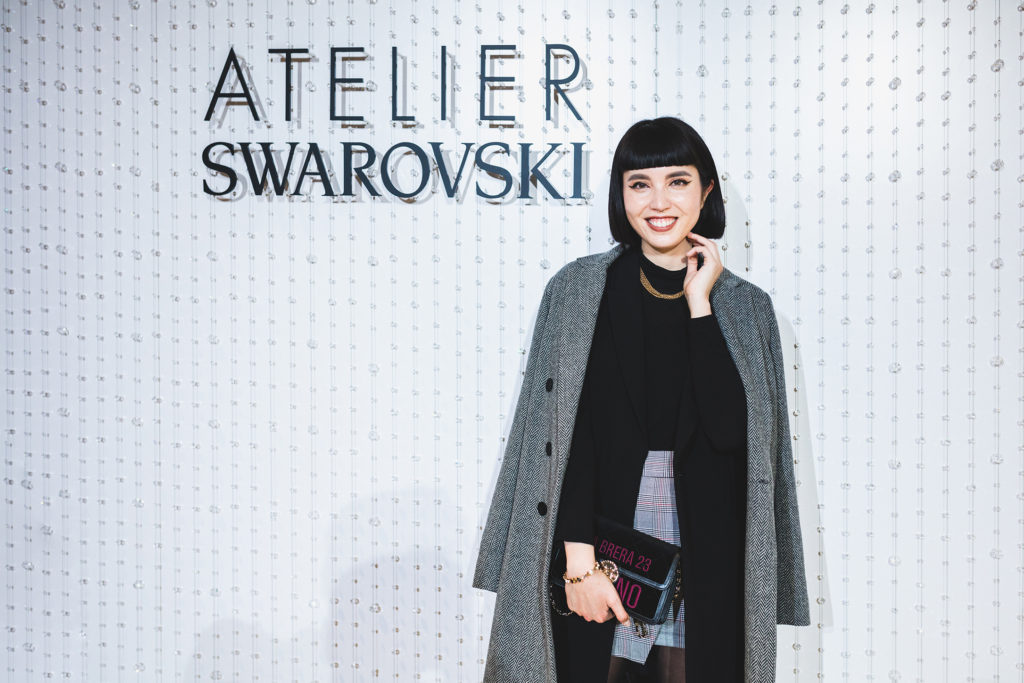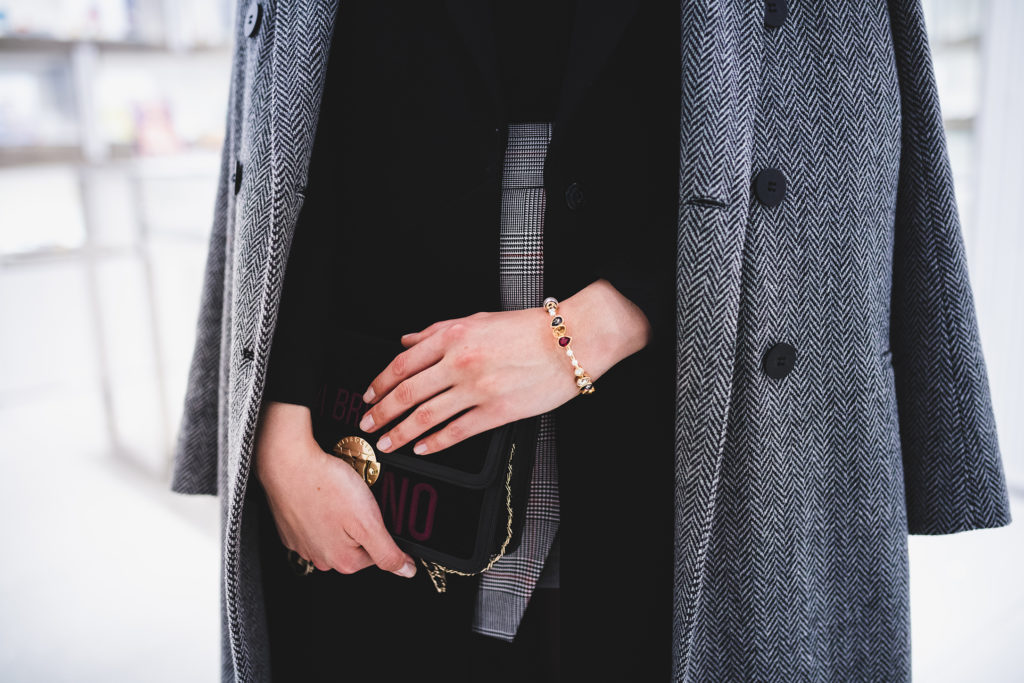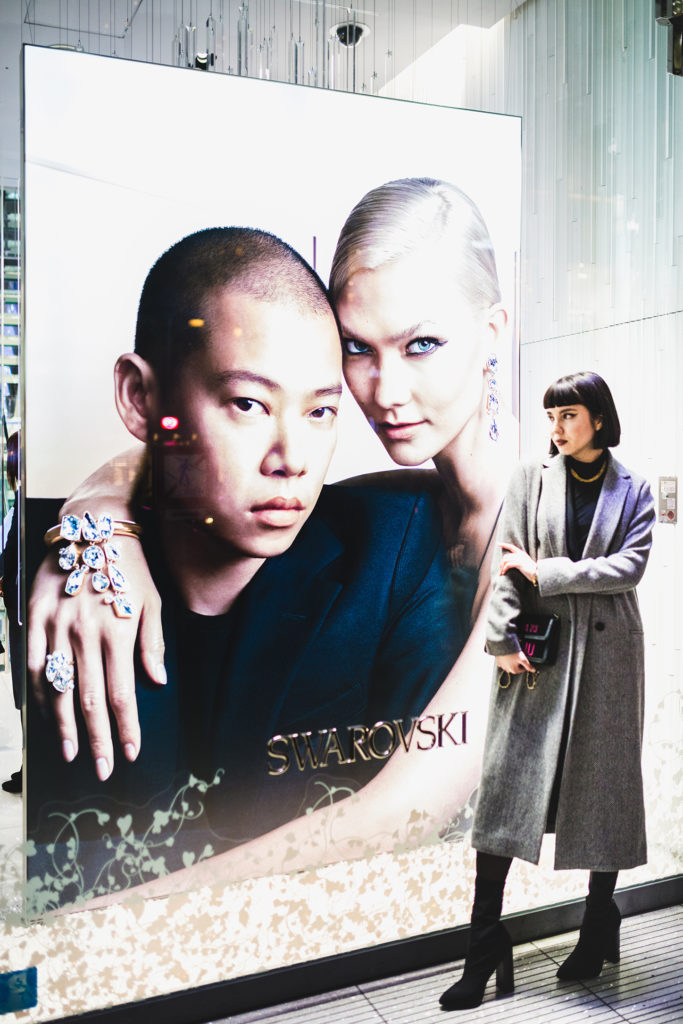 To celebrate the 10 year anniversary, Swarovski Ginza has the Atelier Swarovski archive collection, as well as the Fine Jewelry line and Atelier Swarovski home collections on display until April 1st, 2018.
スワロフスキー銀座10周年を祝して、アトリエ・スワロフスキーのアーカイブコレクション、日本初公開となるファインジュエリー、アトリエ・スワロフスキー・ホームを4月1日(日)まで展示します。
All photos by Fu Sheng Wang.