My interview for Cosmopolitan Japan is now up on their website, featuring the new "isei Beat," a smartphone with superior sound quality and camera. Since the interview is in Japanese only, I decided to translate it into English myself for all my English-speaking readers. 日本語のインタビューはこちらで読んで下さい!
Q: You're always known for your very mode and cool look. Are there any items that you deem noteworthy at the moment Samantha?
A: Sock boots are really trendy at the moment, and I recently stocked up on 2 pairs. A pair of black ones that can never go wrong, and a pair of burgundy ones. I plan on pairing them with different prints (like my leopard print coat) and even simple monotone outfits to create chic looks. In terms of makeup, I'm all about liquid lipsticks that won't smear or come off no matter how much you eat or drink. Today, I'm wearing one of my favorite shades from "Colourpop Cosmetics," and I just love the matte texture. Dark reds and browns are my favorite shades this season.
Q: When do you feel you can relax the most, Samantha?
A: When I'm at home reading, or mindlessly watching TV… even listening to relaxing music while taking a bath. My grandmother on my father's side always played her Elvis Presley when I was growing up, and my mother instilled in me her love for The Beatles and The Carpenters as well. I love listening to all kinds of music, regardless of genre or age. When I'm relaxing at home, I especially love listening to nostalgic, mellow tunes.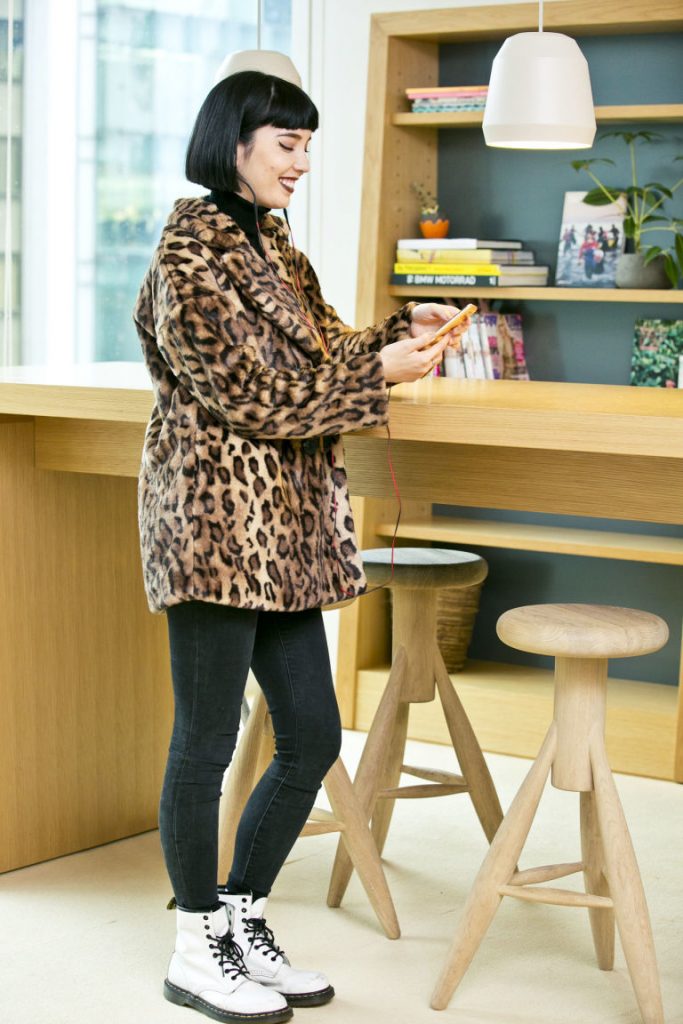 Q: Speaking of music, you studied classical piano at university. What made you decide on majoring in piano performance?
A: From the age of 8 to 17, I studied with the same piano teacher, and right around the time I had to decide what I wanted to study in college, I realized I wanted to continue study in the musical and performing arts. At the beginning of my senior year in high school, my teacher introduced me to a piano professor from UCLA, and I had a couple of lessons with him… This is when I also realized I still had a lot of learning and practicing to do… For one thing, I didn't have enough technique, and these lessons were the trigger for my wanting to study classical piano with the professor. This is why I applied to a university with a strong musical program. I wanted to further indulge myself in music.
Q: Because of your background in music, are you particular when it comes to sound quality?
A: I tend to spend more money on better-quality earphones or headphones, I think. I even recently got a pair of wireless earphones as well. Whenever I listen to classical piano music, I'm very particular about how well the bass, or lower notes, sound- the deeper, the better. I think it's also because whenever my piano teacher and I would listen to piano works at her home, her sound system picked up the deeper notes so that they sounded rich. I think my ears are now accustomed to it.
Q: Right now, "high res" is a big key word in the music industry. There are smartphones now that are particular about sound quality – what are your thoughts on listening to classical music on au's "isei Beat?"
A: I actually never listen to classical music with earphones. It's always too loud when I'm commuting by train, and I can't hear the smaller details that can be so important to a classical piece. Classical music is almost always recorded live, so the sound is much smaller than a piece of music made with musical software. But with the "isei Beat," I can hear a lot of the details I normally wouldn't be able to hear on a different device. The intricate details of the piano, and even the orchestra- I'm amazed I can hear it all! I actually want this phone!
Q: As a model, you must be very particular when it comes to what you upload on your SNS. What did you think of the camera?
A: I love how this phone includes both normal lens and wide lens. The wider lens is especially useful since it's wide enough to take an OOTD selfie from head to toe without using a selfie stick! I probably won't be able to use my own smartphone after using this… (laughs). With other kinds of smartphones, the colors aren't bright enough so I always have my digital camera on me. I'm truly amazed at the camera quality on this phone. I can't stand it when my photos are of low quality… but the photos taken on "isei Beat" are so beautiful! My skin looks flawless, and the photos look like they already have a filter on it.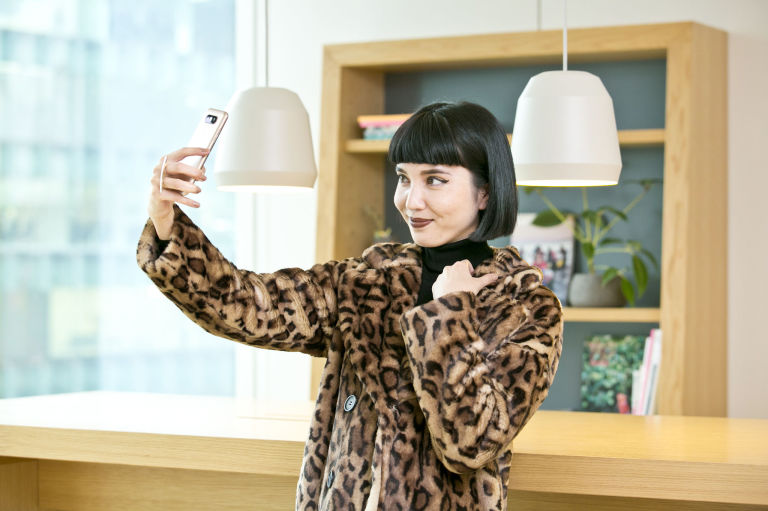 Q: Also, do you have any advice on taking photos or selfies?
A: I'm actually really bad at taking selfies (laughs). When I do take selfies, I make sure the sunlight is facing me to get the best natural light possible. Another important thing is angles. If I need to focus on my makeup, for example, then I'll angle my face to show off that particular point. Next is the filter.
Apart from selfies, when I have to take photos with a model in it, I try not to zoom in too much because there will be a limit to how much you can edit later one. Also, instead of always having the model in the middle of the frame, having him/her to the right or left of the frame can add a nice balance to the photo. It's important to try different angles and balance it out with the backdrop. I say take as many photo as you want, because you can always edit them later (laughs).
Q: What are some things you consider when uploading photos on Instagram?
A: The most important thing for me is how all the photos look "symmetrical" side by side, meaning if the colors and filters are similar. I'm a California girl now living in Tokyo, so understanding both cultures and being able to post about them is great. There are people who haven't been to Japan, but want to know more about its unique culture. That's why I try to upload photos that feature the beauty of Japan whenever possible.